Behind the Mic: Blaze Berdahl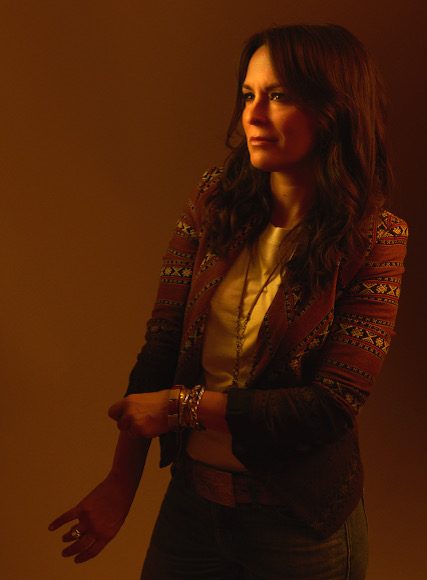 Former child actor Blaze Berdahl quit "the biz" at the ripe age of 18 to attend college. After a short stint in finance, she returned (once she decided the grass was not greener) to specialize in voiceover, something she always loved even as a young actress standing across the mic from vocal giants like James Earl Jones and Walter Cronkite. Things picked back up where she left off and she has never looked back. Known for her distinctive texture, rich tone, and gravitas in a voice that's not quite young, not quite old. She has voiced thousands of TV & radio spots over a 37-year career which started at the age of three. From promo to pharma, legal speed to animation – you name it, she's done it. Now, you may also hear her as the voice of your radio station!
What radio work have you done in the past and what are you up to currently?
I've never DJ'ed or worked at a radio station. My segue into VO came by way of having been a child actor who also occasionally did VO. For example, I was the voice of  "Kid Vid" for the Burger King Kids Club – anyone remember him? Ha. I left the biz to go away to college and then tried my hand at something else for a couple of years, only to come back to the industry in my mid-20s. I was doing a lot of promos for MTV at that time – which was age-appropriate – and then got really lucky as the voice of "Swiffer" for years ("Swiffer Gives Cleaning a Whole New Meaning"). More recently, I've done commercials for Jack Daniels, Adidas, Kraft, a handful for Dairy Queen. There have been countless (thousands of) tv and radio spots in between – for everything from Lincoln to Lubriderm. Right now, I'm on some TCF bank TV spots, a National Car Rental Spot, have a Liberty Mutual radio campaign running, and work regularly for A&E, HGTV/DIY Channel, and Nickelodeon. I've done live-event announcing, legal speed reading, pharma, a little bit of animation… you name it, I've done it. However, I'm relatively new to radio imaging! I think my first station was 5 years ago. These days you can hear me on B96 Chicago, Wild 949 San Francisco, and in maybe 20 other markets – Seattle, St. Louis, Detroit…
What do you love most about your job?
I'm my own boss.  Every day is different. With the right equipment, you can travel as much as you want and still work at the same time (which is both a blessing and a curse). 
A lot of people would say a positive is being able to work from home – and certainly during the pandemic that has been one! However, I'm a gregarious person! I like being out and about, meeting and working with different pros. 
Right now, I'm just happy to be keeping busy.  Feeling grateful to have work, when so many folks don't right now.
How did you get started as a VO actor?
I literally have print ads with me in them as a baby. I think I got my SAG card when I was something like 3. I grew up on sets and in studios. My siblings also did. Voiceover work is just one aspect of what most active kid actors also do, but it was always my favorite. Luckily my voice grew with me.
Who are your VO idols/mentors?
Well, I have a lot of people who I can thank: My agents, who believed in me (special shout out to Nate Zeitz at CESD who thought I had a voice for radio, pushed me to get an imaging demo and kind of set me down this path!), the producers and execs at some of my first stations who took a chance on me, helped me hone my sound, and gave me the confidence to know I could do this…my family, the academy…
Jeff Berlin was the male voice on one of my first stations – 102.1 The Edge in Toronto. He was so generous in answering all my newbie questions. He has great comedic skills. I would listen to some of the out-there stuff he would serve up in the promos we voiced together. All that funny, conversational stuff he is a pro at. It was an inspiration in terms of what is possible, allowed, and even welcomed.
If you weren't doing voiceover, what else do you think you'd be doing for a career?
I love real estate and given that I grew up as a city kid in Manhattan and have lots of contacts there still, that probably would've been a wise choice financially speaking. Ha! I love interior design. I'm also a history buff. I could see myself as a tour guide/educator at some kind of museum. Here's where you would not want to see me: in a kitchen. Can't cook to save my life.
What did it feel like the first time you heard your voice on the radio/television?
Thrilling. I only wanted to listen to the stations I was on. Though that novelty has inevitably worn off a bit, I still get pumped every time I hear a great piece of imaging that I'm a part of! It really is a team effort. I bow down to some of these producers.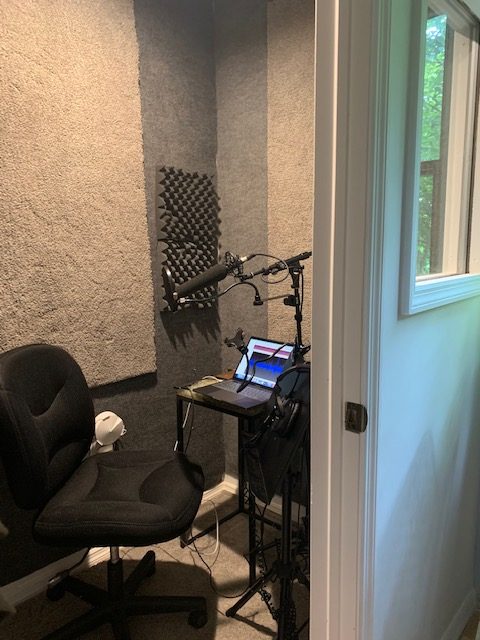 Blaze's Second Home Studio Space with Travel Set-up!
How has new technology changed the way you work?
When I was younger I used the funds from a lucrative TV campaign I voiced and invested in my business. I got a home studio, made a website, etc. That was a smart decision at that time. My agents saw me in a whole new light as someone who had grown up from my child acting days and took my VO career seriously. It was not typical at the time, in NY anyway, for someone in their twenties to have home recording capability. But it's no longer a leg up; having a home studio is now an expectation. Over the years I have worked hard to diversify myself and broaden my VO skills so that even in a world where everyone now has a home studio, I've kept busy. But it took years to get here. 
The other way it's changed is location-necessity. We live in the NYC area. I was born and raised here, it's part of me and I have no desire to leave it. It used to be one of a few places you had to live to do this professionally. That's obviously changed. At the time we bought our house, I was factoring in being able to get into the city on the drop of a dime for last-minute gigs. With home studios, remote sessions, zoom chats, etc. that's less and less important. In 10 years it will be interesting if I can still justify being here. I feel like I need to move to Budapest – ha – or a ranch in Utah. Why not?!!
What gear do you use on the road? In your studio?
I keep it simple. I don't produce or send processed reads. In fact, my clients prefer my VO dry. I have a Whisper Room and a quality mic – a Sennheiser 416. It's one that I feel picks up all of the richness and the unique texture of my voice. I have an adequate, but nothing fancy, preamp (Grace m101). On the road, I have a souped-up MacBook Pro and use this nifty little thing called a "Centrance Micport Pro" to connect the mic to. It does the trick. Those big Avalon Systems are beautiful to look at and I'm sure they can do a lot – but guys, I wouldn't even know what to do with that if I had one! Maybe that's my next step: learning!
Have you ever had a voice coach? Would you recommend it?
A class is a must. I've taken a refresher or two over the years, but I'm very lucky to have a sister who is an agent (she is my west coast commercial VO representation). She will kick my ass for me on occasion if I deliver a bad audition.
A class is what I always recommend as a starting point for anyone trying to break in. Firstly, it will weed out anyone who thinks this is easier than it actually is and/or thinks that having a good voice is all it takes. Second, it will be a good introduction and give you things to work on! Time on the job, as with many things, is really the best teacher. I look back at 25-year-old me and because I had been doing this since I was a child, I thought I knew it all. I knew nothing. I've learned so much since then.
How do you schedule/prioritize your work? How much time do you spend auditioning for new work?
I try to do everything that comes in as it comes in because you just never know what's going to come in next. I try to keep my weekends my own, but I work late at night and work anytime I can. It's up and down to my studio all day long. Taking actual days off is rare. Auditions are just as important as gigs and contractual work because you gotta keep that revolving door of outgoing clients and incoming clients going 'round. Keep auditioning. Keep working. Don't get exploited, but don't turn your nose up at gigs either. You literally never know what will lead to what. I have so many stories of small gigs that somehow led to huge ones.
How do you market your services to potential clients?
I don't. Not really. I have a website and some social media that I do my best to post here and there. I figure if anyone is interested in me they will follow me, go to my website, or go to my Soundcloud page – see what kind of work I've done, what I can do, and what I'm up to. My main marketing strategy is simply that work begets work. Do a good job and people will remember, maybe even refer you, and hopefully want to work with you again in the future.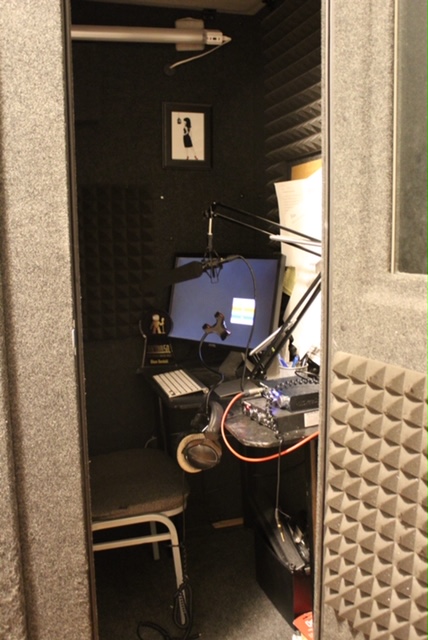 Blaze's at-home studio & Whisper Room (if you look hard enough you might just see her BZ50 Award)!
What is the best voice processing trick or voice-over technique everyone should know?
Beats me. I leave that up to the fine folks at Benztown and the like.
Do you have a different approach to reading radio imaging copy as opposed to TV/Radio commercial ads?
Yes, I have a different approach. They are completely different worlds and I find that a lot of people actually can't do both – well anyway.
In radio, you should know your brand, or what they were looking for when they hired you and continue to deliver it. I find that it's often, but not always, a more polished professional sound. The voices we all aspire to sound like and what we tend to think of when we think of voiceover professionals.
Alternately, the advertising world leans towards (but again, not always) a more natural sound. I audition a lot for girls next door and hard-working moms. A weary nurse who has just come off the front lines, someone trying to motivate themselves in the gym via an internal monologue, or someone starting to think about what they need to do regarding retirement. I recently voiced some online spots where I had to sound like a natural gamer, just a regular Youtuber-type doing a play by play commentary. Real people off the street. To be able to sound like you are not a professional, yet be professional enough to follow direction and deliver the message exactly the way they want it is the challenge. Essentially, you have the sound you have. What's more important is what's behind it.
Can you offer 3 helpful tips for newbies trying to make it in the voice-over industry?
1. Take a class.
2. Buy basic equipment – just enough to get it done – and only upgrade with your success, as needed. 
3. Time allowing – be willing, helpful, and generous with your VO. I try to go above and beyond for clients, give lots of takes, think outside of the box, adlib, and offer up other ideas when it makes sense. It will go a long way. Clients appreciate it. Again, work begets work.
If you could go back in time and hang out in any decade which one would you go back to and why?
I'm sure there are times and places that seem more romantic or adventurous, but let's be honest, speaking as a woman specifically born at this time and in this country, I feel like I got hit with a lucky stick. I know we have a ways to go, but it could be a lot worse! Don't send me anywhere or anytime but here!
If you could invite one person to dinner, living or dead, who would it be?
Helen Keller.  Okay, maybe "Jamie Fraser" from the Starz show Outlander (hall pass).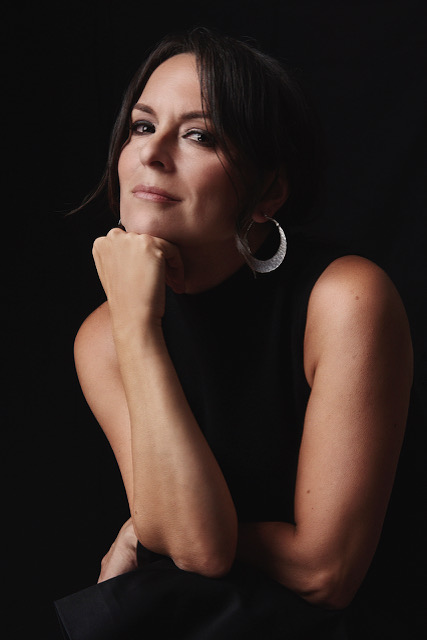 Connect with Blaze: