Behind the Mic: Brandon Bell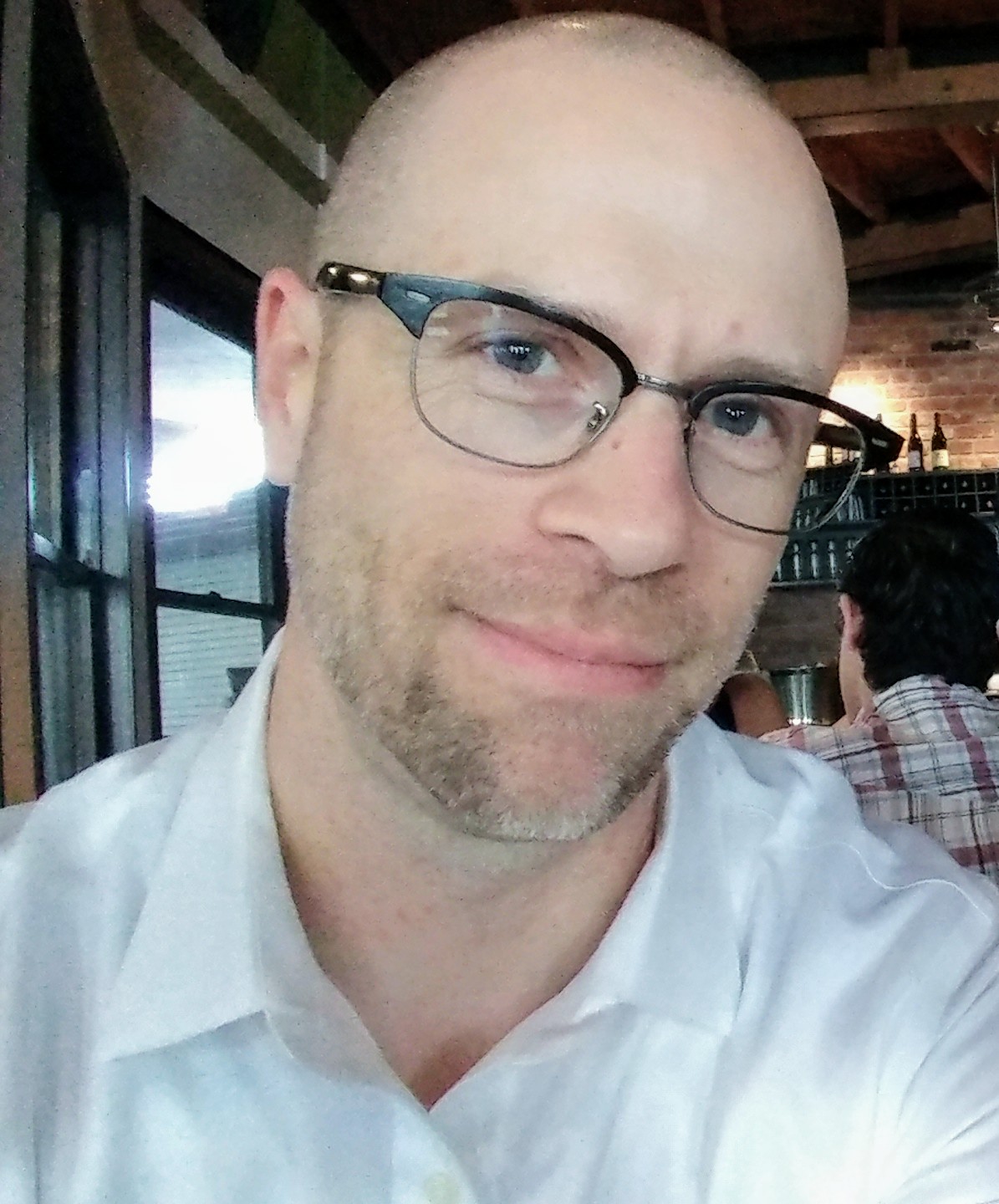 Brandon Bell is a voiceover veteran offering a bright, natural, and credible sound from his studios based in the heart of Los Angeles. Specializing in AC/HotAC/CHR radio imaging, his voice has been used to brand stations across the US and even around the world in cities like Shanghai, Dubai, and more. 
What radio VO work have you done in the past (stations/markets)?
Here are a couple of the stations I've been lucky enough to be a part of. Some of these partnerships continue to this day:
WFLY "Fly 92.3" – Albany, NY
KHBC "The Wave @92fm" – Hilo, HI
KQFC "Magic 97.9" – Boise, ID
Nationally syndicated "Throwback 2k with Chris Cruise"
97.8 DANCEfm – Dubai, UAE
KFM 98.1 – Shanghai, China
iHeartRadio National AC Promo Voice
KPQP "Pop FM" – Salt Lake City, UT
KEEZ "Z99" – Mankato, MN
What are you up to presently?
I'm full-on freelance through Benztown.com and BellboyAudio.com finding radio brands where we could be good partners. I'm a great fit for AC/HotAC/CHR stations that seek a bright, natural, and credible sound to authentically stand out from the competition. Then I'm spending hours every day auditioning for commercials, videos, e-learning, and narration projects.
Check out Brandon's Demos:
What do you love about your job?
With radio (and audio in general) I believe we are in the "Best Friend Business." We aren't on a stage in front of thousands, rather we are just in the passenger seat next to our friend who's driving around town. They have things to do, places to go, and they are BUSY. We need to be there for them much as a trusted friend would. We need to make an authentic connection through "The Three E's". We are there to Entertain, Educate, and Empathize.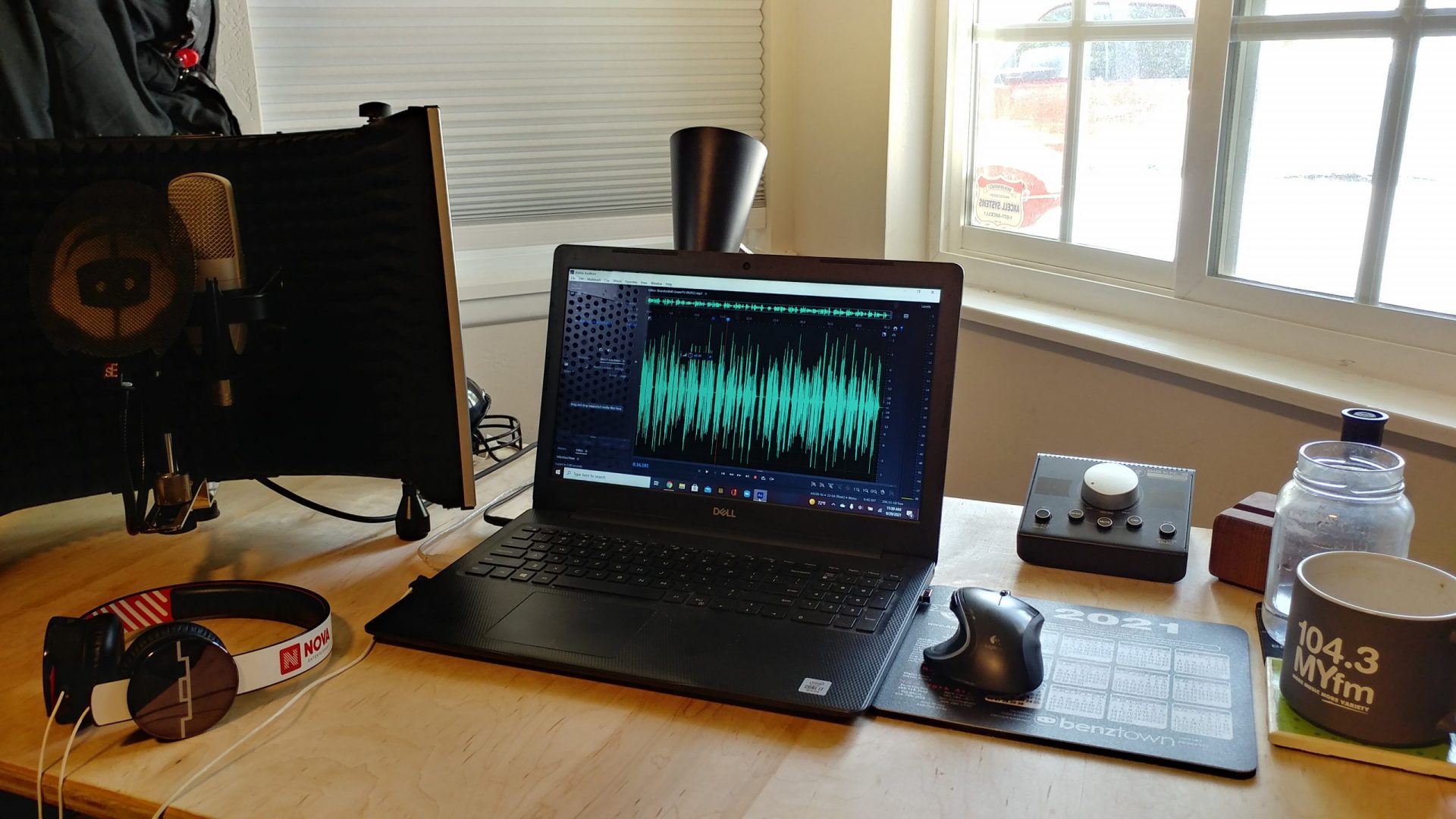 You don't need a fancy setup to be a VO pro. Brandon likes to keep it real with
a homemade desk and sleeping bags hung on mic stands for sound absorption.
But he's got the essentials…Benztown mic filter, All Access mousepad, and coffee!
How did you get started as a VO actor?
I had my "first break" working the drive-through at McDonald's in my hometown in Nebraska. A high school classmate of mine came through, heard me on the speaker, and said: "You sound good, you should come out and work with me at KCOW." That was the first time someone suggested I could even be a part of this world, but that was just a small piece. My real "big break" occurred when I told my parents that I was going to forgo my plan to be an accountant and focus on radio (although I still got my business degree)! They supported me 100% then, and continue to this day. Stations and jobs come and go, but their support means the most. 
What was your first gig? Any memorable ones since then?
My first two stations were Z99 in Mankato, and 101-9 POPfm in Salt Lake City, both stations were imaged by Rob Radencic. He had the most creative copy I have ever seen and was my first voiceover coach. He taught me so much. My most memorable connection came through Charese Fruge. Years ago she told me that Dave "Chachi" Denes was building this new site called "Benztown" and she said I should get a demo over. I sent Chachi some of my work and he included me on the roster in the early days, and I am forever grateful for him.
Who are your VO idols/mentors?
As with some VO guys, my idols are voices I was able to edit and image with when I was an Imaging Director. I worked with Steve Stone when I imaged KFRX in Lincoln, NE and I got to work with Brian "BC" Christopher while I imaged Mix 94.1 in Las Vegas. From both guys, I learned how important quality, turn-around speed, and outtakes were to an imaging producer. I still idolize them both!
If you weren't doing voiceover, what else do you think you'd be doing for a career?
One of two things, my side hobby of woodworking (follow BellBoyWoodworking on IG). I love getting away from everything digital like my computer and phone, then escaping into my shop where I can get covered in sawdust and just make things. It's where I can craft things without pressure. If I make something that turns out well, I use it or give it to a friend. If it doesn't, I tear it apart and make something else. I also could be a professional dart player since I used to be a sanctioned player in the National Dart Association (so technically that makes me a former athlete!)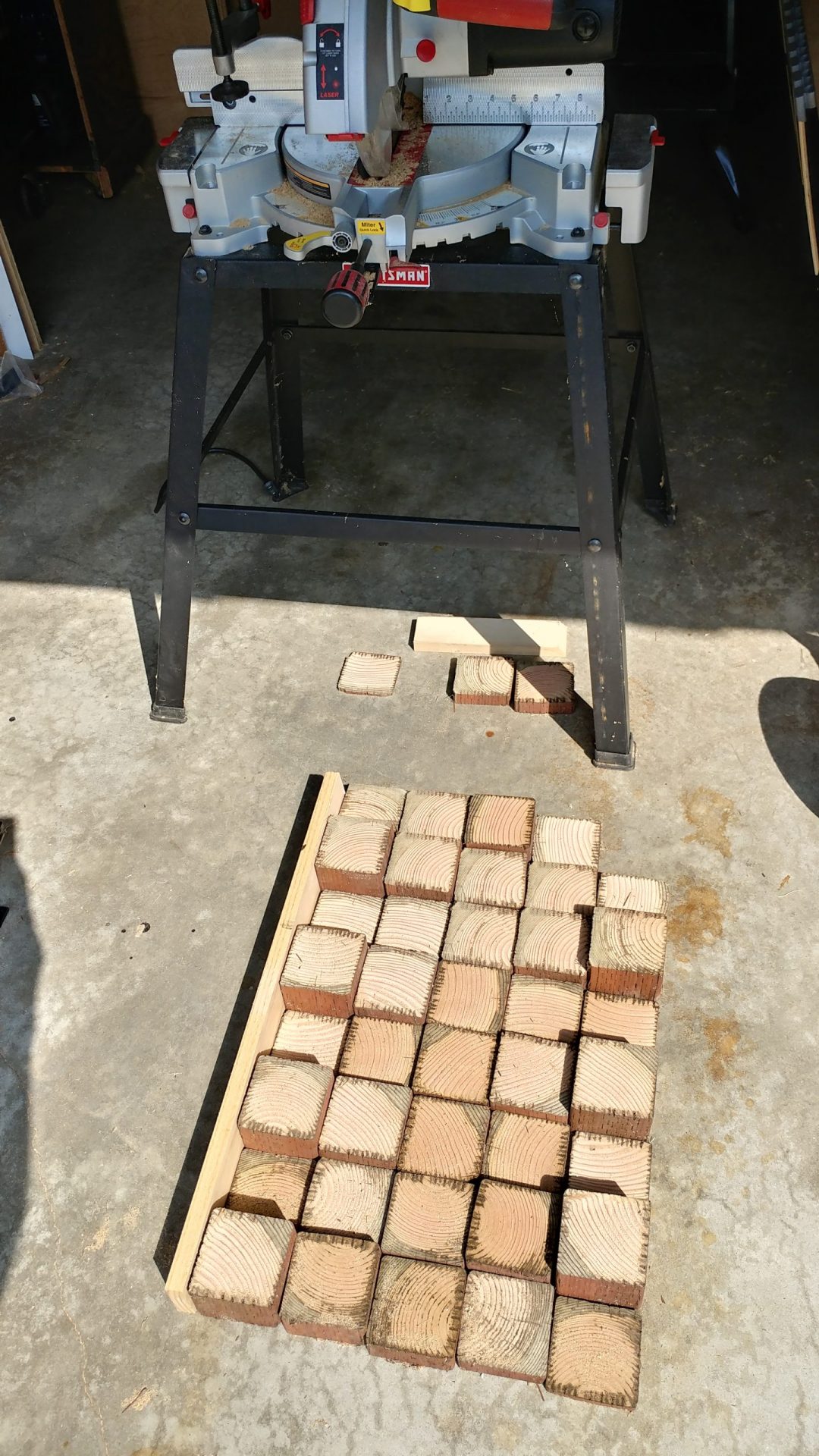 Brandon's two worlds have collided as he's currently working on building his own diffusers!
How do you schedule/prioritize your work? How much time do you spend auditioning for new work?
Since the bulk of my copy comes in later in the week, I use the first part of my week to do as many auditions as I can for voiceover opportunities for commercials, narrations, TV promos, e-learning, etc. My goal is to audition for at least a dozen scripts a day. Even if I don't think I have a shot, I still go through the process because I feel like I learn so much by trying new styles, reads, and tones. I also mock-up custom imaging to pitch stations I think could be good partners. 
When it comes to VO work, studio & gear, what are your most ingenious methods/discoveries for saving time and cash?
Ok, nerd talk…nerd talk…talking about nerd stuff time!!! I think it's best to approach it like Goldilocks. It's not about the name or the price, you just need to find the gear that is "just right" for your voice. I've made the mistake of buying a cheap B-1 Behringer Mic (that was crazy noisy) and overspending on a Neumann mic (which didn't make me sound any better). Over the years, and through tons of feedback from producers, my voice fits best with a mid-tier mic I picked up years ago, a Shure KSM-27. Same can be said for all of my other gear too. I run a combination of cheap, midtier, and expensive gear. Right now I've zoned it in on a pretty simple set up. Shure KSM-27 mic into a Golden Age Pre-73 MKIII Mic Pre, into a Behringer Composer Pro-XL MDX2600 Compressor, and then into a Focusrite Scarlett 2i2. That's it.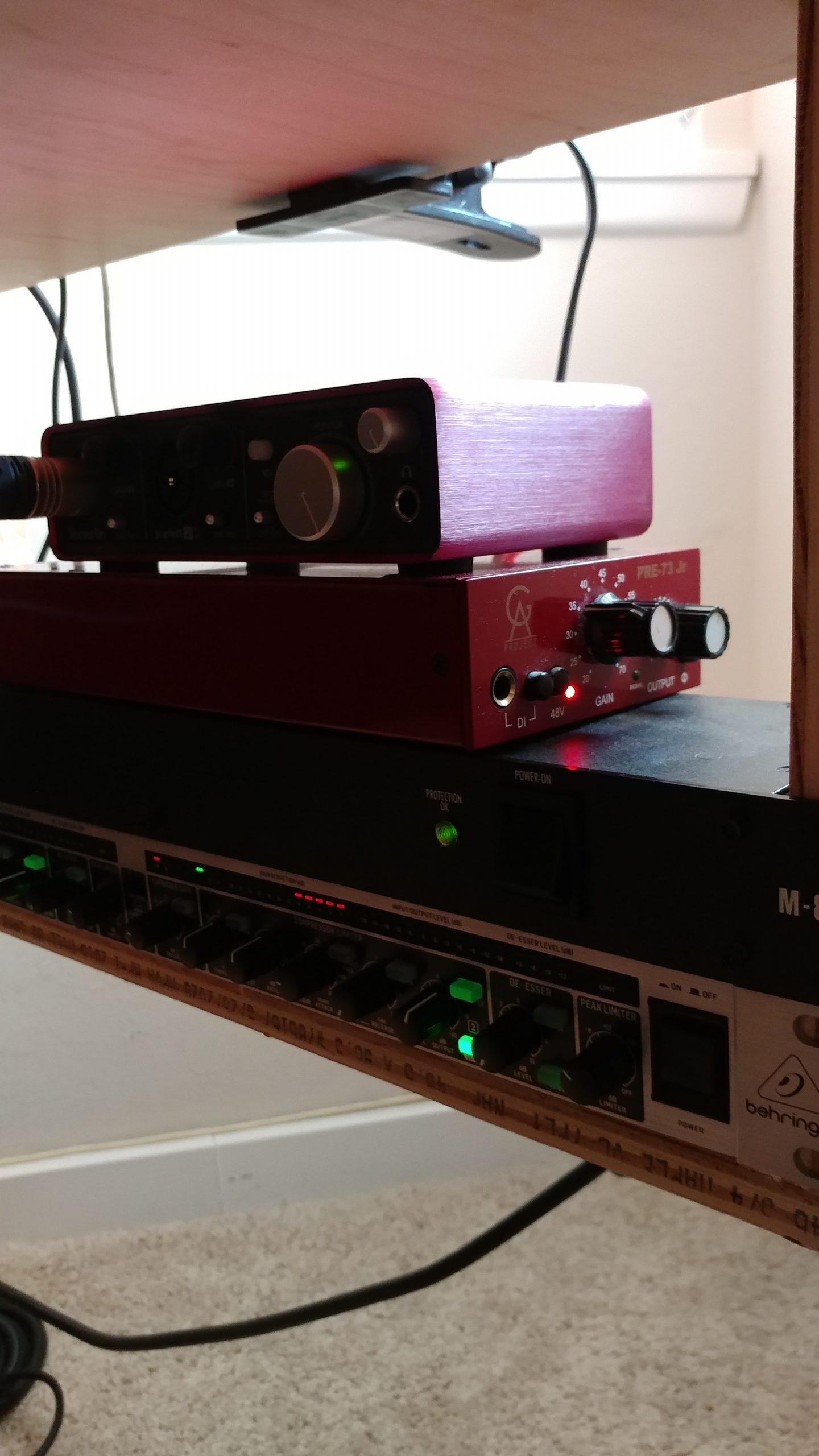 Hey nerds, this pic is for you!
What is the best voice processing trick or voiceover technique everyone should know?
Regarding the actual audio, keep it simple and clean. Then two things are important, pre-read the copy so you can give them a great read and even better alternate takes. Then listen to your producers. They can hear our voice and audio better than we ever can. I've received some really helpful tips from them over the years. 
Can you offer helpful tips for newbies trying to make it in the voiceover industry?
I still feel like I'm a newbie, and I have so much to learn, but the two most important words I hold onto are patience and persistence. In radio, in music, and in voiceover there are way more people that "want" to do this, than "get" to do it. You just have to continue to prepare for your chances, be persistent with your work ethic, and be patient for opportunities.
If you could go back in time and hang out in any decade, which one would you go back to and why?
Obviously the 1990s…no smart phones, killer music, and my Denver Broncos were winning Super Bowls (and Tom Brady wasn't around in the NFL to ruin our playoff runs!)
Favorite 2 pizza toppings?
No pizza, just tacos please.
If you could invite one person to dinner, living or dead, who would it be?
I just want to go back to any family Thanksgiving when I was growing up in Nebraska. It's my favorite holiday with amazing food and football, but the absolute best part is family. I loved sitting around and hearing all of my grandparents, aunts, uncles, etc…sharing laughs and telling stories. They were all amazing storytellers. It was pure joy to hear their voices.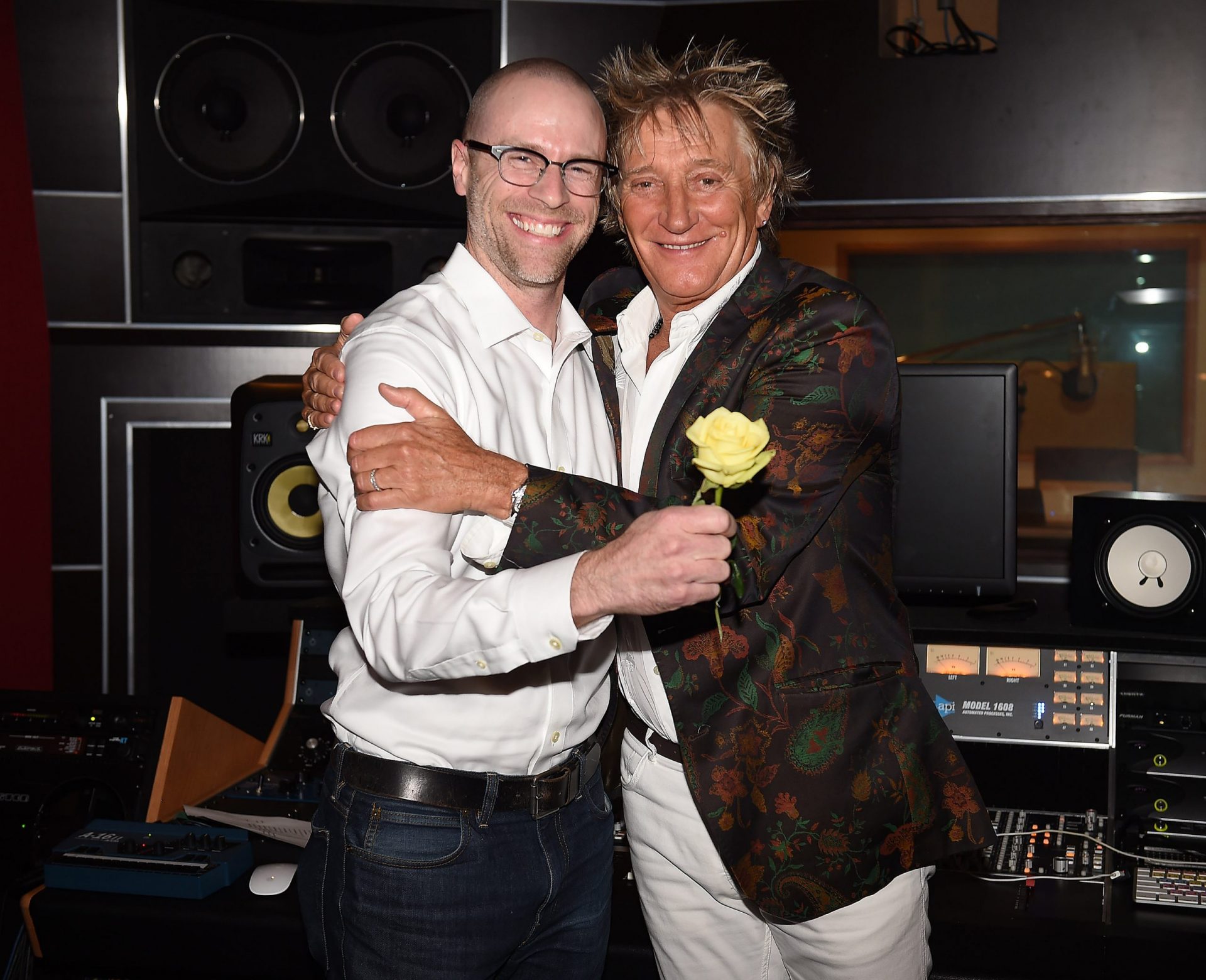 Connect with Brandon: