Behind the Mic: Cameron Griffith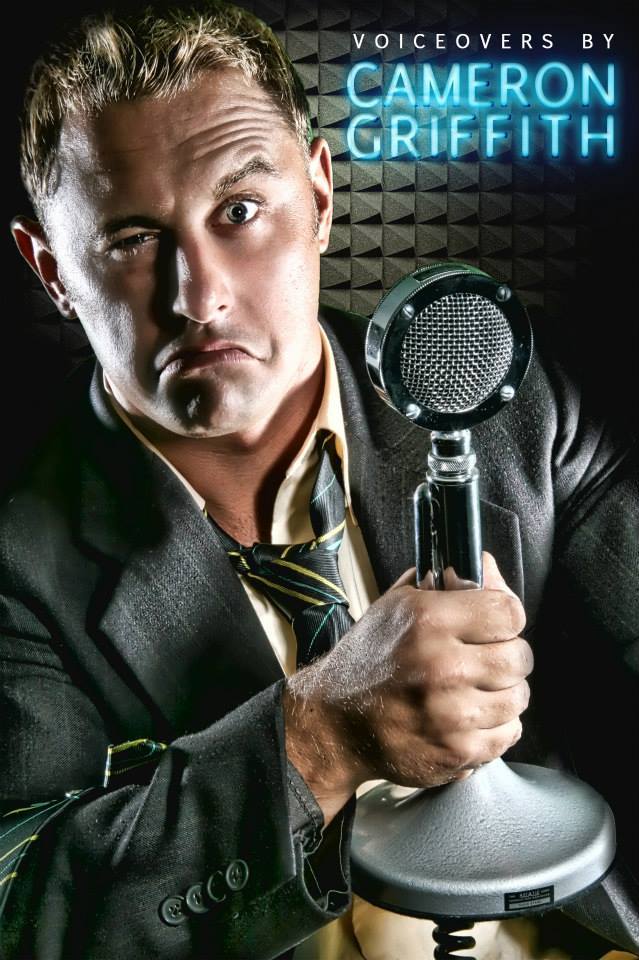 Cameron Griffith is from Atlantic Beach, Florida, a proud Navy Veteran and voiceover actor on the Benztown roster. He can't emphasize enough how stoked and honored he is to share his voiceover industry experience with everyone.
What radio VO work have you done in the past (stations/markets)?
1010XL/92.5 FM Sports Radio WJXL – Jacksonville, FL
Surf 97.3 FM, WQFB-LP – Flagler Beach, FL
930 the Fox Sports Radio, WNZS-AM Jacksonville, FL
1460AM News Talk Radio WZNZ-AM, Jacksonville, FL
What are you up to presently (freelance/on-staff at a station)?
My voiceover work is all freelance.
What do you love about your job? 
I tell you what, if you do what you love, you will never work a day in your life. I love to have a great degree of control and freedom within my job. It enables me to love and enjoy other passions in my life. Personally, I am not a fan of being the center of attention, but it affords me to entertain people at my own expense. I get amped up every time I am behind the microphone – it gives me chills.
Check out Cameron's Demo:
How did you get started as a VO actor?
Oh wow, where do I begin? Well long story short, I grew up in a broadcasting family. My father was a DJ along with his brothers, including my grandfather; so, therefore, it was always in the household. One day during my senior year in high school, I enrolled in the On-the-Job Training (OJT) working at a hotel resort. After the shift manager fired me because I was caught prank calling the employees in the reservations department from hotel guest services, I asked my old man if he could land me a job at the radio station here in Jacksonville, Florida (Clear Channel Radio at the time). He said, "If you want to work in radio, you'll learn how to work the board first." I said fair enough, so, therefore, he landed me a position working at WZNZ News Talk 1460 AM and WNZS 930 AM The Fox producing and operating a number of radio shows and various sporting events.
Later on, I learned how to cut my own commercials thanks to a little help from my father and Doug Lewis, Creative Services Director at Clear Channel at that time. If Doug needed me for something, I was always available to help out. I ended up joining the United States Navy two years later. While I was cruising around listening to the AFN network on the island of Okinawa, Japan, it suddenly hit me, and I believe that was the turning point to prepare and plan a new career in the voiceover industry. When I got out of the service, I purchased my first microphone. Since then I've been hooked. Personally, I believe it was inevitable.
What was your first gig? Any memorable ones since then?
Oh let me think, I cut my first spot at the age of 5, which was Burger King. My old man dragged my brother Casey and me from time to time to cut a few more radio spots for a local mall here in Jacksonville. I only remember because the soundtrack underneath was cheesy. My most memorable one covered the Children's Hospital at First Baptist Medical Center; I had a hard time pronouncing the word "pediatrician" believe it or not; however, I got the job done and they handsomely paid me 25 dollars in "ones". Pretty stoked for a 6-year-old. In any event, I still have a hard time negotiating that word from time to time.
Who are your VO idols/mentors? 
Dude, the one and only Jeff Berlin, Malcolm Ryker, and Brian Christopher. While I was in high school, one day, I remember Doug was online via ISDN with Jeff Berlin, the voice for Planet Radio 93.3 at that time. With his permission, of course, Doug allowed me to sit beside him during a live session with JB. I was so stoked lemme tell ya. From then on, I wanted to be more involved in Radio Imaging. As far as my mentors, for starters, my father Jack O'Brien; his wisdom possessing over 40+ years of experience in the radio unquestionably led me in the right direction and preconditioned me to work hard and hustle because it'll pay dividends in the long run. The rest of my mentors and friends include Voiceover Actor/Coach Nick Omana, Tom Fridley Productions Director/Voice Actor 1010XL/92.5 FM, and Josh Klinger Radio Personality, DC101 and the list goes on.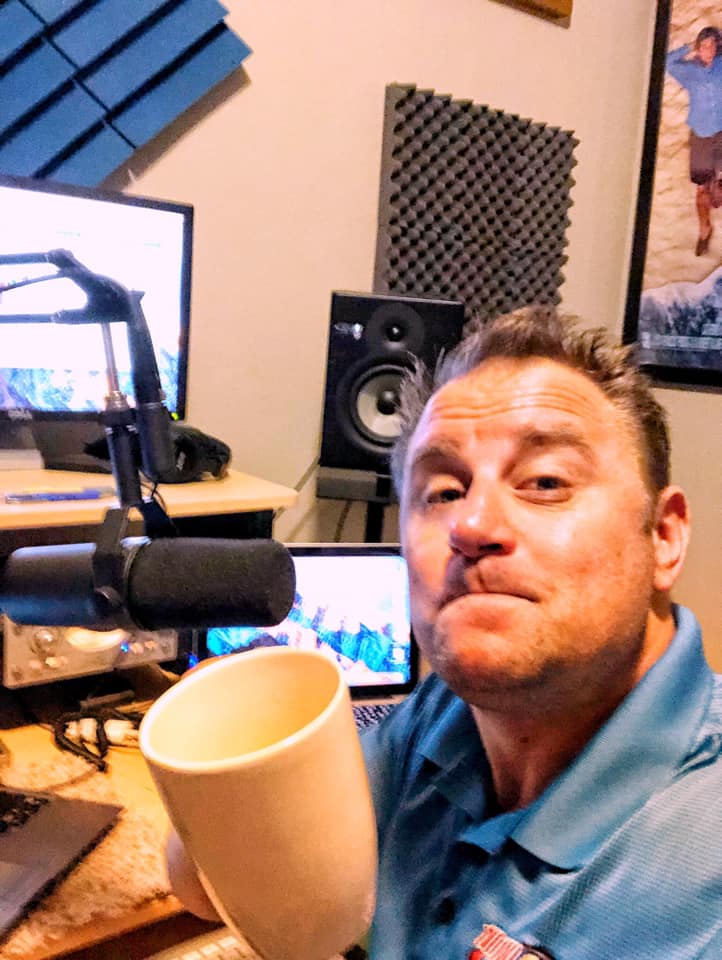 Empty coffee mug, full of energy, can't lose.
If you weren't doing voiceover, what else do you think you'd be doing for a career?
I would have continued to advance my career as a Navy Search Air Rescue Swimmer (SAR) and then eventually work hard to be a frogman (SEAL) or Navy Diver; I'm a big fan of serving my country.
What did it feel like the first time you heard your voice on the radio/television?
How would I sum it up, "Voice Confrontation"? Thought I sounded like Mickey Mouse, it made me cringe. It was weird.
How has new technology changed the way you work?
It allows us to respond faster so I can turn work around as quickly as possible. Also, I enjoy communicating with clients and love participating in workout groups either on Zoom, Skype, or FaceTime; I believe it's more personable instead of corresponding over email.
What gear do you use on the road? In your studio?
In my home studio, I alternate between my Shure SM7B and Blue Baby Bottle from time to time. I pair them with my Avalon M5 pure class A preamplifier and an Apogee Duet interface running on ProTools. On the road, I'll plug the SM7B and apogee into my laptop.
Have you ever had a voice coach? Would you recommend it?
Most certainly. A coach will be able to hear what you're doing and assist with helping you make adjustments. I've worked with coaches Tom Fridley, Nick Omana, Lynda McCarrell, and Mary Lynn Wisner.
How do you schedule/prioritize your work? How much time do you spend auditioning for new work?
Setting a functional boundary for yourself is extremely important to me; so, therefore, I'll hit the gym at 4 am so I can get a jump start for the day; I know, I am an early riser, but it makes me feel that I'm one step ahead of the game from everyone else, and more importantly, alert and focused. Throughout the day, I spend a lot of time auditioning in the morning, and when copy lands in my inbox, I'll jump on it immediately. Of course, more and more marketing and cold calling.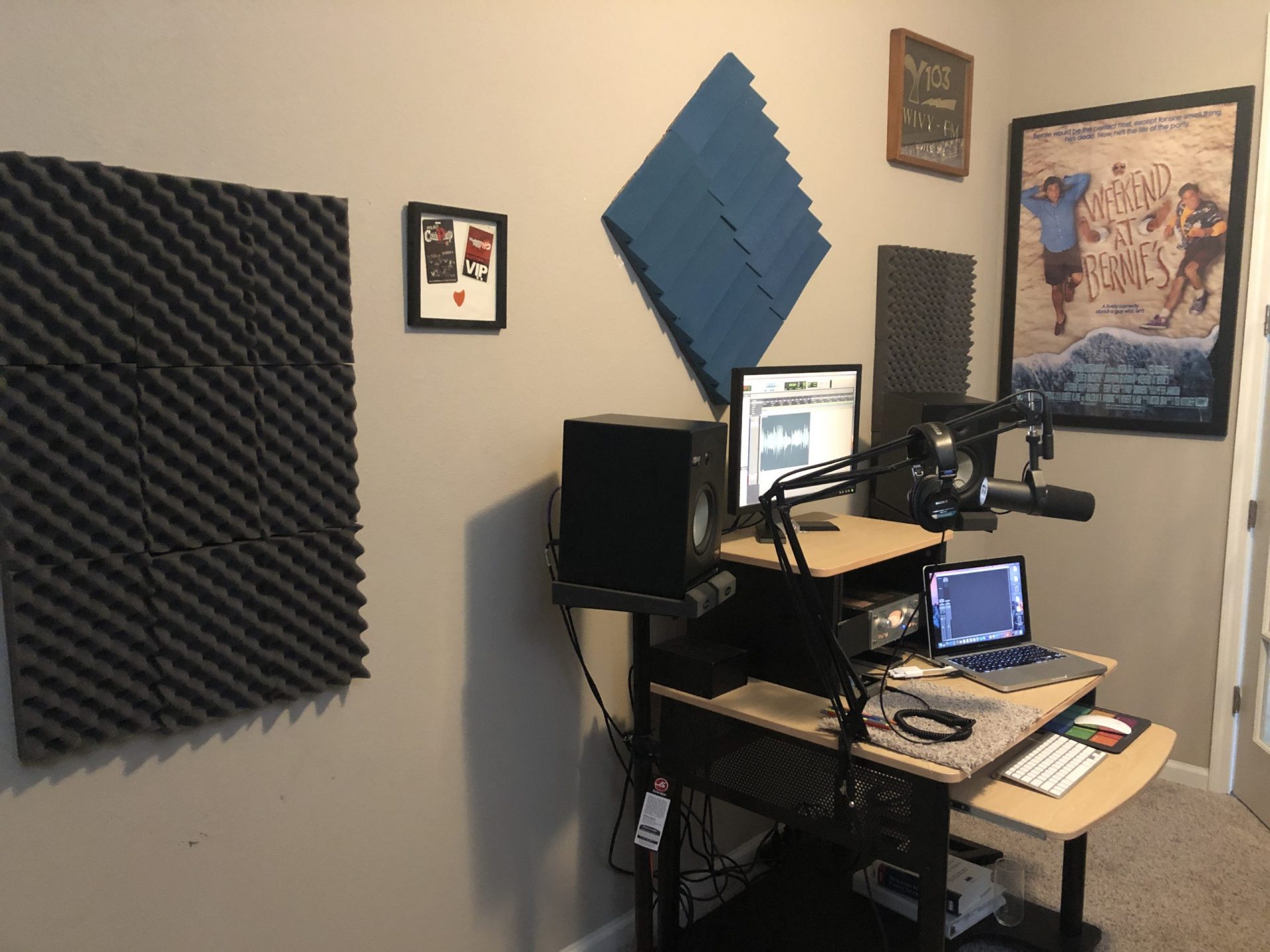 Where Cameron makes VO magic happen – his home office.
How do you market your services to potential clients?
Lots of cold calling because I think it's an essential part of marketing your biz. In addition, I'll send the prospective client a postcard, and more cold calling.
Do you have a different approach to reading radio imaging copy as opposed to TV/Radio commercial ads?
You know, that's a great question. Personally, I believe they are very similar in ways. With any piece of copy, just ask yourself, who am I speaking to? What is the bottom line of the script? As opposed to TV/Radio commercial ads, I personally believe radio imaging copy enables me to unleash all, I mean all of that creativity lurking inside of me, and grant the copy permission to drive me in a state where I would not normally behave out in public. Unless the liquid courage is flowing.
Can you offer 3 helpful tips for newbies trying to make it in the voice-over industry?
1: Don't be afraid to ask questions. Thanks to social media, there's a wealth of knowledge out there. Use it to your advantage because it'll help you stay up to par with what's trending in the voiceover industry.
2: Learn the craft (because it's not going to happen overnight) and hire some coaching. Once it's time for a demo, hire a professional to produce it.
3: And more importantly, be YOURSELF.
Favorite 2 pizza toppings?
Pepperoni and sausage… and lemme add extra sauce and cheese!
If you could invite one person to dinner, living or dead, who would it be?
Robin Williams.
Connect with Cameron: