Behind the Mic: Eric Gordon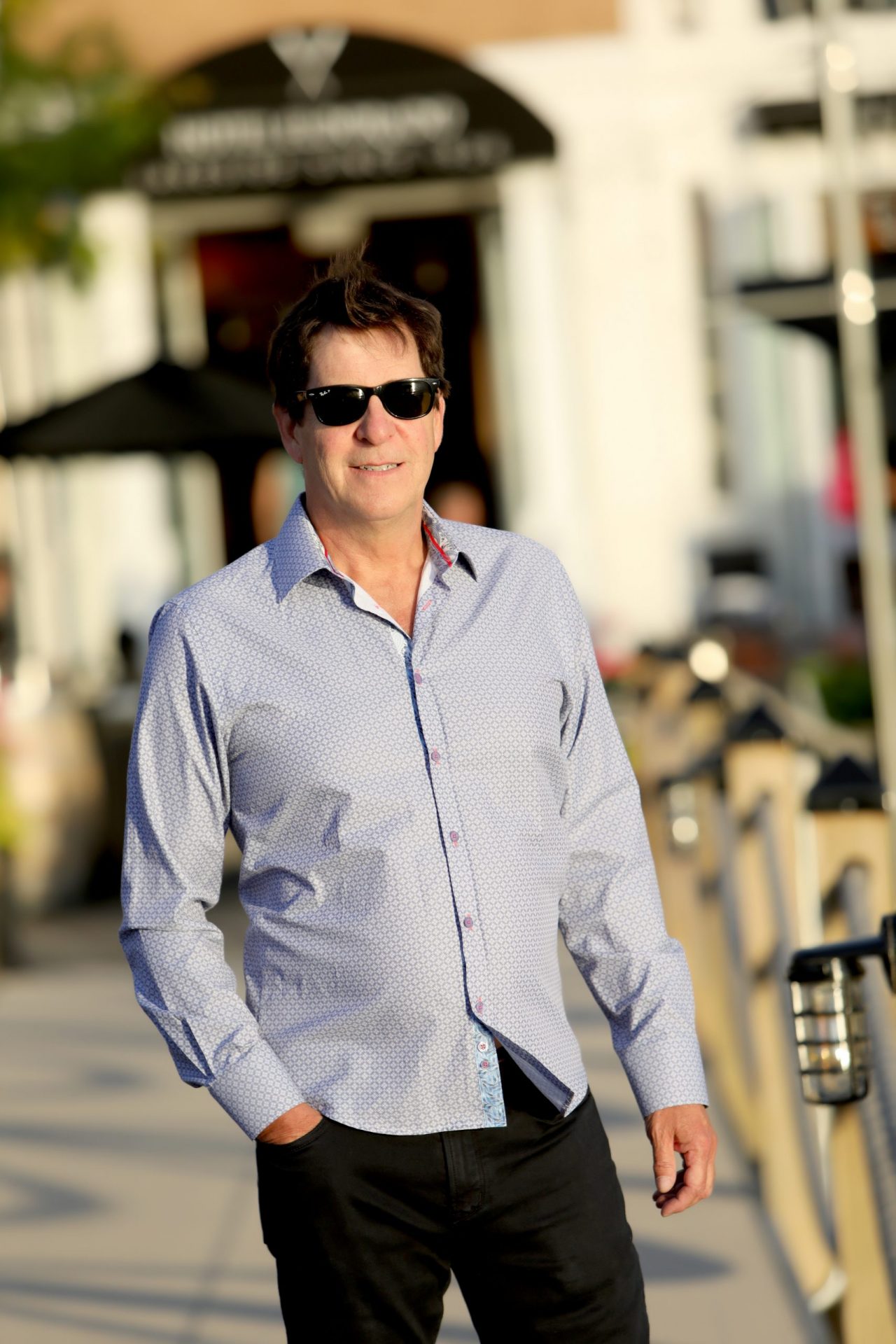 Eric Gordon grew up being a big fan of local radio and wanted to be a radio personality. He ended up being on-air at lots of stations here and there. Now Eric's lucky to be chosen as the voice of radio stations. He's been heard around the world as the voice for CNN's International Network. Eric works daily for television and radio clients. During his spare time, Eric can be found recreating in the mountains.
What radio VO work have you done in the past (stations/markets)?
KSL/Salt Lake City, KOMO/Seattle, KRLA/Los Angeles, WUFC/Boston, WAPE/Jacksonville, WKNR/Cleveland, KPNW/Eugene, KXLY/Spokane, WAFS/Atlanta, CFRA/Ottawa, ENERGY/Lebanon, KLIF/Dallas, and WHBS/Columbus.
What are you up to presently (freelance/on-staff at a station)?
I'm heard on stations in San Francisco, Sacramento, Bend, West Texas, Phoenix, Hawaii, South Bend, etc.
What do you love about your job?
The constant challenge. Staying current. Signing new deals. Renewing existing deals! Feeling creative. Being quick and helping producers. Trying new things. Deadlines (keep me on my toes). Changing technologies. Having fantastic agents! Working remotely. Winning the audition. Kind words from buyers. Hearing completed work that buyers really like.
How did you get started as a VO actor?
I began as a DJ on Top 40 radio stations like WZOU Boston, CHUM Toronto, KSDO San Diego, CKLG and CFUN Vancouver.
What was your first gig? Any memorable ones since then?
My first real radio station was CKPR in Thunder Bay. My first network was CNN's Headline News. First TV station was WGN in Chicago. All clients are memorable. A major point occurred when I was reading commercials at Soundtrack Studio in Boston and a creative service director from NBC Boston asked me to read some promos because the voice guy was under the weather. That lead to many jobs in Television and Radio and jumpstarted my full-time VO career. I also learned to ask for lots of favors and referrals.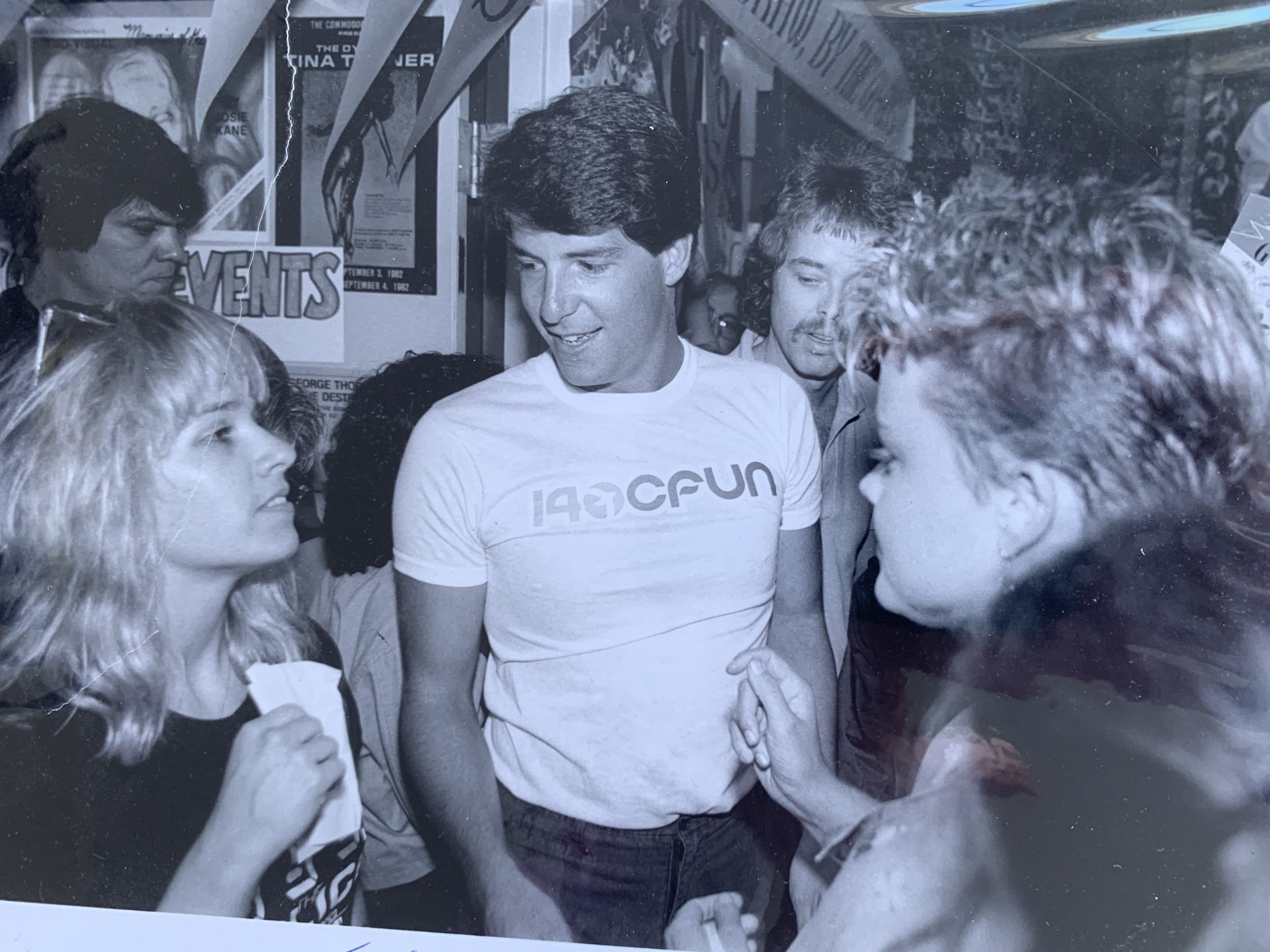 Eric's early broadcast days in Vancouver as a DJ at a Top 40 radio station
with the Go-Go's and Belinda Carlisle!
Who are your VO idols/mentors?
Chris Clausen, Mike McColl, Aaron May, Steve Stone, Sean Caldwell, David Kaye, Joe Cipriano, and Chad Erickson!
If you weren't doing voiceover, what else do you think you'd be doing for a career?
Travel Guide, Ski Patrol, or Entertainment Agent.
What did it feel like the first time you heard your voice on the radio/television?
Well, that's pretty cool. Hope they hire me again! Which is actually what I say every time! And always show gratitude.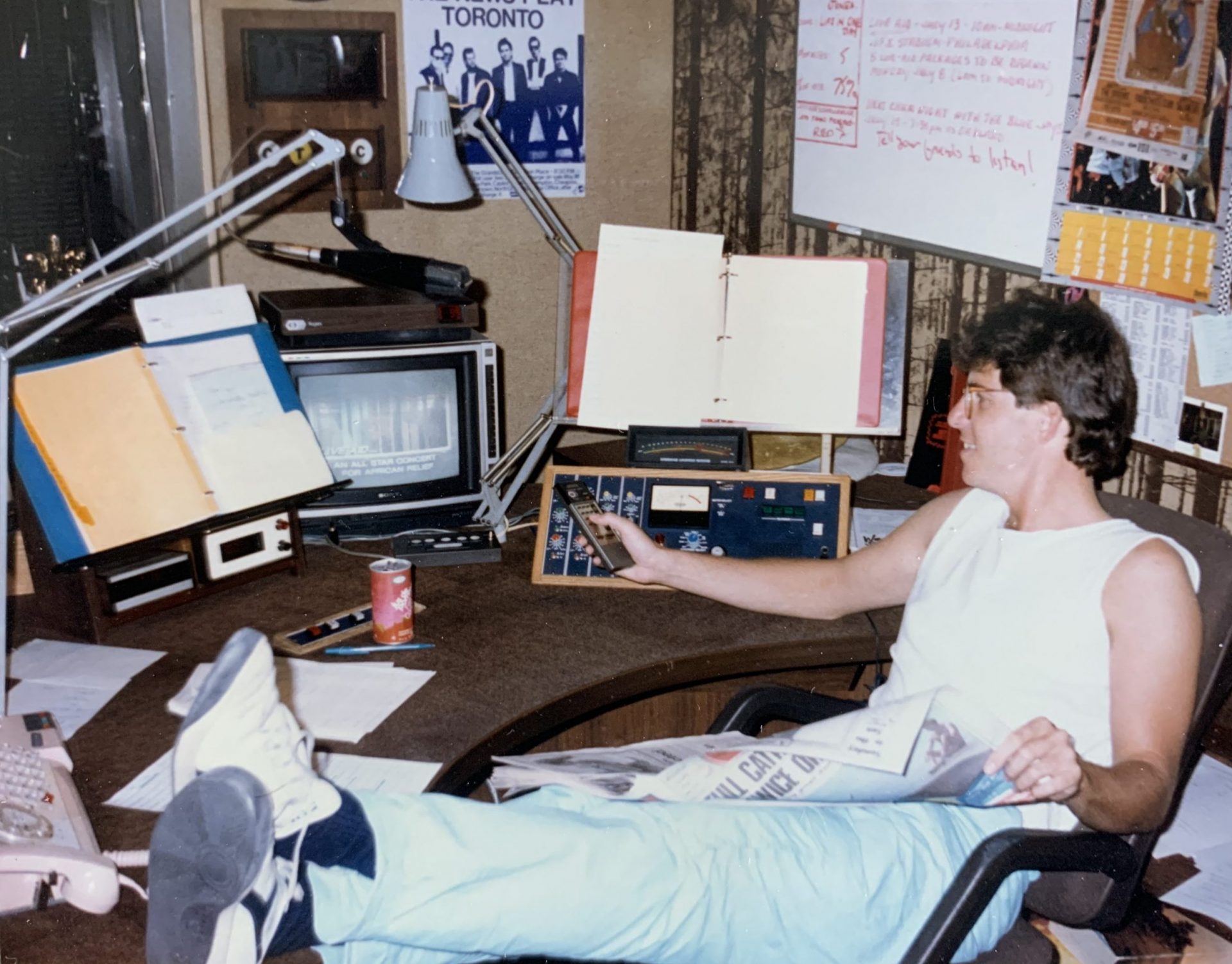 Eric on the air! The best part about radio? No sleeves required!
How has new technology changed the way you work?
Quite a bit…from the days of sending out tape via FedEx to all the wonderful methods of today. Although at one time I was able to manage my clients and now they manage me! We used to have many limitations (number of sessions) and specific times for turnaround. Now it's all NOW.
What gear do you use on the road? In your studio?
Shout out to engineer Palmer Pattison in Salt Lake City and my man George Whittam in Los Angeles. On the road I use USB pre, 416, and other smaller mics. FTP Transfers, IPDTL/ISDN, ISO VOX booths, and Tri Booth (designed by the one and only Rick Wasserman). In the studio I use Neumann, Peluso, and Sennheiser mics. Source Connect, Telos Zip One, IPDTL/ISDN. PCs and Macs on board. Tascam, Yamaha, and Mackie Consoles.
Which production system do you use and why? Any favorite plugins?
I don't do any production. I've enjoyed using Sound Forge for recording audio plus some plugins designed by my engineers.
Have you ever had a voice coach? Would you recommend it? 
Yes. I've been lucky to work with a number of great coaches including Marice Tobias, David Lyerly, Dave Walsh, and Richard Redfield.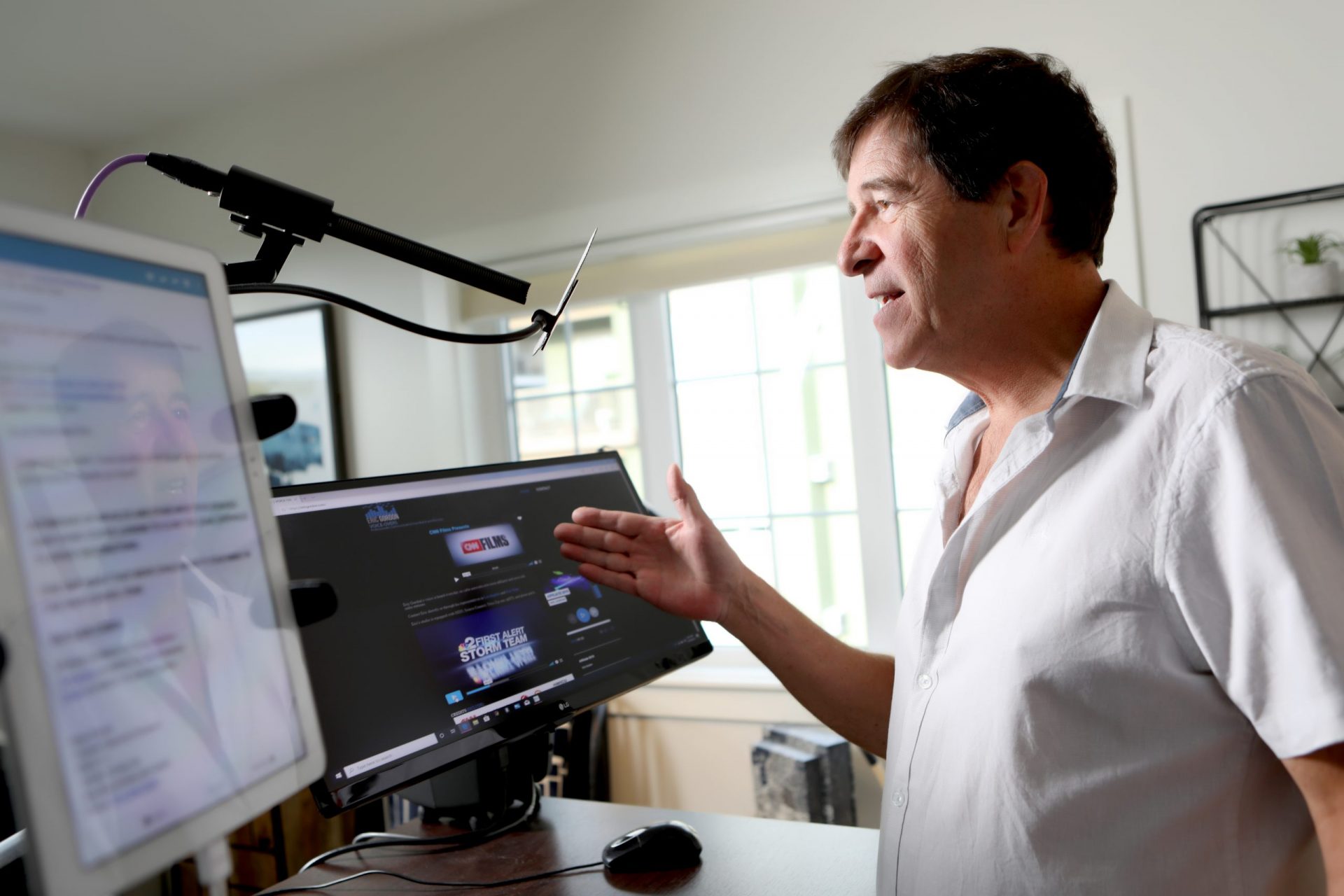 Eric laying down some fresh VO! Hand movements are highly recommended
for realistic reads – just don't wear anything noisy!
How do you schedule/prioritize your work? How much time do you spend auditioning for new work?
Current work is always number one. Clients don't like waiting. I try to do it as it comes in to stay on top of the day. Never more than a two-hour turnaround. I love auditions and like to spend 30 minutes or longer if time allows per audition. I normally send dry voice and have been known to have liners produced for audition purposes.
How do you market your services to potential clients?
I email contacts to stay in touch and use Linkedin and agents for new opportunities. Most important is word of mouth which means always doing the best job possible. You don't want bad word of mouth. That's not a good thing!
When it comes to VO work, studio & gear, what are your most ingenious methods/discoveries for saving time and cash?
Spending top dollar for top equipment that can stand the test of time. Doing work as it arrives. Trying to stay within specific studio hours. Let all clients know how long in the day they can expect same-day turnaround.
What is the best voice processing trick or voice-over technique everyone should know?
Talking to a real person. Studying the station's approach carefully. Working closely with PD's and marketing staff to really know what they want and who the target audience is.
Do you have a different approach to reading radio imaging copy as opposed to TV/Radio commercial ads?
Yes. A different approach to all media. Once again, creating what the buyer really wants and expects. 
Can you offer 3 helpful tips for newbies trying to make it in the voiceover industry?
1. Be very persistent. Develop contacts over time so when they need a voice they think of you. 2. Make sure your tech is top-notch in regards to sound. 3. Network with established performers for ideas and game plans. Most people are happy to pick up the phone and help (at least once!) or email.
If you could go back in time and hang out in any decade, which one would you go back to and why?
The 60s. Looks like a very interesting era. They had lots of challenges and a ton of fun. Or the roaring 20s. Happiness and class.
If you could invite one person to dinner, living or dead, who would it be?
David Letterman. I followed him into the green room once at 30 rock when there was apparently less security. Now I'd like to talk about the rest of life.
Connect with Eric:
Eric Gordon is represented by Atlas and available for barter through Benztown.