Behind the Mic: Issa Lopez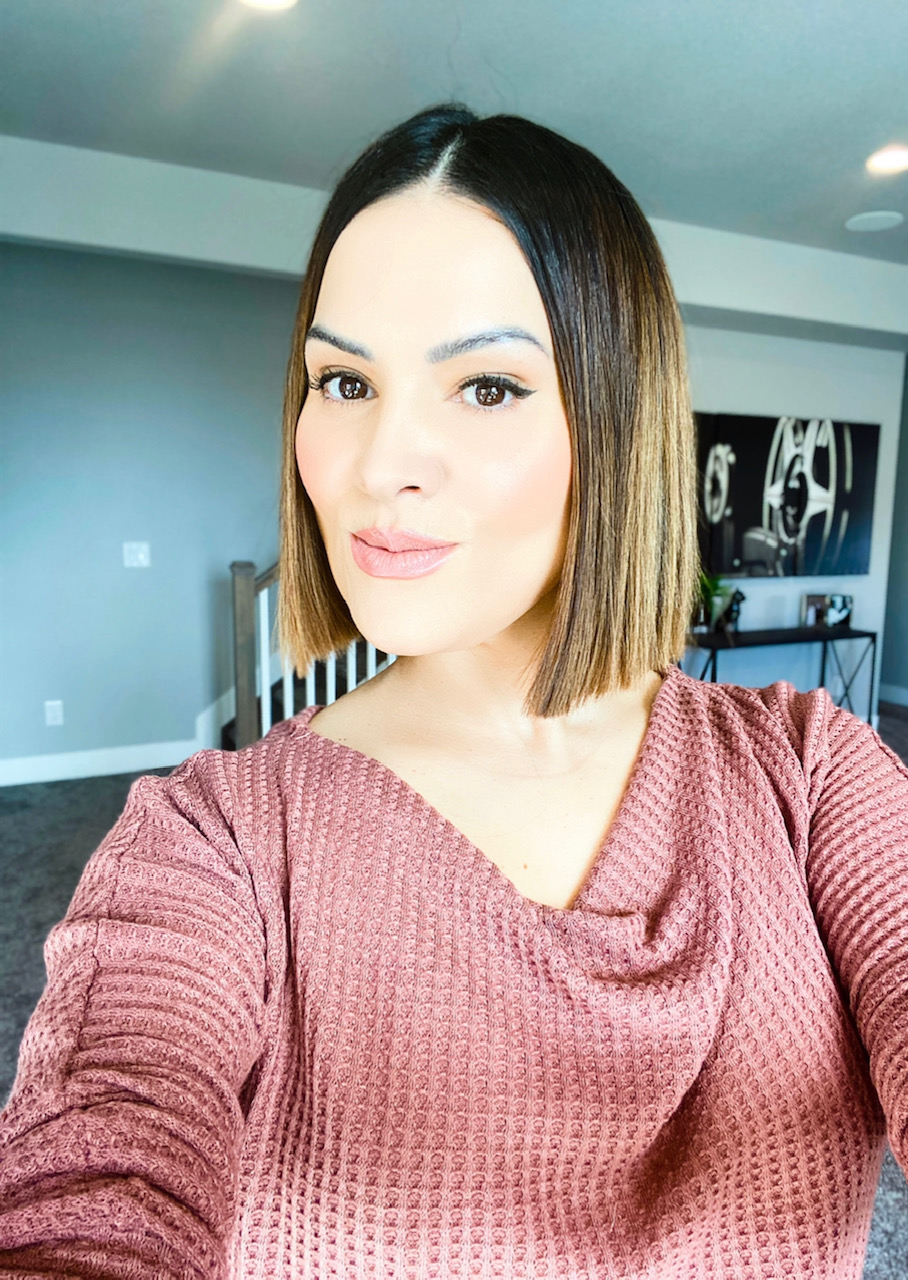 Hey there, I'm Issa López! I provide English and Spanish voiceover work and I'm proud to say I am an award-winning radio imaging voice talent with over 15 years of imaging experience.
What are you up to presently (freelance/on-staff at a station)?
I am a freelance voiceover artist working in Colorado Springs from my home studio and I absolutely love it! Coming from previously being a radio personality, this was a huge change for me going full-time voiceover in 2016 but it's the best thing EVER to me now. 
What do you love about your job?
I express this ALL the time . . . whether it's during a podcast interview or even on my Instagram, I love that I get paid to be MYSELF . . . especially all my radio stations, they literally ask me for that which is such an awesome compliment. 
How did you get started as a VO actor?
I started doing most of my voiceover work when I began my radio career in 2005 with what was then Clear Channel and is now iHeartRadio. A big shout out to Jim Lawson, my old boss, because he was the one that really gave me a shot at radio imaging. I was able to learn a lot during those good times and gain more momentum with program directors and other stations that were looking for Latin flair.
Check out Issa's demos:
Who are your VO idols/mentors?
GEEEZ this is such a hard question! I will mention the people that have been there emotionally and mentored me throughout this radio imaging and voiceover game from the beginning: Ann Dewig, Jen Sweeney, and Josh Goodman!
These people have always set the standard for me and it's a huge reason I've been so successful. They have always been 100% honest. I think when it comes to a career and something as serious as voiceover, if you really want this bad enough you have to be ready to hear the good and the bad.
If you weren't doing voiceover, what else do you think you'd be doing for a career?
Before I fell into radio I was a professional singer. I think I would still be singing or doing something in the arts. 
What did it feel like the first time you heard your voice on the radio/television?
I think a big moment for me was when the first iHeartRadio Fiesta Latina promo was played in Times Square and my boss at the time happened to be there and was able to let me know. That was super cool!
How has new technology changed the way you work?
One of the biggest gigs I had was at the beginning of 2018 and right after the session was done my computer exploded . . . like literally went pop . . . I thought I was going to die. I had to set up my emergency set up and redo the whole session without telling the client.
That same day I said goodbye to PC and said hello to Apple. To that, I am grateful because I'm really afraid of new technology I'm not a tech-head so anything new freaks me out but if I can record on TwistedWave, anybody can.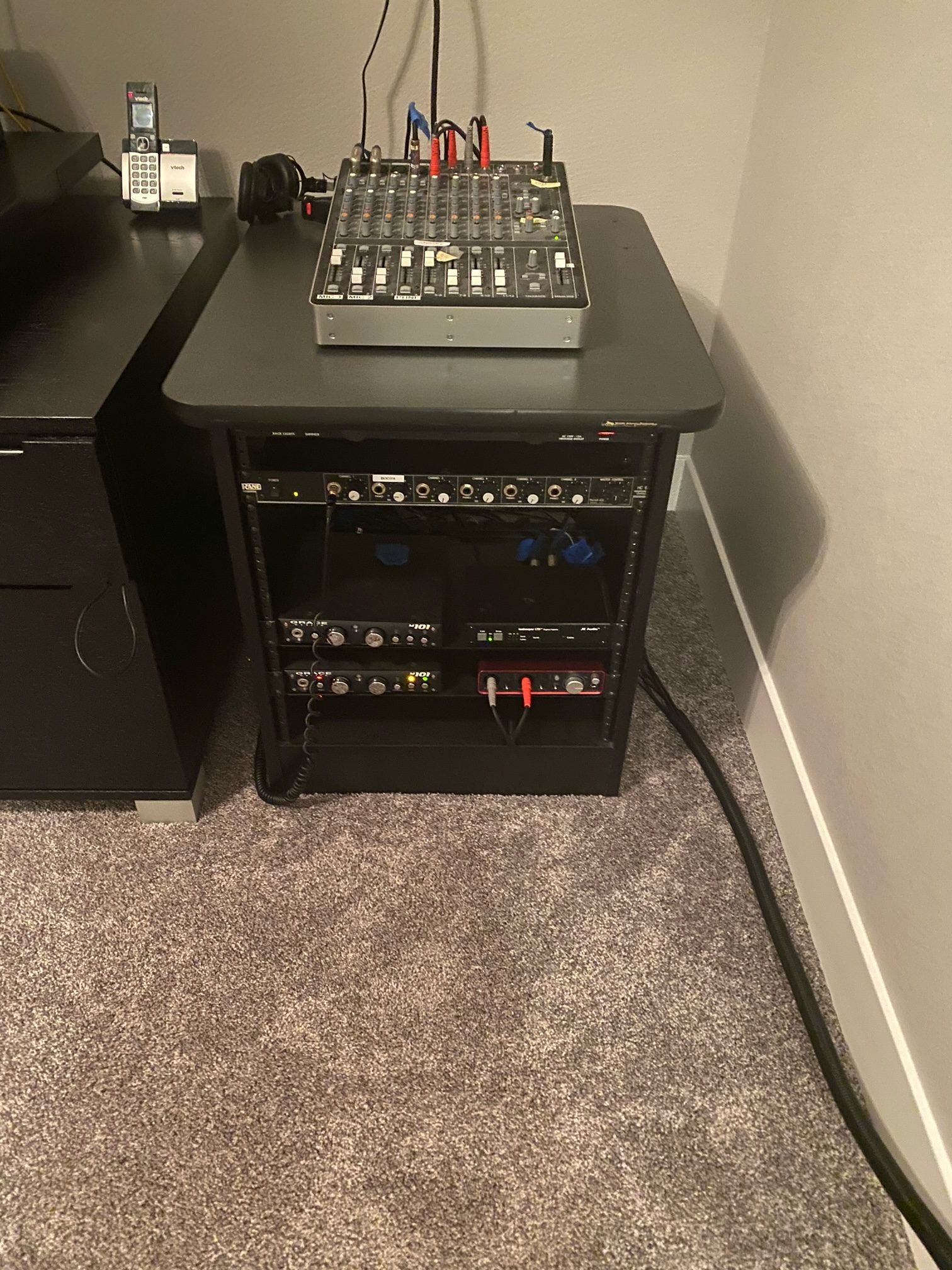 Check out Issa's gear!
What gear do you use on the road? In your studio?
I am currently upgrading my travel gear, but currently, I have a Sennheiser 416 shotgun mic, my husband's old Mac laptop, a Yamaha AG03, and an amazing hotel of plugin presets tailored to me by the amazing George Whittam.
I am upgrading to a smaller setup with a Macbook Air M1, my Sennheiser 416 shotgun mic, and I'm still deciding between the Apollo Solo Thunderbolt or MicPort Pro.
I spoke to Steve Stone about it the other day and he travels with the MicPort Pro and really loves it, so that was a huge plus.  may go with that one because if it's good enough for Steve, it's good enough for me. 
Have you ever had a voice coach? Would you recommend it?
I've had several voice coaches and I don't regret it at all. I 100% recommend voice coaches if you want to do different types of voiceover in your career. You can be super talented but nobody can do everything. There's always room to grow and get better. Some of the best coaches out there are casting directors, so they know what's in style, that is a super great tip!
How do you schedule/prioritize your work? How much time do you spend auditioning for new work?
My day depends on the demands of my clients, but usually, I have time to do all of my auditions first thing in the morning and then take care of all my PD's nationwide and internationally. I spend at least 2 to 3 hours a day auditioning for new work. 
When it comes to VO work, studio & gear, what are your most ingenious methods/discoveries for saving time and cash?
It's super important that you have presets and plug-ins like Izotope, DeEssers, and plug-ins that automatically clean up mouth noise. I don't know what I would do without them, and of course, set up pre-set buttons on your keyboard to make editing super quick – this is so important! Most of all, your studio has to sound pro because you can sound amazing vocally but if you don't have a great recording space . . . it won't matter.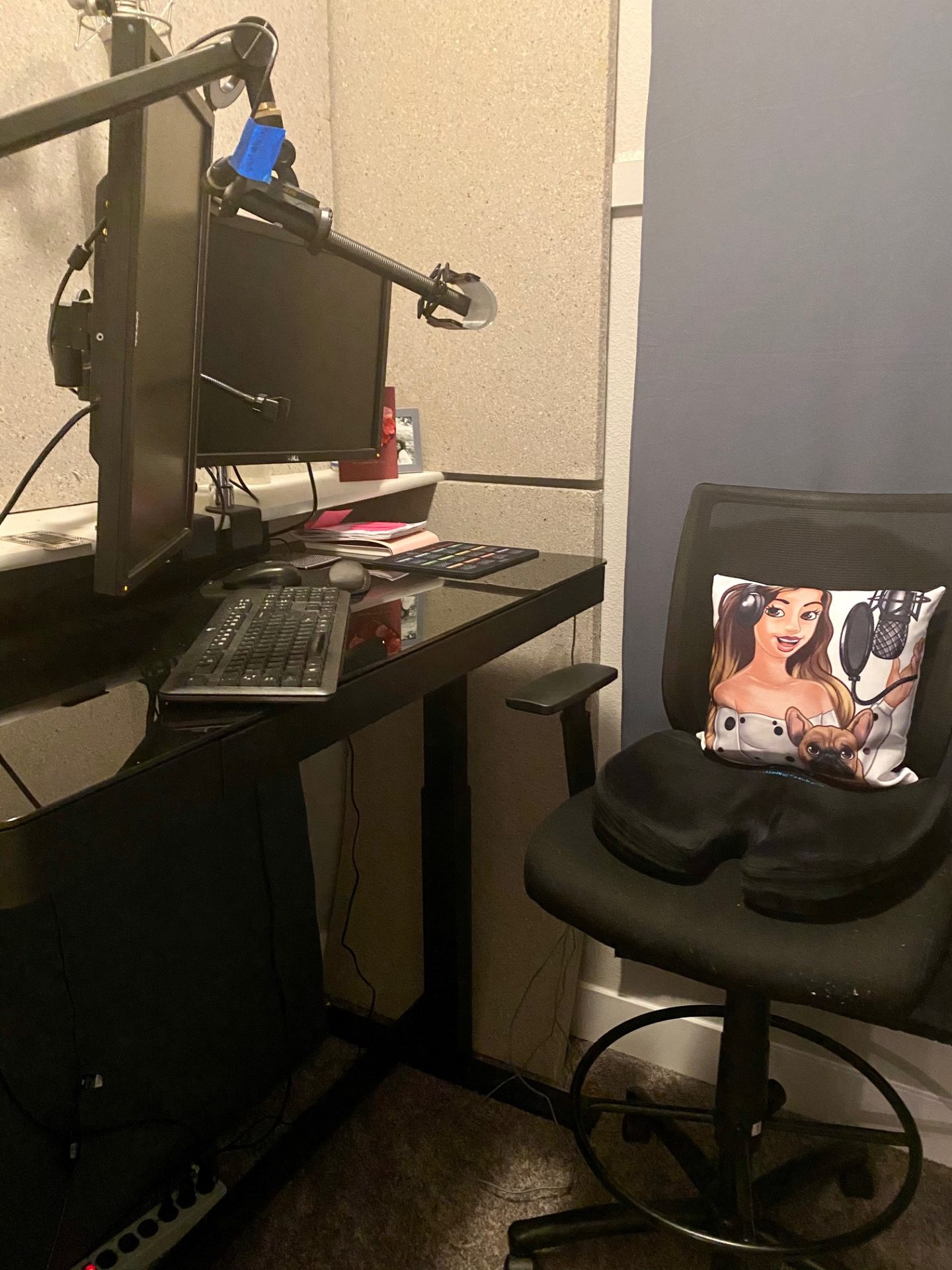 Issa's pro studio set-up!
Do you have a different approach to reading radio imaging copy as opposed to TV/Radio commercial ads?
Radio imaging is completely different from everything else that I do. It requires a lot of energy, especially the Spanish stations, so the warmer my voice is the better.  I think smiling makes a huge difference too. People will be able to hear it.
Can you offer 3 helpful tips for newbies trying to make it in the voice-over industry?
Absolutely! 1. Before spending a lot of money on demos, have a vocal coach assess you as a vocal talent because they will be able to let you know whether you have reading problems, delivery issues, and whether this is a good field for you to follow. It can get pretty expensive so I would want to find out first. 2. Your studio and recording area is a top priority after that because you will have to be available and provide a quick turnaround for your clients. 3. Last but not least, if you're in this to make money and that's it, don't even bother. It takes more than that to be successful.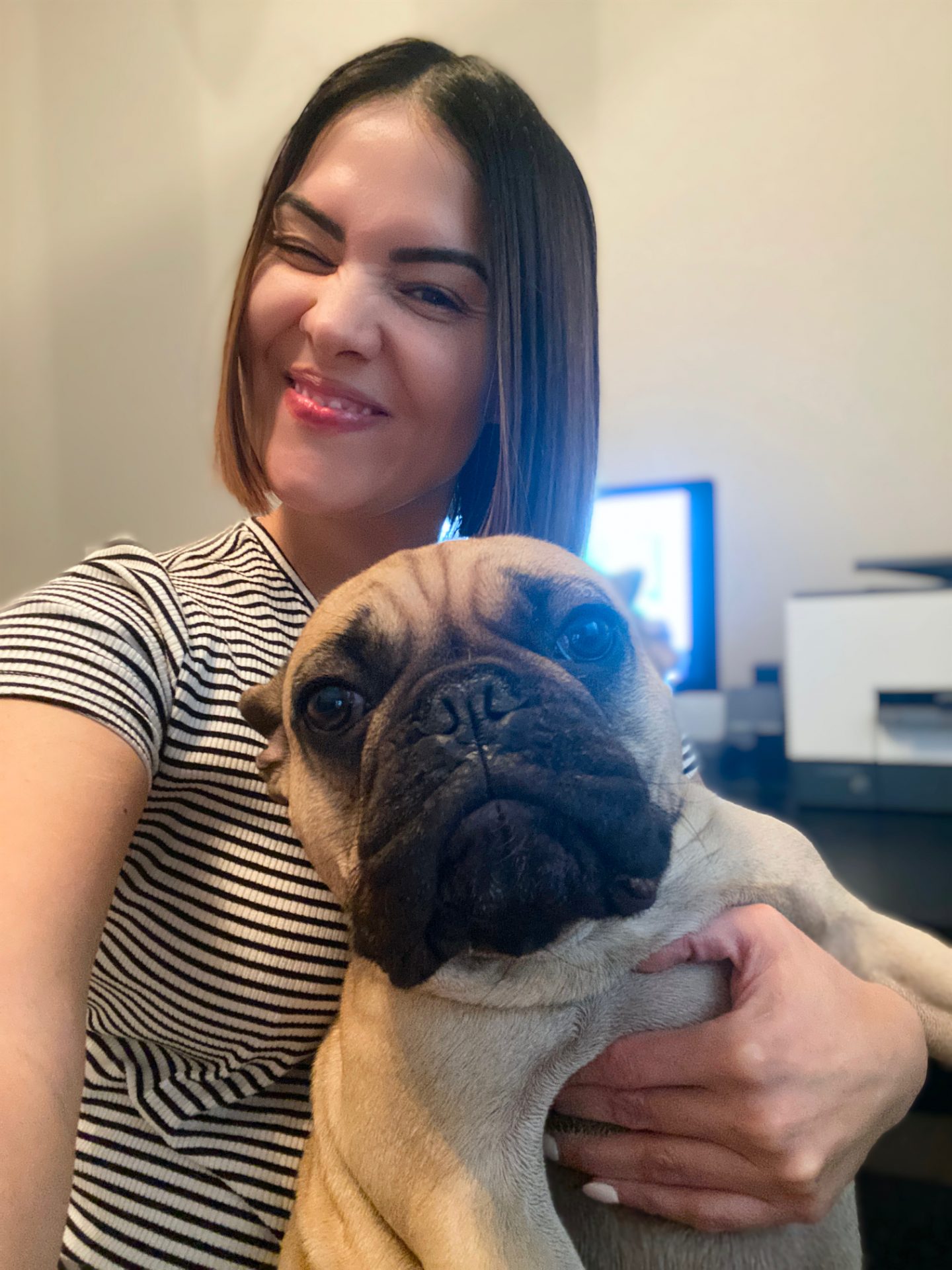 Our tip for home studio success: surround yourself with adorable, furry coworkers!
If you could go back in time and hang out in any decade, which one would you go back to and why?
I would say the 60s. I would love to watch my parents and be a bug on the wall. I think that would be a great experience.
Favorite 2 pizza toppings?
Cheese and pineapple. 
If you could invite one person to dinner, living or dead, who would it be?
You know if you asked me this years ago or even a year ago, I would've said Prince, like always. Now I would say Chadwick Boseman. To hear that he was so sick the last four years before he passed away in 2020 and he still worked his butt off . . . there's something so wonderful about that type of work ethic. I would want that to rub off on me. It goes to show everyone is going through something and everyone has a story, but no matter where you're headed, don't let the past affect your future. It all starts with YOU. 
After losing my radio job in 2016, I was scared to death. I didn't know what I was going to do. I sold everything – all my handbags, my fancy car. What I did have was drive, great work ethic, and a full-blown studio that I had invested in before losing my job. Before I knew it, I was doing full-time voiceovers and I've never been happier or more successful. Sometimes in life, scary things happen to push you to do better and be better.
Connect with Issa:
Issa Lopez is represented by Atlas and available for barter through Benztown.