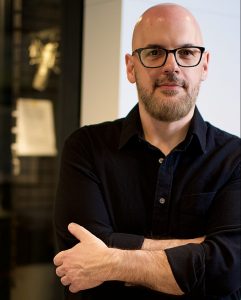 JJ Surma is a voice actor who's primarily known for network news, but a big chunk of his heart will always belong to local radio. From early summers spent recording and mimicking the voices on his hometown station of Q94 in Richmond VA, to growing up (sorta) and becoming a branding voice heard from coast to coast, RADIO is in his blood. His coffee-infused, voiceover-obsessed blood. So let's go!
What stations/Markets are you on?
I'm fortunate to serve great brands all over, including KLOS Los Angeles, KSL Salt Lake City, WARO Ft Myers, KMOD Tulsa, KFTK St. Louis, and CFBR in Edmonton, AB (shout out to the Great White North)! I'm also proud to note I'm the signature voice of Benztown's Ambush Newstalk service.
What radio VO work have you done in the past? What are you up to presently?
I came up as a radio producer with a background in Newstalk, Rock, and Sports. Most people in the industry got to know me as the imager for WMAL in DC for almost two decades. I do VO full-time now, but I still consult WMAL and other brands and even podcasts as a producer. Keeping a toe in that water helps me stay sharp as a VO. And if there's one thing the pandemic taught us all, it's that diversification is good.
What do you love about your job?

I love being a creative partner. So many producers are writing and producing by themselves and that is hecking HARD and LONELY. I love getting to know them, finding out their preferences, and then asking if they want me to give them alternate reads or B-roll. Some people just want it done quick and dirty but other people are starving for an outside contributor to the creative process, so I love adding wild takes when it's appropriate.
Who are your VO idols/mentors?

I'll never forget watching TV with my grandfather one day and seeing the old ABC logo come on the screen. At that moment I heard Ernie Anderson announce "THIS…is ABC". That was pre-internet, and I was too young to understand what voiceover was or how it worked, but right then I thought "there must be a person who does that for a living". So I guess Ernie was the one who lit the spark. Later I heard Peter Cullen's voice on the original Transformers and became obsessed with cartoon voices. Along the way there have been many others who have inspired me, including Bill St. James, Brian Lee, Jim Cutler, and the late Brian James.
What gear do you use on the road? In your studio?
I've weaned myself off of outboard gear over the years. It was hard, but modeling (specifically the UA Apollo stuff) has come so far, I can now sound as good on the road as I do at home. But the most important gear is your mind. Clients don't hire the equipment, they hire humans with a well-developed point of view…and the most unique ones can sound good through a relatively simple set-up.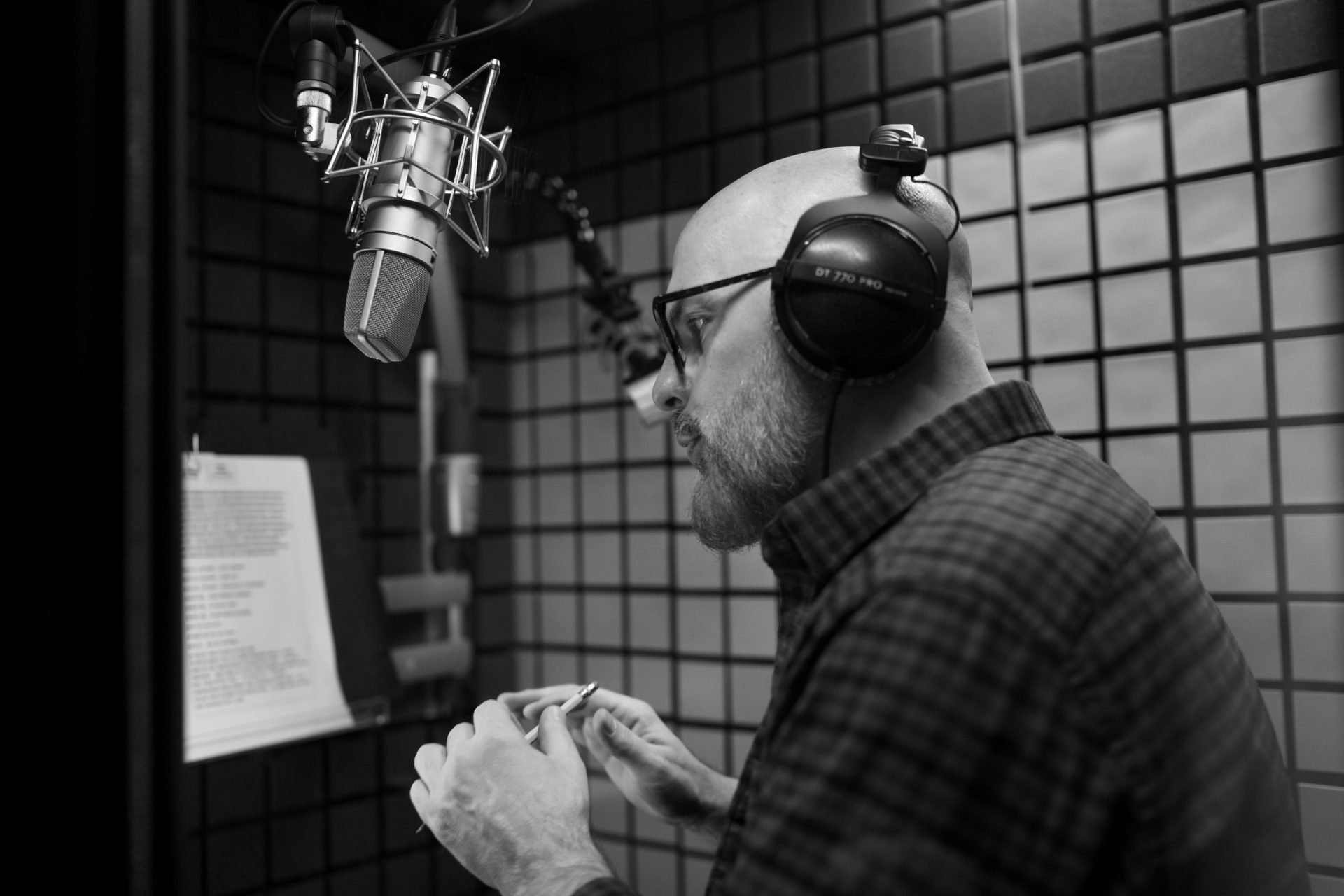 JJ in the studio!
Have you ever had a voice coach? Would you recommend it?
I've had a bunch of voice coaches, and I highly recommend working with a vetted, qualified pro. Thom Pinto, Dave Walsh, and Mary Lynn Wissner have all helped me add something different to my technique. That said, even if a coach has a stellar reputation, they might not be for you. It's okay if you don't jive with a certain person's method, and it doesn't mean you shouldn't be working in VO. Additionally, I would recommend my singing and diction coach Faith Rumer to everyone — her help has been invaluable to me.
What advice do you have for newbies trying to make it in the voice-over industry?
I get asked for advice on getting into voiceover usually once a week, and I always try to respond positively. But when you ask to pick the brain of a voice actor, be ready to ask specific questions. Being kind enough to give back is the mark of a true professional, but so is being very busy. Join a few Facebook groups, spend a few hours on YouTube, and THEN see if someone is able to talk for a few minutes. A little preparation before you ask for free advice can save everyone time.
How do you market your services to potential clients?
Marketing consultant John Jantsch said "Branding is the art of becoming knowable, likable, and trustable." But to correctly market yourself, you have to KNOW yourself. What's your story? What are your strengths? What lights you up? What about you is unique and sits well in the marketplace? These are all things to consider before you try to ask anyone to hire you.
If you could go back in time and hang out in any decade, which one would you go back to and why?
There are things to love about each decade, but I would definitely go back to the 80s if I could. The birth of hip-hop and metal, pop songs with guitar solos, parents letting us kids play outside unsupervised…I mean, how could I NOT pick the decade of decadence? My childhood pretty much was exactly like Stranger Things, so…factor that in.
What are your favorite 2 pizza toppings?
There can be only ONE: pepperoni!
Connect with JJ: