Behind the Mic: Trisha Lynn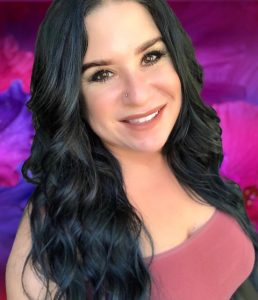 Hi, I'm Trisha Lynn. Los Angeles based, born and raised in southern California. I have been in the VO industry for over 9+ years and have been involved in voiceover campaigns with iHeartMedia, Lexus, Anaheim Ducks NHL Hockey, Chevrolet, Infiniti, and The Golden Trailer Awards. I work in multiple areas of VO such as TV/radio commercials, network promo, movie trailers, radio imaging, corporate narration, in-show announcer, Tier ll and lll automotive advertising, and more. My love for voiceover, music, radio, and sports goes hand in hand. Bringing you sexy, sultry, warm tones with a big splash of fun, exciting, and inviting vibes…. no radio format is off limits. If your CHR, Hot AC, AC, Country, Sports, Classic Hits, and Rock stations need a little umph….I got you !!
What radio VO work have you done in the past? What are you up to presently?
In the past and currently in the present I still do voiceover work with Benztown/Yaminair, iHeartMedia, Anaheim Ducks NHL Hockey, and various automotive dealerships. I also voice radio campaigns I book through my VO agents/managers that air in local/regional/national markets around the US.
What do you love about your job?
Being able to creatively use my imagination to bring the copy/story to life is a fun challenge for me. I love having the ability to work out of my home studio and most times set my own working hours each day. Not to mention that I save tons of money on gas and hours of my time by not having to sit in traffic every day on my way in and out of Los Angeles. Working from home allows me to get so much more accomplished each day. Not only with work, but also personally.
How did you get started as a VO actor?
I originally started in the entertainment industry as a background actor back around 2012. I also started taking on-camera commercial acting classes around the same time. I studied improv acting at The Groundlings comedy theatre and The Second City Hollywood comedy club. Around 2014 I stumbled across a voiceover for Improv class and I was immediately hooked on VO. I started attending voiceover workshops regularly at the Don La Fontaine Voiceover Lab in Los Angeles and learning about all the different voiceover genres. My very first workshop at the VO lab was a video game class and let me tell you…..by the look on the instructors face….it did not go well. HaHa!! I will never forget that feeling of nervousness and uncertainty and most of all my confidence being tossed right out the window. Thankfully that experience didn't keep me from moving forward. By 2016 I had my very first commercial demo produced and was on my way to becoming a successful voiceover actor. Today I am now represented by talent agents and managers across the nation and specialize in multiple areas of voiceover (commercial, radio imaging, promo/movie trailers, automotive vo, and more).
What was your first gig?
My very first voiceover job was a radio commercial with the Anaheim Ducks NHL Hockey team. I have done several voiceover jobs for the Ducks since then and they remain a client of mine to this day. Not only did I voice for the Ducks, but one of the producers I worked with over there has referred me to other creative directors within the company to work with. The biggest compliment I could ever get is a client referring me to another new client to work with. I am very grateful for the Ducks giving me my very first voiceover job when I was brand spanking new and continuing to believe in me and my work all these years later.
Any memorable ones since then?
I voiced a project for the Anaheim Ducks where they were going to play my read as the announcer over the main speakers in the arena. It was an event where they had a bunch of elementary schools attending. One of those students in attendance was my youngest nephew Blake. I had known that my voice was going to be the announcer that day so I told Blake to listen and pay attention to see if he can hear me. He was so excited and proud that when he heard my voice in the arena that day he told me he shouted to his classmates….."That's my Auntie !! That's my Aunties voice!!" He thought that was the coolest thing ever. I shed a tear that day.
If you weren't doing voiceover, what else do you think you'd be doing for a career?
I would still be working in real estate since I've been doing that for the past 20 years. I would also continue to grow my production business. I have also always wanted to start my own beauty/skincare line. I make my own skincare products like face setting sprays, face cleansers, makeup remover wipes, etc. So that is still something that could potentially happen in the future. We shall see.
What did it feel like the first time you heard your voice on the radio/television?
I couldn't stand to hear my voice at first, but I eventually got used to it. One of my friends used to hear my very first radio commercial all the time and he would text me to let me know…." your commercial is still running". I would get really embarrassed. Someone told me long ago……you better learn to love your voice. Now I think it's so cool. I'm like OMG that's me!!
How has new technology changed the way you work?
With the way technology has evolved it allows me as a voice actor to be able to work from anywhere in the world at any time. I can voice projects from my home studio. I can be in person at the local recording studio. I can be under my pillow/blanket fort in a hotel room recording auditions at any time from anywhere. It's pretty cool to have that flexibility.
What gear do you use on the road? In your studio?
I use the same gear in my home studio as I do on the road. I like to keep things simple and easy to transport for when I travel. I use a Sennheiser MKH 416 condenser microphone, XLR cable, Sennheiser headphones, a MacBook Pro laptop, Focusrite Scarlet 2i2 USB interface, and Twisted Wave DAW.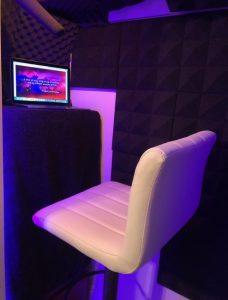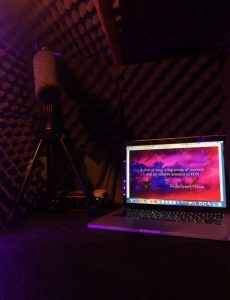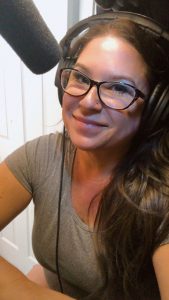 Trisha in the studio!
Which production system do you use and why? Any favorite plugins?
I currently record and edit in Twisted Wave because it is so basic and simple to use. I have used Audacity in the past, but recently I started to learn how to produce with ProTools. Stay tuned… 🙂
Have you ever had a voice coach? Would you recommend it?
Yes, I have had multiple voiceover coaches and have studied multiple genres of voiceover from commercials to imaging to promo/movie trailers to in-show narration, corporate narration, ADR/Looping/Dubbing, and more. There are so many avenues of voiceover to explore. I would definitely recommend coaching and follow up coaching so you stay in-the-know of the current trends. In the beginning of one's vo career I would recommend starting with taking group voiceover workshops and then move on to one on one coaching when the time is right for you if you so desire.
How do you market your services to potential clients?
My voiceover agents/managers market me to potential clients and I am also constantly reaching out to stations/PD's/clients on my own via social media outlets and through direct emailing.
If you could go back in time and hang out in any decade, which one would you go back to and why?
THE 80'S BABBYYYY !!! I mean, come on. The 80's were the best. The 80's had the best music, best movies (weird science/16 candles/breakfast club/ferris bueller), best style (fluorescent clothing/acid washed jeans), best hair/big hair, best dance moves (break dancing/popping/freaking), Cloud 9 and Studio K dance clubs at Knotts Berry Farm in California, Richard Blade, cabbage patch dolls, walkman headphones, ghetto blasters, pac-man and donkey kong on Atari, VHS movie rentals, payphones, playing outside until the street lights came on, and so much more good times and things.
Favorite 2 pizza toppings?
My go to is always pepperoni and jalapeno. Butttttttttt I will say….YES….pineapple does belong on pizza !! I like pineapple with pepperoni or sometimes I'll get the ham and pineapple. Depends on what I am in the mood for.
Connect with Trisha: