MEDIA. NEWS, EVENTS, & EVERYTHING ELSE GOING ON AT BENZTOWN.
15 November 2022
Benztown + McVay Releases "The Neurotic Vaccine" A New Podcast from Seinfeld Writer Andy Cowan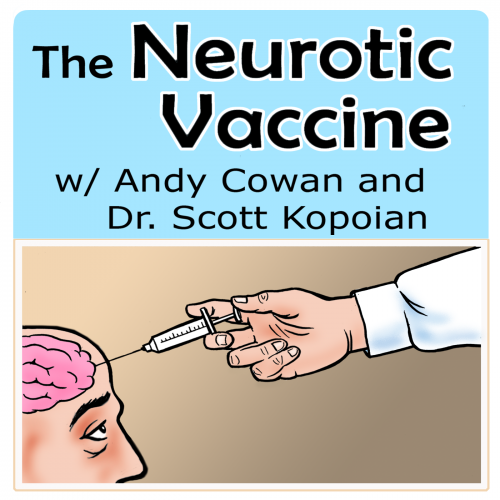 Author and former Seinfeld writer, Andy Cowan, seeks immunity to neurosis through gut-spilling therapy sessions with clinical and forensic psychologist, Dr. Scott Kopoian, and inaugural guests JAY LENO and CATHY GUISEWITE, in the format-uprooting comedy/therapy podcast we need now more than ever…                              
The Neurotic Vaccine 
LOS ANGELES, CA – November 15, 2022 – Benztown + McVay Media Podcast Networks announce the launch today of a quirky and forthright new comedic podcast years in the making, The Neurotic Vaccine, created and hosted by Andy Cowan, award-winning writer for Seinfeld, Cheers, and 3rd Rock from the Sun. In The Neurotic Vaccine, Cowan invites fellow neurotics to share his mini-therapy sessions with co-host, clinical and forensic psychologist, Dr. Scott Kopoian. Together with their guests – including inaugural guests Jay Leno and Cathy creator, Cathy Guisewite – Cowan and Kopoian work toward the daunting goal of immunity to neurosis. The result is candid and humor-driven destination listening.
The Neurotic Vaccine podcast includes celebrity guests, post-session postscripts, comedy featurettes and more. Future sessions of The Neurotic Vaccine will feature stars including Leave It To Beaver's Jerry Mathers and Tony Dow (in his final interview), Curb Your Enthusiasm guest star, comedian Elon Gold, Shark Tank's Kevin O'Leary, CNN host Michael Smerconish, and actress Marilu Henner.
Listen to the series trailer and first two episodes of The Neurotic Vaccine podcast now at: https://omny.fm/shows/the-neurotic-vaccine-with-andy-cowan-and-dr-scott and wherever podcasts are streamed.
In Session 1, Andy vents with Dr. K over a phone rep's "Is there anything else I can help you with?" and learns from Jay Leno about the key to success in show business, and to be glad that bad things happen.
In Session 2, Andy raises the relationship red flags with Dr. K, and chats with guest Cathy Guisewite about the four basic guilt groups along with her guilt about ending her comic strip.
"Andy Cowan makes me laugh, a lot. Then he makes me think." – Jason Alexander 
"Andy Cowan's unique mind operates at the turbulent intersection between the generations, the centuries, the down-to-earth, and the absurd. He is a largely unsung genius and potential cultural hero to the gigantic but quietly suffering population of neurotics that drag their sorry asses amongst the rest of us who are perfect."                      – Michael Harrison, Publisher, Talkers Magazine  
"Comedy and therapy – what could be more therapeutic than that? Andy Cowan's singular vision and voice is one-of-a-kind in the podcast-sphere. If laughter is the best medicine, let the healing begin – with a double dose of The Neurotic Vaccine!"                                            – Mike McVay, Partner, Benztown + McVay Media Podcast Networks 
For more information, visit https://benztown.com/podcast/ or contact Susan Aksu, Producer, Benztown + McVay Media Podcast Networks, sa@benztown.com, 818.842.4600.
About Andy Cowan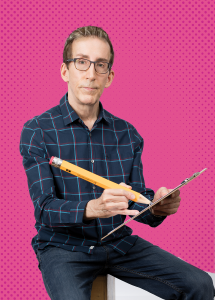 Andy Cowan, creator and host of The Neurotic Vaccine podcast from Benztown + McVay Podcast Networks, is an award-winning writer, producer, and performer, the only writer associated with Cheers, Seinfeld, and 3rd Rock from the Sun. Credits include multiple episodes of Cheers, Seinfeld (writer, program consultant), and 3rd Rock from the Sun (writer, executive story consultant), and numerous other comedies and talk/variety shows among his writing credits. He won a CableAce Award for producing, writing, and starring in the Showtime 60 Minutes send-up, 6 Minutes. He began his career as a segment producer, writer, and performer on The Merv Griffin Show during the '80s and interviewed hundreds of luminaries from Orson Welles to Jerry Seinfeld. His memoir, Banging My Head Against the Wall: A Comedy Writer's Guide to Seeing Stars, foreword by Jay Leno, was released by Black Rose Writing in 2018 and acquired in 2019 by The National Comedy Center in Jamestown, NY, what Time Magazine cited in 2019 as one of the world's 100 greatest places. He received a Who's Who in America Lifetime Achievement Award in 2017. For more information, visit: www.andycowan.net.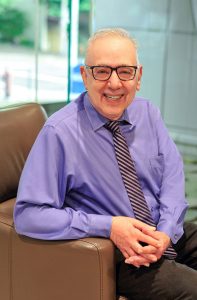 About Dr. Scott Kopoian 
Dr. Scott Kopoian received his Ph.D. in clinical psychology from California School of Professional Psychology Fresno. He is a licensed psychologist in California and Oregon and a Qualified Medical Examiner (QME) in the state of California. Kopoian collaborates with his clients to achieve measurable goals. His approach is scientific, empirical, and individualized.
About Benztown + McVay Media Podcast Networks
Benztown + McVay Media Podcast Networks is a collaboration between Benztown and McVay Media. Benztown is a leading international audio imaging, production library, voiceover, programming, podcasting, and jingles company with over 2,900 affiliations on six different continents. Benztown was named to the prestigious Inc. 5000 by Inc. magazine for five consecutive years as one of America's Fastest Growing Privately Held Companies. McVay Media is a full-service strategic audio programming consulting firm led by President and CEO Mike McVay, former EVP, Content and Programming, Cumulus Media and Westwood One. Benztown + McVay Media Podcast Networks provides podcasting clients with podcast development and production, as well as best practices in podcasting, talent coaching, advertising sales opportunities, marketing and distribution. For more information, visit: www.benztown.com.
Contact: Lisa Dollinger, Dollinger Strategic Communication for Benztown + McVay Media Podcast Networks, 512.633.4084 or lisa@dollcomm.com.
###