MEDIA. NEWS, EVENTS, & EVERYTHING ELSE GOING ON AT BENZTOWN.
04 August 2020
Benztown Turns Up the Heat On Its Rock Libraries With Supercharged New Team of All-Star Contributors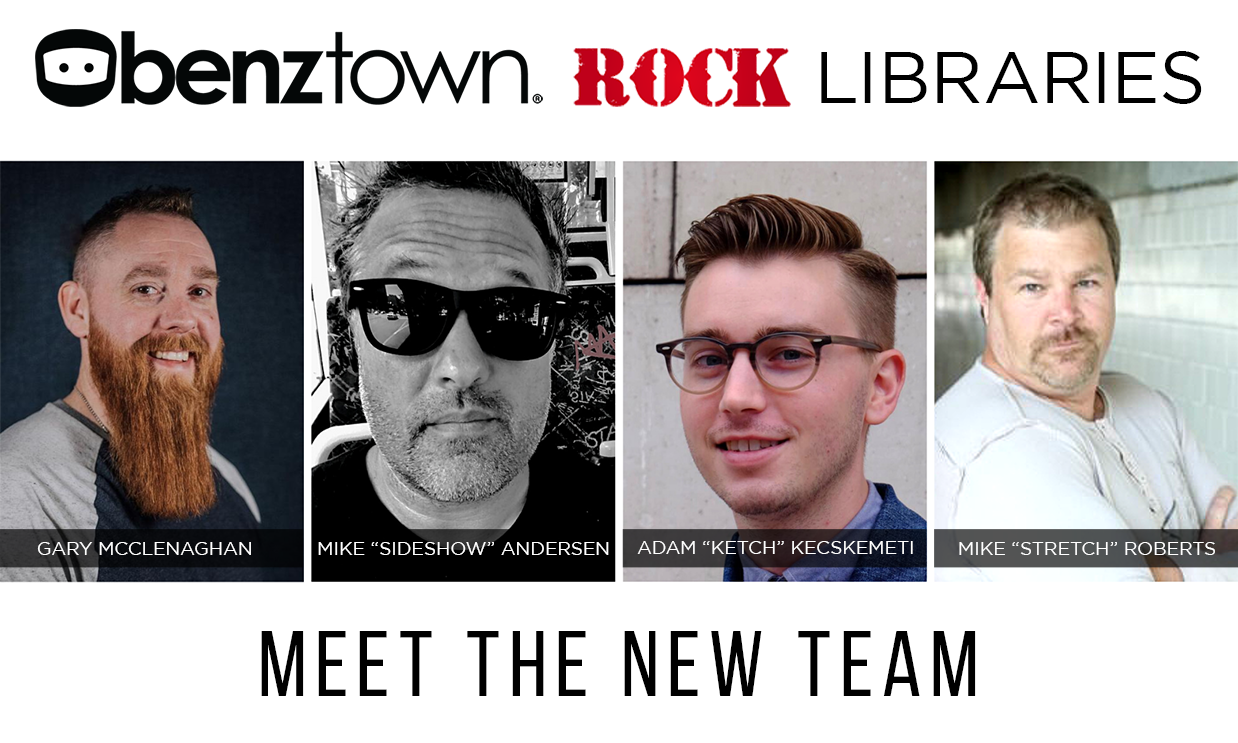 WHO: Benztown, a leading international audio imaging, production library, voiceover, programming, podcasting, and jingles company with over 2,900 affiliations on six different continents.
WHAT: Benztown has bolstered its Rock resources, naming world-class Rock imaging producers, writers and VO talent to its enhanced Rock offerings for radio stations of all market sizes. Benztown offers the highest quality audio imaging workparts in its standout Rock libraries including: Benztown Rock, Turbulence (Rock), Avalanche (Classic Rock)]. The new all-star team of contributors powering Benztown's Rock libraries includes industry stars Gary McClenaghan (Rock Voiceover), Michael "Sideshow" Andersen (Classic Rock Scripts), Adam "Ketch" Kecskemeti (Alternative/Rock Scripts), and Mike "Stretch" Roberts (Alternative/Rock Scripts).
Gary McClenaghan 
Gary McClenaghan spent 15 years writing and producing imaging for multiple rock stations in Canada, winning multiple awards along the way. In 2019 he took his years of experience and made the jump to full-time voiceover and can now be heard on a number of stations across North America. Gary's ability to adlib, write and perform humorous scenarios using multiple character voices has been the cornerstone to his success.
Michael "Sideshow" Andersen
Michael "Sideshow" Andersen is the most awarded imaging producer ever in Australia. This year he celebrates 25 years at Triple M Sydney. There's no disputing he is a specialist in Rock radio. Since 2013 he's been imaging across the ditch for the legendary New Zealand station Radio Hauraki. He's written, produced and consulted for stations everywhere from Russia to Hawaii, Malaysia to Alaska. In 2018 he joined Benztown's custom imaging team as a producer. Since then he's been itching to share ideas as a writer too.
Adam "Ketch" Kecskemeti
Ketch is an award-winning VO and producer with over a decade of experience in multiple formats. Starting out with the legendary CFNY(102.1 the edge) in 2007 as a producer, then imaging producer for Talk640, and later Q107, Ketch contributed frequently to Edge Mornings along with voicing and imaging Fresh FM Network and various national commercial and animation projects. He moved over to the CHR world as Imaging Director for 99.9 Virgin Radio in 2015, writing, producing and mixing for both Radio and TV. Ketch is currently the Imaging Director for Benztown's Newstalk and Spark Libraries, adding his sensibilities and humor to both. He also has a moustache. This is unrelated to radio.
Mike "Stretch" Roberts
Stretch has over 25 years of radio experience on some of the biggest radio stations and cities in America. WPLJ New York, Wild in San Francisco, and in his hometown of Los Angeles at Pirate Radio, Power 106, KIIS FM, The BEAT, and Star 98.7, where he spent over seven years as "Stench" the Morning Show Executive Producer/Host /Affiliate Relations on the Jamie Jack and Stench Show. The success of Stretch's radio career has also allowed him to cross over to television and stand-up comedy. He has been seen on Mad TV, The Gilmore Girls, Passions, The King of Queens, and as a Gossip Expert on TV Guide Channel's Hollywood 411. He has performed stand-up comedy at the world-famous Comedy Store on the Sunset Strip in L.A. and headlined The Ice House in Pasadena.
WHEN: Starting NOW!
WHERE: Benztown's Rock libraries showcase the combined talents of this amped-up new team of Rock visionaries and audio imaging specialists. TURN IT UP at: https://benztown.com/libraries/.
FOR MORE INFORMATION: Contact Susan Aksu at Benztown at sa@benztown.com or (818) 842-4600.