MEDIA. NEWS, EVENTS, & EVERYTHING ELSE GOING ON AT BENZTOWN.
21 September 2023
Matt Pinfield Interviews Stray Cats Drummer Slim Jim Phantom on SSS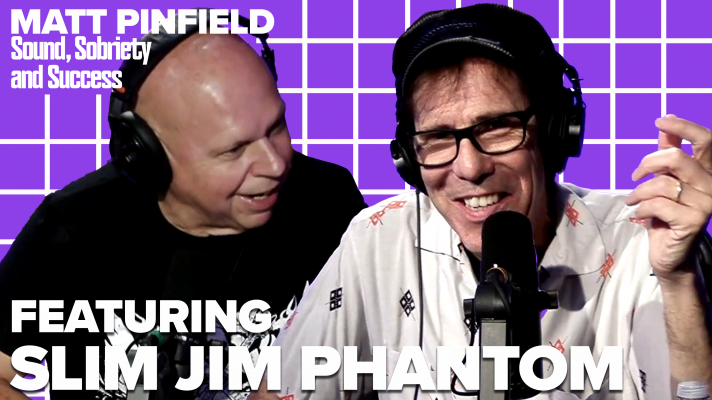 LOS ANGELES, CA – SEPTEMBER 19, 2023 – Benztown + McVay Media Podcast Networks announces that it has released the latest episode of the Sound, Sobriety & Success podcast, hosted by Rock journalist Matt Pinfield and featuring Pinfield's guest, Slim Jim Phantom, legendary drummer for the Stray Cats known for leading the rockabilly revival, pioneering his stand-up drumming style, and being one of the coolest drummers in rock-n-roll. In the new episode, Slim Jim Phantom shares how the Stray Cats made it big, how he decided to go sober, and how he lives the rockabilly lifestyle.
Listen to Sound, Sobriety & Success now on Spotify at: https://open.spotify.com/episode/2t5krLSjZVPKTOqPcXXLJm, and on Apple at:  https://podcasts.apple.com/us/podcast/slim-jim-phantom/id1629471594?i=1000628238411. And for the first time ever, watch the podcast via video on YouTube:
In this episode, Jim talks to Matt about:
• Growing up on Long Island and spending his time practicing music with his friends
•How discovering rockabilly music changed his life and influenced his style and sound
• Forming the Stray Cats and moving to London with hardly any money and no place to stay
• Gaining buzz by hanging around popular London pubs and earning the attention of big names like Motörhead, The Clash, The Sex Pistols, The Pretenders, The Damned, and The Rolling Stones
• Recording an album and discovering it was a hit back in the U.S.
• Quitting drinking after deciding partying and getting drunk for several nights in a row was a hard way to live
• Going to meetings all over the world and supporting other people's recovery journeys
• His close friendships with Rockers like Lemmy Kilmister and Earl Slick and how real friendships don't rely on substance use
• Climbing Mount Everest for Hope Love Strength Foundation and his other charitable work
• The drummers that inspired him and the welcoming community among drummers
And More!
This episode is sponsored by The Salvation Army Adult Rehabilitation Centers – one of the oldest residential drug and alcohol rehab programs. ARC is a non-profit and was hit hard financially as a result of COVID. For more information, and to donate or sign up for their quarterly newsletter, visit thechanceto.org.
Pinfield, a former MTV host currently heard on hundreds of radio stations across the country as host of Westwood One's Rock radio show, "Flashback" – has been a fixture in the music scene for three decades and has been on the road to recovery along the way, with a little help from his friends. In his inspiring podcast Sound, Sobriety & Success, Pinfield is vocal about his sobriety journey, and talks to people from all walks of life who have hit rock bottom and are finding their way back from addiction.
September is National Recovery Month. If you or someone you know is struggling with addiction, MusiCares operates a Mental Health and Addiction Recovery Program that recognizes those issues unique to music professionals at any stage of their career, offering eligible individuals financial assistance and resources for psychotherapy, coaching, and psychiatric expenses, inpatient and outpatient treatment, detox and sober living costs.
For more information, contact Susan Aksu, Benztown + McVay Media Podcast Networks, sa@benztown.com, 818.842.4600.
About Slim Jim Phantom
As the legendary drummer for the Stray Cats, Slim Jim Phantom, alongside bandmates Brian Setzer and Lee Rocker, spearheaded the neo-rockabilly movement of the early 80s. With a love for 50's Rock and Roll, the Stray Cats took inspiration from that bygone era and mixed with their youthful energy and aggression to produce the updated hard-edged rockabilly sound that saw them conquer London, Europe and later the U.S., gaining fans among the likes of Keith Richards, Mick Jagger, and Robert Plant along the way.
In addition to the Stray Cats, Jim has worked with some of the world's top artists. He has played a part in many successful groups – notably Phantom, Rocker and Slick (featuring long time David Bowie guitarist Earl Slick) which produced two popular albums; and Dead Men Walking, an all-star affair which has boasted original members of The Sex Pistols, The Cult and Big Country among the rotating line-up. Jim also enjoyed a stint playing with the rock-n-roll originator, Jerry Lee Lewis, and even performed in a now-mythological band called The Cheap Dates with acting legend Harry Dean Stanton, one of Jim's longtime pals.
Jim has worked on numerous other projects, including his own explosive self-named roots-rock trio, and HeadCat, co-starring Lemmy Kilmister and Danny B. Harvey, and Jim's musical project The Jack Tars, a band co-founded with old friends, and former Dead Men Walking bandmates Captain Sensible and Mike Peters and SJP's long time true rockabilly pal Chris Cheney of Australia's top rockin' band The Living End. He is also deeply committed to charitable works, too: he climbed both Mount Everest and Mount Kilimanjaro for Love Hope Strength Foundation (an organization co-founded by Mike Peters of The Alarm that benefits cancer research).
Jim hosts Rockabilly Rave Up on Little Steven's Underground Garage on SiriusXM. He is known as "The Honest Mechanic," where he features new rockabilly acts and the classics. Jim also hosts Slim Jim Phantasy on SiriusXM Fantasy Sports Radio, where he shares his other passion, baseball, and fantasy sports in general.
About Matt Pinfield
Matt Pinfield is an American television and radio host, disc jockey, and music executive. Starting in the early 1980s, he began working as both a radio and club DJ in the New Jersey alternative rock scene, working at WHTG-FM when the station first began broadcasting alternative rock in 1984. He later became music director at the station and won several awards before MTV hired him as a VJ to host their long-running late-night alternative music show in 1995. Pinfield went on to host a number of other shows on the MTV family of networks, including MTV, MTV2, and VH1. He later served as Vice President of A&R and Artist Development for Columbia Records from 2001 to 2006 and has since worked as a DJ, television, and radio host for a number of broadcast and satellite radio stations and television networks. Most recently, Matt was honored as Global Rock Summit's International Rock Icon of the Year for his work across radio, TV, satellite/digital media, print, and various other pop-cultural platforms. After a career in which he has interviewed over 1000 artists including some of the most prominent names in alternative, rock and other music genres, from the likes of Nirvana, David Bowie, Paul McCartney, U2, Coldplay, Jay-Z, Pink Floyd, Aerosmith, Rolling Stones, and the Foo Fighters (to name just a few) he's turning his focus towards people from all walks of life who have struggled with or helped others recover from addiction