MEDIA. NEWS, EVENTS, & EVERYTHING ELSE GOING ON AT BENZTOWN.
02 November 2020
MOVEMBER IS HERE!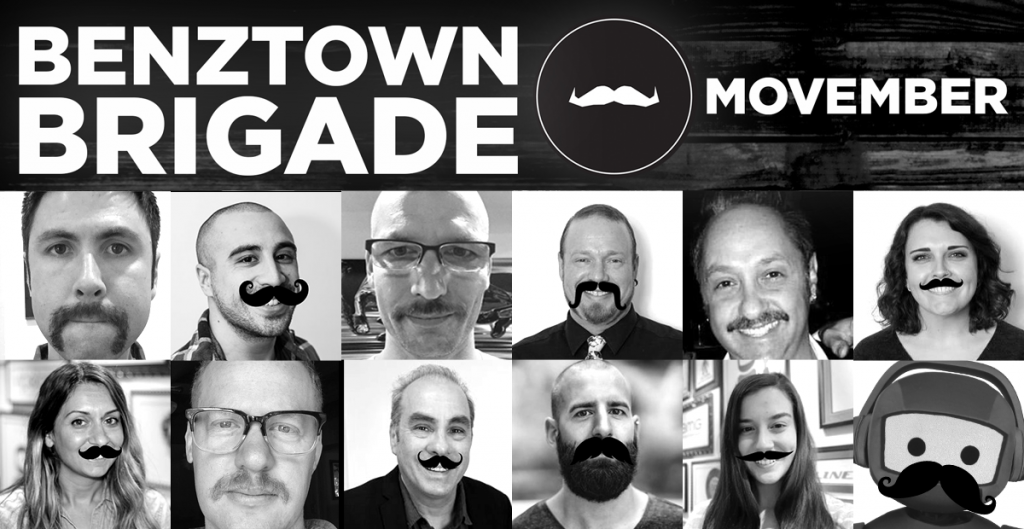 Grow Your Mo, Get Active, Kick a Bad Habit, or Host a Mo-ment with Radio! 
​

 Benztown Kicks Off 10thAnnual Radio Industry Movember Effort to Raise Funds for and Awareness of Men's Health Issues 
WHO: The Benztown Brigade, comprised of radio and audio professionals, the radio community at large, and the Movember Foundation, a global charity committed to men living happier, healthier, longer lives through the funding of over 1,250 programs addressing prostate cancer, testicular cancer, poor mental health, and physical inactivity.
WHAT: For the 10th consecutive year, Benztown kicks off Movember by inviting radio and audio professionals, shows, stations, and companies serving the radio industry to join Benztown in growing mustaches, getting active or kicking a bad habit, or hosting a Mo-ment to raise funds and awareness for men's health and prostate cancer through the Movember Foundation.
It doesn't matter if you're a Mo Bro or a Mo Sista – Movember is for everyone. This year, there are three ways to participate: Grow a Mo (mustache) through the end of November, Mo Your Own Way by getting active or kicking a bad habit for a day, over several weeks or across the year, or a new option for 2020 – Host a Mo-ment, where you rally a crew and do something fun and easy, virtual or in person. It's all about having a good time for a good cause.
As an added benefit to those participating this year, Benztown is donating $50 to the Movember Foundation on behalf of each new member sign-up that comes from the radio industry, up to $1,000. Individuals, shows and companies are invited to join the Benztown Movember team at: https://moteam.co/benztown-brigade. 
WHEN: Now through Monday, November 30, 2020.
HOW: Participation couldn't be easier! To join the fun and help the men in your life, all you have to do is sign up at: https://moteam.co/benztown-brigade and grow an epic mustache starting Monday, November 1, 2020, through the month of November.   

WHY: To raise funds and awareness of men's health issues, and to combat prostate and testicular cancer, mental health challenges, and physical inactivity. Across the world, men die at an average six years younger than women, and for reasons that are largely preventable. And it doesn't have to be that way. "Grow Your Mo and Get Active with Radio" starting today!
FOR MORE INFORMATION ON MEN'S HEALTH AND TIPS FOR HOW YOU CAN LIVE A HEALTHIER, HAPPIER, LONGER LIFE, VISIT: https://us.movember.com/mens-health/general. 
CONTACT: Kevin Horton, Benztown, (818) 842-4600, kh@benztown.com.