An "OTHER" massive launch piece for GHR by James Stodd
I mean you know James for sure, so this man doesn't need a whole lot of an intro. In his career, James has worked on multiple formats, for iconic brands and is also the format director for our Classic Rock format Avalanche.
He recently did a fantastic piece for the launch of Greatest Hits Radio in the UK I wanted to share with you.
Dive into the session, techniques used and learnings – Enter James.
On September 1st, Bauer media added almost 50 stations in the UK to the Greatest Hits radio Network. The challenge I was set was to create a launch piece to run at the start of the new network, that reflected the personality and music offer of the radio station.
We had discussions within the creative team of what was required. We settled on something that gave a hint of rock n roll history to start with, included an element of the offbeat delivery from our station voice, and then had a montage of key artists.
The easy part, in the end, was the script. We have a station voice, Dawn French,  who has a very off-beat delivery, but who we have very limited access to. She's known in the UK as a comedy actor, from the comedy double act French and Saunders and for TV shows such as The Vicar of Dibley. Since we weren't going to be able to record anything new, we trawled through the script archive and used some lines for a short launch promo that had been used in a different way. The original scripts were written by Chris Ward  Joe Thomas and have a quirky nature to them – slightly sarcastic but delivered in a very underplayed way. We then just needed a couple of key lines from our MVO, Rik Scott and we had all the ingredients needed.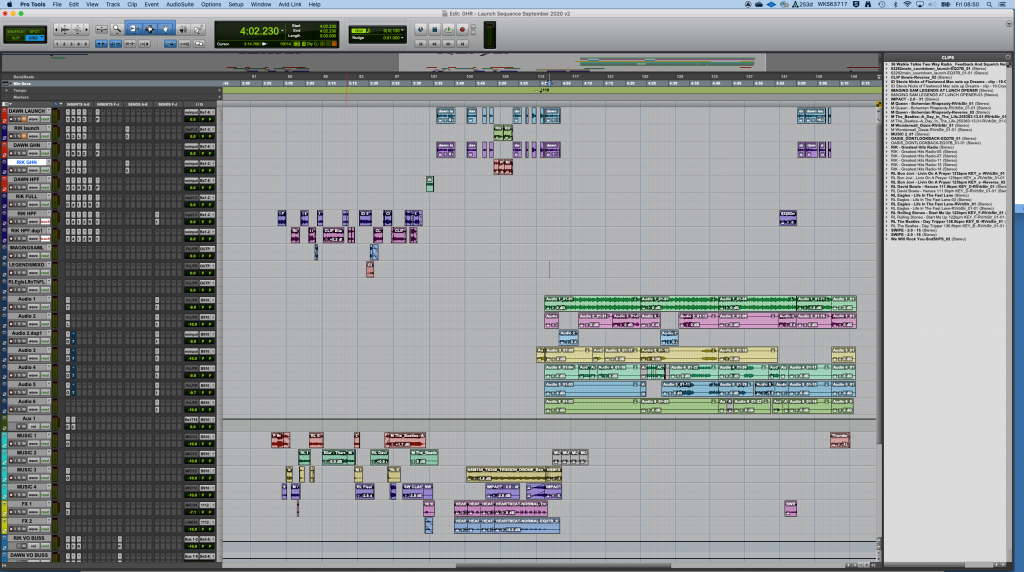 The montage sequence at the start was fairly simple. We identified some key elements from music history. Examples included The Beatles being introduced on the Ed Sullivan Show, the rivalry between UK bands Blur and Oasis, Bowie talking about his characters, Freddie Mercury at Live Aid and "Elvis has left the building". The original version started with clips from The Beatles and Elvis before moving into Bowie Oasis, and Freddie. This was later revised to remove the Beatles and Elvis (as they don't really feature on the playlist) and replace them with clips from Bon Jovi, Stevie Nicks, Madonna and more Freddie Mercury. It's a fairly organic part of the piece and came together very quickly.
The music "mashup" itself was surprisingly easy to put together. From the start, I wanted to use Radio Gaga. It's in F Major and has a BPM around 112. I then used this site to search for relative songs. The acapellas are pretty much all studio acapellas – sourced from https://www.voclr.it/welcome/. It's a paid service (pretty cheap) but has a really good archive and I found lots of relevant songs. It was then just a case of choosing relevant phrases and placing at the parts of the bar where the chord progressions worked.
The first couple of attempts didn't quite work as a couple of tracks – Abba and George Michael were too slowed down. Once I had the structure, I tried other versions at different tempos – first at 115bpm and then finally at 118bpm. This seemed to be the tempo where all of the songs sounded relatively normal – even though the Queen track was a fair degree faster than it would normally be – but it helped add pace to the piece. Since all my music tracks had Pro Tools elastic time activated, it was fairly easy to adjust the tempo. In the end, I ended up working with consolidated stems for each track, so when I was trying different tempos, everything changes together. I then adjusted individual acapellas for timing if required. The final mix had bpm locked delay on the odd key phrase, but aside from that, it was fairly clean.
It definitely benefitted from being something that was made, left for a couple of days, and then revisited – just to make sure everything flowed. But given how much it stuck in my head after first making it, I think the song order and song choice work really well.
Greatest Hits Radio is on air across the UK on FM, DAB Digital Radio, and on the app.