Behind the Mic: Ashley Cavaliere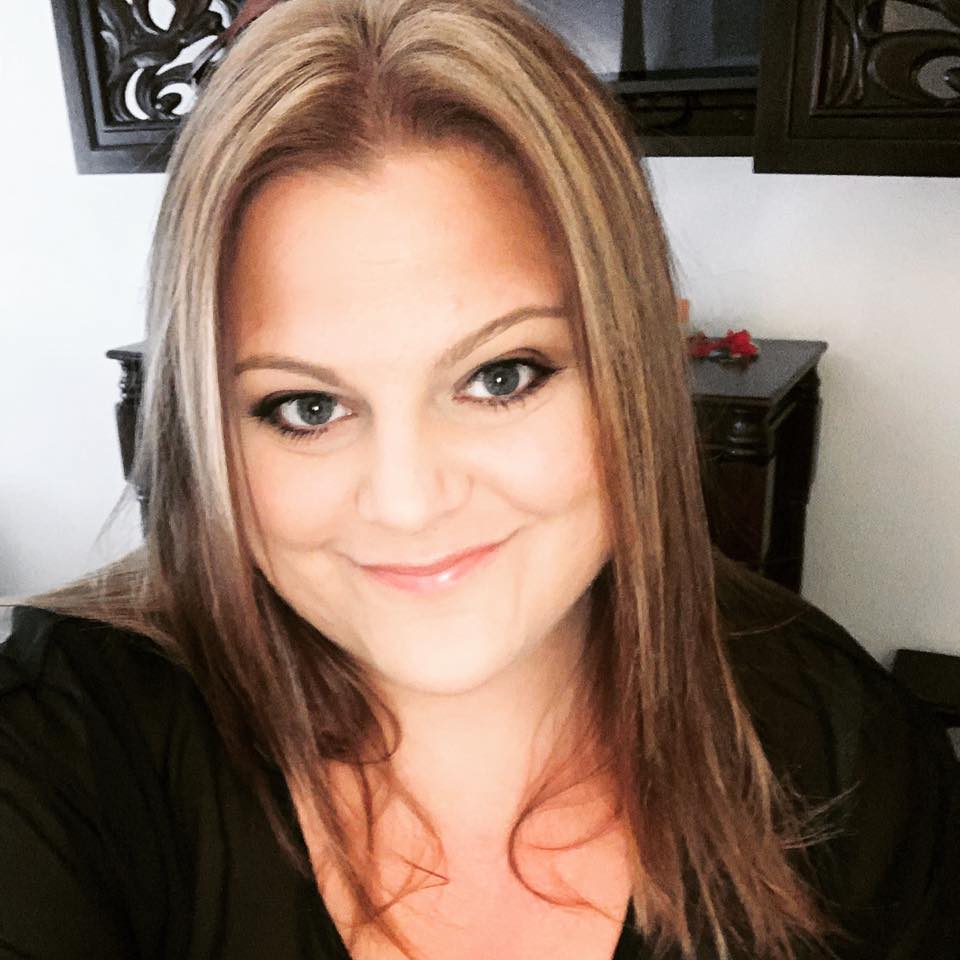 Ashley Cavaliere's friendly, relatable voice can be heard on radio stations around the world. Based out of New Haven, Connecticut, she can be found voicing and producing all genres at her home (specializing in CHR & HAC) – while at the same time, taking care of orphaned wildlife and her dog, Brooks, and cat, Mitty! Ashley is a pleasure to work with and puts her all into every project that comes her way. Listeners say they feel like they're listening to their BFF when they turn on the radio!
What radio VO work have you done in the past (stations/markets)?
I started my radio career in 2007. I went to CT School of Broadcasting and got an internship at iHeartRadio's KC101 (101.3fm) in CT immediately after. From there at the station, I went on to become part-time, then full-time Production and Imaging Director and on-air middays. I was there for 13 years. In November – due to budget cuts, I got laid off. Luckily, a few days after my let go, I was hired with iHeart again as a full-time imaging producer for the Format Center! During all of this I was, of course, doing my voiceover work!
I have done VO work for many stations throughout the country. Including KXXM San Antonio, KSLZ St. Louis, KZZP Phoenix, and more! I really enjoy the diversity of sound and copy throughout the stations.
What are you up to presently (freelance/on-staff at a station)?
Right now, in addition to doing voiceover work, I am National Imaging Producer for the Format Center at iHeartRadio. I produce imaging for all station formats within the company. I love it! The fact that I get to produce country, rock, CHR all in one day is super fun! It also really benefits me as a VO since I am producing so many different voices every day! 
I am also on air on KC101. I was on air middays for the past 6 years, but due to a nationwide layoff, I am now back on-air doing weekends.
Check out Ashley's Demo:
What do you love about your job?
I love so much about my job as a voiceover! The community is awesome. Everyone is so kind and supportive of one another. I love that I get to read fun copy all the time and be able to translate that back on the air for the listeners to enjoy. Playing around with different voices is always fun too!
How did you get started as a VO actor? 
Growing up I always wanted to be a "cartoon voiceover" and really never knew anything about radio imaging vo…until I got an email from Kelly Doherty one day! She sent out an email to all female on-air/producers at iHeart looking to see if there was any talent within the company to use on projects. Fast forward 10 years, and we're here! I am so glad she sent that email!
What was your first gig? Any memorable ones since then?
My first gig as a VO was doing commercial voiceovers since I was the Production Director at KC101. I started that in 2007. As far as imaging VO goes, my first gig was on Kiss FM in Virginia! I did it for no pay and loved every minute! Shout out to Ricky for that opportunity!
I have had many memorable moments since then including VO for the North Pole radio station, national IHR projects, local TV spots, and all my individual stations. I also did a fun project for a station in Germany! My favorite moment though by far was speaking on the imaging panel at the World Wide Radio Summit in L.A.
Who are your VO idols/mentors?
There are so many people in the industry that I look up to! Kelly Doherty, Rachel McGrath, Chad Erickson, Jeff Berlin, Deke and so many more! Especially now that I am producing dozens of VO artists throughout the day. I have a ton more inspiration and am able to learn from each one.
If you weren't doing voiceover, what else do you think you'd be doing for a career?
If I wasn't doing voiceover, I would either be doing something with animals or kids. I am a foster for dogs and cats, as well as a wildlife rehabilitator.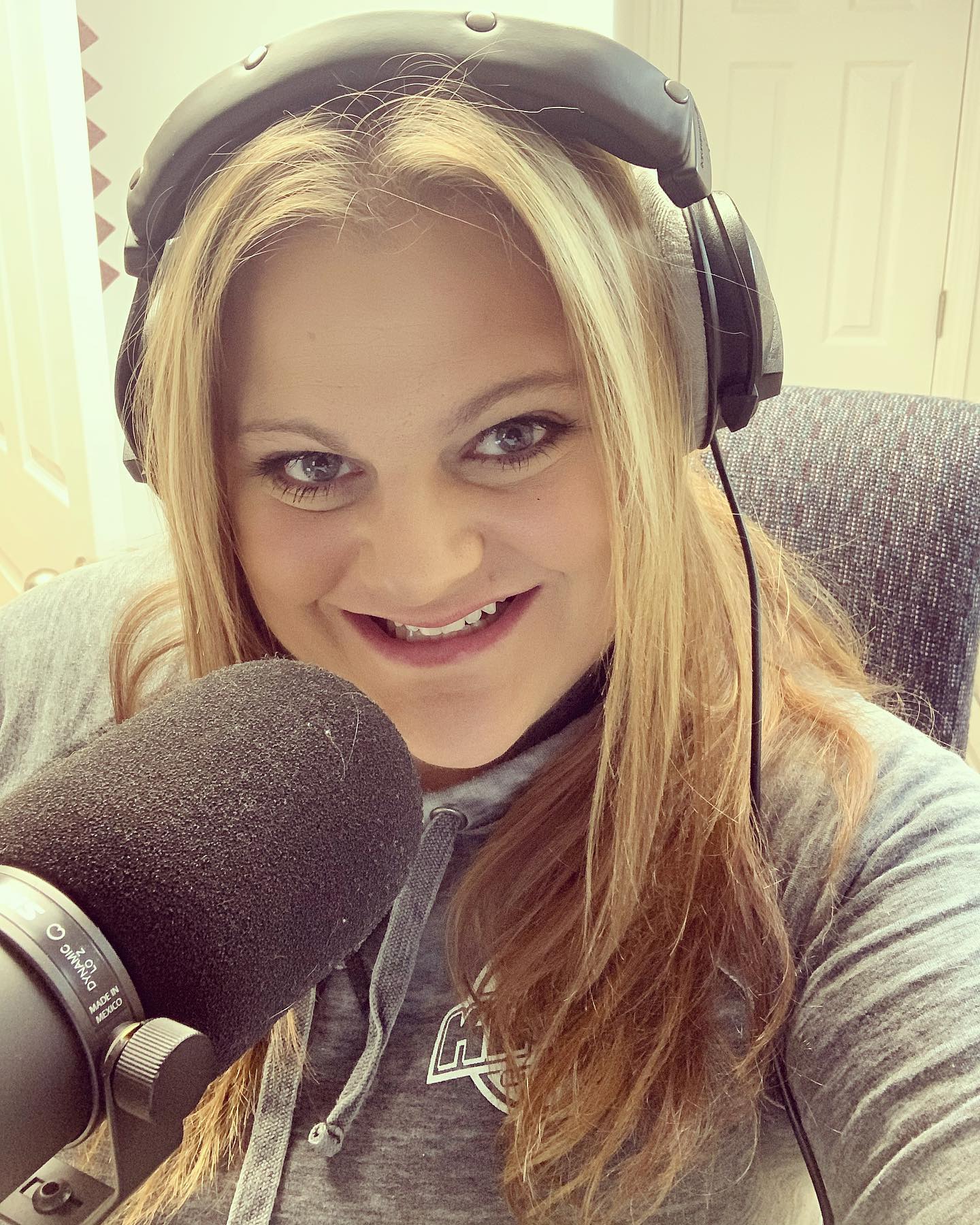 Ashley looks right at home behind a mic!
What did it feel like the first time you heard your voice on the radio/television? 
The first time I heard my voice it was really cool! Way cooler for my parents though! Haha. It's the best when I'm in another state and hear it. I love that! It's also super weird when you're ordering food at a restaurant and your voice is on at the same time. It's like I want to listen to hear what I sound like, but also have to pay attention to what I'm doing! 
How has new technology changed the way you work?
Technology has greatly changed the way I work. I mean, I started my career 13 years ago – so most of the technology was there already, but things have become smaller and easier. No more CDs, no more piles of papers; and the fact that you can voice for anywhere in the world, right from your own home studio is really freakin' cool! Not to mention ISDN and SourceConnect!
What gear do you use on the road? In your studio?
I use a Shure SM7B mic, HP desktop and laptop, Scarlett 2i2, Adobe Creative Cloud, and Waves Gold plugins. Pretty simple! For the road, I do have an Apogee USB mic.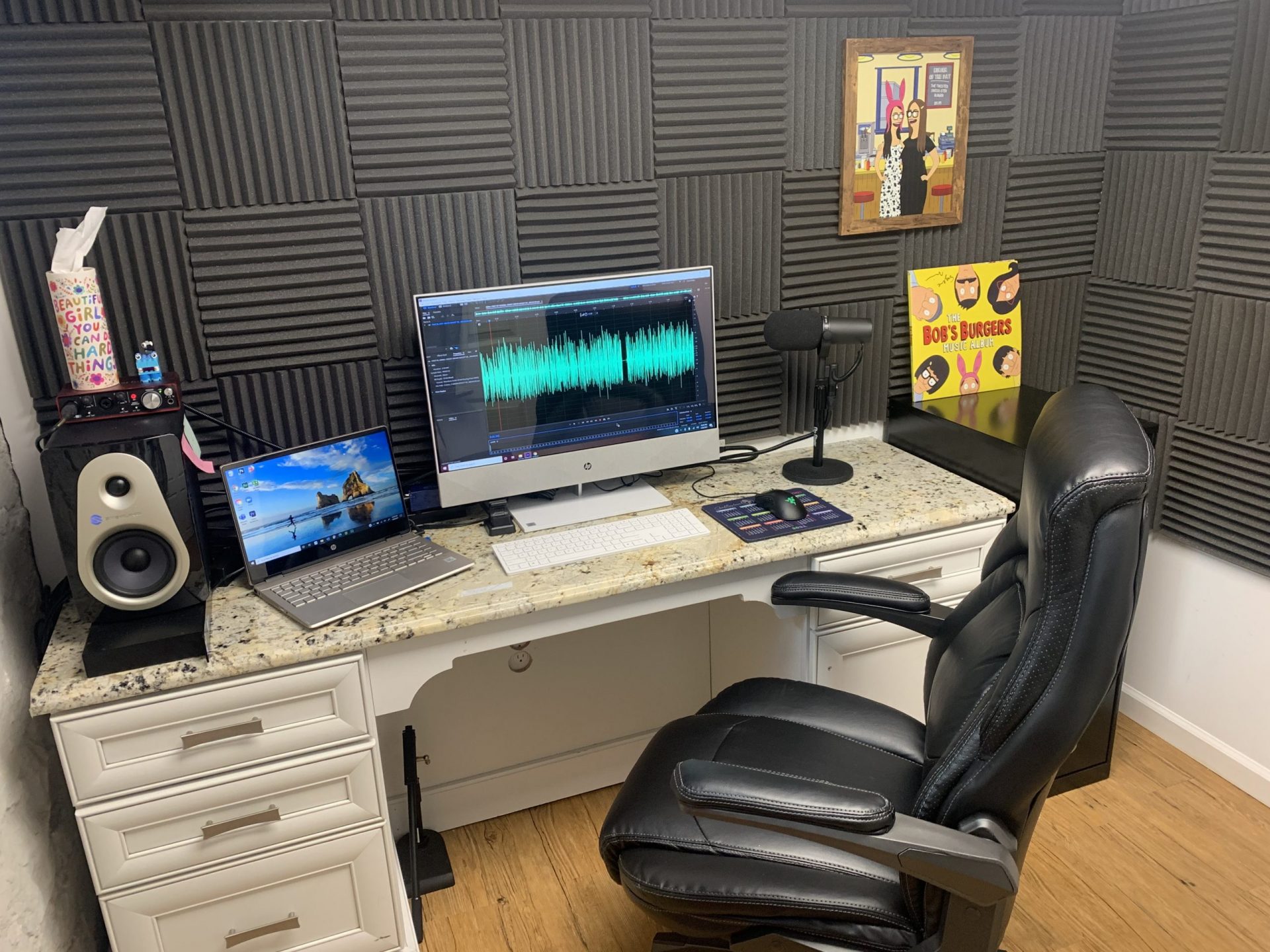 Ashley's awesome studio setup!
Which production system do you use and why? Any favorite plugins?
I use Adobe Audition. It's what I have been using for the past 13 years. Of course the versions have changed, but for me, it is the most efficient. Some plugins within the system that I use a lot are multiband processer 'Pop Master', I also looove the 1965 Graphic Equalizer setting. I use both of those a lot when producing. For my voice, I use a parametric equalizer, single-band compression, and hard limiter. I also have all of the waves options as well! 
Have you ever had a voice coach? Would you recommend it?
I have taken a few vocal classes. One with Kelly Doherty and a few with Lisa Biggs on animation VO. Growing up I took vocal lessons, so I have some vocal training. Don't ask me to sing now though! Eek!
I would definitely recommend taking vocal classes! You learn so much and the instructors hear new things you may not have noticed before. For instance, I say words like 'mountain' or 'Shelton' without pronouncing the T in the word. More like mount-in rather than mounTIN. That's something I never would have picked up on my own. I never knew CT has an 'accent'!
Can you offer 3 helpful tips for newbies trying to make it in the voiceover industry?
1. NETWORK!! Meet as many people as you can in the VO world! It's smaller than you think! Like I mentioned earlier – everyone is super kind and willing to help you out! Plus, I guarantee you will run into these people again and again in your career!
2. Don't be afraid to do work for free while you're starting out! If I had never done that Kiss station in Virginia for free, who knows where I would be today. You will gain experience, meet new people, and get your voice heard! 
3. Learn new things all the time. I will be honest – I am not the most tech-savvy, but I continue to learn each day. When I started, I didn't know what the 'waves gold bundle' is! I didn't know how to process my voice the proper way, I didn't know how to set up a home studio … but I learned! It will help you in all aspects of your career. Honestly – even check out YouTube videos!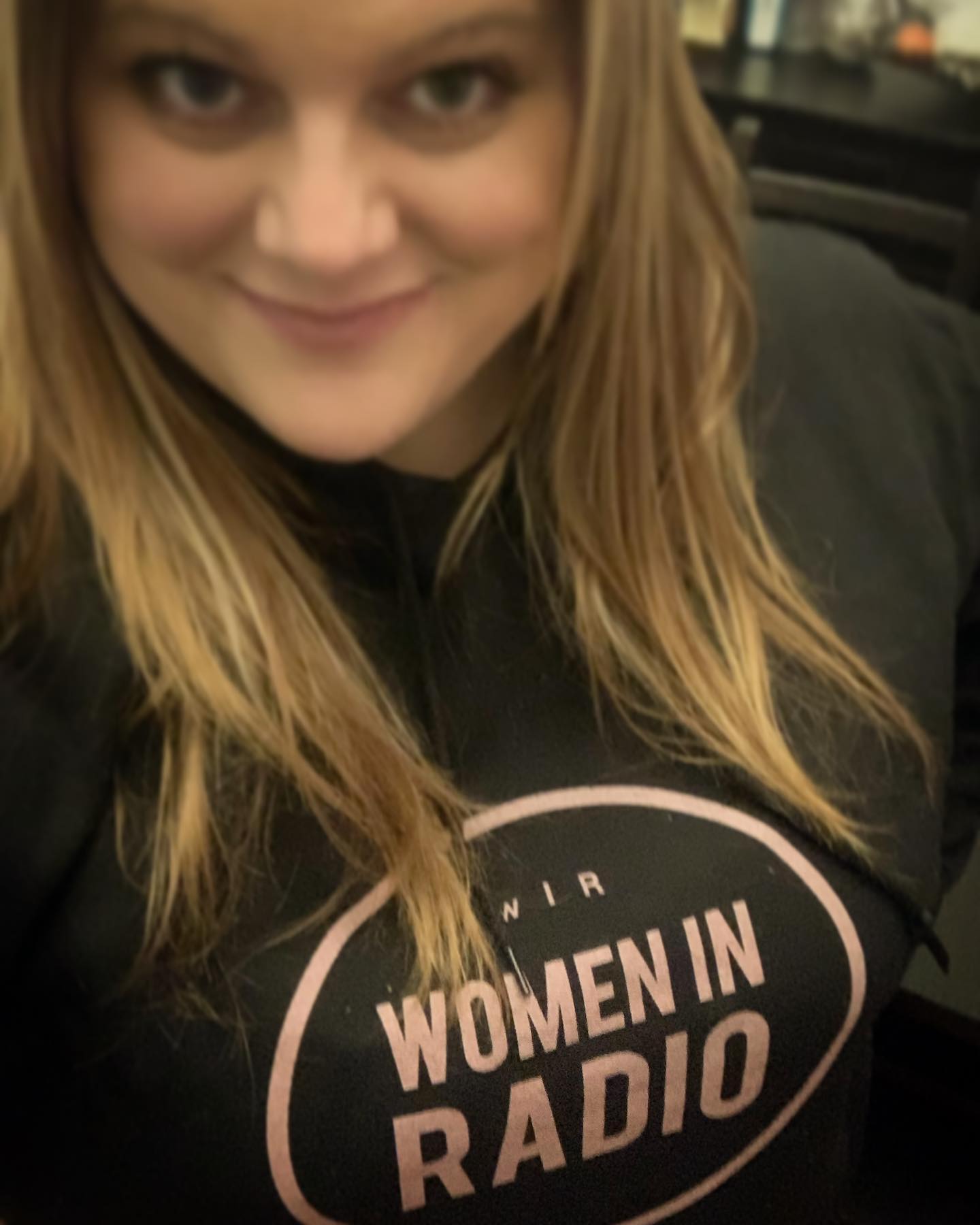 Yay for women in radio! Shoutout to all the rad female VOs out there!
If you could go back in time and hang out in any decade which one would you go back to and why?
If I were able to go back in time and travel to an era, it would be the 80's! I was born in '87, but to be in my 30's in the 80's would be so much fun! The colors, the big hair, the classic movies, music … all of it! Although I am happy to say that scrunchies have made a comeback!
Favorite 2 pizza toppings?
Favorite pizza toppings? Definitely a veggie girl. Mushrooms, eggplant, spinach! OH and LOTS and lots of garlic!!
If you could invite one person to dinner, living or dead, who would it be?
If I could invite one person to dinner, it would be my sister. She is my best friend. We have the absolute best time together and do nothing but laugh! She is smart, funny, and a blast to be with. Love you sissy!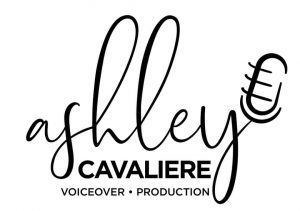 Connect with Ashley