Behind the Mic: Brian Peck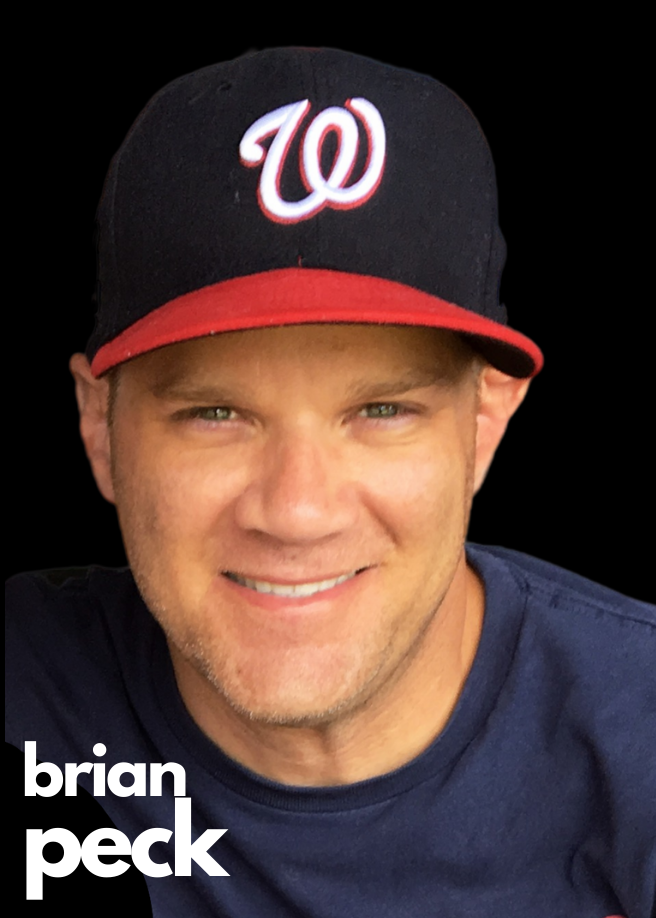 Jaded to the business? Not this guy and it's clear he's still enthusiastic about station copy like it's the first piece he's ever read. That's why stations continue to handpick Brian Peck to help brand their radio stations across America and Canada!
What radio VO work have you done in the past (stations/markets)?
KDKB ALT AZ 93.3, KBZT  ALT 94.9 San Diego, Nights with Elaina (nationally syndicated country and lifestyle show), X96 Salt Lake City, CJKR POWER 97 Winnipeg, and the  Legendary WPST in Trenton/Philly.
What are you up to presently (freelance/on-staff at a station)?
I'm a bonafide, full-time, voiceover actor and have been for the last 4 years. I took a leap of faith and left my imaging job at WJFK in DC. Left secure paychecks behind. Left behind health insurance, a 401k, great friends, free box seats to Nationals and Capitals games, and went full time as a voiceover guy. What a business move, right? HAHAHA!  
What do you love about your job?
I love the freedom of not answering to 'the man'!! But honestly…I still answer to the man. *sad face*
How did you get started as a VO actor?
I think accidentally on purpose. I've always been an imaging director for stations and obsessed with radio VO, but in 2010 I took the initiative to voice WHFS-HD2 in Washington, DC as an employee of CBS Radio and it just kind of slowly snowballed from there.  
What was your first gig? Any memorable ones since then?
Yes! One of my early goals in the game was to do VO work for the X Games and for the first time last winter my people at Atlas made that dream come true. Shoutout my boy Ricky Meyer!! Would you like to watch all of them now or just a couple of them now and the rest of them in a couple of minutes?
We're just going to assume you said you wanted to watch them right now, so here you go!
Who are your VO idols/mentors?
First and foremost there is my partner in crime, my mentor, a coach, a roommate, a friend, and business partner, Chad Erickson. Then, of course, Ned Spindle and Jeff Berlin who are just amazing at what they do. To this day I listen to stuff Ned did back in the 90s and early 2000s and think, "where does he come up with this stuff!!!!?" Mad genius. 
If you weren't doing voiceover, what else do you think you'd be doing for a career?
I like to paint abstract paintings and just sold my first painting to fellow alum Drew Patterson. Hey Drew. I'd also like to make documentaries about people. The kind that makes the audience well up with tears of sympathy, empathy, and joy. Sounds weird I know, but ordinary people with extraordinary stories are exceptional people. 
What did it feel like the first time you heard your voice on the radio/television?
I think the build-up to it was more exciting than actually hearing myself on air. The build-up, the waiting in anticipation is EUPHORIC! 
How has new technology changed the way you work?
Uhhh…you know. It's changed for the better. With everything going digital it's a lot easier to get a pro studio sound in your house. You can connect virtually to anyone these days with no hiccups. What a world we live in!
What gear do you use in your studio?
One of the best things I've ever done for my brand is buying a Studio Bricks booth. It's a sanctuary. A place where nothing gets in. You need that. You need a quiet place to focus on scripts and not Next Door Donna and her gas leaf blower. She's a real person.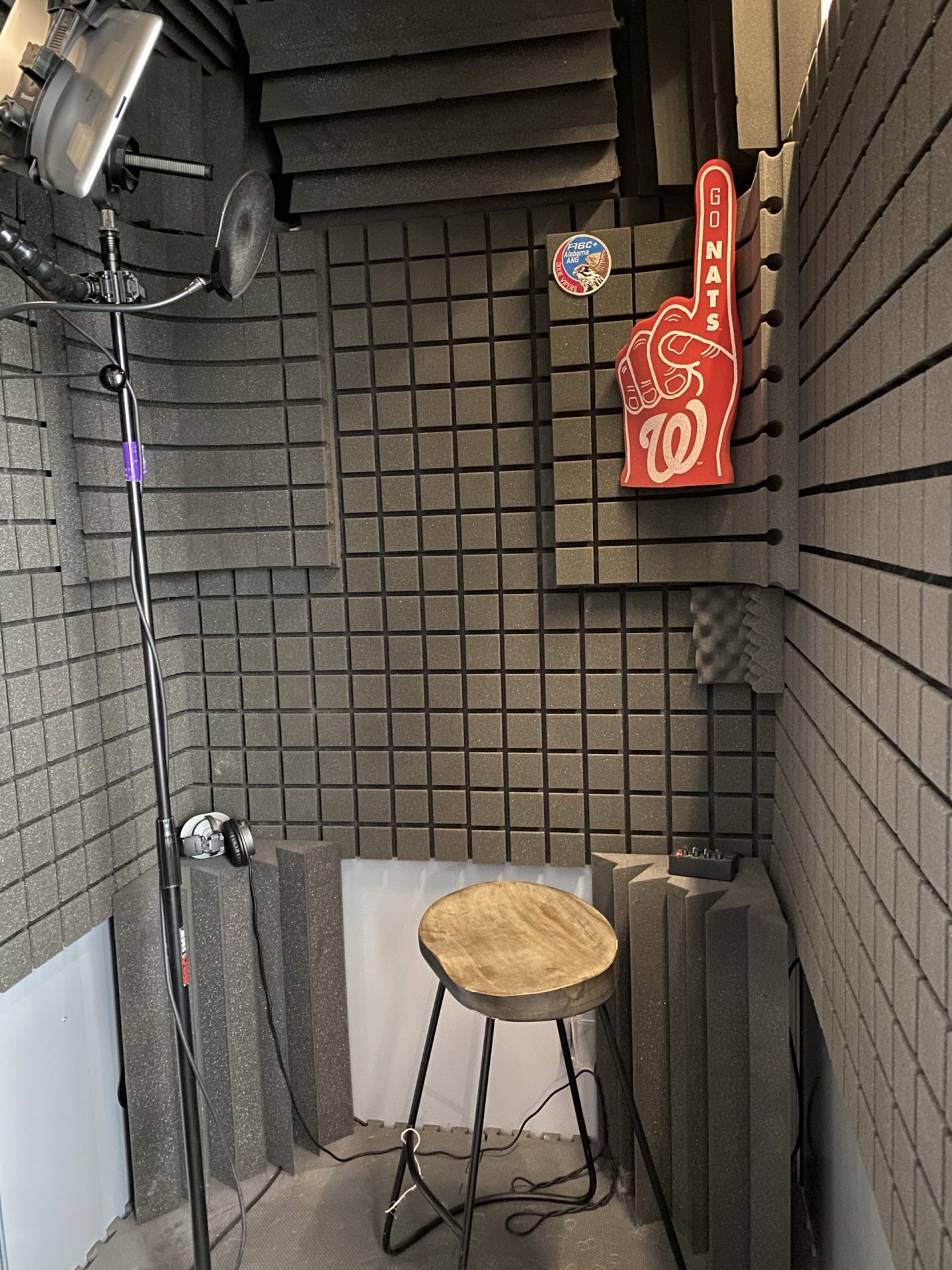 Here's that Studio Bricks booth (we're starting to think Brian might be a Nationals fan…)
Which production system do you use and why? Any favorite plugins?
I use Pro Tools because I started on ProTools in '98. I really know nothing else. My fav plug-ins are always changing. I just bought the Manley VoxBox so I'm excited to get that tweaked.  
Have you ever had a voice coach? Would you recommend it?
I have! I've worked with a handful. I've worked with some that are amazing and some that are well…meh. I would recommend it. I've seen the investment payout 10 fold. You know what they say, "You gotta spend money to make money." I've just found a coach that's no bull. Cuts right to the meat and doesn't fluff anything. I personally need that.  
How do you market your services to potential clients?
I market myself as one-on-one as possible. Get to know a little bit about the PD you're pitching. Yeah, it takes more time, but I'm one of those guys that calls people by their names who wear name tags. You gotta connect! 
When it comes to VO work, studio & gear, what are your most ingenious methods/discoveries for saving time and cash?
Believe it or not, Wix for saving time and cash. I'm in the process of adding more to my website, but I can't believe how cheap and super easy it is to build your own website. Wix.com in 2020 was a saving grace. Plus, I had fun designing it. I like to be in control of that kind of thing. Ya know?

We're not surprised that Brian's studio looks this awesome!
Do you have a different approach to reading radio imaging copy as opposed to TV/radio commercial ads?
Oh most definitely. I let radio copy fly! I mean I just get loose. But you can't do that with commercial or TV affiliate copy. It's the difference between hanging out with a college senior at a keg party and a seasoned senior accountant at his office.  
Can you offer 3 helpful tips for newbies trying to make it in the voice-over industry?
1. 2. and 3.)  VO is not a get-rich-quick scheme. It's a ridiculously hard job, believe it or not, with many facets of the industry to master. If you wanna make money fast, talk to your Uncle Chuck about his amazing multi-marketing investment opportunities.  
If you could go back in time and hang out in any decade which one would you go back to and why?
I say it every time. The wild west of the 1860s. Think about all the saloons playing all that good saloony music and who wouldn't wanna sit down with a gambler, an outlaw, a miner, a fur trapper, and the sheriff?  
Favorite 2 pizza toppings?
Pepperoni and beef. I have a wood-fired pizza oven that Kevin Horton hooked me up with and it's the jam!! Dude, you don't know the glory of eating your own handmade pizza until you've done it from scratch. 
If you could invite one person to dinner, living or dead, who would it be?
Probably my grandpa. I never knew him. He died before I was born. I've always wondered what kind of a guy he was like.
Connect with Brian:
Brian Peck is Represented by Atlas and available for barter through Benztown.