(Benztown STATIC SFX) The elevator pitch. So, do we have 20 floors or just 1 to talk? Just kidding. Radio is changing and evolving and so has the so-called station voice. ChaManda is the male/female combo efforts of industry titans Chad Erickson & Amanda Madi. WHY use one when you can use TWO? Our experience in radio spans much further than reading liners. We've worked in all aspects of the radio field from top to bottom. Yup – from answering the phones at Z103 in Toronto (hi, this is Amanda), to morning show, on-air jock, to imaging and creative services directors and national voices. We are the double mint gum of radio imaging. Double the flavor and DOUBLE the FUN!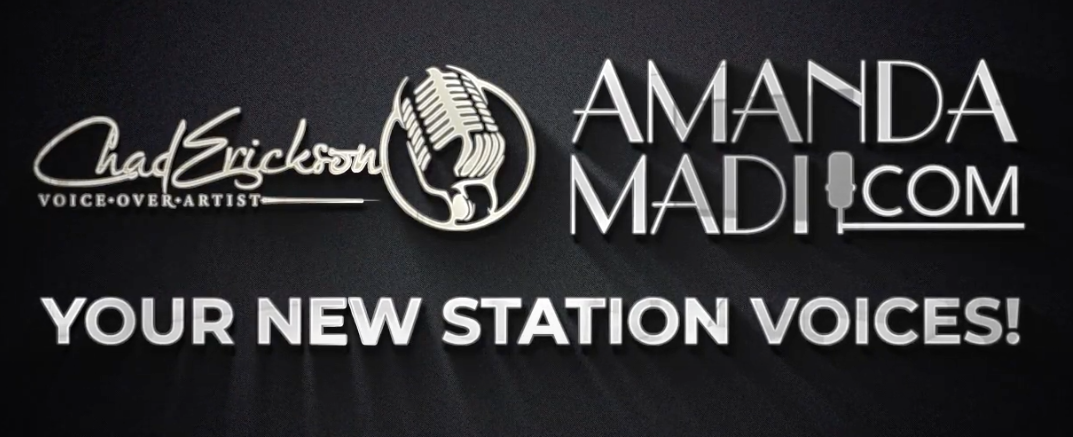 What radio VO work have you done in the past (stations/markets)?
ChaManda is heard daily on over 160 radio & TV stations from Boston to Burbank, Tampa to Toronto, Dublin to even Dubuque and penetrating all major formats – not just one or two. ChaManda is also well known as national concert tour voices for superstar' artists like Justin Bieber, Coldplay, Ricky Martin, Billie Eilish, Red Hot Chili Peppers, Shawn Mendes, and more.
What are you up to presently (freelance/on-staff at a station)?
We're kicking off 2022 with some exciting early affiliate believers in radio imaging that are looking to up their sound and showcase our "REAL" honest, fun, upbeat and "FRESH" approach. Thanks 104.3 Fresh FM/Canada!
Hear the magic of the ChaManda combo for yourself:
What do you love about your job?
Umm…we get to talk and make money. And, yell at our kids. What's NOT to LOVE?
How did you get started as a VO actor?
Cut from the same cloth of working in radio (Amanda in Canada – Chad in the USA) from diapers to big boy pants and carved a career out of great relations and contacts.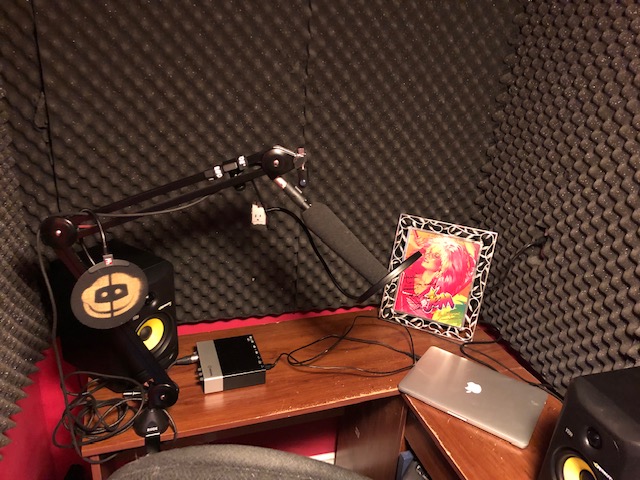 Inside Amanda's booth…we love seeing people use their Gary mic screens!
What was your first gig? Any memorable ones since then?
Chad – Interning at the magical and legendary Kiss 108 in Boston. It was HOLLYWOOD radio and amazing. Then I got my 1st "real" radio job at JOY-FM (WJYY) in New Hampshire and it was nothing like Boston. What do you mean I have to change the toilet paper roll and clean the toilets?
Amanda – Started answering phones at Z103.5 (CIDC-FM) in Toronto. The Program Director and production loved my voice…from that point on, I did everything I could to talk on the radio!
Who are your VO idols/mentors?
Chad – I had the privilege to produce my idols early on in radio as an Imaging Director and today be best friends with some of those still kicking around. 
Amanda – Every single person I've met in this biz I learn from…things to do and some things not to do 🙂
If you weren't doing voiceover, what else do you think you'd be doing for a career?
Chad – What do you mean Blockbuster Video is closed? SHIT – hopefully this VO thing pans out.
Amanda – Wait…what do you mean I'm not tall enough to be a super model?!?!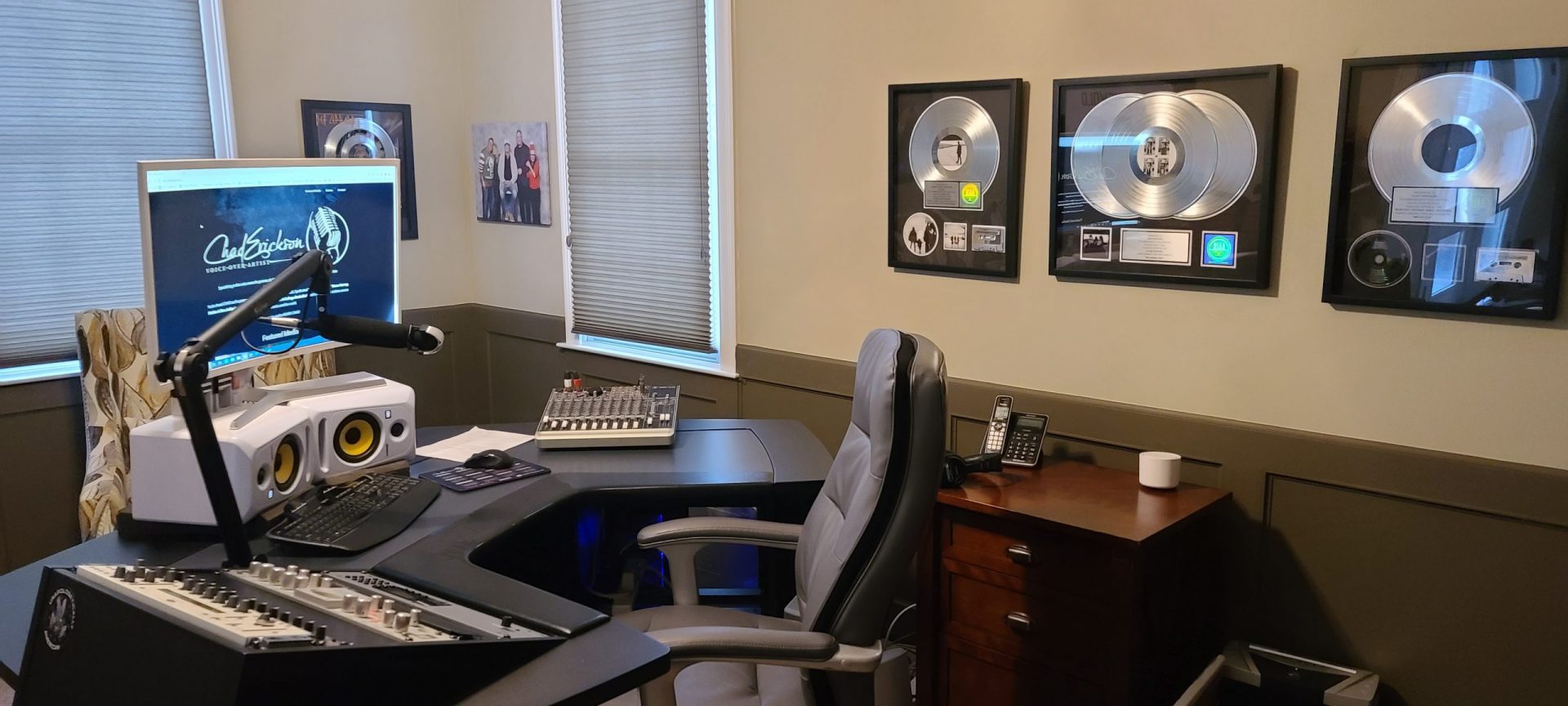 Welcome to Chad Erickson HQ!
What did it feel like the first time you heard your voice on the radio/television?
Chad – Cool. Buuuut weirdddd…I was hearing it in public places other than MY car that made me be like…WOW…I think I like this.
Amanda – That's how I sound? Oh AND you want to pay me?!?! ALRIGHT!!!
How has new technology changed the way you work?
We can work from anywhere. It's 2022 and we can record from the car, hotel, or at a concert.
Have you ever had a voice coach? Would you recommend it?
We've had many and we 100% recommend it. Ya can't win that Superbowl without practice. LEARN the craft and keep training. *Plug* We know of a great radio imaging coaching and demo place www.Ineedademo.com (this is our business too).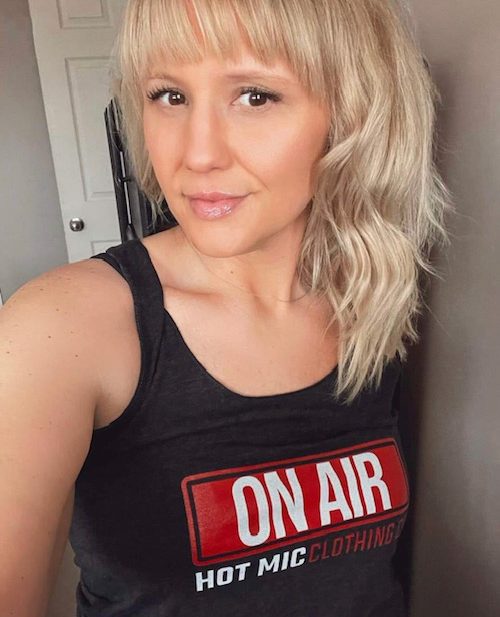 Like a true business partner, Amanda is rocking a shirt from Chad's Hot Mic Clothing Co.
How do you market your services to potential clients?
ChaManda makes a weekly commitment to introduce their brand to radio industry pros every day by picking up the phone and banging on doors the old-fashioned way.  
Can you offer 3 helpful tips for newbies trying to make it in the voiceover industry?
It takes time to establish your brand and you need to play the long game. It's the "Hurry up and WAIT!" industry. Look to your imaging heroes for advice and guidance. The good ones are always open to helping the next generation.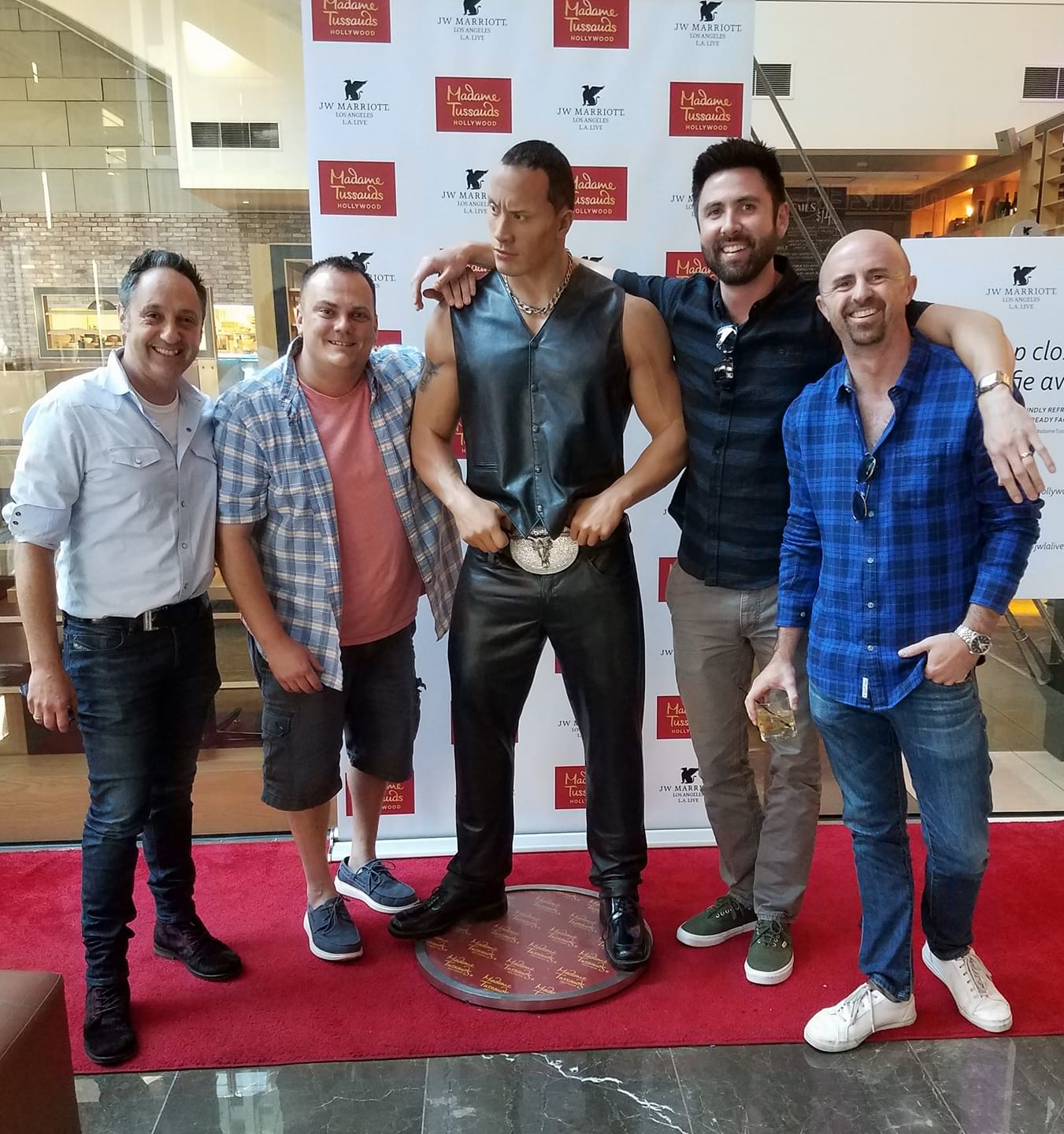 A little BZ #tbt with Chachi, Chad, The Rock, Masa, and Scott!
If you could go back in time and hang out in any decade which one would you go back to and why?
Chad – The 90's and 80's all day! It was such a magical time and the nostalgia is timeless. I would also buy lots and lots of stock in AMAZON and APPLE.
Amanda – The 80's! Bring on the big hair and the iconic fashion!!!
Favorite 2 pizza toppings?
Brick oven and NY style – anything and as long as there's ALWAYS a dash of CHAMANDA!!!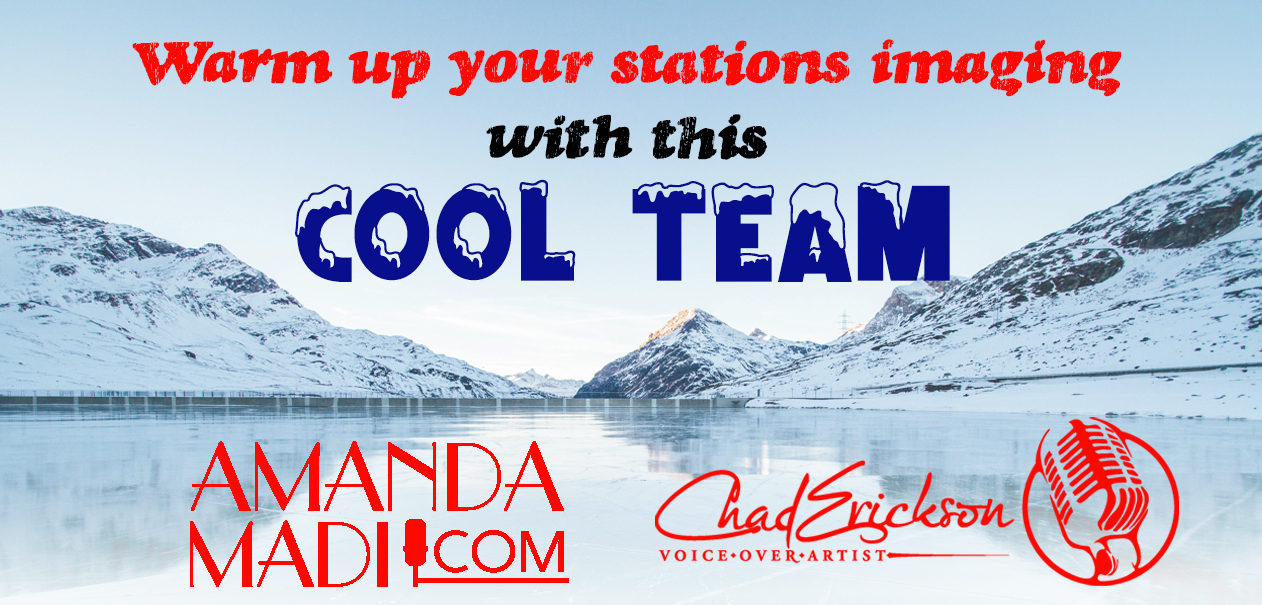 Connect with ChaManda: