Behind the Mic: Chris Ryan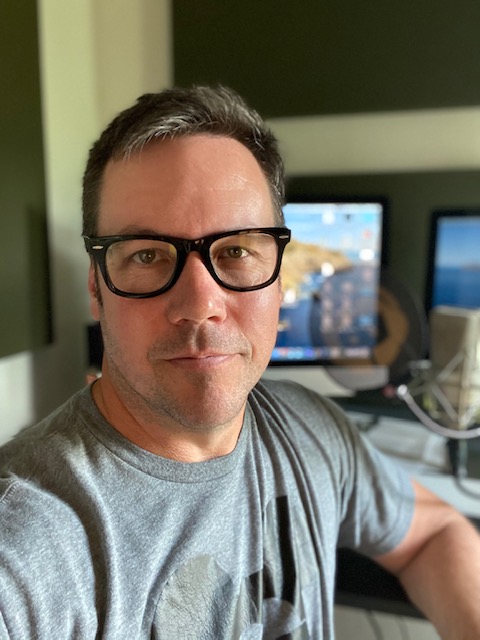 Chris Ryan is "The Modern Day Manly Man". His voice does the heavy lifting. It's tough. It's edgy…but at the same time it can be sincere, trustworthy, and even gentle when needed. Chris has been working behind a mic since the early 90s. First in radio, then as a full-time voiceover talent. Chris' home studio is 30 minutes north of downtown Dallas. Go Cowboys!
What radio VO work have you done in the past (stations/markets)?
I've been the imaging voice for KEGL/Dallas, SB Nation Sports Radio Network/Nationwide, Townsquare Media N/T Formats/Nationwide, KXKL/Denver, KRXO/Oklahoma City, WROQ/Greenville, KZRK/Amarillo, and many more over the past 20+ years.
What are you up to presently (freelance/on-staff at a station)?
I left radio almost 6 years ago to focus full-time on VO. Now I do a variety of jobs daily that include radio imaging, anime, video games, live announcer for corporate events, TV/radio commercials, phone trees…etc.
What do you love about your job?
I think every VO talent says this, but it's true "every day is something different"! While I do some of the same jobs daily, it seems to always vary a bit, which keeps it fresh and exciting. I'm also my own boss, which leaves me plenty of time to coach little league baseball and take my daughter to dance class.
How did you get started as a VO actor? 
I was the production director for KDGE in Dallas and slowly became the imaging voice for the station. I continued doing imaging for other stations throughout my radio career. I then parlayed that into what I do today (but secretly, radio imaging is my favorite…but please don't print that…oh, you already did?).
What was your first gig? Any memorable ones since then?
First VO gig? Probably the imaging voice for KDGE. Lots of memorable gigs. The voice of the SB Nation Sports Radio Network because I love sports and a TV commercial for Evan Williams Bourbon because I love bourbon!
Who are your VO idols/mentors?
I have several: Joe Cipriano, David Kaye, and Ned Spindle, among others.
If you weren't doing voiceover, what else do you think you'd be doing for a career?
I have no idea…which makes me feel very lucky.
What did it feel like the first time you heard your voice on the radio/television? 
It was weird the first time and the last time. Maybe others get comfortable with it, but it's always strange to me. Not that I don't enjoy it, I just kinda pick everything apart. 
Chris' home studio (he's keepin' it real and decided not to clean it for the pic)!
How has new technology changed the way you work?
I do 99.9% of all my work from my home studio. Before Covid, I would go in for my anime jobs and some others, but now everything is done here. Which is good and bad. It's convenient, but I miss interacting and creating with others.
What gear do you use on the road? In your studio? 
Mac/Apollo Solo/MKH-416 on the road and Mac Desktop/Apollo Twin/Avalon 737/Neumann TLM-103 in the studio!
Which production system do you use and why? Any favorite plugins?
I use Audition for recording and editing. I am the "farthest" thing from a techie, so I don't do much to my audio before sending it out. I may put a little limiter on it.
Have you ever had a voice coach? Would you recommend it? 
Yes, I have and I absolutely recommend it! It's hard to self-teach these skills. Plus, working with a coach gives you added confidence that comes through the mic when you perform.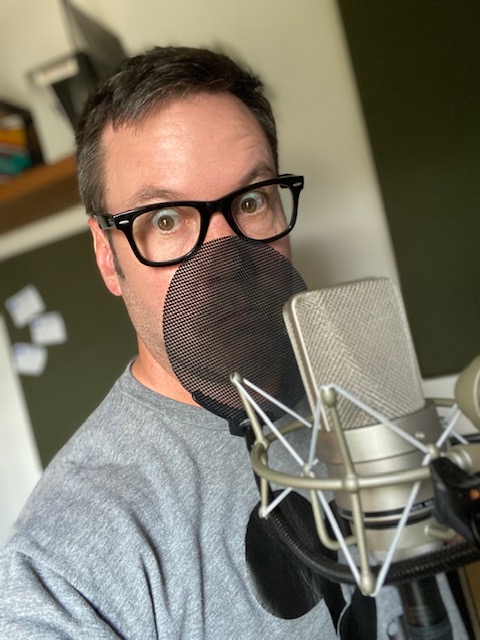 Want to look this confident and cool behind a mic? Get a vocal coach!
How do you schedule/prioritize your work? How much time do you spend auditioning for new work?
Whoever needs what first gets it. I audition frequently. These days there are many avenues to look for audition opportunities. I just leave several of those sites up and audition whenever I get a break.  
How do you market your services to potential clients?
For radio imaging, it's mainly email marketing.
Do you have a different approach to reading radio imaging copy as opposed to TV/Radio commercial ads?
Yes! Radio has a little more attitude and personality. I usually give my clients the read they wrote in the copy and then something a bit different…usually insane and over the top depending on the format.
Can you offer 3 helpful tips for newbies trying to make it in the voice-over industry?
1. It's a marathon, not a sprint. 2. Get some coaching. 3. Go easy on yourself, you're not going to get a majority of the jobs you audition for, celebrate the ones you do.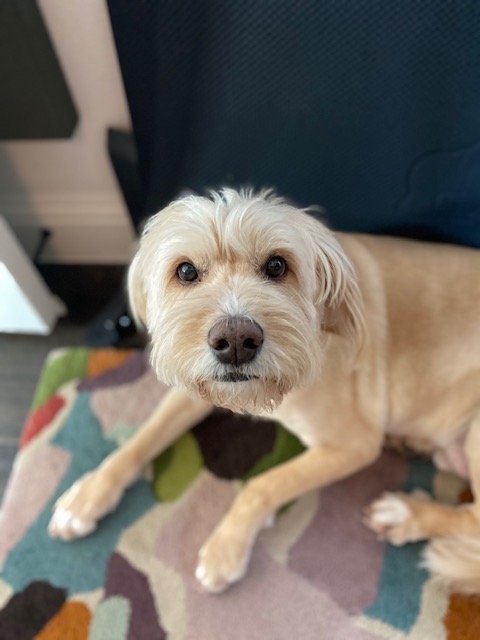 Tip #4: Have a cute studio dog/coworker! This is Bentley 🙂
If you could go back in time and hang out in any decade which one would you go back to and why?
As someone who studies the history of rock music, I think I'd love to be a fly on the wall for: LA in the early 70s with the start of the country-rock scene, New York in the mid-70s for the punk scene (Johnny Thunders baby), and I'd also like to give the 90s another try because I don't think I realized its impact at the time.
Favorite 2 pizza toppings?
Canadian bacon and tomato!
If you could invite one person to dinner, living or dead, who would it be?
Wow, I'll throw out a few: Jim Morrison, Elvis, Willie Nelson, and Keith Richards.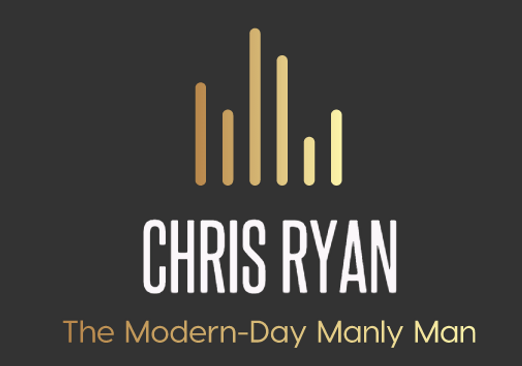 Connect with Chris: