Behind the Mic: Corri English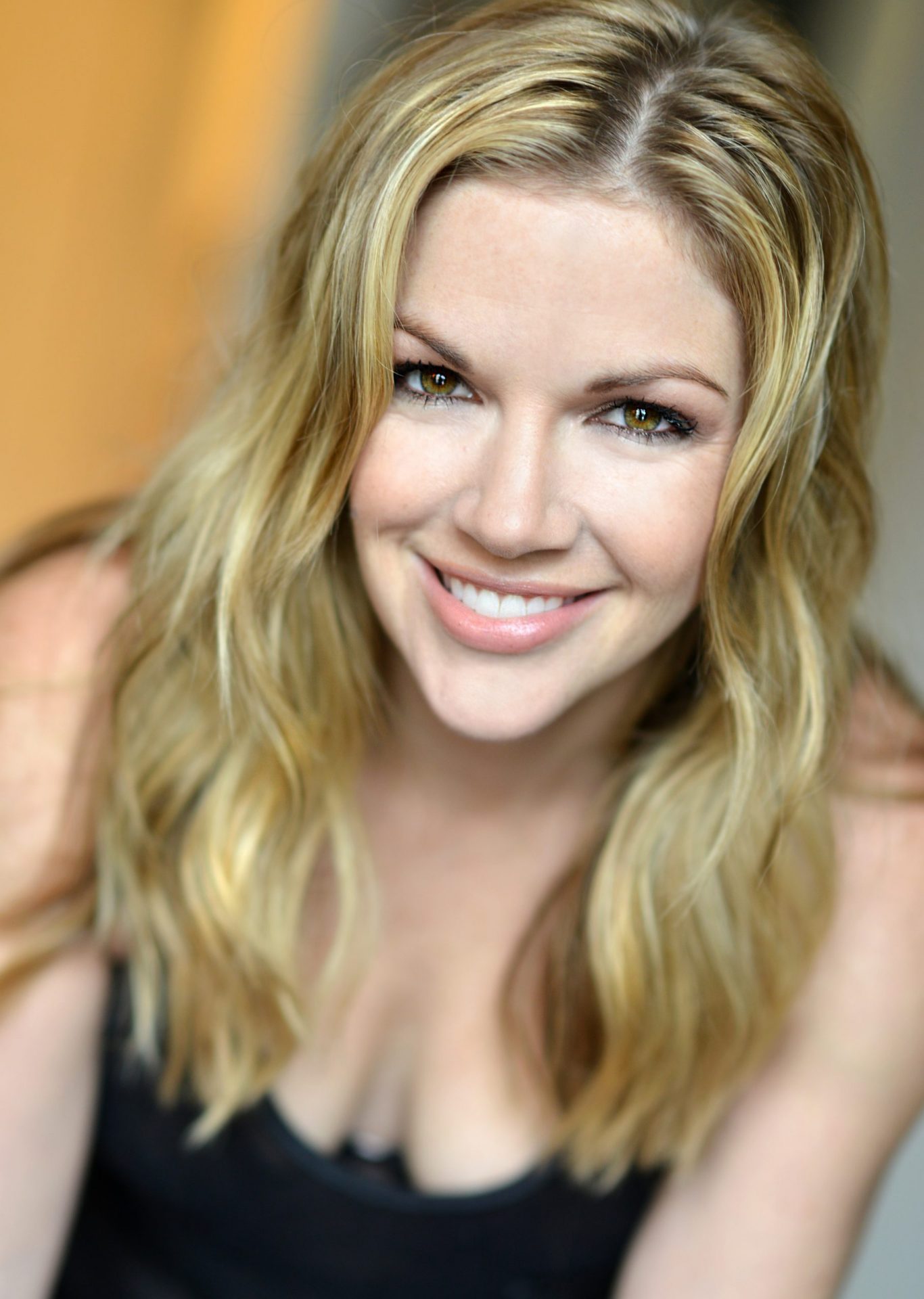 Corri English is a name you may have heard in any number of avenues of the entertainment industry – whether her commercial and television work as a child, starring in movies like Unrest and Runaway Jury or through her success in music. Corri has made it her goal to diversify her career in entertainment with the same approach as an investment portfolio, using her background in acting, voice-over, hosting, and as a singer-songwriter to keep a steady work flow, while utilizing her uniquely broad skill set across industry platforms. She's been the voice of national commercial campaigns for household brands, and the voice of an animated sausage (a bratwurst, to be exact!). She's shared the big screen with John Cusack, and her music with US troops in the deserts of Iraq. She loves the leap from being a country station's girl-next-door, to a rock station's gravely-voiced smartass…and has a rep for turning copy around before you're even sure you've hit "send."
What radio VO work have you done in the past (stations/markets)?
My work in the VO world started when I was a kiddo, and I've been fortunate to have since consistently worked all over the VO world – radio & tv commercials/campaigns, promos, animation, video games, industrials, ADR, and imaging stations such as WDRQ-Detroit, WKDF-Nashville, WIXX-Green Bay, and internationally syndicated morning show The Ty Bentli Show, to name a few!
What are you up to presently (freelance/on-staff at a station)?
All of the above! Imaging lots of stations – primarily country, CHR, & rock. And I am co-creator/co-host of a podcast that launched in March – "Hi My Name Is Mom." I'm also a singer-songwriter and spend time outside of voice-over writing songs for other artists, as well as releasing music of my own! Newest single:
What do you love about your job?
I love to help capture and share the personality of a station, and make it uniquely identifiable. And if you've worked with me, you know a request for ad-libs, character voices, or a made-up song is something I'll run with any time! I love it when my worlds of acting, voice-over, and music collide.
How did you get started as a VO actor?
I grew up in Atlanta, GA, and after working in the on-camera commercial world, voice-over followed pretty organically.
What was your first gig? Any memorable ones since then?
First performance gig of any kind? I'm told it was when I was 3 years old and my dad's band was playing a convention and had a technical glitch . . . I provided a diversion with a performance of "I Had a Little Turtle." There have been so many memorable ones since! A cool moment for me was playing a character in Disney's Planes, Fire & Rescue – I got major cool points with my 3-year-old for that one – I got to take him with me on the red carpet, and he even has toys with my voice! That was a fun one!
Who are your VO idols/mentors?
I have so many! I mostly just have a huge admiration for anyone working consistently in this industry – that, to me, IS success.
If you weren't doing voiceover, what else do you think you'd be doing for a career?
I definitely stay busy with other work in the entertainment industry, but if it wasn't industry-related, I am a super nerd for all things health and fitness! If you ask me about macros, or weightlifting, or a supplement . . . you may never get me to stop talking! So I'm sure it would be something in that space!
What did it feel like the first time you heard your voice on the radio/television?
I was definitely a kid – I don't remember the first time, but remember turning up the radio when a commercial I'd voiced would come on! I was pretty shy overall – so I quietly celebrated most things, and school friends would suddenly realize they'd seen or heard me somewhere, and I'd get so awkward and timid about it! I was proud of what I was doing, but I had to grow into being comfortable owning it!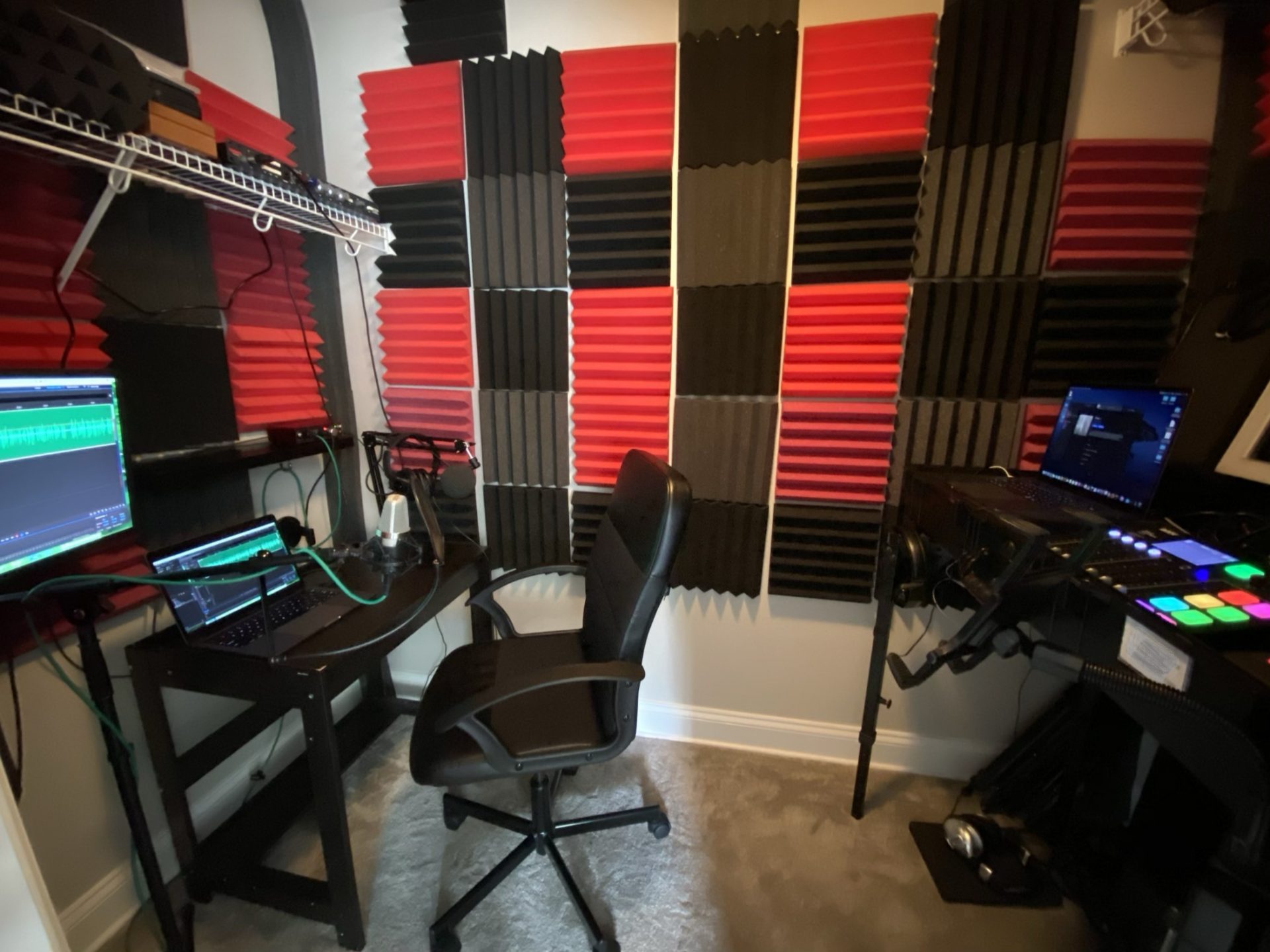 Corri's rad studio!
How has new technology changed the way you work?
The ease of recording anywhere is amazing. The quality of rigs that are easy to travel with has come so far since I started! And Source Connect has been invaluable for work that would have previously been in-person, that I no longer have to be in LA or NYC to record – I'm doing more and more from my home studio! And, of course, even more so since the pandemic, for very obvious reasons. As a mom of two, that flexibility is invaluable!
What gear do you use on the road? In your studio?
In my home studio, I have an Earthworks SV33 & Neumann TLM 102 for mics, Scarlett 2i2 interface and Warm Audio preamp & EQ. I use a TP Link Powerline adapter for an uninterrupted internet connection – which comes in really handy for Source Connect/ISDN bridge sessions! On the road, I take the Neumann and the Scarlett interface to use with my laptop. I also have a little Apogee 96k that I keep in my backpack for emergencies!
Which production system do you use and why? Any favorite plugins?
I primarily use Adobe Audition, but I'm also using Logic quite a bit lately. I find Audition to be really easy and fast for recording and editing dry VO, but I like Logic's multitrack functionality, so I use that for anything podcast or music related. And I have definitely learned that the right plugins can make the difference for the way a home set-up sounds – I definitely recommend asking for help if it's outside of your knowledge base – I've been lucky to have some great guidance from Benztown and other friends in the industry with getting things dialed in!
Have you ever had a voice coach? Would you recommend it?
I highly recommend it! There are things I learned from a coach when I was just about 10 or 11 years old that have stuck with me to this day. The first television series I worked on was for TBS (I was sort of a kids news anchor/host), and they hired a speech coach to help me with inflections and to read copy from a teleprompter – we moved FAST and it gave me the ability to pick up pages of copy I'd never seen before and read it down right out of the gate. That has been so helpful for my entire voice-over career! I have also worked with vocal coaches for singing – Michael Monroe when I was a kid, and Jan Smith as an adult (they are both based in Atlanta, and are both amazing!). The diaphragmatic breathing that helps with singing, has also meant I can tackle some epically long run-on copy and don't need to breathe, ha! And Jan Smith is a big believer in creating a "vocal thumbprint" – which I think is invaluable not only in singing, but also in the voice-over world! Finding what makes your voice unique and using that, rather than trying to smooth everything out so much that you strip the uniqueness of YOU! I just love that advice!
How do you schedule/prioritize your work? How much time do you spend auditioning for new work?
For imaging, I go in the order received, unless a client has a pressing deadline they're up against and need a faster turnaround than usual. For auditions, it varies greatly – sometimes I'm reading several auditions a day, but I may go a full week without any. I'll check out the deadlines for all the auditions in my inbox, and go in order of what is due first – although if my schedule allows, I typically try to get things back to my agents within a day of receiving it, even if I have more time.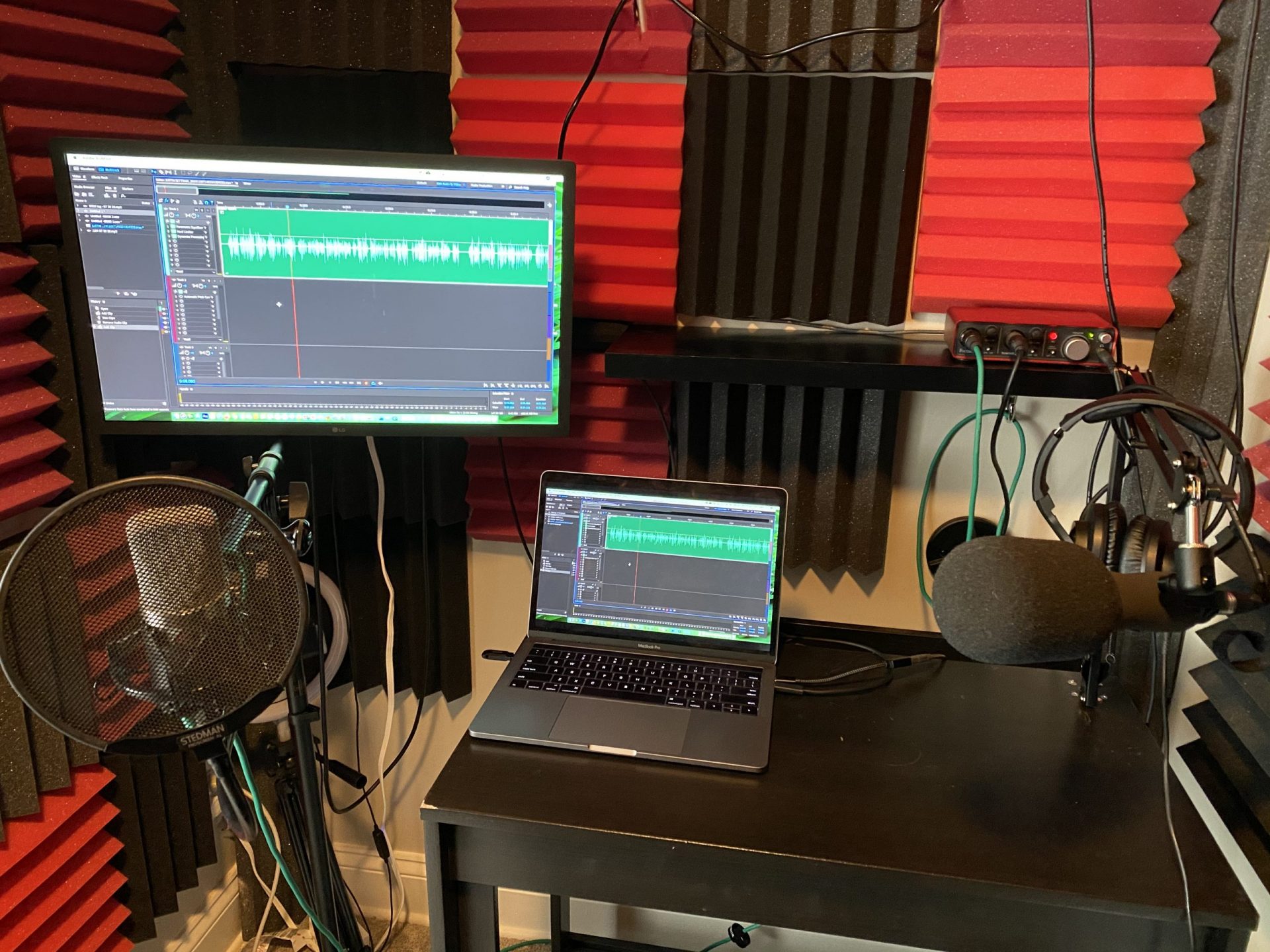 A closer look at what Corri is workin' with!
How do you market your services to potential clients?
I rely heavily on my agents to bring new auditions and work my way, and I love working with Benztown – I'm just such a fan of Chachi and the whole team. And I also really believe that (good) work begets work, and the longer I've been in the industry, the more opportunities present themselves organically through past work and relationships.
When it comes to VO work, studio, and gear, what are your most ingenious methods/discoveries for saving time and cash?
I've definitely learned that a more expensive mic does not mean it'll sound better on your individual voice. And the main time-savers I've learned are editing shortcuts and presets. And just how to send work for different mediums – after so many years sending auditions for commercials, etc – for which your auditions need to be just a slate + a couple takes, I wasted a lot of time editing my imaging reads to be TOO perfect! I'd spend time taking out any flubs, breaths, longer pauses . . . and then I'd hear a station counterpart's read . . . and it was just like "oh hey, man, how's it going –  here's the copy!" And it would be like 8 minutes of a totally unedited read. When I realized my PDs actually preferred to have all of it – my goodness did that save time! And lo and behold, I'll hear a funny outtake or laugh make its way into produced pieces. I was cutting out the fun stuff! 
What is the best voice processing trick or voice-over technique everyone should know?
I'd say above all, it's just so important to know YOUR voice. Understanding when and how to use different places in your register, when to push more and when to lay back for the more "conversational" voice so many clients want right now. How the distance from the mic is going to affect your sound – I have to whisper and yell in the same line sometimes in voice-over, and it's nice to know how to do that without relying on an engineer (which may just be yourself) to ride a knob. I'm little but I've learned that I have a pretty dang big built in amplifier, and I'm gonna sound louder than I think.
Do you have a different approach to reading radio imaging copy as opposed to TV/Radio commercial ads?
For sure! A lot of that I've mentioned already! But overall, regardless of the medium, I mostly want to make sure I'm reading all the notes or specs provided, and ask any questions I may have to make sure I'm delivering what the client wants for that particular project.
Can you offer 3 helpful tips for newbies trying to make it in the voice-over industry?
1. Learn the basics, and know that it's more complicated than it may seem! I've had many a friend completely outside of the VO industry tell me that they're thinking about trying it, with no idea what that entails. I've literally had someone say "Oh, so, you just talk, and get paid?"
2. Invest in yourself, if you're serious. A coach, the right demos . . . you may not be investing in merchandise or a storefront, but you've gotta have the right tools to be taken seriously.
3. It can take time to break into the industry. There are a lot of people vying for the same jobs, and physical appearance is removed from the equation – so the barrier to entry can seem overwhelming. You gotta be persistent and patient! 
If you could go back in time and hang out in any decade which one would you go back to and why?
I'd just take pre-pandemic at this point?
Favorite 2 pizza toppings?
Oh I only need one! Pepperoni all the way! If it's shipped from Giordano's . . . bonus!
If you could invite one person to dinner, living or dead, who would it be?
I'd really just like to have my sister over! She's across the country, and a Navy wife with two kiddos and a deployed husband for this whole helluva year – she is my version of having an absolute ROCK STAR to dinner right now!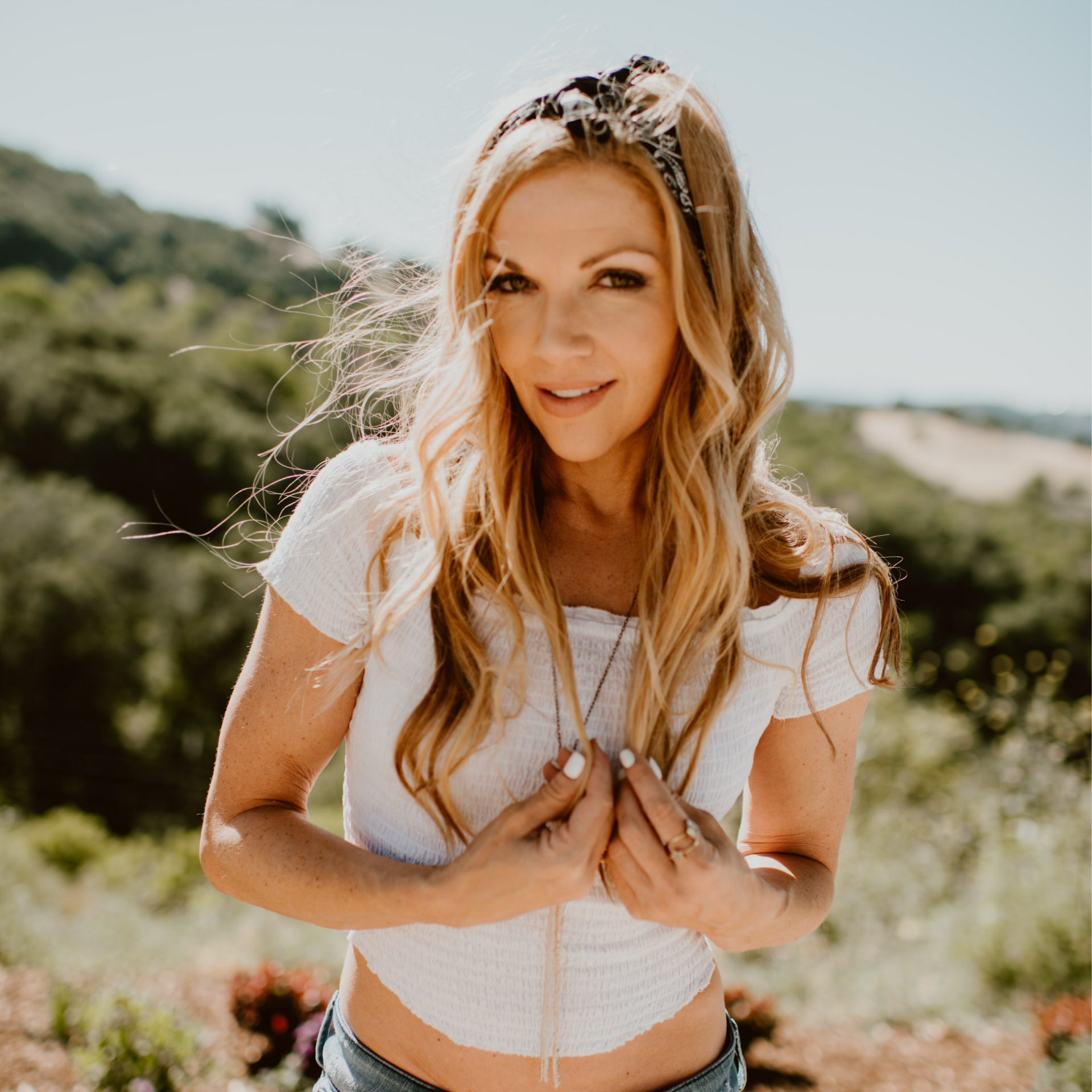 Connect with Corri: