Behind the Mic: Dena Yasner
Dena's a versatile and experienced VO pro with a lower register voice. Her sound has been described as warm, friendly, sincere, and luxurious. Dena's voiceover career all started as a result of her radio career. She loves doing all types of VO – Commercial, Radio Imaging, Narration, TV Affiliate, and beyond. Dena's been helping businesses put a professional voice on their brand for nearly 30 years!
What radio VO work have you done in the past (stations/markets)?
I started my radio and VO career at CHR WXXX-FM/Burlington, VT in the 80s. It was a brand new sign-on, and I was still a senior in college at the University of Vermont. I had been working, and learning everything I could, at college/alternative WRUV-FM; after a brief stop in Kansas City for KCPW-FM, it was on to Phoenix, where I've been ever since! I've worked at and/or voiced a great bunch of stations and formats over the years, like KOY-FM, KKFR-FM, KHOT-FM, KZON-FM, KOOL-FM; KMLE-FM; and KJJZ-FM/Palm Springs.
What are you up to presently (freelance/on-staff at a station)?
Freelance!
What do you love about your job?
I love that every day is different! You never really know, on any given day, where the work will come from. That took quite a while to adjust to, but now I lean into it, and really love that!
How did you get started as a VO actor?
It was because of radio! Being a VO talent was never part of my plan, though. I loved music and wanted to work behind the scenes in radio, in the Music and Programming department – which I did, for many years. They would always make me do an air shift too, though, because I had a good voice. As soon as people started hearing me on the air, the VO projects started coming in! The VO was always a side gig to my radio career all along, right up until the widespread radio layoffs in 2008. Then in the Spring of '09, I set up my home studio and shifted to VO full-time.
What was your first gig? Any memorable ones since then?
My first commercial radio gig was morning sidekick/news on-air for brand new sign-on 95 Triple X in Burlington, VT. The first VO gigs that came in there were from IBM to voice some internal industrials for them; and the Girl Scouts who had me voice their PSA campaign. Many, many memorable gigs since. We probably don't have that much time!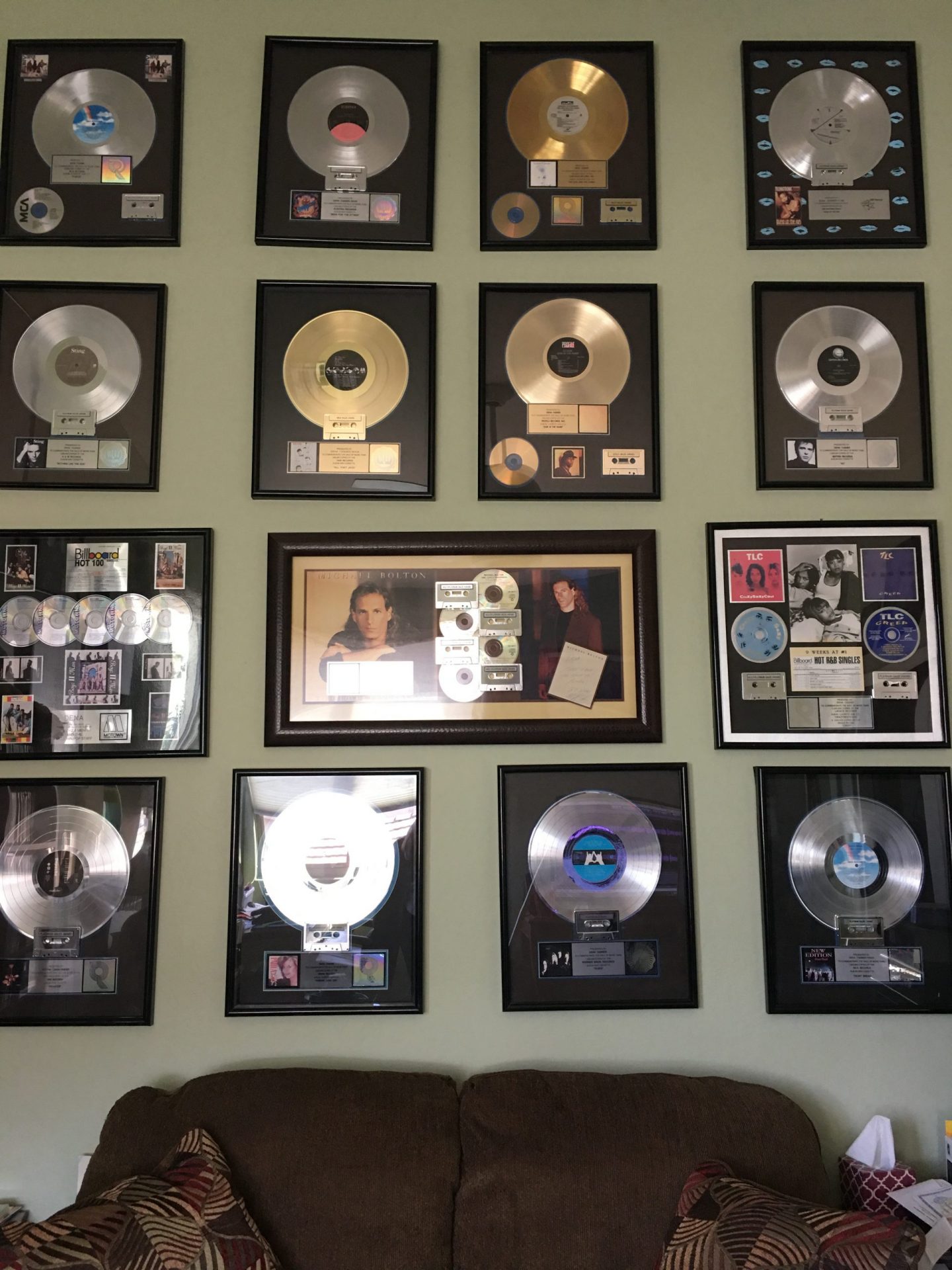 This wall screams "I work in radio!!" and we LOVE IT!
Who are your VO idols/mentors?
Not exactly idols/mentors, but I'd love to give a quick shoutout to Benztown Voiceover talent Ann Dewig. We met at a mutual radio friend's going away party here in Phoenix just as I was shifting to VO full-time, and she had some great suggestions and tips on how to approach my demos that were really helpful! That was very cool of her, and I've always appreciated it! And a shout out to VO coach Marice Tobias, who I was also lucky to meet early on, and who really helped me make the transition from radio to VO, as well as other times over the years. She's awesome! As for radio, I was really lucky and grateful to have many mentors and guardian angels…too many to name!
If you weren't doing voiceover, what else do you think you'd be doing for a career?
Hmm jewelry designer (I do that as my side hustle now. Both my father and grandfather were jewelers); nature photographer; lawyer; baker/pastry chef. Not necessarily in that order.
What did it feel like the first time you heard your voice on the radio/television?
Very strange! I remember it very clearly. We had a 28 share back then (mid 80s) at 95 Triple X in Burlington, VT, so a lot of stores and restaurants played the station in their businesses. I was shopping in a mall store rummaging around a clothing rack when a spot came on with my voice on it. I whipped my head around so fast, I think other shoppers were a little concerned about me! Hahaha 
How has new technology changed the way you work?
It's made everything much easier – easier to work from home, easier to send audio anywhere in the world, and consequently, much easier to build a client base and freelance business globally.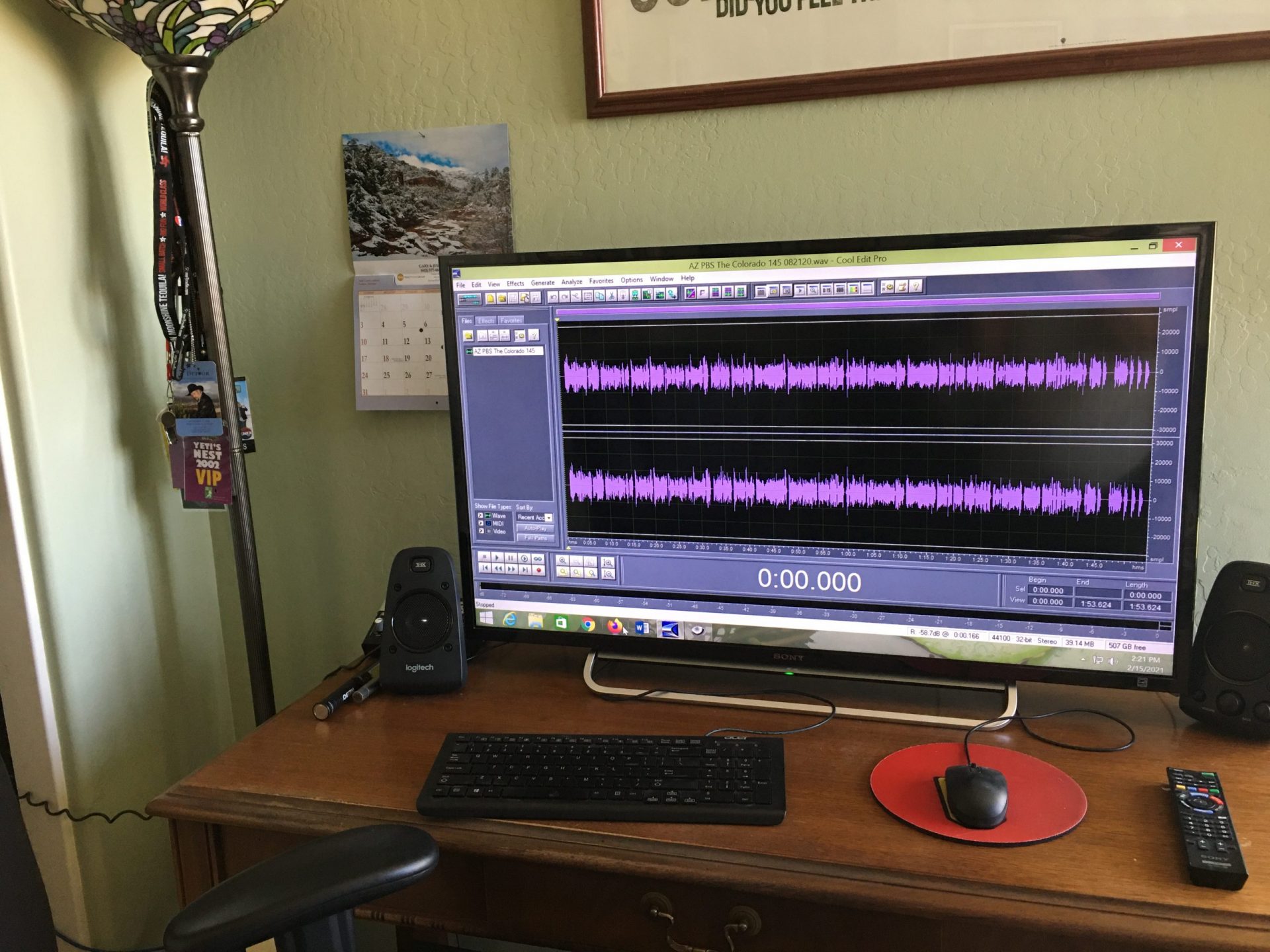 Work station? More like play station!
(Please don't come for us Sony, we're just having fun)
What gear do you use on the road? In your studio?
I don't have a road gear set-up…yet. I haven't needed it, so I don't know if I'll ever do that. In my studio, I use a Mackie interface & preamp and a Shure SM27 microphone.
Which production system do you use and why? Any favorite plugins?
I use Adobe Audition, primarily because it's what we used at my last radio station, so it was pretty easy for me to learn that, with some help from the Production Director(s), of course.
Have you ever had a voice coach? Would you recommend it?
Yes! And YES!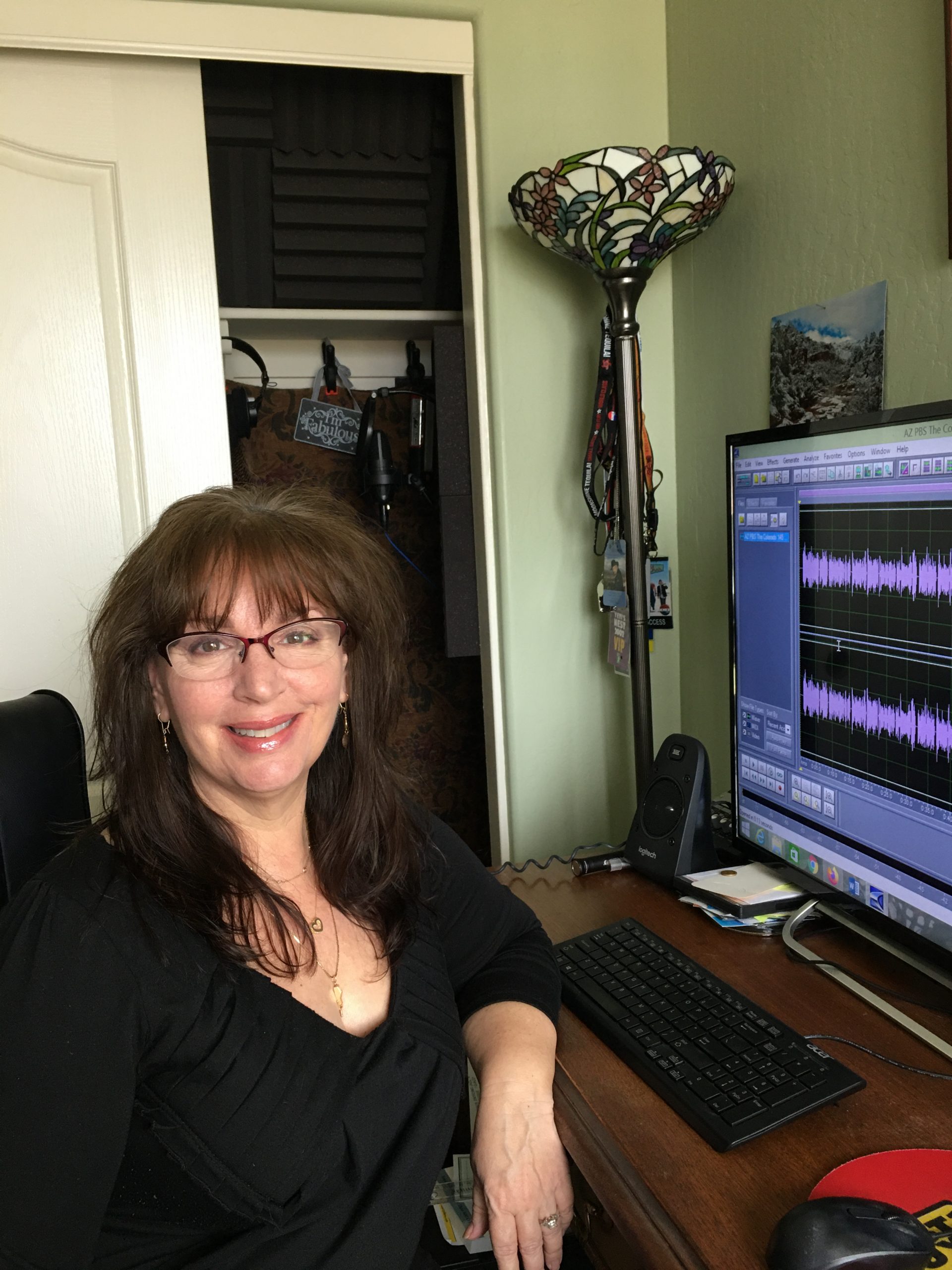 Dena is a natural behind the mic and in front of the camera.
How do you schedule/prioritize your work? How much time do you spend auditioning for new work?
I prioritize work based on the client and when they need it. Most TV affiliates and some commercial clients need same-day, or maybe next-day. Probably not enough time spent on auditioning, but I do what I can, based on what comes in, and what other work I've already got.
How do you market your services to potential clients?
Mostly email and social media.
When it comes to VO work, studio & gear, what are your most ingenious methods/discoveries for saving time and cash?
Hmm this is a great question. As for gear, I saved a lot of money when first setting up my home studio by trying out about a dozen microphones. This was probably the most fun part, too, and I didn't expect that. I took a couple of radio friends to a Guitar Center here in Phoenix that had a sound room. The sales guys in the store were really getting into it, too, bringing me mic after mic to try. The Neumann (everyone's fave!) had me sounding awesome – but that was a pricey way to start, and I wasn't comfortable dropping that much money off the bat, with basically no clients, etc. So, I picked the mic, based on everyone's opinion, that had me sounding the closest to that, and it was the Shure KSM27 (now the SM27). It was about $800 in savings there. Flash forward 12 years to now, I still want the Neumann, and will probably get it, so…did I really save anything??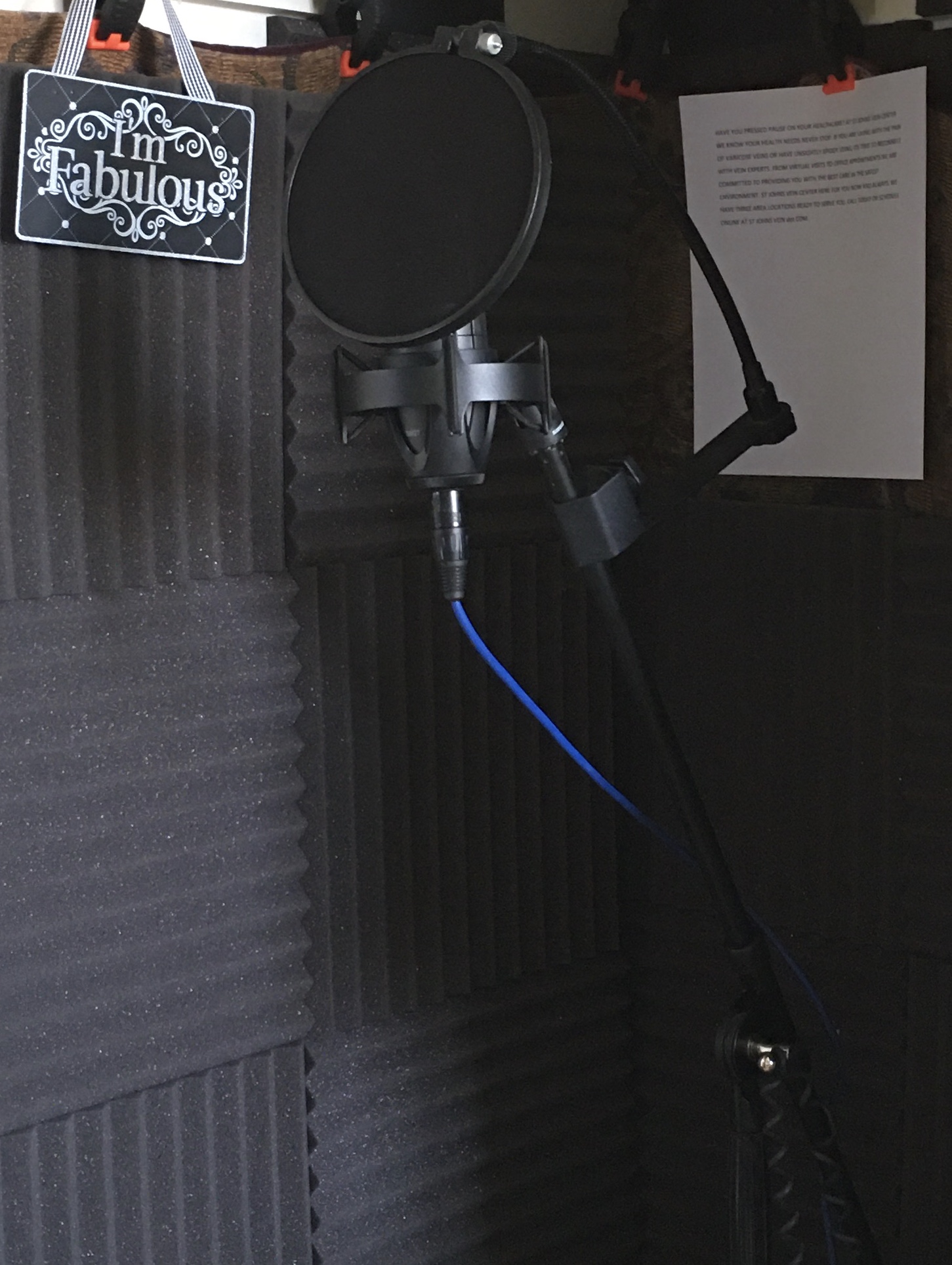 Fun fact: Dena's friend gave her this "I'm fabulous" sign shortly after she started doing VO full-time.
She said it was a reminder. We could all use a friend like that!
What is the best voice processing trick or voiceover technique everyone should know?
I'm sure I could use some of these from others! For me, staying properly hydrated eliminates any mouth noise when recording (as well as avoiding dairy and chocolate before recording!); the 'Fade in' option helps me if I pop any P's or B's; and the 'Click/pop eliminator' is something I use to clean up tracks when needed.
Do you have a different approach to reading radio imaging copy as opposed to TV/Radio commercial ads?
Yes, sure, usually it has to do with energy level, and that depends on the format, too.
Can you offer 3 helpful tips for newbies trying to make it in the voice-over industry?
1. Get used to handling and accepting rejection. It's part of this business. On the flipside, rejoice in the bookings where the client thinks everything you do is wonderful! 2. Invest wisely – in your studio gear; in training with professional coaches who have a track record of coaching top talent; and getting your demos professionally produced, if/when possible. 3. Don't rely on agents/agencies to book your work. It's great if/when they do, but a certain amount of hustle (a LOT!) on your part is required!
If you could go back in time and hang out in any decade which one would you go back to and why?
Probably the 1990s here in Phoenix. The city was great – only 2 million people then instead of nearly 5 million now. The radio/music/club scene was on fire. And the desert was/is (still) magical.
Favorite 2 pizza toppings?
Pepperoni and sausage.
If you could invite one person to dinner, living or dead, who would it be?
Ohh this is always a tough one. So many possibilities…I will go with my mother. She's been gone since 2008, and I'd love to have more time with her!
Connect with Dena: