Behind the Mic: Donna Frank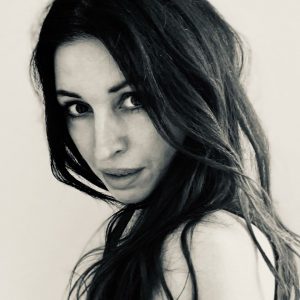 Donna Frank is a voice actor with a proven track record of success who brings her experience and passion to all of her projects. When you hire Donna, you hire a teammate.
What radio VO work have you done in the past (stations/markets)?
My first radio show was in Vermont in the late 90's at Alternative Rock station WEQX where I am still the voice of the station. I've been involved with EQX in one capacity or another longer than anything else in my life. My heart and soul was shaped by that station. There I learned all the basics like how to use a mic and work with audio digitally. 
What are you up to presently (freelance/on-staff at a station)?
Some of my imaging work now includes The Howard Stern Show on Sirius, CHUM 1045 in Toronto, 98.7 The Shark in Tampa, 95.7 The Party in Denver, C100 in Nova Scotia, Z99 and C95 in Saskatoon, KRock and Z96 in Florida, The Buzz in Burlington, 95.7 Big FM in Milwaukee, The Planet 93.9 in the Quad Cities, and lots of stations with IMGR. I presently spend most of my work day doing radio imaging and commercial work but the past couple years I have been branching out into other aspects of voice over, including video games (I recently appeared in Grand Theft Auto V!) and audio books. I've got some new stuff coming out shortly.
What do you love about your job?
I love the artistry of it. Studios are magical, sacred spaces. You're creating this mood, this vibe, and information that will live forever. You're taking the written word and trying to create a piece of art out of it that will cause the person who hears it to FEEL something. I like having that effect on people with my voice.
What's been your most memorable gig?
My most memorable gig was definitely playing the voice of a genie trapped in a bottle of Axe Deodorant. Getting "into character" for that was…interesting. There were a lot of strange noises I had to make when the bottle was moved or shaken.
Who are your VO idols/mentors?
Randy Thomas is a big idol…she's grace and female power personified. I've also been listening with utter fascination to Tamara Levitt's voice, on the Calm app. She's mesmerizing.
If you weren't doing voiceover, what else do you think you'd be doing for a career?
Something with fashion or clothes – I love clothes. 
What did it feel like the first time you heard your voice on the radio/television?
I can't stand hearing my voice on the radio or television. It unravels me because hearing it out in the wild, when I don't know it's coming, in a completed form, makes me think of different ways I could have done the project, better. But by then it's too late to go back and play with it more.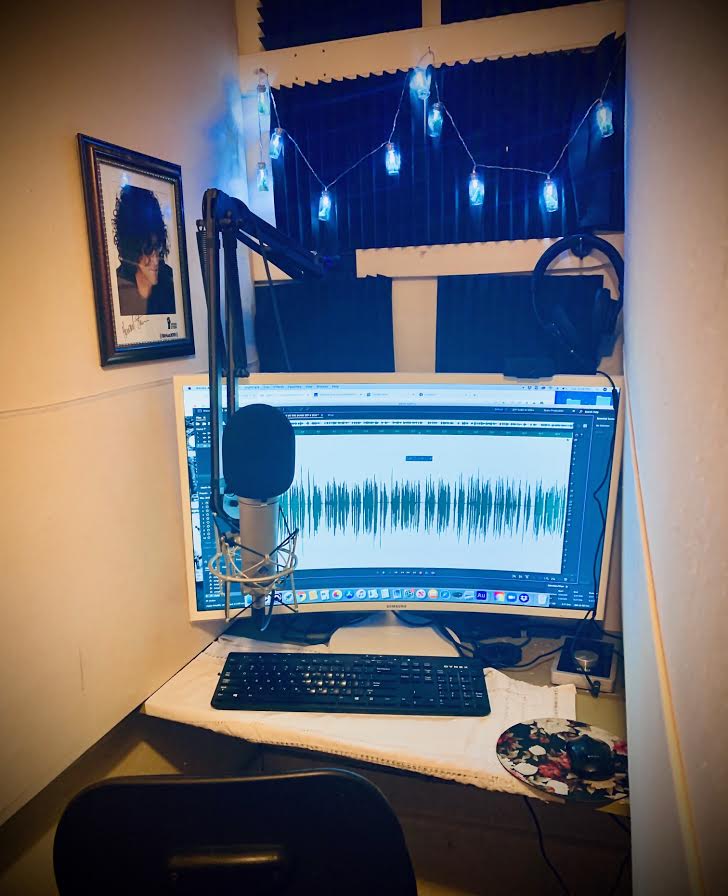 Inside Donna's studio!
How has new technology changed the way you work?
COVID has changed our industry so much. I recently put a camera in my studio, because working at home has made the webcam a piece of necessary equipment. Clients are asking for it. I know the old joke used to be that voice over people can just wear their pj's to work every day, but that is just not true anymore, is it? We're all in front of a camera or Zoom call every day. Thanks to the internet and social media, everyone already knew what we looked like, but that was just a few images or headshots that we cherry picked. But now there's more to it. Your daily visual presentation of yourself and your studio has become a common part of the very competitive voice over world. Get out of those PJ's, you're also being graded on presentation now.
For the first time ever, I'm really looking at the way my studio looks in pictures, not just sounds. I used to just make my studio FEEL as cozy as possible, since I'm in here so much. But now I'm working on a redesign that focuses more on making the studio a little more "photogenic." 
And Source Connect has made the ability to record live connected with any studio in the world now totally affordable, and has easily become an industry standard. A lot of us couldn't justify the expense of an ISDN line, but Source Connect is doable. The great thing is, you can record at any studio, any time. The drawback is, your competition just got much, much bigger, because so can everyone else. 
What gear do you use on the road? In your studio?
My studio has a Neumann U87 and an Apogee Duet interface with a Mac. After growing up on Protools, I recently switched my studio over to Adobe Audition.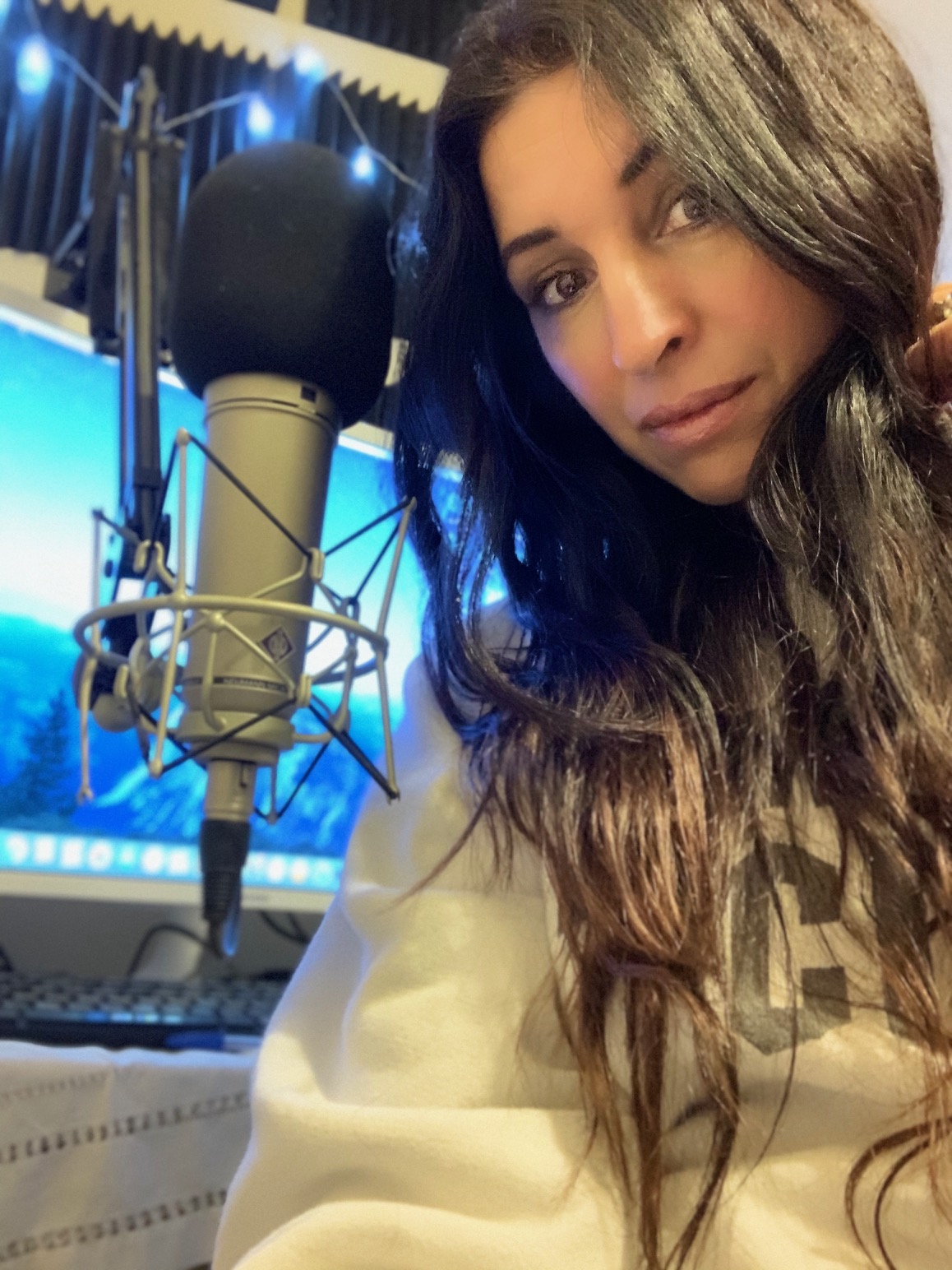 Donna and her BFF, her Nuemann 87, who she spends a LOT of time with!
How do you schedule/prioritize your work? How much time do you spend auditioning for new work?
I always have unscheduled blocks throughout the day for the emergency voice overs and quick turn around, because in radio there's a lot of that. The rest of the day's voice work, I try to spread evenly throughout the day so my voice stays fresh. 
Do you have a different approach to reading radio imaging copy as opposed to TV/Radio commercial ads?
Sure. With imaging copy, I'm jumping into an established character and known friend of the listener. All of my stations end up having their own personality. So I usually play a little of "her" back to me to "set" my voice for whatever station I am going to record for. Ads are different…they are new beasts so there is more searching to find the right character and tone to project what the ad wants to say to its targeted audience. Sometimes I think of someone I know who would use the product and pretend I'm them to get started on a new voice.  
If you could go back in time and hang out in any decade which one would you go back to and why?
The 90's. And by that, I mean the 1890's. I would so happily exist in the Victorian era. I love everything about it: the clothes, architecture, literature. My recording studio is in one of the little closet alcoves in my big old Victorian house, which is very tall with lots of roof pitches and turrets and dormers and the like, and bats LOVE it. I live in constant fear of getting a bat in my studio and being trapped in there with it while recording. I do concede though, it would make for a great recording.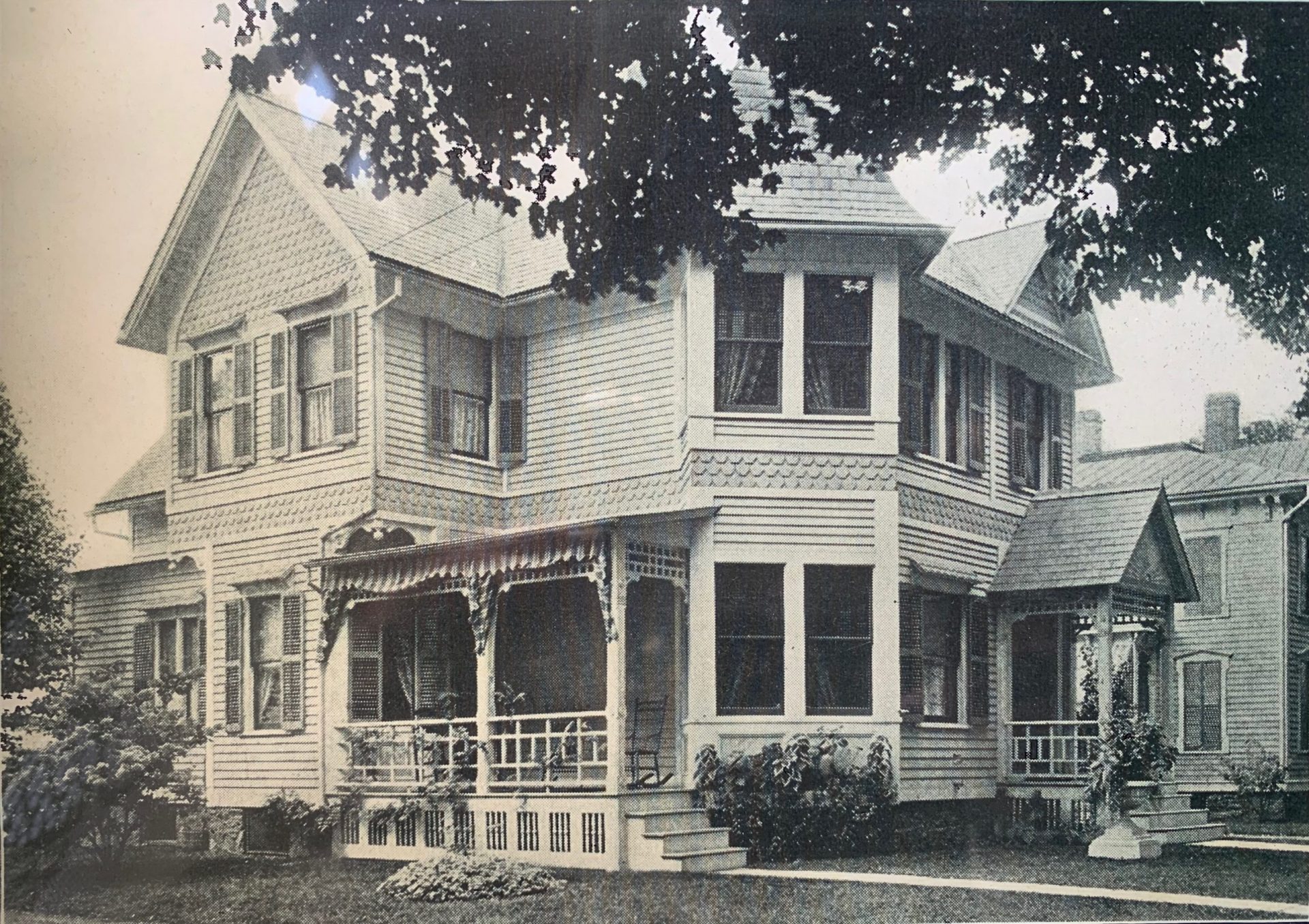 A creepy, old picture of Donna's bat sanctuary…I mean…house!
Favorite 2 pizza toppings?
Mushrooms and black olives. Please keep the peppers and onions to yourself, they wreck a perfectly good pizza.
If you could invite one person to dinner, living or dead, who would it be?
Howard Stern. Hey now.
Connect with Donna: