Behind the Mic: Enda W. Caldwell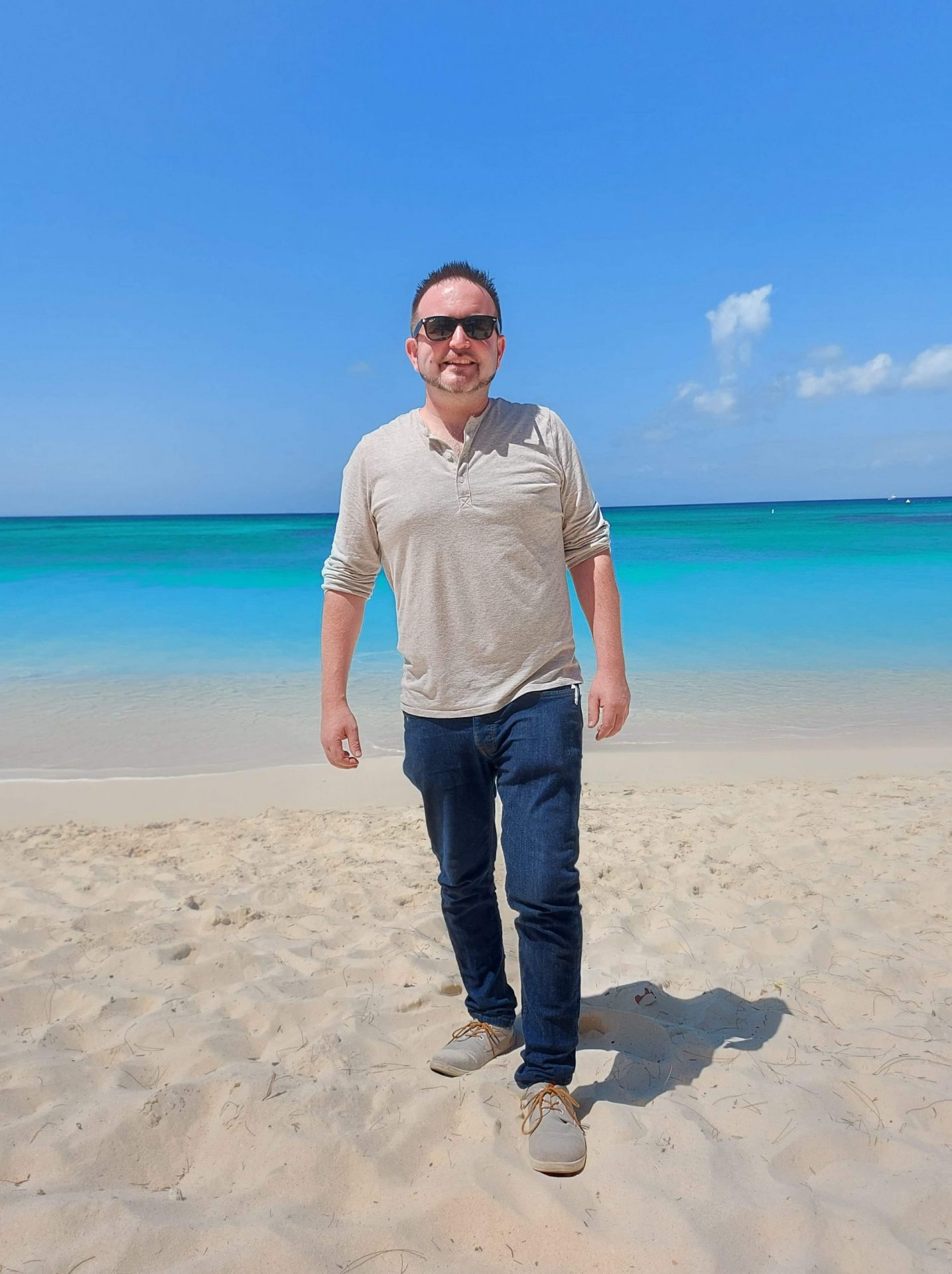 Originally from Navan – the same town in Ireland as former 007 James Bond Actor Pierce Brosnan (and Navan Carpets) now based since the start of this year on The Cayman Islands as Owner of Caldwell Media Cayman, his own VO and Marketing Company, Enda W. Caldwell is one of the UK & Ireland's top voice professionals, Enda has a wealth of knowledge and skill and with over two decades of experience not only as a voice artist around the world, but also as an on-air radio personality with Pulse 87 New York , Live DJ, Radio programmer, media entertainment producer and talent coach he has become one of the best-known people from Ireland Worldwide and especially among the UK and USA Radio and Voice Industries. With access to state-of-the-art studio equipment and an impressive database of contacts worldwide, there is no better man to meet your company's voice artist needs. With each and every job, Enda brings with him boundless enthusiasm, talent, and ideas.
What radio VO work have you done in the past (stations/markets)?
In the past, I've held steady long-term station VO imaging gigs down at stations like Beat in Ireland, Sunshine 106.8 in Dublin, and many other interesting imaging and commercial projects in Europe, the USA, Canada, New Zealand, and Australia. I have a long track record as a corporate voiceover for banks, healthcare organizations and even the WHO and UNESCO. Animation, TV Commercials, Radio Spots, On hold you name it Enda's voiced it.
What are you up to presently (freelance/on-staff at a station)?
Currently, I'm mainly doing commercial and corporate VO work as well as PM Drive as cover this past couple of months for my colleague Abel Sanchez at Pulse 87 New York. My noteworthy and random recent projects privately range from The Dutch Potato Organisation to a series for The World Health Organisation and UNESCO on their European Radio Spots.
What do you love about your job?
I get paid to do something that I've loved doing for absolute fun since I was a child after my Speech and Drama teacher Mrs. Patricia Molloy assigned me the task of recording on-tape my poetry and prose pieces I was learning off by heart to recite at the local talent competition! So, there I was, aged six or maybe seven recording myself into the kitchen radio and cassette player dramatizing whatever Roald Dahl, C.S. Lewis, or even Spike Milligan pieces I was learning off into the tape machine. I cringed at how much like a little girl I sounded back then – maybe I still do? Ha-ha! One thing for sure is that it certainly got me over the initial embarrassment of listening back to one's own voice.
How did you get started as a VO actor? 
To get a start in radio was the first thing to do, so I began by helping out and doing segues and loading up carts for Tony West on Atlantic 252 which was my local International Powerhouse that could be heard across half of Planet Earth on Longwave. It just happened that I was fourteen and the station was fourteen miles from my Mum and Dad's home! I got to meet with and work with all my heroes. Oh, what fun we had making the rules AND breaking them too! 
Enda's VO work for Design23:
What was your first gig? Any memorable ones since then?
Every VO gig however big or small is always a memorable one as I feel the same passion whether voicing one line to some huge project or even a big, long children's audiobook series! However, something memorable is working with great directors and coaches down the years like Cecile Somers at IP in Luxembourg, lots of the London directors (who could be from Oz as easily too!). Chris Dannatt who won many awards as Commercial Producer at Viking FM in Hull UK before the station got sold off to the Germans! He is by far one of the very best commercial voice coaches I have ever worked with. There are many other one-off gigs like playing a Fox for a Grammy nominee director Vincenzo Cerami and other what I would consider to be accolades in my voice career. 
Who are your VO idols/mentors?
My VO Idols include Billy Idol – I've even voiced his concert spots too! Richard "no one would have believed" Burton, the late Henry Owens, Johnathan Ryan, Mitch Johnson (he's sooooooo showbiz, Uncle Mitchey-Poo!), Liam Neeson, and too many female voices to mention like Issa Lopez, Melissa Thom, Georgia Cubbon, and above all the voice of…not telling you her name! 
One guy we should all watch is the late Mike Hurley. He was one of the best VO guys of all time – the voice of Hovis Bread, Ambrosia Creamed Rice, Domestos and so much more.
Have a look at a day in the life of a real true VO legend here:
If you weren't doing voiceover, what else do you think you'd be doing for a career?
Well, a bit like Pig Vomit the PD at the end in Howard Stern's Private Parts Movie of 1997, I would say that if I weren't doing VO then (and if it weren't for so and so…) then, "I'd still be doing Ray-Dee-Ah." Either that or spraying cars or perhaps making cocktails as a bartender listening to people's problems all day! I'd still be doing something communication or people-related. People buy you as a personality they don't buy the product, they actually buy YOU – people! 
What did it feel like the first time you heard your voice on the radio/television?
The first time I ever heard myself on the radio or on something produced I was naturally self-critical. We are all our own best and worst critics. There is a healthy balance between self-loathing and self-correction where we can all listen back and learn how we could improve what we did for "next time" and really change the way we deliver stuff in order to "get it right next time" (rather like Gerry Rafferty?).
How has new technology changed the way you work?
Technology, or the gear, is the gear. The trick is to make the mic from the Dollar Store sound like a five thousand dollar mic, right? So good gear is nothing without technique and as much as one thinks one knows, one is always still learning – even The Queen will tell you that!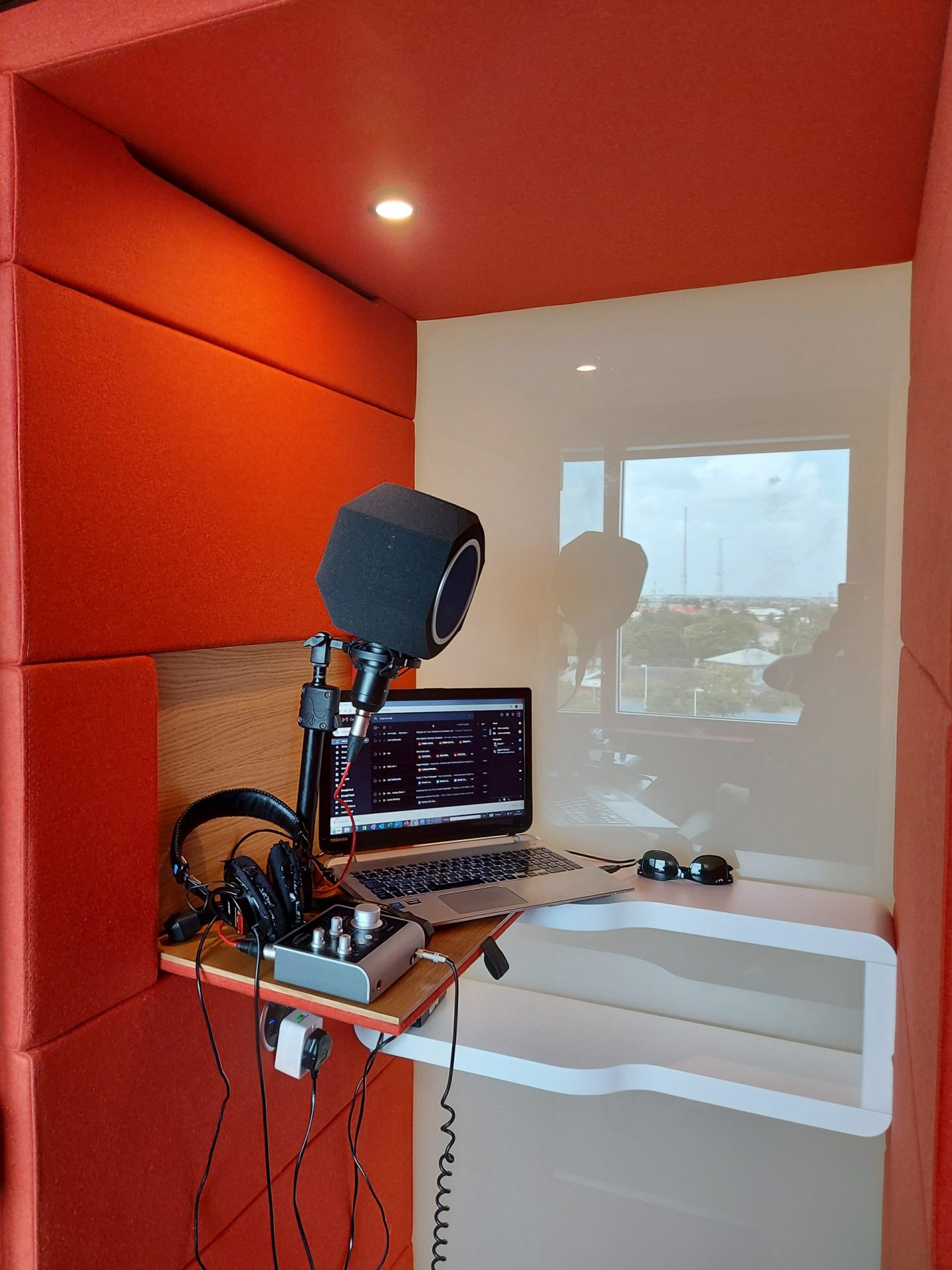 Enda's mobile set-up!
What gear do you use on the road? In your studio?
I had a Roland Edirol UA-25 Interface for years. It's a great box with low noise recommended by my mate Pierre Fuchs, Head of Maintenance at RTL Group's the BCE in Luxembourg. Then along comes my other audio engineer mate Edo Peters from Amsterdam with the Audient ID-4 and WOW! It is amazing. The internet has made the world a smaller place, as we know, and it has revolutionized the work I do. I love being able to voice stuff from the weirdest of places and still have it approved. Like some airport restrooms, hotel rooms are great, inside of a car has great sound and even once the back of a Greyhound bus stop was the location of some urgent promo recording for Sunshine 106.8 in Dublin – I was somewhere in mid-Georgia! The promo still sounded fine and the client was happy! 
Which production system do you use and why? 
I have a Rode NT-2A but use the BM-700 by Gearbest which is supposed to be a replica Neumann – take a look at the reviews you will be impressed as you will be when you see the price of it! I use the Audient interface as aforementioned into a simple Toshiba Satellite Pro and Adobe 1.5. It all works fine for me and I use Source Connect whenever somebody likes to do an over-the-phone type session.
Any favorite plugins?
I don't get too hung up with plugins, although I do know the experts for that kind of thing who are my friends like Denzil Lacey, The World's Most Amazing Man for Radio Imaging! They can have a full two-day conversation over beers with you about plugins and ProTools. I do know how to direct that stuff so a bang here, a whoosh here… a slicer here, and more of that Star Wars shizzle right there in the middle or ¾ ways towards the end which can be dry with just a hint of reverb? You get me. The thing is, there are experts in this business, and they do this like they are pulling on their pants in the morning. So, let them at it I say. That said, I can do a lot with Waves L1 Ultramaximizer+.
Have you ever had a voice coach? Would you recommend it?
Yes, I've had a VO Coach and yes, I'd recommend having one. The results are staggering. I love how each one has different ways of helping you and none of them are ever wrong. It's fascinating and totally recommended. Look up Chris Dannatt in the UK his contact details I can get you if you get in touch with me!
How do you schedule/prioritize your work? How much time do you spend auditioning for new work?
Get it done, get it done, Get IT DONE! I say, did you want it within twelve minutes? OK well within my power I'll get it back as fast as I can to you. I know what it's like to sit the other end and wait for someone for days to deliver stuff back and then you only have a few minutes to get the spot or project done before a rep or client comes bangin' on your production room door!
Auditioning is a pain. Let's face it, life itself is a constant hustle so with that in mind Audition accordingly – rejection comes in many forms and some of us deal with it better than others. You gotta somehow pick yourself back up and keep on keepin' on – to be honest, I do not know where I drew the strength from within myself over the years? But I'm still here so!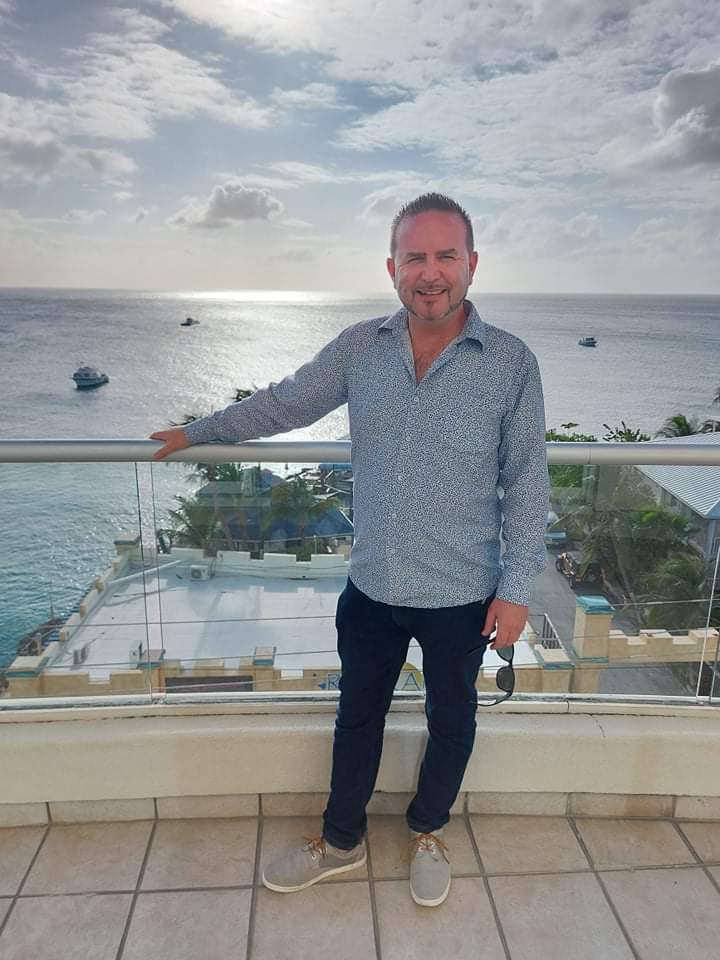 We're trying to figure out how Enda gets ANY work done living in such a beautiful place!
How do you market your services to potential clients?
I believe that personal selling is the best on a one-to-one basis and word of mouth. My good father Walter is one of the best Spray Painters in Ireland for Automobiles – word of mouth kept him in business for the past fifty years and his reputation is second to none. So, if you go in with the passion and experience to want to create art and perfection you will eventually succeed in the end someway somehow.
With VO work there are so many imposters out there – look at all the folks who are suddenly from Ireland when it comes to St. Patrick's Day spots? Or those who wake up and throw the duvet off the bed and go "I'm a Voiceover / Imaging VO" or "I read audiobooks" and their next question is how do you turn this laptop on? Ha-ha!
My website is adequate (www.endacaldwell.com) and I honestly find some great partnerships with my associates at www.voicebooking.com who do not take on just anyone as a VO, so there's only a very select few real VO's they use like Liam Quigley, Tim Kelly or myself in the Irish Category – three very different sounding guys not stepping on each other's toes or stealing each other's dinner plates for the work neither! 
When it comes to VO work, studio & gear, what are your most ingenious methods/discoveries for saving time and cash?
I learned a LOT from working closely with Sean Caldwell and Spyder Harrison over the years, so things like shortcuts are all little "tricks" those superheroes have and they passed to me as part of "the family." Far too many to mention but fast ways of naming files, cutting stuff up, processing and batch processing when you've got 60,000 scripts left to do today are all things I've been taught by Sean and Spyderman in FL.
What is the best voice processing trick or voiceover technique everyone should know?
Umm? "Talk to the mic like it's your lover's ear" is one good one I've been told…not sure I've mastered that one yet but I'm ALWAYS willing to give it a try! Practically, with processing the voice, I learned a nice thing about phasing the voice and panning out stereo L-and R many years ago with Chris Thorpe of OnTheSly.co.uk when he did all the imaging for Galaxy in the UK. It's just a nice effect of doubling out a voice in stereo phasing to really push it out to both speakers and it is really effective – like all effects, it's always best when not over-used too.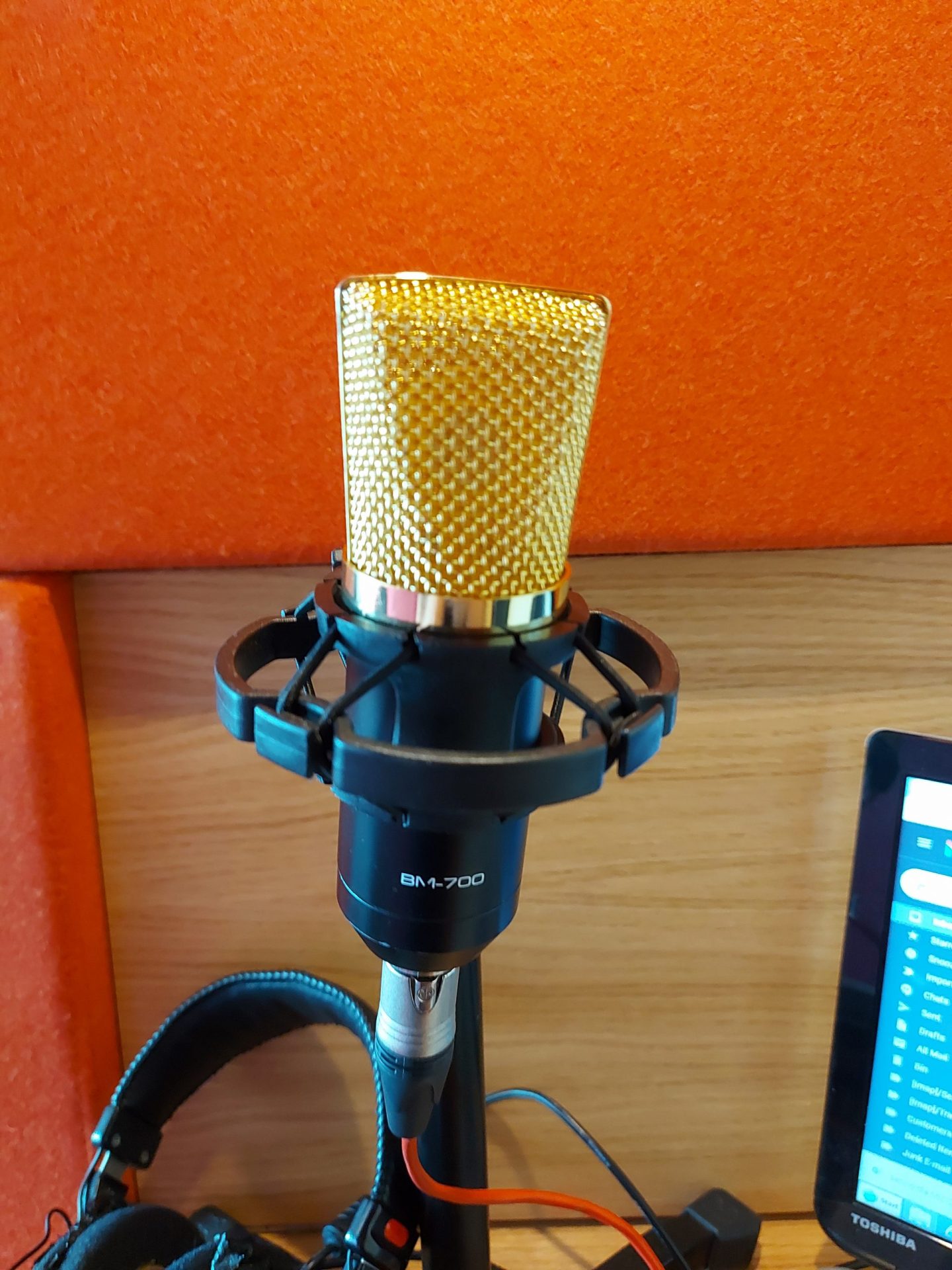 Enda's mic/lover!
Do you have a different approach to reading radio imaging copy as opposed to TV/Radio commercial ads?
I started doing TV Continuity in Province 5TV in my hometown when I was a kid, so having a different approach applies to every script I get in! No two reads are ever the same, no two clients want exactly the same thing, TV stuff tends to have fewer words sometimes and have more "space" to fit the feeling and meaning in these days. There are some wonderful scripts and I do have to say they tend to either come from London Agencies or ourselves actually at Benztown. I was just saying this to our man Jeff Brown at Benztown the other day. Well-written copy is just like well-prepared food – less of it tastes better and is easier to both deliver and digest.
Can you offer 3 helpful tips for newbies trying to make it in the voiceover industry?
Starting out, here comes three tips – be like this kid was at six years old – practice reading out loud into the voice recorder on your cell phone (most phones have them nowadays anyway) listen, listen, listen to all the commercials, listen to the silences and the intonations, listen and think "how could I do it better?"
If you could go back in time and hang out in any decade which one would you go back to and why?
If I could go back in time to hang out in any one decade? Late 60s early 70s in part and then for radio the 80s in Dublin, Ireland where it was really exciting for innovation and growth! 
Favorite 2 pizza toppings?
Pizza toppings? Banana? Like the old British Telecom TV Commercial "on Telly" in the UK in the 80s…I now LIKE Pineapple as in a Hawaiian but did not as a kid so there I CAN change. 
If you could invite one person to dinner, living or dead, who would it be?
To dinner? Probably Howard Stern, John Lennon, or maybe Kenny Everett and Freddie Mercury, Terry Wogan? Can I invite all three? Wait! I want a dinner party! Failing that Jennifer Lopez, Madonna, or Dua Lipa.
Connect with Enda: