Behind the Mic: Frankie DiVita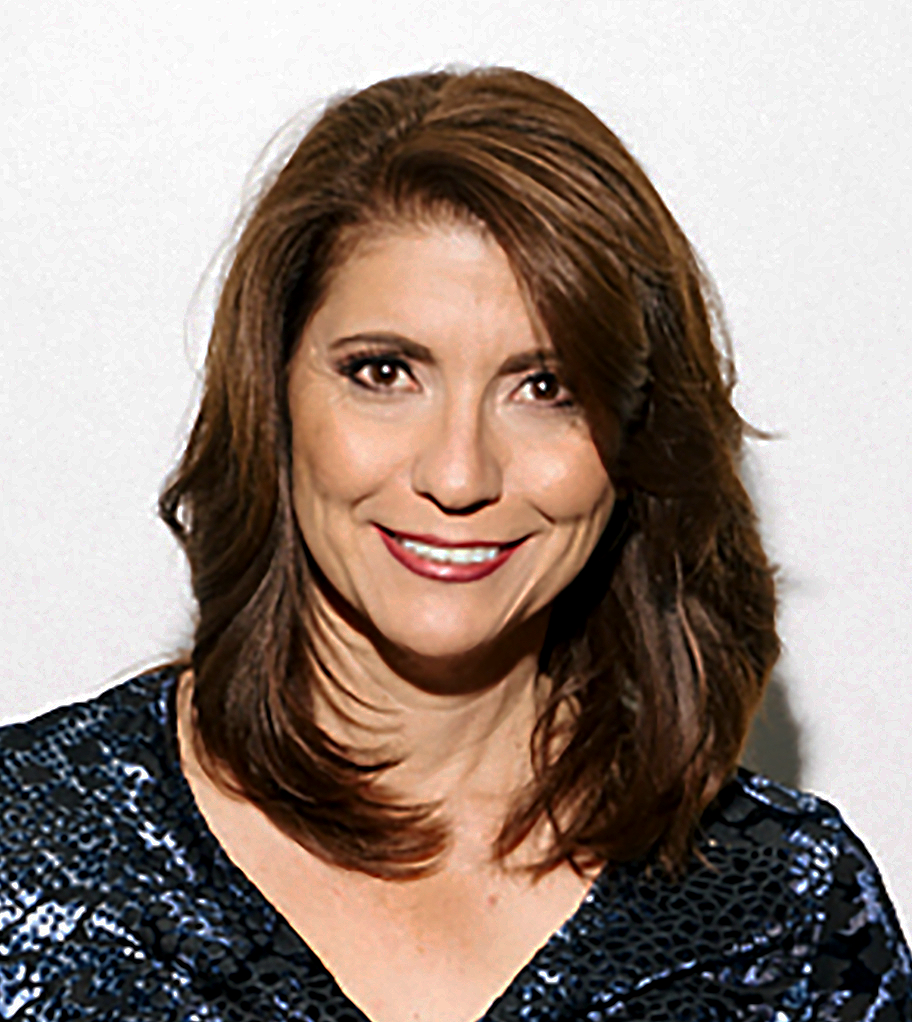 Frankie DiVita is a multifaceted voice talent. Her professionalism, talent, and perseverance have led her to a career as a full-time working voice actor. Frankie's broadcast quality home studio is equipped with Source Connect and ipDTL, as well as Phone Patch, Zoom, and Skype for directed sessions. Quick turnarounds and quality work make her a "go-to" talent for many clients.
What radio VO work have you done in the past (stations/markets)?
I was fortunate to be an on-air radio DJ/Personality consistently for 25 years. I began my broadcasting career at KCAQ/Q105 in Oxnard moved on to KCXX/X103.9 in San Bernardino, made my way to internet radio at the rise of the .com with KNAC.COM, worldwide, back to X103.9 for a couple more years when I got the call from 96.7 KCAL Rocks in San Bernardino to come join their air force, and finally landed my dream gig at the legendary 95.5 KLOS in Los Angeles.
During this entire time I was also, and still remain, a voiceover artist. I was proud to provide voice imaging for stations like Classic Hits KOLA 99.9 FM, Talk Radio 790 KABC AM, 88.9 KDUV FM Spirit Radio, Power Chord Radio, and 90.7 WAYR FM.
What are you up to presently (freelance/on-staff at a station)?
I am currently a full-time voice actor with a broadcast quality home studio. I voice radio/tv commercials, narration, promo, trailer, live announce, eLearning, corporate, political, AND radio imaging.
Check out Frankie's Demos:
What do you love about your job?
Being a voice actor allows me to be versatile, flexible, and focus on the areas of voiceover where I feel most passionate about. It allows me to ACT and sometimes step out of my comfort zone. It also allows me to work with and connect with some amazing people in this industry, both fellow VO actors and the folks behind the scenes. 
How did you get started as a VO actor?
While I was in broadcasting school, I started hearing more and more about voiceover. It was then that I began pursuing VO.
What was your first gig? Any memorable ones since then?
My first ever VO gig I booked while I was still in broadcasting school. I was the voice of the real estate channel for a local cable company. It was my voice that enticed buyers to purchase that 2,000 sq. foot home with the 4 bedrooms and 3 bathrooms. I've had many memorable VO gigs. I've been doing this for quite a while. Some recent VO projects I'm proud of are a movie trailer for Disney's Raya and the Last Dragon and a TV spot for Hallmark Gold Crown for Mother's Day 2021.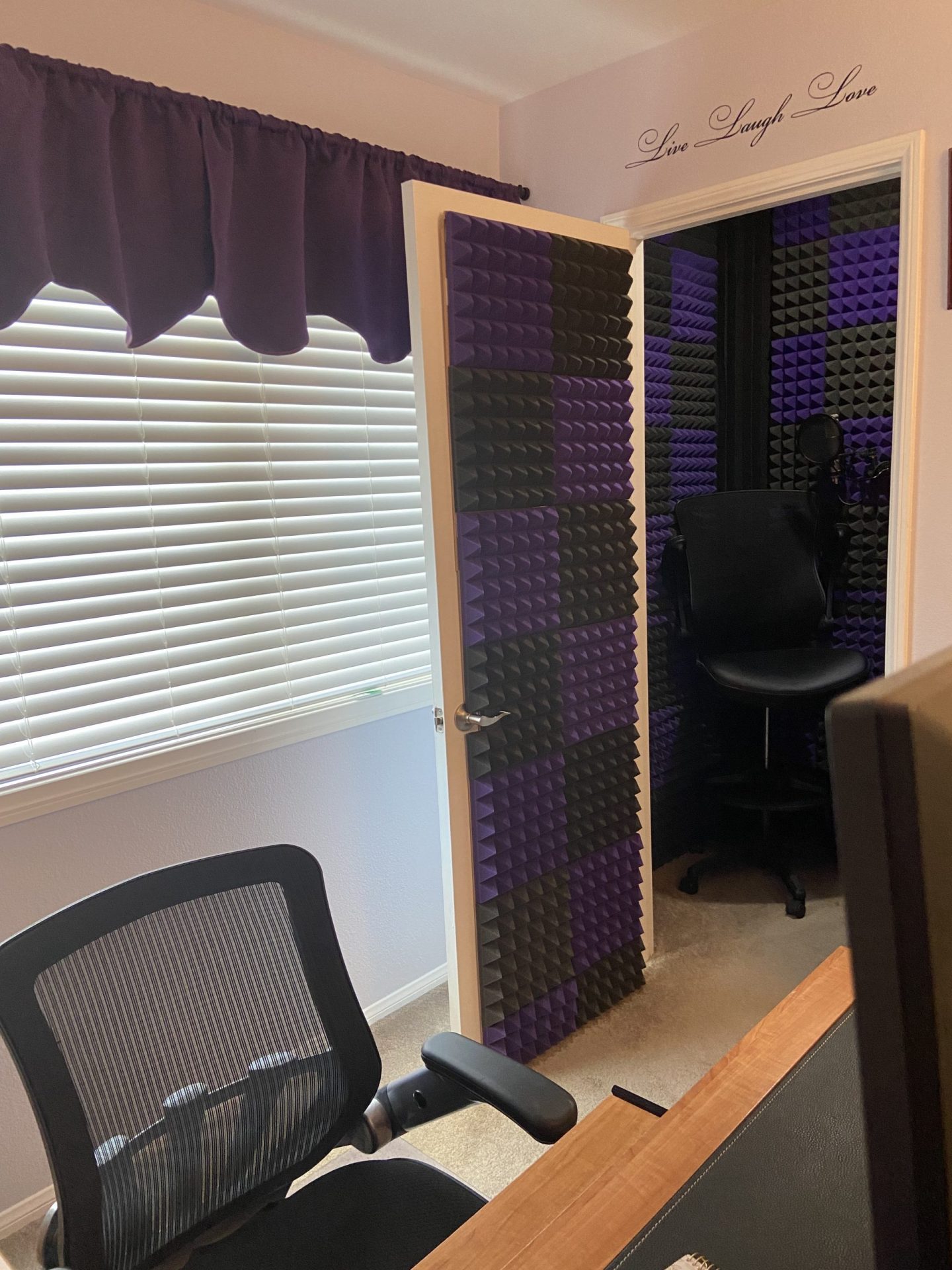 Eat. Breathe. Voiceover.
Who are your VO idols/mentors?
Randy Thomas. Years ago, I was in a VO marketing class and the assignment was to find a VO mentor to help guide us. Randy instantly came to mind. I reached out to her, and she was gracious and accommodating. She has a very impressive career. Radio Imaging, Live Announcer, Promo, Commercial. She is versatile AND, like me, she began as a radio personality. These days I call her my friend.
If you weren't doing voiceover, what else do you think you'd be doing for a career?
I used to work in the printing industry years ago. I suppose I might still be doing that, but I thank God I'm not. I never said to myself as a kid, "I want to be a printer when I grow up." I think I was always destined for radio, TV, and the entertainment industry. 
What did it feel like the first time you heard your voice on the radio/television?
The first time I heard my own voice it stopped me in my tracks…"wait, that voice sounds familiar. Oh, it's me!!!" Since I was a DJ, I became used to hearing myself on radio spots but the first time I heard my voice on a TV commercial it really caught me off guard. It still does at times, but it always brings a smile to my face. Pure joy knowing I'm working in a career that I love.
How has new technology changed the way you work?
Although I live in the Greater Los Angeles area and can drive to pretty much any studio in LA, having a fully-equipped broadcast quality home studio has been fantastic and absolutely essential for the success of my business. Even before the pandemic, probably 90% of my work was recorded from my home studio. Connecting to any studio or client in the world through Source Connect, ipDTL, ISDN and phone patch has saved time, travel, and allowed me to build my business by acquiring clients in all areas of the US and overseas. Adding Zoom and Skype into my remote recording capabilities has made sessions much more convenient for clients who are not at studios but sitting in their own homes. Also, having recording and editing software sure beats reel to reel and a razor blade which was on its way out when I got started.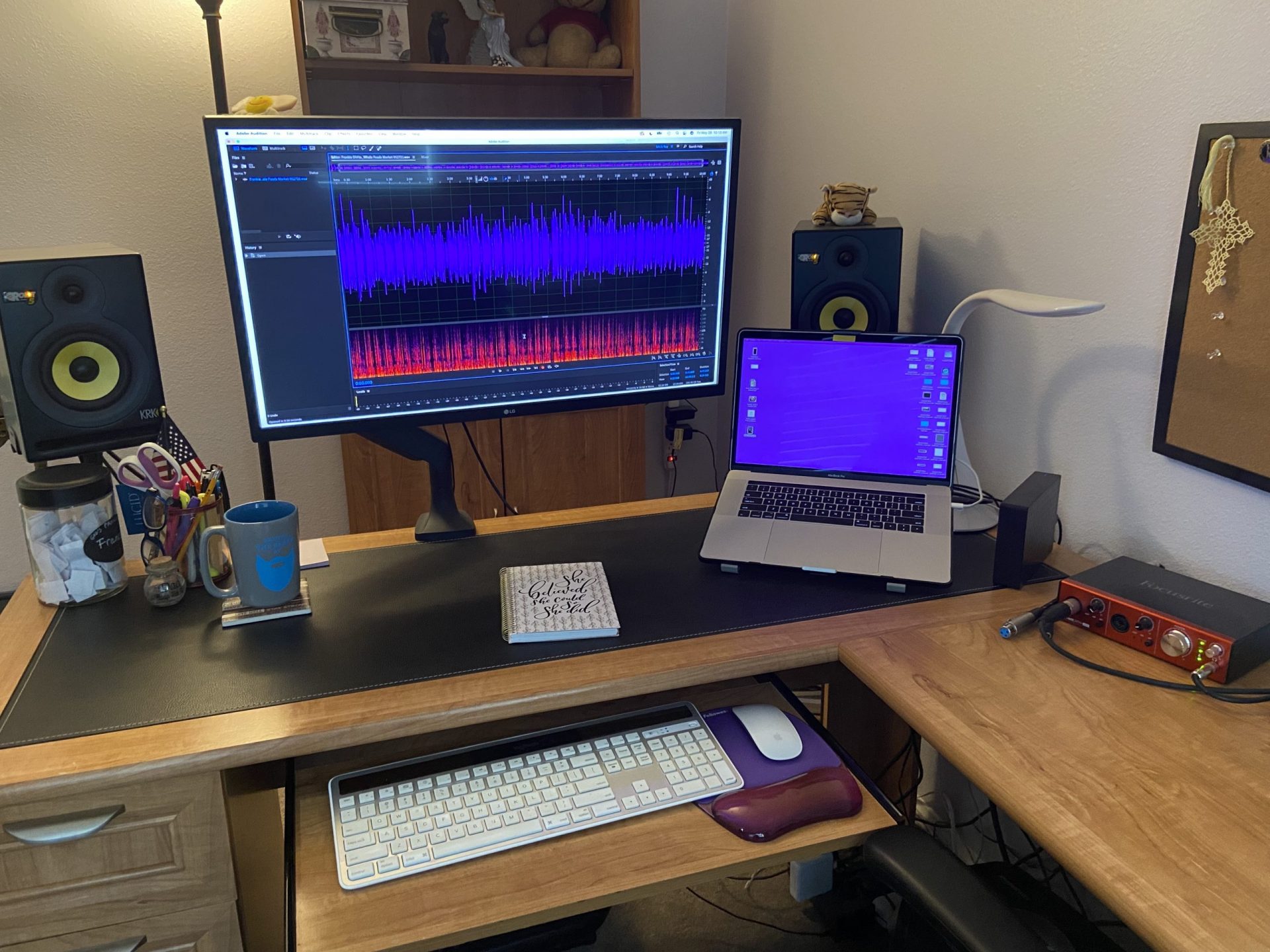 Frankie's blade-less audio editing set-up!
What gear do you use on the road? In your studio?
My road gear includes a 15.6" MacBook Pro, Adobe Audition, Apogee MiC USB, KRK KNS8400 Studio Monitoring Headphones, and a PortaBooth. In-studio I use a 15.6" MacBook Pro, Sennheiser 416, Focusrite Clarett2Pre, Adobe Audition, KRK Rokit 5 Studio Monitors, Tobenone Docking Station, LG & Acer Monitors for display mirroring and a professional sound-treated vocal booth.
Which production system do you use and why? Any favorite plugins?
Adobe Audition is my main production system although I own and have used Twisted Wave for certain types of projects. I typically use the included tools within Adobe Audition such as the de-clicker, if need be, to deliver a clean recording. Not a plug-in, but a favorite audio utility is Loopback. This is not used for audio manipulation but is a cable-free audio routing plug-in for Mac. It allows me to playback audio I've just recorded for clients, while in a directed Zoom, Skype, or Phone Patch session. It gives my clients options when they can hear the playback and redirect or approve of the audio.
Have you ever had a voice coach? Would you recommend it?
Yes, I've studied with some of the best VO coaches around…Thom Pinto, Maurice Tobias, Jody Gottlieb, Jeff Howell, Tina Morasco, Scott Parkin, Eric Romanowski, Joyce Castellanos, Kalmenson & Kalmenson, Dave Walsh, and a few others. I've also studied a bit of Improv at IO West and Second City as well. I highly recommend voice coaches. If you want to be successful in voiceover, you have to study your craft and learn from people who know the trends and changes that are happening in the industry. Never stop learning.
How do you schedule/prioritize your work? How much time do you spend auditioning for new work?
Actual projects come before auditions. So, if I have a recording session on schedule or a client or agent sends a project to my inbox, I'll record that first. I typically record auditions by due date and time. Whatever is due first that's what I record first so I can be sure not to miss a deadline. I'm auditioning every day but I also have regular clients and work that circle back around weekly. 
How do you market your services to potential clients?
I tend to do most of my marketing by email and direct people to my website, https://www.frankiedivita.com, which has all of my demos and a sampling of my work you can see as well as hear. But I've also recently bought ad space for Radio Imaging on the All Access Rock Newsletter that is sent out to radio industry pros like program directors. Networking is also a good way I've marketed myself at various events such as the World-Wide Radio Summit. Additionally, I have wonderful associations with the team at Benztown and Hoss at Hoss Management Group who I know are always looking out for my best interests.
What is the best voice processing trick or voiceover technique everyone should know?
I don't have a lot of tricks up my sleeve, but I would just say to have a quality mic, a pop screen, a sound-treated recording space, and know your keyboard shortcuts. Voice techniques such as proximity to the mic are also key depending on the type of delivery the script calls for.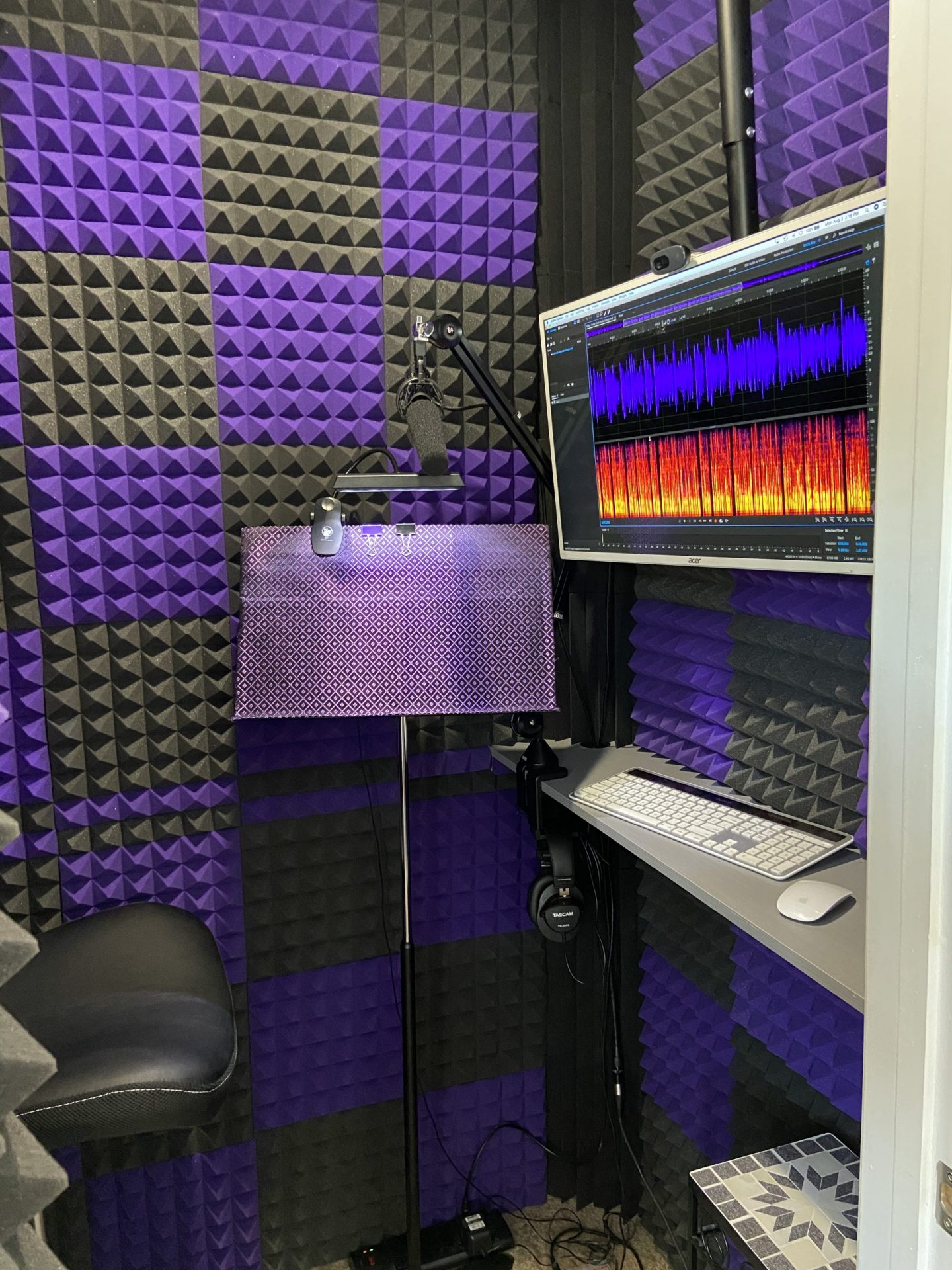 Frankie's not-so-secret weapon to recording awesome VO!
Do you have a different approach to reading radio imaging copy as opposed to TV/Radio commercial ads?
Yes, radio imaging allows me to bring more Frankie to the table. I can play with different attitudes, ad-libs, speeds, and styles all while thinking about what the producer needs and where he may be taking the imaging with SFX, music, and timing. The imaging voice is heard more than the full-time jocks on a radio station, it is my job to keep the listener engaged no matter what the daypart. When I approach a commercial read, I need to perform as the character being called upon, play to the emotion of the copy, the product and bring the listener in with the delivery.
Can you offer 3 helpful tips for newbies trying to make it in the voice-over industry?
Yes. 1) Start with VO training. Do your research on VO coaches and work with the ones who are great in the VO genres where you want to work. Ask other VO actors for recommendations and try to work both one on one and in group coaching sessions. You can learn a lot from watching other actors. 2) Don't record a demo until you are ready and when you are ready, hire a demo producer with some experience and listen to demos they've already produced. Speak to other talent who have worked with the producer in the past. 3) Surround yourself with people who are better than you and follow the VO genres you are passionate about. You may not be great in all areas so focus on the areas that really bring you joy. 
If you could go back in time and hang out in any decade, which one would you go back to and why?
I loved growing up in the 80's. If I could go back knowing what I know now, I'd have more fun, take more chances, and pursue areas of my life more fervently. I'd probably still have the big hair though and my Aquanet in the pink can.
Favorite 2 pizza toppings?
Pepperoni and jalapenos. But I also like mushrooms, olives, sausage…I can only pick two? Oh, and thick crust, definitely. 
If you could invite one person to dinner, living or dead, who would it be?
Bono. I've never met him, but I'd love to spend an evening talking to him. I love his spiritual side, his artistic side, his humanitarian side, and I'm sure it would be life-changing for me to hear his perspective on the world.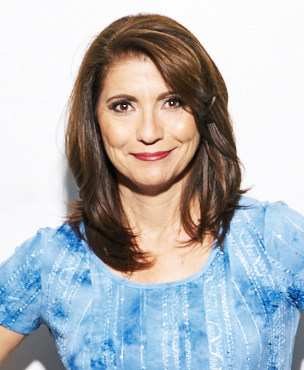 Connect with Frankie: