Behind the Mic: Howard Hoffman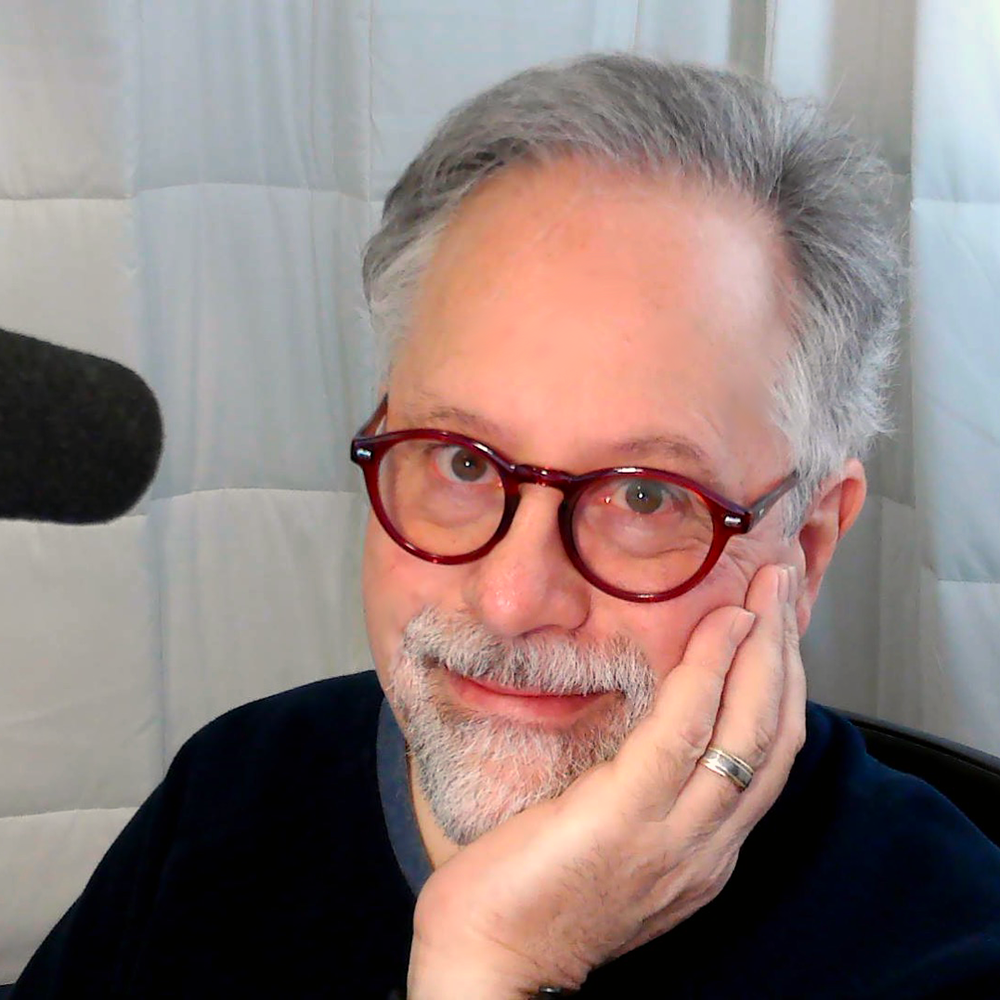 Hi. I'm Howard Hoffman.
I've been a radio rat since my dad had a radio on nearly 24/7 in our house. I grew up on Bob & Ray, Jean Shepherd, a megaton of Mantovani – and when I finally got my own radio, Dan Ingram, Cousin Brucie, Rosko, Jack Spector, and whoever else my transistor would pull in at night. I loved how radio was the soundtrack of our home and took us places we've never been. I pretty much vowed to make that my life and I've been lucky enough to work with the brightest and the best who taught me how to use audio to entertain and connect.
What radio VO work have you done in the past (stations/markets)?
On the air, I rock-jocked at WABC, HOT97, KMEL, KFRC, PRO-FM, WPIX, and enough more to qualify as a journeyman. In the 90s, I transitioned to production and found I actually had more freedom to tell stories in 60 and 30-second shots (the PPM era got me to shrink that down to 5 to 15 seconds). I spent the better part of two decades at KABC in Los Angeles where I also did an enormous amount of commercial and animation performing. I also freelance for Alpha Media's KXL, KTSA, and KFOR.
What are you up to presently (freelance/on-staff at a station)?
I'm now Creative Services Director at iHeartRadio New York, overseeing WOR and iHeartRadio Broadway's on-air imaging.
Check out Howard's Demos:
What do you love about your job?
Seeing what I can get away with in the PPM era. There's always a dramatic aspect to bang-bang radio imaging today, but there are also opportunities to flash some comedy into the mix. And whenever it elicits a response from listeners, it's magic. From a purely radio standpoint, it's one of the few remaining outposts of having a blast in our industry. Radio marketing is a never-ending challenge which keeps my spark crackling.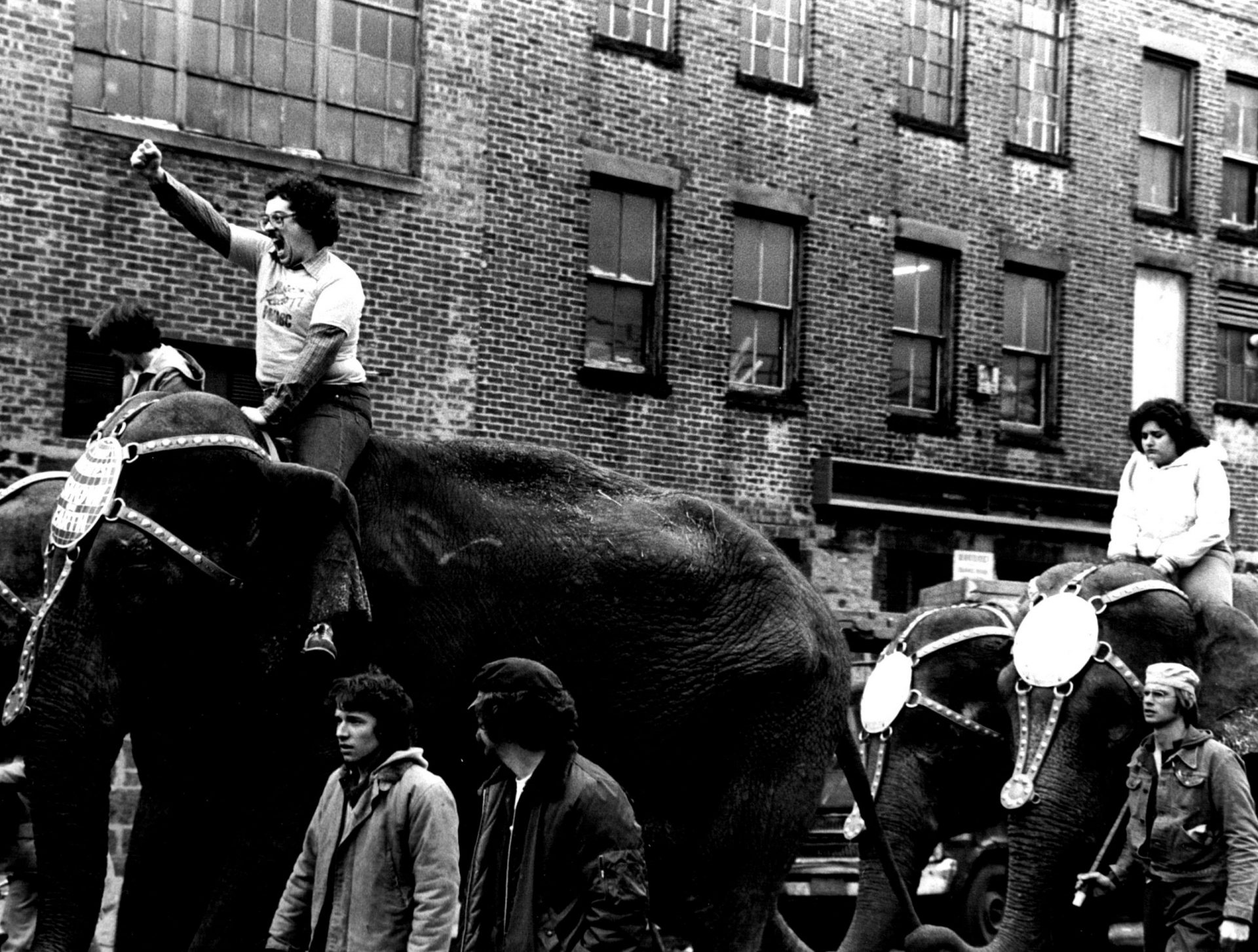 Howard having a blast doing something that will never happen again – riding an elephant from
the rail yards to Madison Square Garden while at WABC in 1980 for the Ringling Bros. Circus!
How did you get started as a VO actor? 
Early in my career, I did a few spots for Columbia and Warner Bros. Records, but VO didn't blast off until I came to L.A. in the '90s. There were studios, directors, agents, on-site auditions – the VO industry was exploding alongside animation's resurgence and a new golden era of commercial creativity. I was extremely lucky to get in on that and managed to share several awards with these great minds and producers.
What was your first gig? Any memorable ones since then?
My first radio gig was a 250-watt daytimer – WTBQ in Warwick, NY. The faculty adviser of our high school radio station, an English teacher named Hank Gross, did weekends there and got me in to do weekends, donut and pizza runs, and ultimately afternoon drive and PD – all while in my senior year of high school.
Startup stations were my two favorite moments in the business: KAUM (ABC) in Houston and KMEL in San Francisco when it flipped to CHR. There's something about a take-no-prisoners blow-the-doors-off what've-we-got-to-lose situation that just sends electricity throughout the station and your soul. By the same token, a startup I was involved with in Seattle with makeshift studios, internal battles, technical nightmares and coming in as the 4th CHR in the market had its wheels fall off in its first three weeks. Sometimes lightning strikes, and sometimes it just drizzles, and you get wet pants.
Greatest thing to happen: An animated short on which I did all the voices getting nominated for an Academy Award – "The Chicken from Outer Space" 
Worst thing to happen: It later went to the long-running series "Courage The Cowardly Dog" and Cartoon Network decided to completely recast it with their people. I still haven't seen a single episode and I don't plan to.
Who are your VO idols/mentors?
My mentor is Jim Brownold who I worked with in Middletown, NY, and followed to Detroit. For animation, Rob Paulsen is hands-down an amazing voice artist. He has a trunkload of characters and can sing pitch-perfectly. When he combines the two, it's explosive (look up "WAKKO'S WORLD"). He's also one of the most generous performers I ever worked with, having talked me off virtual ledges over the years. 
Straight-up VO, I LOVE what Joe Cipriano did with his career – total focus, naturally gifted and a brilliant self-marketer. I strive for half the discipline he has. It's not easy, but he makes it look like second nature. And damn it, he's a nice guy to boot.
There are so many others as well who have helped me immeasurably – Beau Weaver, Keri Tombazian, John Frost, Rick Allen, Ken Levine, Tom Leykis, Jeff Danis, Tom Cuddy and when this gets published, I'll think of a dozen more. My creative mentors who never knew they were mentors include Stan Freberg, Dick Orkin, Bert Berdis, Dan Ingram, Spike Jones, and my dad who loved radio so much, even though he sold cars for a living.
If you weren't doing voiceover, what else do you think you'd be doing for a career?
Something that would make me miserable for certain. I tried pushing myself in other directions, but radio, VO and imaging kept dragging me back in.
What did it feel like the first time you heard your voice on the radio/television? 
Horrified! I was nasal, had a lisp, I was a puker – everything that should have kept me out of the entire industry. So I compensated by going the comedy route in my career which served me VERY well. In time, I learned voice technique, so I was able to do more than just crack wise.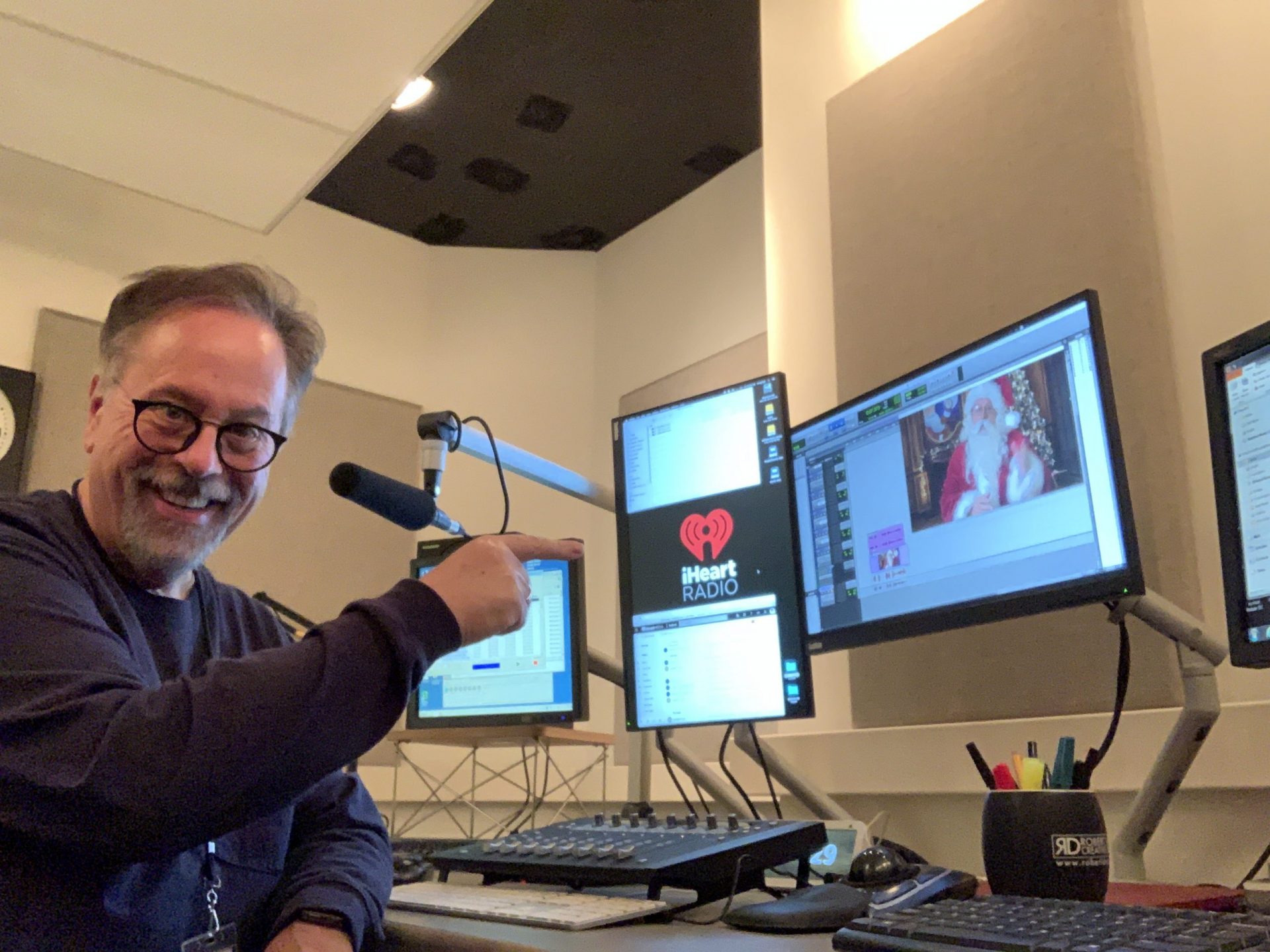 Howard at iHeartRadio NY pre-pandemic. You can tell it's pre-pandemic because he looks so happy!
How has new technology changed the way you work?
It definitely made it more transportable. What just a couple of decades ago were conference table-sized mixing consoles, tape decks, records/CDs of beds and effects – essentially a room full of clutter – has (for me, at least) been winnowed down to an iMac, a 16×10-inch Artist Mix and a couple of external hard drives. Some would even say that's too much, and I can certainly do it all on a nice MacBook Pro. But the fact that I can run the on-air marketing of a 50,000-watt NYC heritage station and a national music network from one quarter of an apartment bedroom for almost a year and a half is just plain mind-blowing to me.
What gear do you use on the road? In your studio?
On the road, I take my MKH-416 and a MacBook Air, since I restrict my travel work to just straight VO and no production. My home studio and my studio at iHeartNY are functionally identical. An iMac with two 27" monitors at home (a Mac Pro at work), AVID Artist Mix, a CalDigit TS3 Plus hub, the MKH-416 with processing set to a gnat's eyelash to reduce any room noise, and most importantly, a Varidesk stand-up desk. For soundproofing, I use an exclusive proprietary system of several comforters from Target stapled to the wall. The studio in NY is a bit more high-end.
Which production system do you use and why? Any favorite plugins?
Pro Tools. I tried others like Logic Pro and Adobe Audition, but I keep coming back to the bloated but high-ceiling second-nature necessary evil. My favorite plug-ins include Butch Vig Vocals (I must have sold at least a dozen other production people to it), Speakerphone, the venerable Harmonizer and the RX8 suite – especially the RX8 outboard Audio Editor for removing vocals for the mini-documentaries I do for iHeartRadio Broadway.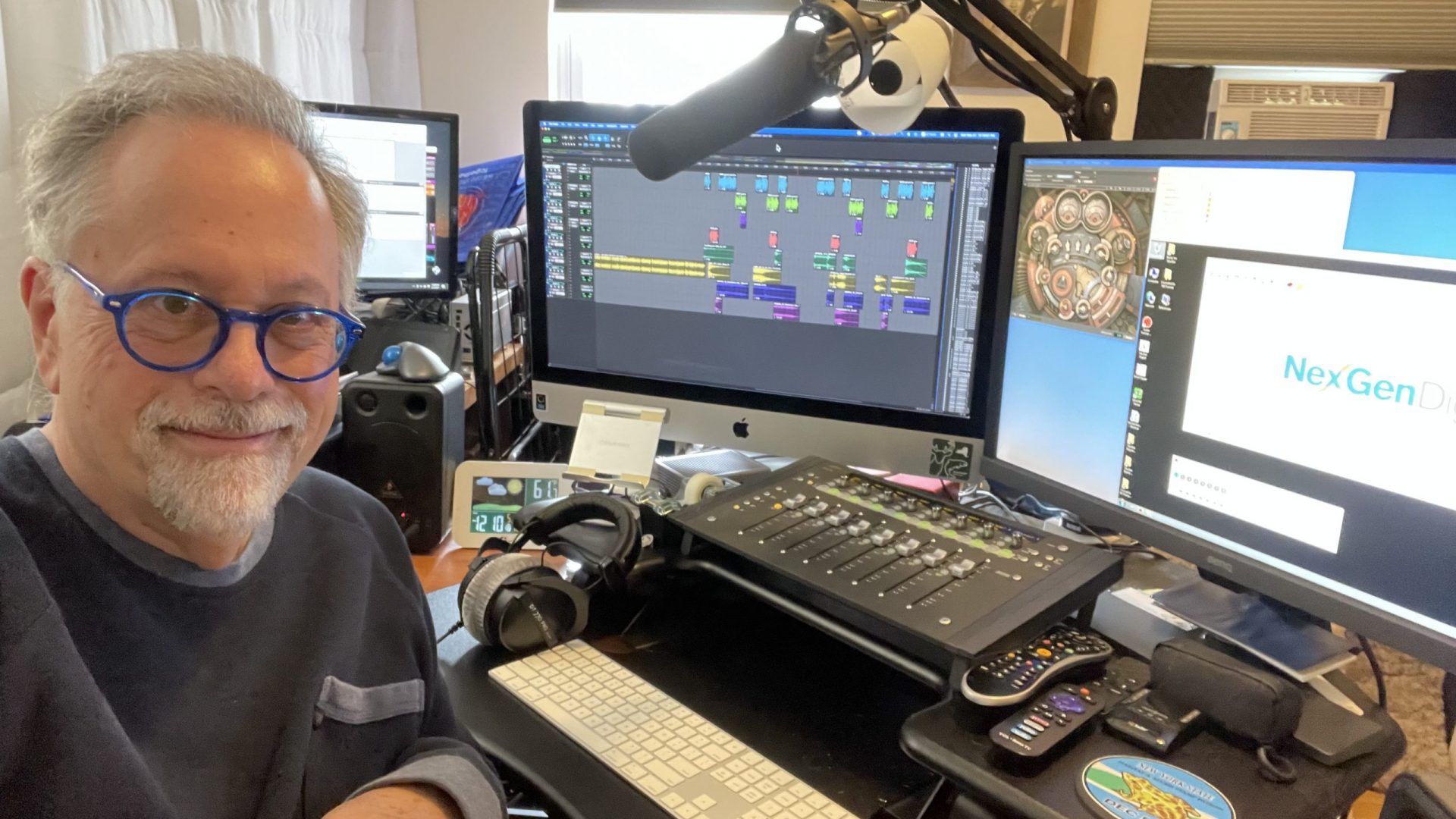 Howard's at-home set-up!
Have you ever had a voice coach? Would you recommend it?
Yes and absolutely. I've had coaching by some remarkable professionals. Pat Fraley vowed to "slap the radio out of your voice" and now I can narrate a lot more naturally. Ginny McSwain taught me the art of performing rather than just talking. Susan Blu gave me the tools to try voices I never knew I had in me. Dave Walsh has a great TrueTell course that brings out your "realness." I can go on, but you'll be amazed that no matter how many classes you take and how many coaches you have, you NEVER stop learning something new. I think that's another reason why we love VO. It's constant growth and discovery.
How do you schedule/prioritize your work? How much time do you spend auditioning for new work?
Even though I'm working full time, I devote practically all my downtime to my clients. They've been with me for many years, and they completely understand that my number one priority is to my main gig, and if they need something in a hurry, that's my lunch break. Beau Weaver calls it the "Golden Handcuffs" – it's a great way to make a living and be of service to your clients. Just don't attempt to go out for a coffee or sandwich during coast-to-coast business hours! It's what we do and we do it gratefully.
How do you market your services to potential clients?
Fortunately, I'm really proud of my track record. My clients and my home base do very very well and have done so for many years. I limit my client list to devote the right amount of time to their needs, but though I'm definitely not marketing myself for quantity, I am seeing new patients.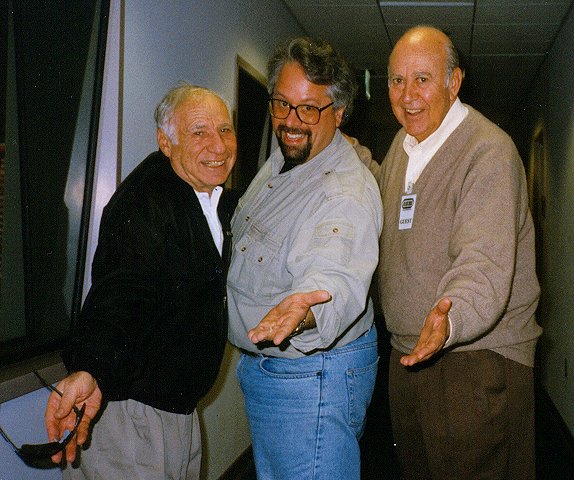 Howard with Mel Brooks and Carl Reiner at KABC in 1997!
What is the best voice processing trick or voiceover technique everyone should know? 
Your voice is an instrument, and you can customize it to do so many tones. Use all parts of your mouth…the back, the front, the corners…just sending your voice through different shapes of your mouth opens up your repertoire. 
Do you have a different approach to reading radio imaging copy as opposed to TV/Radio commercial ads?
Absolutely. Imaging is all about messaging with a tight budget on words. It's almost like the seven-word rule in billboards. Hit them with the message and make sure you leave a mark before you run. Commercials have more storytelling, more explaining, more introducing to a new thing. They have the luxury of 30 or even 60 seconds, so you can be a good friend telling the listeners about that thing. 
Can you offer 3 helpful tips for newbies trying to make it in the voice-over industry?
1 – Get training
2 – Get training
3 – No matter how many people tell you you have a great voice and should be on the radio, GET TRAINING.
The pros do it relentlessly. Amateurs need it even more.
If you could go back in time and hang out in any decade, which one would you go back to and why?
In radio? The 70s. Lots of opportunities for work since each and every station had its own ownership. Lots of local management that could get you free food or a great apartment. Lots of chances to get your act carved out to get to the bigger locally run stations. I think it was the best time to be in the business.
To live? I'd love to make it to the 2050s.
Favorite 2 pizza toppings?
When I could eat real pizza, sausage and mushrooms.
If you could invite one person to dinner, living or dead, who would it be?
My late great dad. I want to see the look on his face when I tell him after spending decades in rock and roll radio, I ended up as Creative Director of the radio station he loved so much, playing it in our house every evening and driving us kids nuts – WOR.
Connect with Howard