Behind the Mic: Jeff Berlin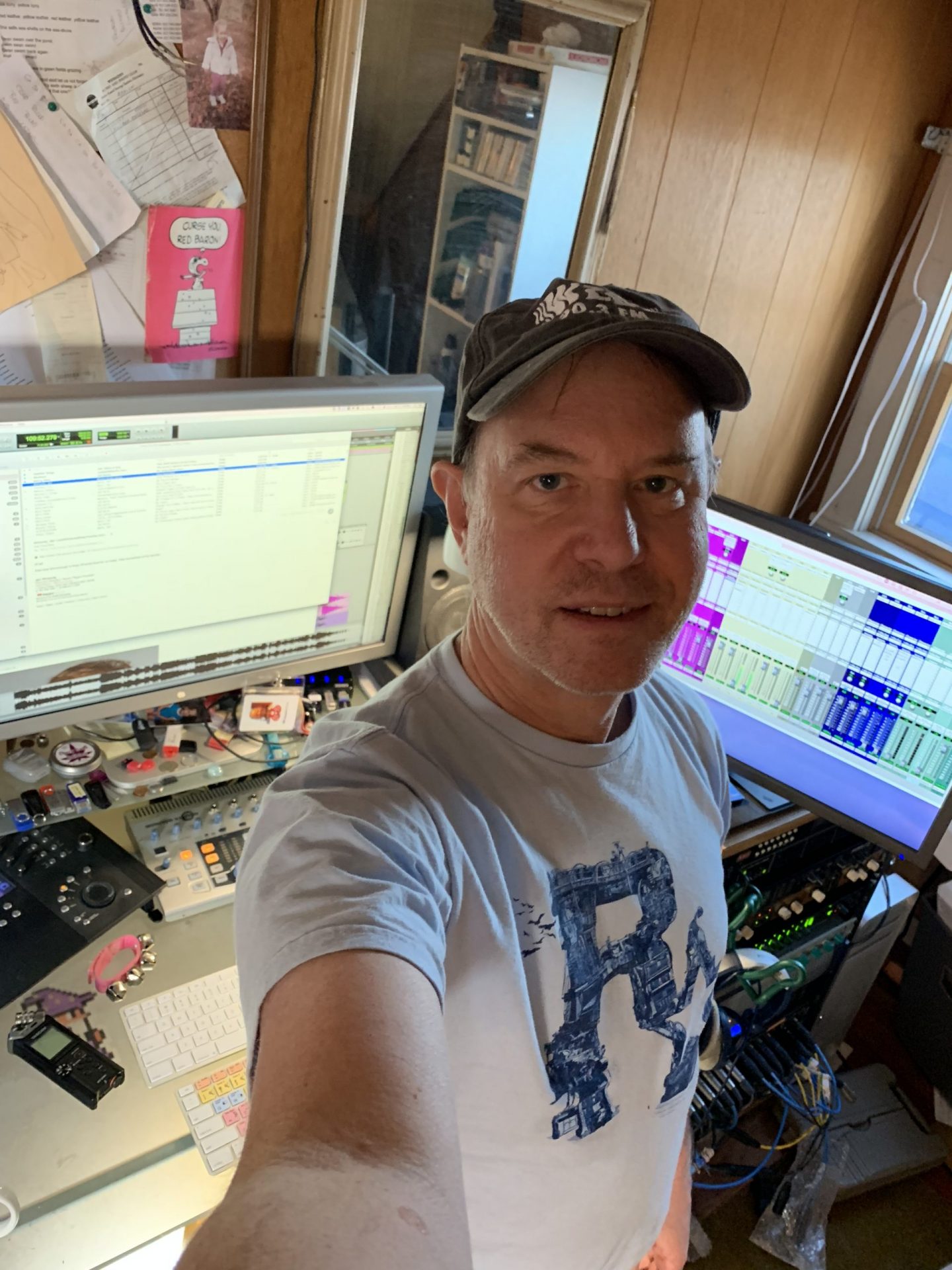 Hi, I'm Jeff. I was a producer and voice talent at Kiss 108 radio for 22 (+2) years. The +2 was a recent fun return from 2018-2020. I'm the promo voice on a lot of radio and a few TV stations. I was the voice of A&E television for six years. All the Grand Theft Auto video games. Most people can't believe that I  make a living talking mostly by into a microphone. What do you do?
What radio VO work have you done in the past (stations/markets)?
I've been employed as a DJ/producer/imaging voice at WAAF Worcester, WHCN Hartford, WCOZ Boston, and Kiss 108 Boston. I was serving as the station voice of over 100 radio stations at one point. I haven't counted lately, but it's probably not 100 anymore.
What are you up to presently (freelance/on-staff at a station)?
Currently Kiss in Dallas, B96 Chicago, KS95 Minneapolis, 92 ProFM, 98 Rock, Mix KC, Sirius XM, and dozens more. I don't wanna leave anyone out, but I'm grateful and honored to serve as your station imaging voice regardless of market size!
 What do you love about your job?  
Not having to worry too much about my appearance.
How did you get started as a VO actor?
In high school, I had a job bagging groceries at a Big Y Supermarket. They had me record the weekly specials that got played over the PA system. Years later producing promos and commercials led to voicing them.
What was your first gig? Any memorable ones since then?
Sir Paul McCartney and Jon Bon Jovi both personally selected me to be the voice of their tour commercials a few years ago.     
Who are your VO idols/mentors?
My idol is Ernie Anderson. I had the honor of directing a few VO sessions when he was our station voice at Kiss 108. He was kind and gracious even when I asked him to read something differently. When the PD Steve Rivers tried to do that Ernie would ferociously rip him apart. That's why I was delegated directing Ernie. Ernie is the one I channel the most when I'm trying to add some kind of flair or twist to a script. He was one of a kind.
I also draw inspiration from legends I've known, worked with, or learned from: Don LaFontaine, Chris Corley, Ann DeWig, Mark Driscoll, Danny Dark, Brian James, Dave Foxx, Earl Mann. They have no idea how indebted I am to them. Also Steve Stone, Chad Erickson, Scott Matthews, Damon Oaks, and Kelly Kelly Kelly. 

Another day livin' the dream!
 If you weren't doing voiceover, what else do you think you'd be doing for a career?
Websites maybe? I've been doing all the code for my own websites for many years. I'm sure you can tell…
What did it feel like the first time you heard your voice on the radio/television?
Cringey.
How has new technology changed the way you work?
That depends how far back you wanna go. Going from reel to reel to ProTools was radical. Going from nightly runs to FedEx to posting online was game-changing. The iPhone has enabled me to work anywhere, anytime. Otherwise, I don't think much has changed much since high-speed internet upped "last minute" to "last second". Whether you're using Zoom, Slack, What's App or whatever…you're still communicating with written and spoken words. Definitely lots of societal upheaval from new tech – but the way *I* work day to day has been pretty much the same for the past 15 years or so.
What gear do you use on the road? In your studio?
I get laughed at 'cause I carry a MicPortPro2 and a Sennheiser 8040 on bicycle rides. They go digitally into my iPhone, where I'm able to record, sweeten, and upload. I usually dismount the bicycle when I do this. In my studios I mostly run a Sennheiser 416, one goes into a John Hardy M1, the other an Avalon M5. I have old-school outboard analog compressors – one's got a recently modified Urei LA-4, the other has a Kush Tweaker. My interfaces are all Metric Halo and have been since 2004. I've always run a Metric Halo interface in front of anything from Digidesign/Avid.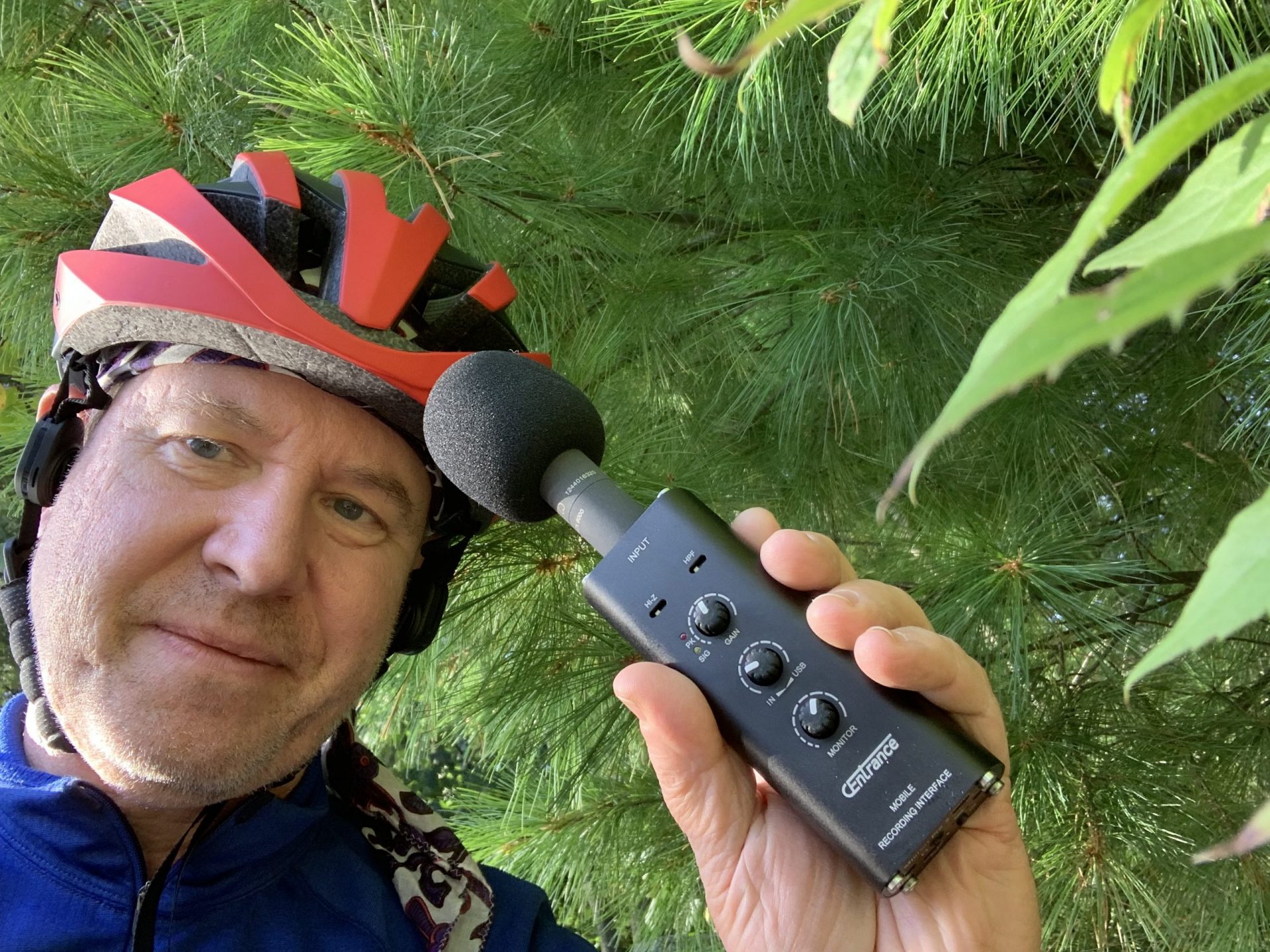 Nothing like a nice afternoon full of biking and micing! (Okay, micing isn't a real word, but we love rhyming…)
Which production system do you use and why? Any favorite plugins?
ProTools 'cause it's been a 30-year long affair. I'm actually thinking of finally switching to Reaper or something similar, 'cause I'm unhappy with changes Avid has made, and there's no remedy. I currently run ProTools10HD and 12.5HD side by side, but those are old systems. I have the latest version but I work much faster on 12.5 and older. For plugins, I really like Fab Filter's Pro-Q3 Pro and Pro-L2 Limiter. There are about 100 others I use…
Have you ever had a voice coach? Would you recommend it?
Yes. I still get coaching. Good to get a perspective from outside my bubble. While I recommend it, not everyone will benefit.      
How do you schedule/prioritize your work? How much time do you spend auditioning for new work?
Every day is a game of whack a mole. I do as many auditions as I can, but sometimes have to let those opportunities go to take care of my stations.
How do you market your services to potential clients?
Benztown! You guys have been great. And Atlas Talent, of course.
When it comes to VO work, studio & gear, what are your most ingenious methods/discoveries for saving time and cash?
Get a $49 Korg Nanokontrol. Bring it in the booth with you. Let's you start, stop, record in the background…also makes it easy to ensure you ARE recording without taking the script off the screen. I carry one even when I travel.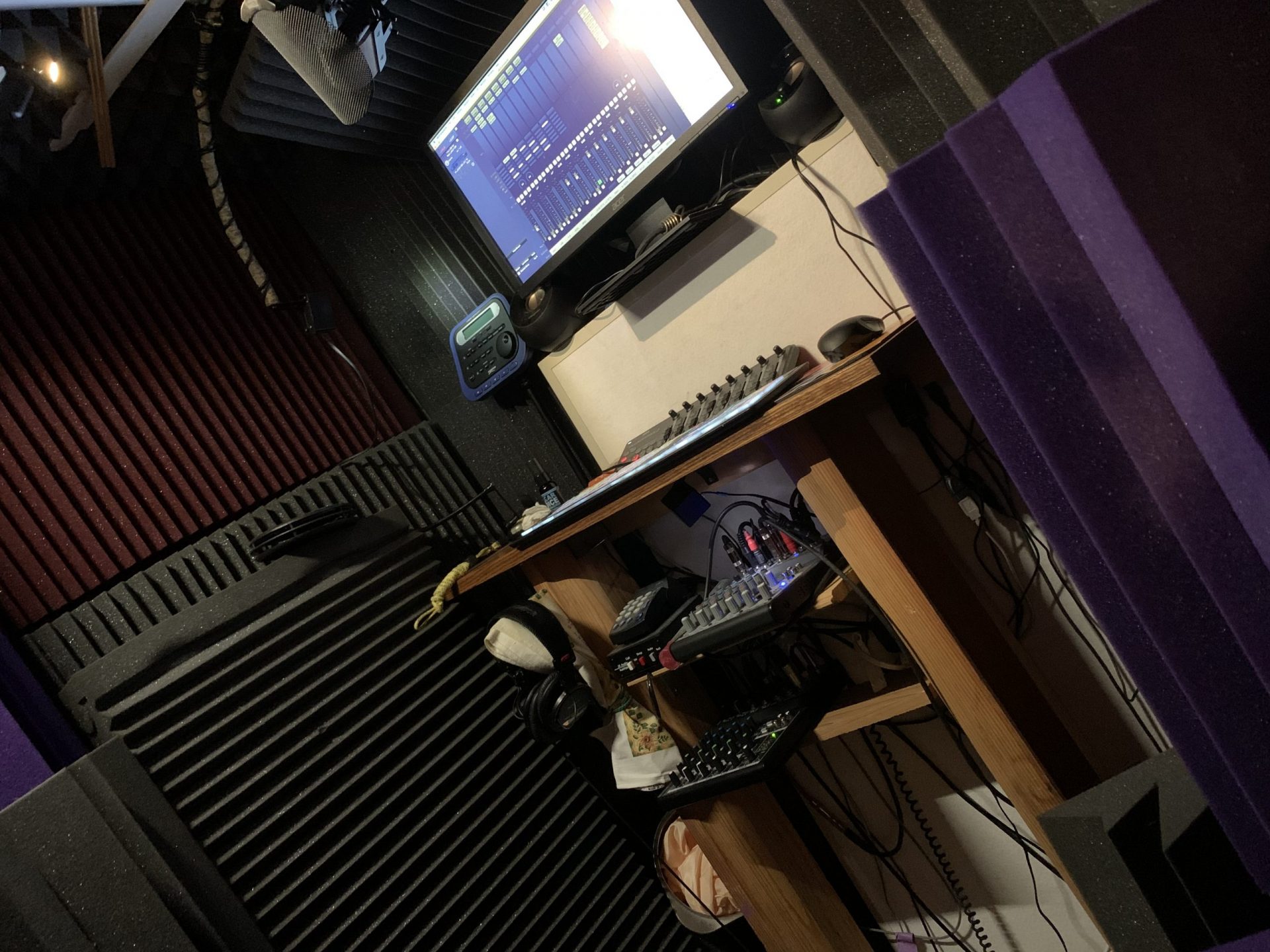 Jeff's VO booth!
What is the best voice processing trick or voiceover technique everyone should know?
Rant. Just go nuts. Yell and scream. Or sob. Then read your script. Guarantee it'll be a better read than if you just tackled it cold.
Do you have a different approach to reading radio imaging copy as opposed to TV/Radio commercial ads?
Yes, every radio station has a personality, while TV is broader. Commercials are case by case. So my approach to a script considers the delivery medium. TV is usually very straightforward. In all cases, the script determines the read, though the same words will come out differently depending on if it's an active rock radio station, a CHR, golden oldies, or Newscenter 11.
Can you offer 3 helpful tips for newbies trying to make it in the voice-over industry?
1. Get on Clubhouse. Many VO veterans are there, ready to help you learn.
2. If you're setting up your own space to record, worry most about the acoustics. You gotta have a good-sounding space to get a good recording. A $10,000 microphone will still sound like crap in an echoey hotel room.   
3. Read Benztown's interviews!
If you could go back in time and hang out in any decade which one would you go back to and why?
Back? Let's go forward! Instead of relive…PRE-live. Figure 50 or 100 years from now what mind-blowing reality will there be that we have no clue is coming…?
Favorite 2 pizza toppings?
Broccoli Rabe and Garlic!
If you could invite one person to dinner, living or dead, who would it be?
You!

Connect with Jeff:
Jeff Berlin is represented by Atlas and available for barter through Benztown.