Behind the Mic: John Hunerlach
John Hunerlach is the William Wallace of voiceover . . . "You can take my voice but you will  never take my . . . FREEDOM!!!!" Having been held exclusive to an unnamed and wholly awesome satellite radio entity for many, many years, John Hunerlach is finally free to unleash his talent on the outside world . . . and boy, he has talent in spades!
What radio VO work have you done in the past (stations/markets)?
NBC, CBS, Howard Stern Channels, NASCAR Radio, MTV, Radio1 (BBC), KISS/Sydney, and WQAM/Miami.
What are you up to presently (freelance/on-staff at a station)?
I currently have 6 television & 6 radio imaging clients.
What do you love about your job?
The variety of calls for reads!
How did you get started as a VO actor?
Someone heard me on KWK in St. Louis & called me up!
What was your first gig? Any memorable ones since then?
An investment firm in St. Louis! The morning we launched Howard Stern's channel on   SiriusXM was pretty cool, also Macy's Thanksgiving Day Parade working in Don Pardo's booth on the SNL set was a thrill.
Who are your VO idols/mentors?
Ernie Anderson and Howard Parker!
If you weren't doing voiceover, what else do you think you'd be doing for a career?
Farming.
What did it feel like the first time you heard your voice on the radio/television?
I didn't like it much. Later I learned about how you hear yourself speak through your inner ear so it's really different out of a speaker.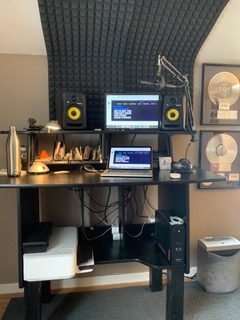 Where John makes VO magic!
How has new technology changed the way you work?
Liberating…with my rig I can work anywhere at any time!
What gear do you use on the road? In your studio?
I use the same for both to affect consistency: Sennheiser MKH416 through a UA Apollo Twin that was set up by George The Tech.
Which production system do you use and why? Any favorite plugins?
It's straight VO for me so I'm an Audacity guy. Native to Apple, bulletproof. 
Have you ever had a voice coach? Would you recommend it?
Yes, Hugh Klitzke. It's an absolute necessity if you're going to work.
How do you schedule/prioritize your work? How much time do you spend auditioning for new work?
I set aside recording sessions throughout the day. I don't audition much.
How do you market your services to potential clients?
Referrals. Word of mouth is the only thing that sticks IMO.
When it comes to VO work, studio, and gear, what are your most ingenious methods/discoveries for saving time and cash?
I use Digital Sound & Video to distribute my sessions to clients. This has improved the efficiency of my work more than anything else. I now don't even think about the distribution of my sessions and can focus solely on my reads.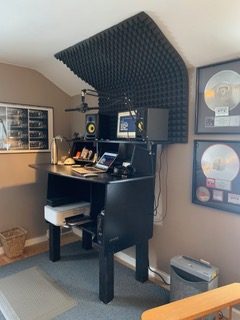 John's set-up is so nice, we're showing it to you twice!
What is the best voice processing trick or voice-over technique everyone should know?
Speak softly. VO is the most intimate medium there is.
Can you offer 3 helpful tips for newbies trying to make it in the voice-over industry?
Never, Never, Never give up.
If you could go back in time and hang out in any decade, which one would you go back to and why?
I might have liked to be at Woodstock under the right circumstances e.g. not sleeping in the mud! LOL
Favorite 2 pizza toppings?
Sausage & mushrooms!
If you could invite one person to dinner, living or dead, who would it be?
Jerry Garcia!
Want John on your station? Contact Hoss Management!