Behind the Mic: John Reilly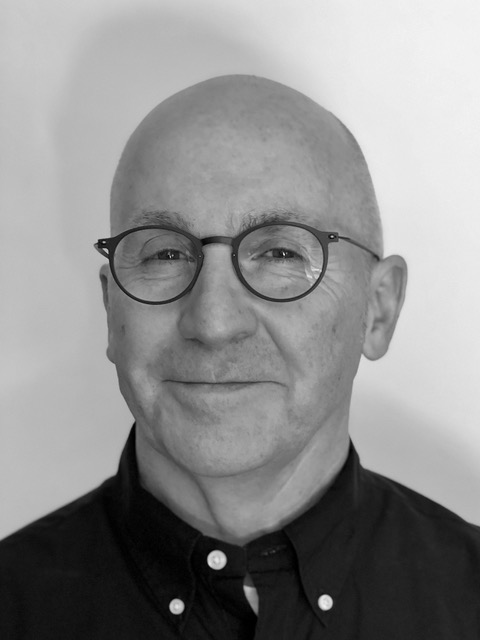 John Reilly has been in radio since the early 80s! Currently, he's on stations from Los Angeles to Boston, Detroit to Nashville, and even Romania! His versatility can be heard on CBS, The Justice Network, MUCH TV and News, Sports and Rock radio, narrations, books, and more. John works out of his studio just north of Boston where he is Source Connect ready with quick turnaround for your VO!
What radio VO work have you done in the past (stations/markets)?
I started at WFNX, first on-air. Then I took over the Production Director position. From there it was WAAF as Creative Director, Image Director at 98 Rock in Baltimore, and then almost 2 decades as the Imaging Director and Voice of the legendary WBCN. I've been the voice of and done imaging for KNX in Los Angeles for a number of years. I started doing stations around 2000. My first client was The Rocket in Las Cruces which is now 101 Gold where I am happy to be the signature VO. I've also been the voice of KUFO in Portland, Sportsradio 610 in Houston, among others.
What are you up to presently (freelance/on-staff at a station)?
Right now I am the imaging director for 98.5 The Sports Hub and Rock 929 here in Boston. As I mentioned, I'm voicing and imaging KNX in Los Angeles, same for KYW in Philly, WTIC in Hartford, and voicing News/Talk, Soft Oldies, Sports, and Rock stations around the country.
What do you love about your job?
I don't know what I would be doing if I didn't get into radio. A friend was going to a local college for broadcasting and invited me to the station. I walked in and said, "you go to school for this? I'm in!" and haven't looked back!
How did you get started as a VO actor?
Working in radio, it was just a natural transition.
What was your first gig? Any memorable ones since then?
The Rocket in Las Cruces was the first…followed by The Ticket in Detroit (still with them). I did the launch imaging for a few of the CBS Radio Sports stations and was fortunate enough to get my name out there doing that.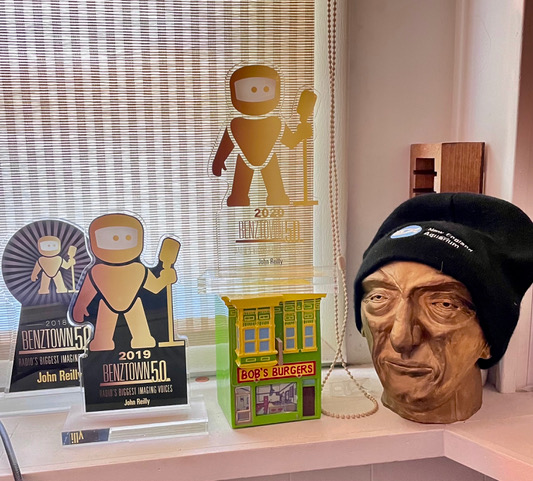 Oh, did we mention John has been on the Benztown 50 a few times? Yeah, he's just that good.
Who are your VO idols/mentors?
I've seen his name mentioned a lot among VO people…Jeff Berlin has been an incredible mentor and friend since we worked together for a blink in time at WFNX. Jeff is not only an amazing talent, but he is also what I like to call…one of the good ones! The few rare people you meet who are always willing to help someone else do great things.
If you weren't doing voiceover, what else do you think you'd be doing for a career? 
Not a friggin' clue!
What did it feel like the first time you heard your voice on the radio/television? 
I thought, hey that's me…then I cringed.
How has new technology changed the way you work?
I used to pride myself as being really good with a grease pencil and blade…Pro Tools takes that to a whole new level!
What gear do you use in your studio?
I've been using Pro Tools since version 2.0. on an old Mac Quadra…now it's the latest version on an iMac Pro. Neumann TLM 103 and Sennheiser 416.
Which production system do you use and why? Any favorite plugins?
Pro Tools has been it forever. Waves Gold Bundle for production. I do full imaging for a number of stations, including KNX and KYW.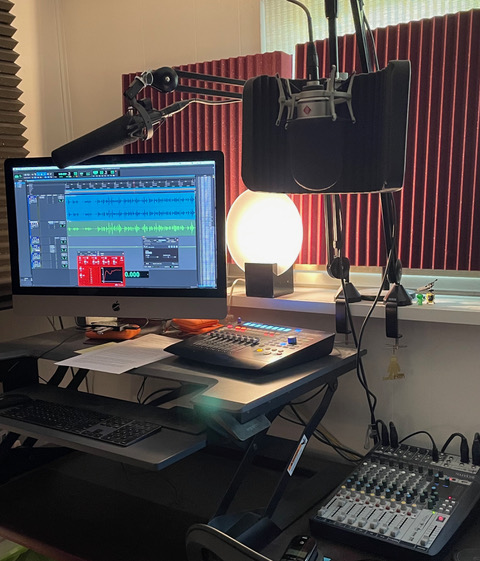 John's voiceover and production set-up!
Have you ever had a voice coach? Would you recommend it?
I worked with David Lyerly briefly and should probably get back into it. Yes, I recommend it!
How do you schedule/prioritize your work? How much time do you spend auditioning for new work?
I like to get things done as they come in…although working full time for 2 radio stations my day is carved up with early morning and nightly hours!
How do you market your services to potential clients?  
Through pieces like this. And when getting my new client news out whenever I can. My agent, Nate Zeitz is invaluable!
When it comes to VO work, studio & gear, what are your most ingenious methods/discoveries for saving time and cash?
The price of everything has come WAY down…from when I bought my first home setup. But you have to spend the money if you want the best bang for the buck. It's why I went with the iMac Pro.
Do you have a different approach to reading radio imaging copy as opposed to TV/Radio commercial ads?
They're inherently different. Even for different radio formats. I try to fit my voice for the need, personality of the station, promo, spot, or whatever I'm reading.
Can you offer 3 helpful tips for newbies trying to make it in the voiceover industry?
1. A voice coach is something I wish I had done early on.
2. Be prepared to not hear back on auditions and let it roll off…
3. Practice!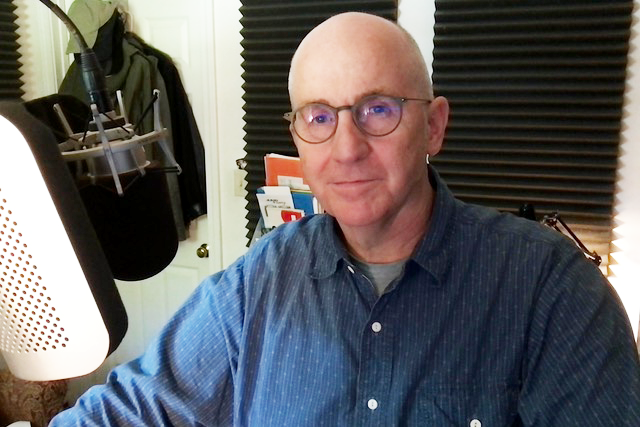 Connect with John
John Reilly is represented by CESD and available for barter through Benztown.