Behind the Mic: Mark Fisher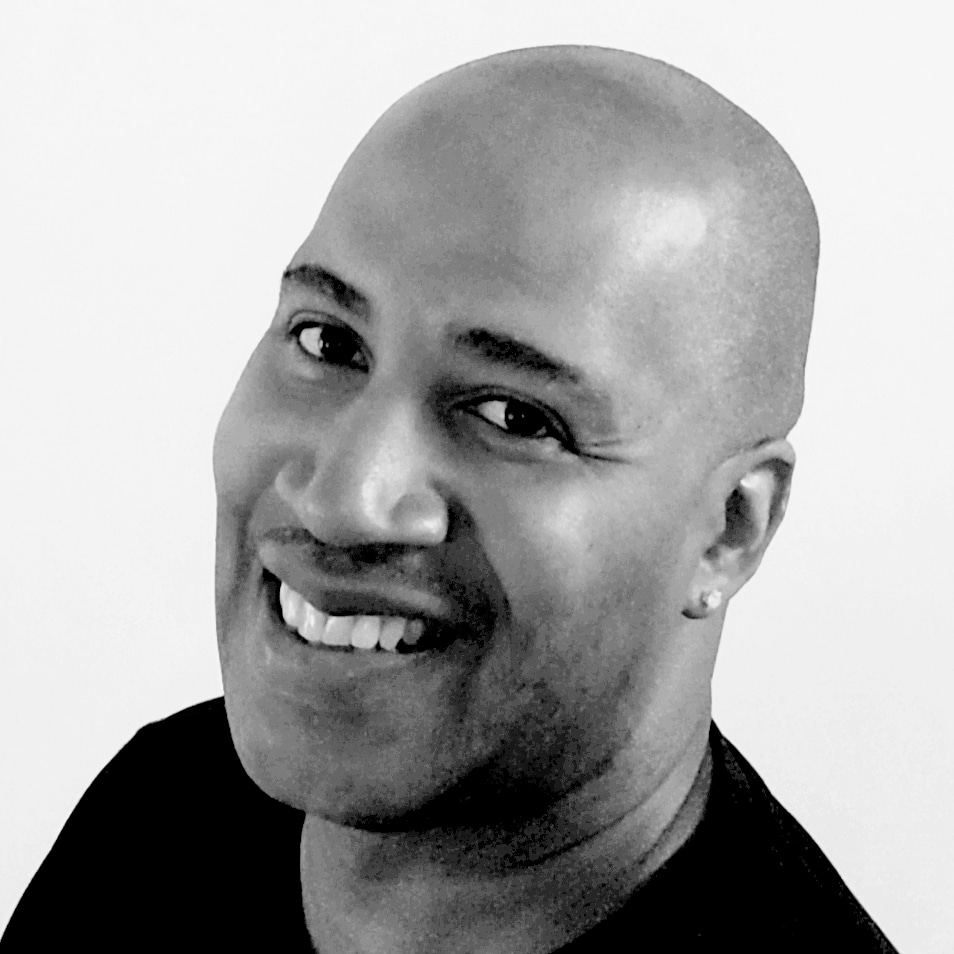 Mark's voice has been heard on the radio, television, and in churches all over the world since 2009. He can be found at his home studio in Houston auditioning, practicing, and booking while serving his core clients with quick turnaround.
What radio VO work have you done in the past (stations/markets)?
WDAS/Philadelphia, KROI/Houston, WHBT/Tallahassee, WLRM/Memphis, KJQY/Pueblo, WJNJ/Jacksonville, and KKMJ/Austin.
What are you up to presently (freelance/on-staff at a station)?
Imaging voice for Blessed Beatz/Syndicated, KTSU/Houston, WBZF-WYNN/Florence, WDAI/Myrtle Beach, WDLT/Mobile, WATV/Birmingham, WEZO/Augusta, WLOU/Louisville, WHPR/Huntsville, and a host of online stations including Hangout Radio, Motor City Beats, and The Planet Radio.
What do you love about your job?
I get to share time with my kids before they head off to school then walk 17 steps from my bedroom to my studio and haven't spent ANY money, do some work and then be there when the kids return from school and my wife gets home from work. It was a while before they realized that daddy DOES have a job.
How did you get started as a VO actor? 
In 2009, after a 21-year career in radio as an on-air talent/production director, I was searching for something different. I was using my creativity and talent to make money for the company I worked for but made a small percentage compared to what the company made. I knew that I wanted to work for myself. Voiceover veteran Rick Party had just started an online community called Voiceover Universe. It was there that I got to mingle with and learn from superstars in the voiceover industry like Joe Cipriano and Rodney Saulsberry. I dove right in. Although I am not where I want to be, every day I'm getting closer.
What was your first gig? Any memorable ones since then?
My first radio imaging gig came in 2007, 2 years before I went full-time with it. I was asked by Ken Johnson (then Director of Programming for Cumulus Media) to voice and produce imaging for WBZF-WYNN/Florence. Even though I don't do much production anymore, that station still remains on my roster today. As for memorable moments, the first time I heard my voice in a commercial that aired on BET for one of their shows (Sunday Best). It was a very small part, but I was super excited just the same. It was really the equivalent of being an extra in a movie and saying, "That's me right there! Listen!" lol.
Who are your VO idols/mentors?
I draw inspiration from quite a few folks. I love the delivery of Dr. Dave Ferguson. Rick Party has always been a favorite of mine. He's so versatile and can cut right through any copy. Brent Allen Hagel is very high on my list if we move into promo and trailer. Donovan Corneetz is also one of those guys who is always willing to share some knowledge, tips, or tricks.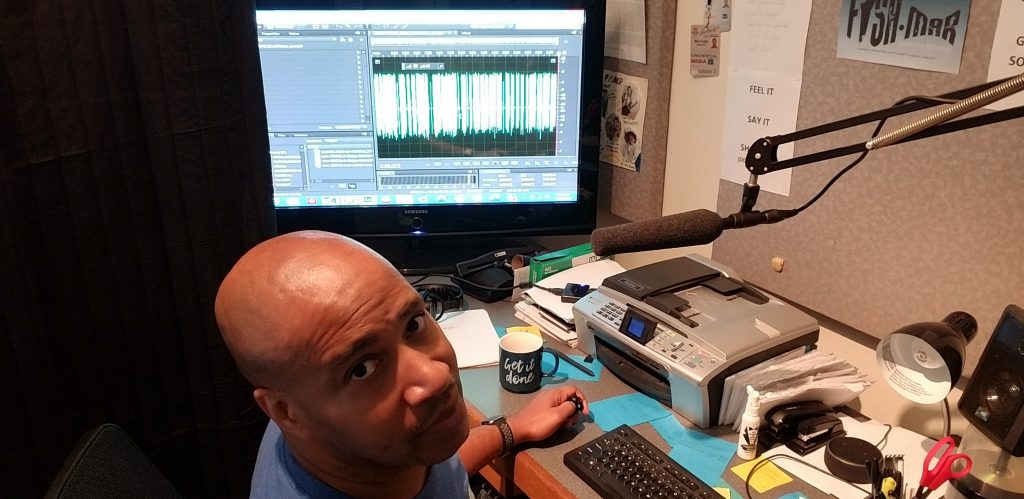 Mark hard at work in the studio!
If you weren't doing voiceover, what else do you think you'd be doing for a career?
I've been an avid bowler since the age of five. I've come close three times (10 pins or less) to a perfect score of 300. It's been a while since I've hit the lanes, but you never know. Oh, there was this one time I wanted to be a game show host.
What did it feel like the first time you heard your voice on the radio/television? 
It was 1988 at WAPE in Jacksonville, Florida and of course, if you had an air shift, you also had production to do after your shift. I had done some tags for a local television station during sweeps. I knew the times that they would air and made sure that my friends and I were in the car at that time. I pulled over about one minute before the spot aired. My friends wondered why I pulled into this empty parking lot. The spot came on. "Tonight at 9 on WJXT Channel 4!" The car erupted! I was THE MAN for 5 seconds. lol
How has new technology changed the way you work?
There was a time where if you could turn around a spot in 24 hours, you were amazing! Now, if you can't do it in 30 minutes to an hour, you might miss out on incredible opportunities. With things like Source Connect, it's easy to connect, get direction, and go for 15 or 20 minutes. The client is happy, you're happy, get a cup of coffee and you're on to the next, all without leaving the house.
What gear do you use on the road? In your studio?
On the road, it's my Surface Pro, Sennheiser MKH416 Shotgun mic, ZOOM U-22 audio interface, Sony MDR 7506 Headphones (in 32 years in Broadcasting, I've owned 3 pairs of them). In the studio, it's still my Sennheiser MKH416 shotgun mic, Sony MDR 7506 Headphones, and Scarlett 2i2 interface.
Which production system do you use and why? Any favorite plugins?
Adobe Audition is still my "go-to" D.A.W. I keep it simple, I don't use a lot of processing. I let people who are better than me in that regard do what they do best. Hard limiters and normalizers are my best friends. 
Have you ever had a voice coach? Would you recommend it?
Yes, a couple. I think if you want to reach a certain level in this industry, then coaching is a must. You need to know what casting directors are looking for. Do your research. There is no "one size coach fits all'. Ask questions. Hopefully, you'll find the right one for YOU.
Mark behind the mic!
How do you schedule/prioritize your work? How much time do you spend auditioning for new work?
I spend about 30 percent of my time auditioning. Most of my clients are on a monthly retainer and they make sure that they are getting their money's worth. Lol
How do you market your services to potential clients?
I've been really blessed because most of my work has been from referrals. I have dabbled lately on social media and it's worked so far. I also know that when you want more, you do more…(note to self).
When it comes to VO work, studio & gear, what are your most ingenious methods/discoveries for saving time and cash?
PRACTICE YOUR CRAFT! PRACTICE YOUR CRAFT! PRACTICE YOUR CRAFT!  You can have the best equipment ever made, but if you're not able to deliver what your client is expecting, you're going out of money with tons of time on your hands because no one will be using your services. 
What is the best voice processing trick or voice-over technique everyone should know? 
"Feel It-Say it-Share it- DON'T SELL IT (Thanks, Nancy Wolfson).  Also using "auto-heal" to remove clicks and pop in your audio.
Do you have a different approach to reading radio imaging copy as opposed to TV/Radio commercial ads?
Absolutely. Radio imaging has a cadence to it. In Urban/Urban AC I use a cool, confident tone while still not making it all about me, because it's not…AT ALL. Commercial ads are completely different. You have to remove yourself from the equation and honor the read. Be whatever the read calls for.
Can you offer 3 helpful tips for newbies trying to make it in the voice-over industry?
1. There is room for everyone. There are so many different avenues to travel on voiceover. 2. Practice your craft. I used to read street signs and the signage on buildings while driving. Also repeating what I heard on radio and TV. Just keep reading stuff. 3. Learn that you'll hear the word "no" more than you'll hear the word "yes". Keep plugging away. Listen, don't be afraid to ask questions, and network as much as you can (note to self).
If you could go back in time and hang out in any decade which one would you go back to and why?
I'd go back to the 80s. I was a teenager and not as confident as I should've been. I'd fix that.
Favorite 2 pizza toppings?
Pepperoni and Sausage all day every day!
If you could invite one person to dinner, living or dead, who would it be?
My mother…We lost her in 1999.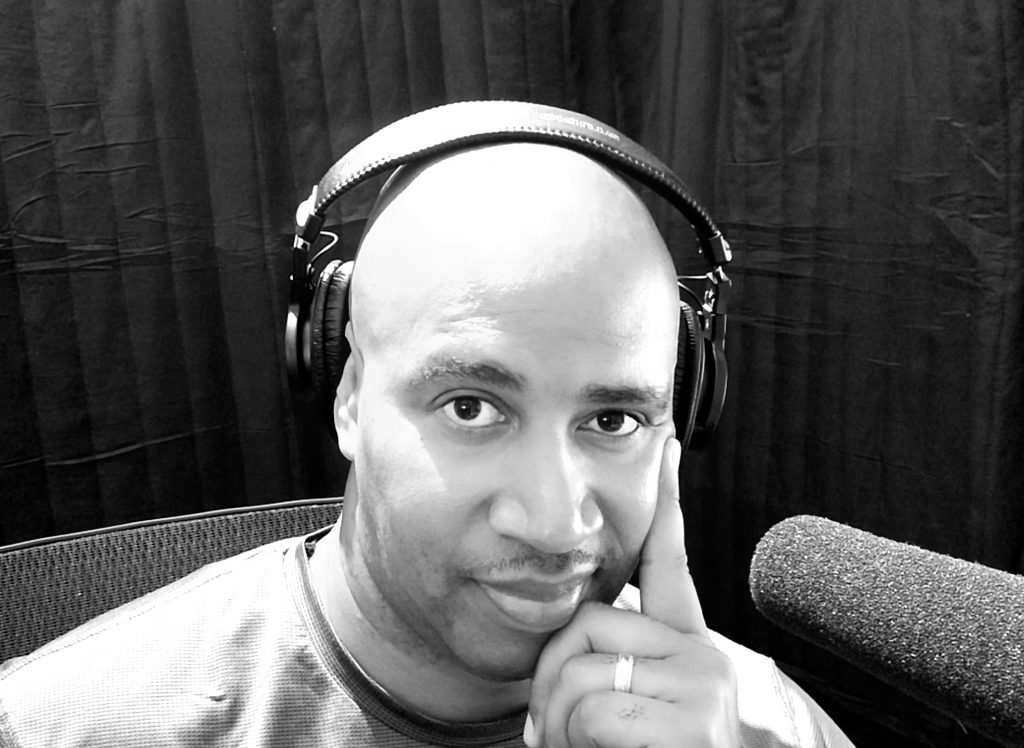 Connect with Mark: