Behind the Mic: Melissa Disney
Ladies and gentleman, welcome to Melissa Disney's World!
What radio VO work have you done in the past (stations/markets)?
My Imaging work includes:
KTOZ-FM Springfield, MO
KTWN-FM Minneapolis-St. Paul
W245CM  Fargo-Moorhead
WEXC-FM Youngstown
WISX-FM Philadelphia
WQCY-FM Quincy, IL
What are you up to presently (freelance/on-staff at a station)?
SiriusXM 1st Wave Channel 33 and Nights With Elaina National Syndication!
What do you love about your job?
I love the variety and that everyday is a new adventure.
How did you get started as a VO actor?
My musical theatre background led to TV commercials and my 1st VO was for those commercials.
Check out Melissa's Demo:
What was your first gig? Any memorable ones since then?
I was the official singing voice of Snow White for a few years – lots of princess albums, dolls and toys my kids now play with – and break – but at least they're not sitting on shelves anymore. That lead into Nickelodeon's As Told By Ginger – incredible show – loved the cast and getting to hang out with Larraine Newman from SNL who played my mom. Doing my 1st movie trailer for Gone in 60 Seconds. I was the 1st woman to do a trailer and it was a fun time in my life as women I didn't know would come up and thank me for paving the way. I didn't set out to do it, I just wanted to audition and booked it.  
God was really looking out for me because it was right during the writers strike and trailers were the only thing I was allowed to do. And because there were no preconceived notions of what a woman could do in trailers, I got to work in every single genre and had a blast showing them my versatility from teen humor to British AI voice to action adventure.
Who are your VO idols/mentors?
Don LaFontaine and I got to ride with him in his limo as he traveled from job to job, back in the days before we all had home studios. My very first cartoon was with some vo legends, Bob Bergen, Jim Cummings, Kath Soucie, and Tres McNeill. I was so honored to work with the top animation artists right out of the gate and learned so much from them.
If you weren't doing voiceover, what else do you think you'd be doing for a career?
Singing and songwriting, traveling the world, performing in summer festivals.
Although my first love is music, I never figured out how to get it to pay the bills. However, I have traveled all over the world, singing and speaking on many stages on various mission trips. I have two albums that are on iTunes, Spotify, etc and I'm very proud of them. I raised money on my own Songs for Seeds Tour and helped start a school in Africa, raising money to get wells dug and actually got to take thousands of donated seeds to them to plant so they could grow their own food. A very exciting and surreal experience.  
A few years ago I won the Motif Lifetime Achievement Award in child advocacy and that award means more to me than any of my acting honors.
What did it feel like the first time you heard your voice on the radio/television?
I was trying on clothes in a boutique clothing store and I heard a familiar sounding voice on the radio and I jumped out and said "oh my gosh that's me!"…realizing I was only half dressed, I snuck back into my changing room and did a happy dance!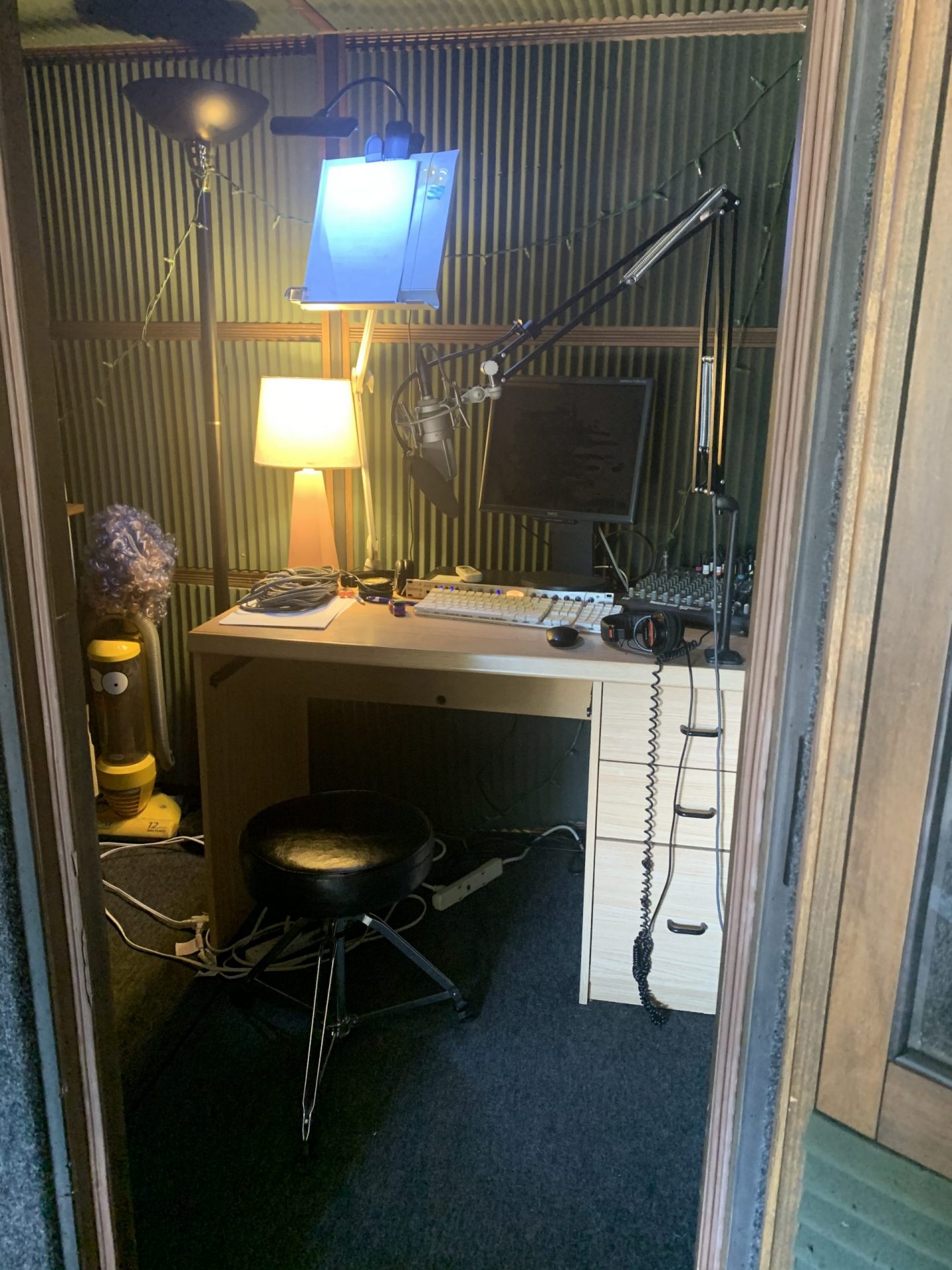 Inside Melissa's Booth!
How has new technology changed the way you work?
A lot less time in LA traffic! Woo hoo!! It's challenging to keep up with the tech side of things. I miss being directed sometimes, but mostly I really miss seeing people face to face. I'm WAY too extroverted to spend all my time in a padded room! I do love the flexibility and running out to do a last minute gig in my studio out back, then sprinting back into the house in time to do dinner with my family. It pays to love spontaneity and be flexible in this career. Thanks to modern tech, when on the road, I've worked in so many strange places! Hotel closets, my in-laws closet, friend's car in their garage at 101 degrees!, in the woods on a retreat where I had to do the VO work in my car as my baby slept in the backseat, then drive to "the wifi tree" – the only place within 10 miles that I could get signal and deliver my files! 
What gear do you use on the road? In your studio?
In my studio, I have the Neumann TLM107, Sennheiser 416, a monitor, keyboard, some kind of mixing board, and a bunch of other tech stuff that makes me look really cool.  
My travel bag is now a mini suitcase with a Sennheiser 416, Scarlett, laptop, tons of chords and connector cables, adult coloring books, and pens. I'm so proud of my non-tech self for learning how to connect it all together, use ipDTL, Source Connect, etc. I'm totally amazed every time it works as I don't understand any of it.
Which production system do you use and why? Any favorite plugins? 
I don't even know what this question means. Ha! Ummm…I use Twisted Wave to record my files and love it because it's made for the preschool level tech person like me. Thank God I'm a great actress because I'd never make it as an engineer.
Have you ever had a voice coach?
Many voice coaches! Absolutely recommend it.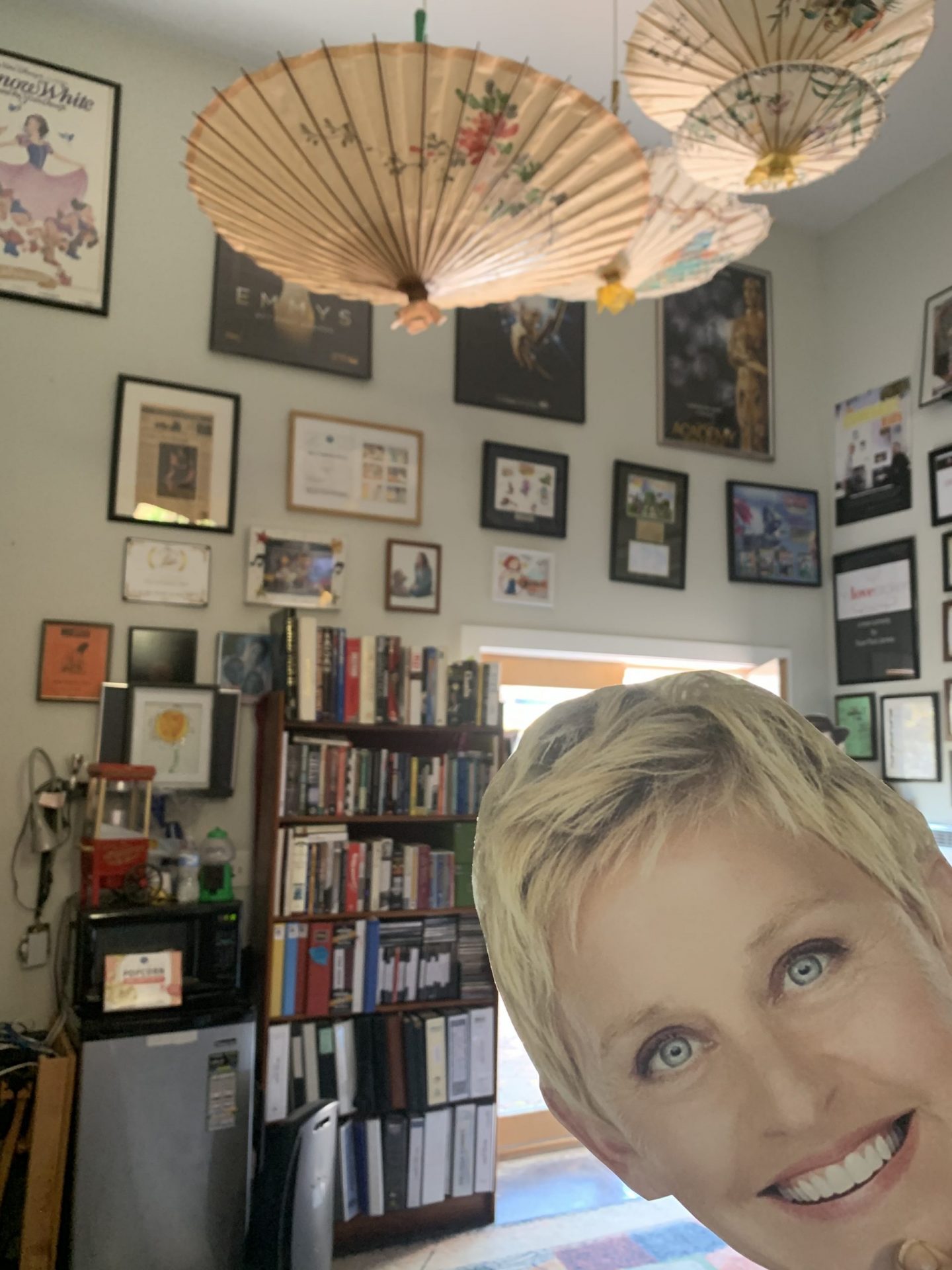 Another view of Melissa's studio with a cameo from Ellen!
How do you schedule/prioritize your work? How much time do you spend auditioning for new work?
I wish I was only doing paid gigs, but I've still got to audition a lot. Every day is totally different, although most of the time I'm in the studio every morning after I drop my little dude off at school. Many afternoons I'm jumping in the booth for last min auditions or promo gigs if I'm on a campaign/show. 
How do you market your services to potential clients?
My agents do a lot of that work for me as I've been with them for years. I get a lot of repeat business. 
When it comes to VO work, studio, and gear, what are your most ingenious methods/discoveries for saving time and cash?
Call a pro – get the best equipment you can. It saves you a headache in the future. Get a pro to set up your studio if you aren't tech-savvy.
What is the best voice processing trick or voiceover technique everyone should know? 
Look away from the mic on a plosive "P." Have a bite of a green apple to reduce your mouth noise.
Do you have a different approach to reading radio imaging copy as opposed to TV/Radio commercial ads?
Wait, is there a difference? Just kidding. Radio imaging usually has way more energy and excitement. TV is so much more subtle as the visuals make a big impact on the screen. 
Can you offer 3 helpful tips for newbies trying to make it in the voiceover industry?
Take tons of classes, practice, and listen back to your work. When acting, believe what you are saying — I always tell my students, "If you don't believe it, neither will they."  
If you could go back in time and hang out in any decade which one would you go back to and why?
The 80's — the best decade ever. 
Favorite 2 pizza toppings?
Pineapple – Love me some Hawaiian!
If you could invite one person to dinner, living or dead, who would it be?
My Grandmother Toy Gallagher – she was a silent film actress and writer in the '20s. I'm writing a musical based on her life.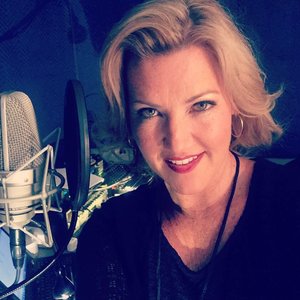 Connect with Melissa: