Behind the Mic: Naomi Mercer McKell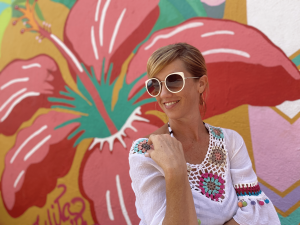 Naomi, voice over veteran of 18 years, sounds like the cool, hip girl you love to party with. She's the voice of 2 stations on Sirius XM as well as other terrestrial stations around the world and has voiced commercial campaigns for POM Wonderful, Rocket Money, The Bouqs Company, The Red Cross, Capital Blue Cross, Nike EA Sports, AAA, and Facebook, to name a few.
Now residing in a little beach town called Cabarete, on the north coast of the Dominican Republic, with her husband and two young boys, Naomi's sound is as vibrant as her surroundings.
What radio VO work have you done in the past (stations/markets)?
–Voice of EDM station channel 51, BPM on Sirius XM for 10 years
–Voice of Halsey, Avril Levigne, and Selena Gomez pop-up stations on SXM
–Voice of Hits1 – Today's Pop
–FoxFM promos in Australia for pop, hip hop, old school, and r&b
What are you up to presently (freelance/on-staff at a station)?
–Selena Gomez station is up right now for about a month on channel 14!
–Also Hits1 channel 1 and BPM channel 52 are on-going
–Just wrapped some cool promo for the Newcastle market in New South Wales, Australia
What do you love about your job?
I love how rhythmic and sing-songy imaging voice over is in particular.  I have a background as a vocalist and recording artist so I feel like I have a special understanding on how my voice over fits into the effects and rhythms in promos, tags, and drops.  I also LOVE working with the producers!  My skills in voice over don't stop at my talent.  I'm tech savvy too -and love talking shop/gear/daws with producers that I work with.  Producers are my people!  Some of my best buddies are producers and I love that radio imaging helps me meet producers regularly.
How did you get started as a VO actor?
I moved to LA to become an actor/entertainer in some capacity and then tried everything.  I loved it all – the tv work, the print work, the commercial work too.  But the voice over work was where money kept regularly coming in from.  I decided to double down on what was working and cut out the rest.
What was your first gig? Any memorable ones since then?
Ha! A Guess? Jeans industrial video that was a GRUELING 4 hour session for peanuts😊
Memorable ones include:
–the name pronunciation feature on Facebook and I've generated two other AI voices that I'm super excited about.
–Emara – a really fun anime style series where I was a teenage superhero
–POM Wonderful national commercial

Who are your VO idols/mentors?
–Mona Marshall mentored me for a while and I'm still honored to this day
–Marieve Herrington is the voice of Tilly on Big City Greens – she's legit amazing.
If you weren't doing voiceover, what else do you think you'd be doing for a career?
I love to make kids music and have a kids hip hop album with my husband. If voice over wasn't my main focus I'd be trying to go all out Yo Gabba Gabba on ya! Either that or design/décor – I love to decorate homes and gardens.
What did it feel like the first time you heard your voice on the radio/television?
It was a HUGE milestone!!! It was so exciting and ya know what? It never gets old! I still love it when that happens.

How has new technology changed the way you work?
I used to have to come into studios to record a lot of work but not anymore. Radio imaging work has always been remote though. Now that everything is remote I really can live wherever I want. In February it will be 2 years that I have lived in the Dominican Republic. For commercial jobs that need to be a directed session, Source Connect has really changed the game. Since the pandemic, marketing teams add Zoom into the mix and now it really feels like a directed session with everyone in the studio collaborating.
What gear do you use on the road? In your studio?
I use the micport pro 3! just did an 'unboxing' video for this:
https://www.instagram.com/reel/Cj8bhP-JlLc/?igshid=YmMyMTA2M2Y=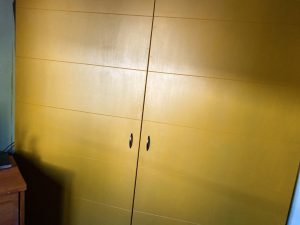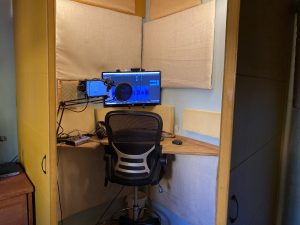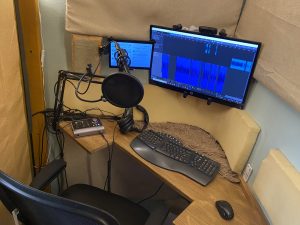 Naomi's studio is tucked neatly in the corner behind impressive double doors!
Which production system do you use and why?
I go back and forth between Adobe Audition and Presonus Studio One 5. Right now I'm using S1 but I miss spectral view in Audition, and also the ability to paint a plug-in on any part of a file. Studio One will apply a plug in to a track. So if I want to take the plosive off of a P, I have to apply that plug in to the whole line, which usually diminishes quality. There might be a workaround that I don't know of? Cuz there's things about S1 that I can't get with Audition. Every DAW has it's advantages and drawbacks!
Any favorite plugins?
Oh iZotope RX allllllll day!!! It's crazy how much better it gets between versions.
Have you ever had a voice coach? Would you recommend it?
I arrived in LA with a degree in acting. When I was trying everything I could I took a voice over class with all the basics of script reading. That teach pulled me aside and told me I should really go for it. That he'd been teaching for 14 years and put me in the top 10 of every student he'd ever had. It was with that encouragement that I really decided to invest in my potential. So I researched and found a coach that I worked with for a year or more. If VO is what you wanna do it's absolutely necessary to get the best coaching possible for yourself to build your knowledge into an easily usable skill. To this day I still find coaching and workshops to build on my skills.

How do you schedule/prioritize your work? How much time do you spend auditioning for new work?
I'll get on-going jobs that sometimes take me totally out of the audition game for a year or more. But when that job wraps and I need to keep the work coming, I am auditioning for at least 2 hours a day. An old school way of marketing – just writing to people who are in a position to hire you – has made a come back in recent years on its effectiveness. 10-20 emails a day has a compounding effect that can really add up over years.

How do you market your services to potential clients?
Well with the marketing emails I just mentioned (10-20/day). Also a bajillion other ways!! Social media, my website, conferences, email, auditioning, you name it.
When it comes to VO work, studio & gear, what are your most ingenious methods/discoveries for saving time and cash?
When I finally figured out that I needed to approach my career more like running a small business than just being a "talent", I started working on a pipeline workflow for certain work. I use Trello and the "pipeline" took almost 2 years to perfect. But when it did, it changed my hourly income in a crazy major way! When I get an elearning job for example, the recording time is let's say 45 minutes and the editing time is 3 hours and 15 minutes. Total work time for me: 4 hours. If it pays $1000, then my hourly is $250/hr – less really because I'm not including invoicing and accounting time. But now? I get a job and it goes to my Trello board and notifies me. Then I record the 45 min file and move the Trello card over. My editor gets notified. They edit the file and deliver, and then move the trello card over. My bookkeeper gets notified. They tally up work and invoice for it. Now I have only worked 45 minutes on this job but is DONE start to finish! I pay the editor $75 for 3 hrs of editing at $25/hr. I pay the bookeeper monthly to handle all the invoicing and work tallying so it maybe adds up to $5 for this job. So now I'm making $970 for 45 minutes of work. And I get to go back to just doing voice over which is all I ever wanted to do in the first place.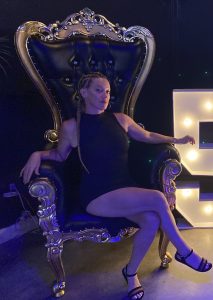 Naomi is a businesswoman and she means business!
What is the best voice processing trick or voice-over technique everyone should know?
RX mouth de-click. Also the swimmer trick I love to use lol.
Do you have a different approach to reading radio imaging copy as opposed to TV/Radio commercial ads?
Oh definitely!! Two completely different beasts. The character I am playing/reading from with radio imaging is always a different facet of ME, you know? So I am coming from the edgy me or the casual me, or the young me, or the professional me. But with commercial work, sometimes I have to be completely different from anything in my own personal character.
Can you offer 3 helpful tips for newbies trying to make it in the voice-over industry?
Sure!!
–Get coaching – don't skip this step!
–Just like building a business, expect it to take a few years to really get going
–Once you send off an audition – make it leave your mind. Immediately focus on the next task or opportunity. If you attach anything to the outcome of any particular audition, you will enjoy this profession way less
–Join facebook groups for voice over professionals and ask questions! That is the best FREE way to learn imo.
–Every great and rewarding career comes with a shit sandwich! If you want to do it enough, it's no big deal to have to eat it every once in a while. I used to want to be a touring vocalist. But the shit sandwich that came with that – gigging, touring, working nights, while I was thinking about starting a family and having kiddos – was not something I really wanted when I leveled with myself. So you gotta ask yourself – if all the chips are down, would you still want to do voice over? If the answer is yes, then get after it and don't look back.
–I have some cheap udemy classes on how to make money with your voice over skills:
https://www.udemy.com/course/theworkflowofvo/?referralCode=E6C11BBD58935C577851
If you could go back in time and hang out in any decade, which one would you go back to and why?
If it was just to hang out, I'd probably go to the big band era. I would love to dress up all fancy to go to the clubs, to hear or perform the Frank Sinatra, Ella Fitzgerald, and Sarah Vaughan ballad songs, and I would have loved to dance all night long like my grandma used to tell me about. I mean, I have danced all night long but it was to different music.
Favorite 2 pizza toppings?
basil and pineapple – not necessarily together. Weird, I know, lol.
If you could invite one person to dinner, living or dead, who would it be?
Martha Stewart LOL. For cooking, decorating, gardening, and hosting chats. Also I'd wanna hear stories from jail and if she indulges with Snoop when they kick it together.
Connect with Naomi: