Behind the Mic: Neil Wilson
N e i l  W i l s o n FANtastic VOICEover…!!!
 …from flat out exuberance to forthright honesty, Neil is the guy next to you at the game to the guy next door – your buddy and your bro, there when you need him.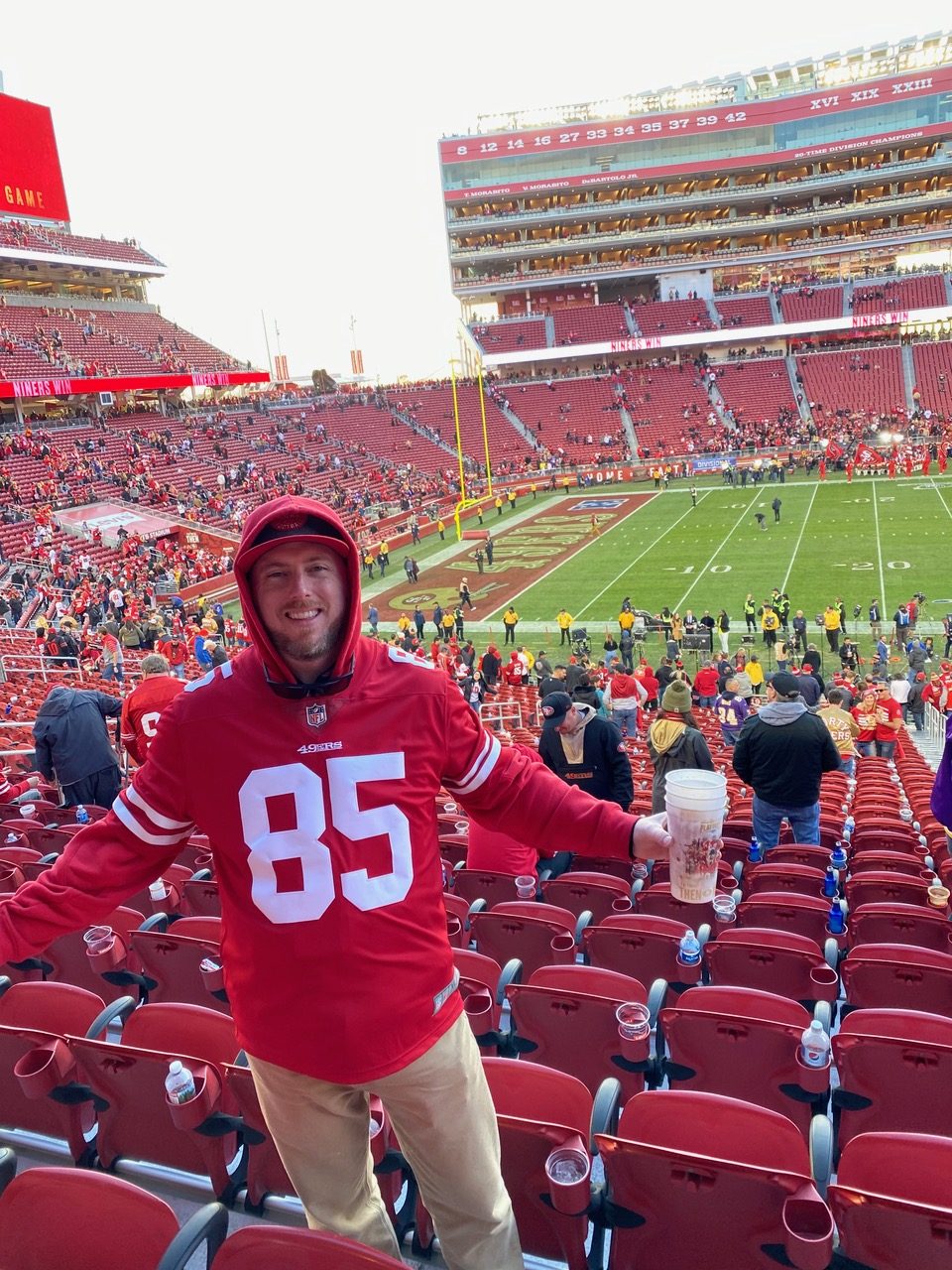 What radio VO work have you done in the past (stations/markets)?
VO gigs come and go, but I'm super stoked to be the voice of fantastic stations like KKGO/LA, KALC/Denver, WSTR/Atlanta, WMMM/Madison, WMC/Memphis, WJVC/Long Island, and more. Plus I work in TV, Promo, Narration, and Commercial. I'm very diverse and very lucky. But I've worked hard for it.
What are you up to presently (freelance/on-staff at a station)?
Full-time VO. Also full-time 49ers football fan.  
What do you love about your job?  
It would be a shorter list for me to say what I don't like. I'm doing what I always wanted to do. While being an entrepreneur has its own levels of stress, it allows me to really have so much more control in my success.
How did you get started as a VO actor?
I always wanted to work with my voice. I used to do the morning announcements while in high school. That grew into being a DJ…programming…imaging director…all part of my pursuit in becoming a station voice/VO actor.
If you weren't doing voiceover, what else do you think you'd be doing for a career?
I love to cook. I could see myself opening my own restaurant. I really enjoy making food and listening to folks talk about how much they like it. Although I'm not sure what kind of food I'd serve. Some sorta comfort food, I guess. BBQ and southern cooking.
What did it feel like the first time you heard your voice on the radio/television?
The same as it does today. It never gets old. Although my kids can't be bothered with it.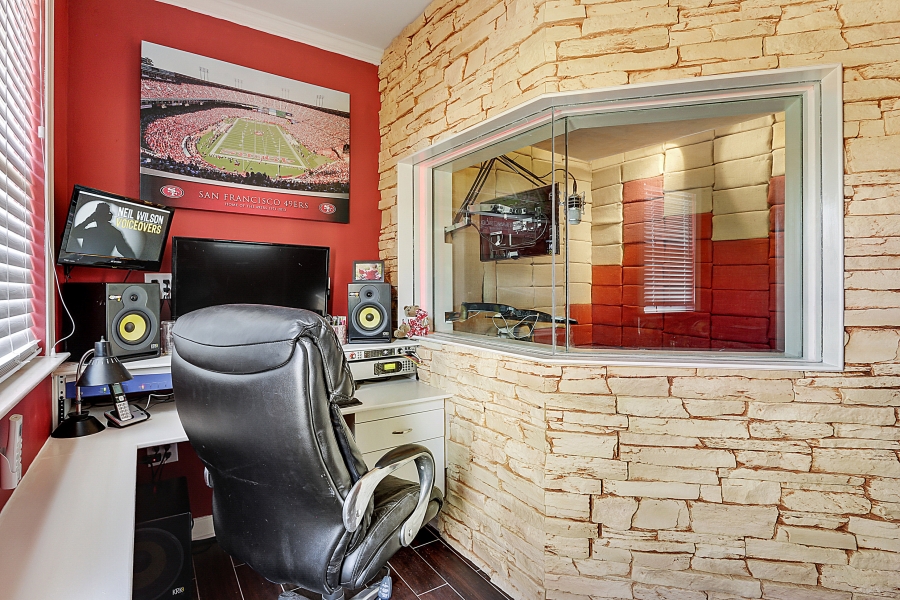 Neil's FANtastic workspace!
How has new technology changed the way you work?
Less "things" and more power. Although I wish my Mac Pro didn't have to have all these cords and accessories hanging from it.
What gear do you use on the road? In your studio?
Exact same setup. Home = 416, UA Apollo, Mac. Road = 416, Mac Book Pro, UA Arrow.
Have you ever had a voice coach? Would you recommend it?
I get asked this question a lot. Yes. I am constantly studying VO trends and changes with a VO coach. I always tell those who want to work in multiple genres to work with a coach. Treat it like college…then treat it like therapy. My coaches have helped me grow as much personally as they have professionally.  So shout out to Dave Walsh, Nancy Wolfson, and Marice Tobias!
How do you market your services to potential clients?
2020 has been a tough year for that. I try to hit a convention once or twice a year. But I also rely on those who've worked with me to put in a good word with friends and colleagues. The biggest compliment I get is when someone says "I got your info from…".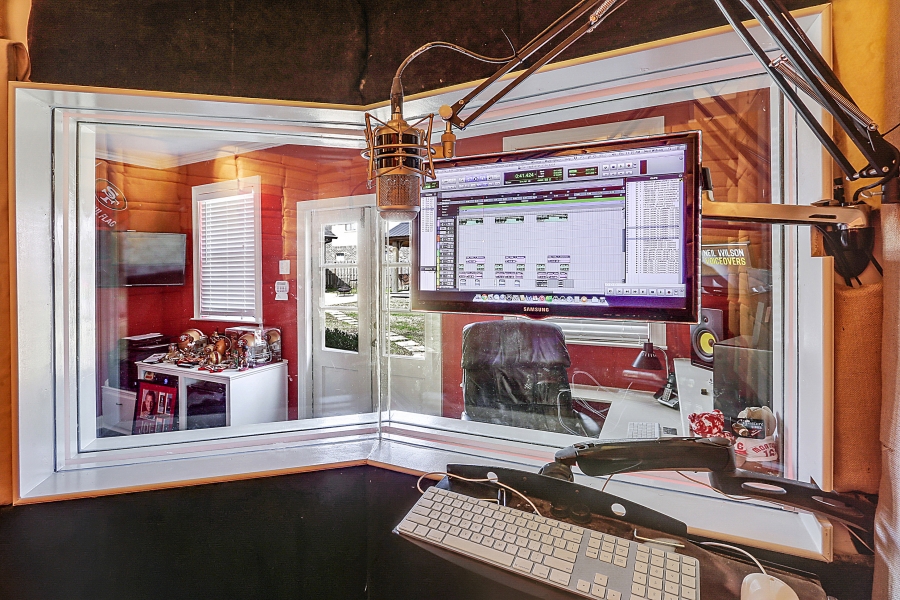 Inside the VO booth!
When it comes to VO work, studio & gear, what are your most ingenious methods/discoveries for saving time and cash?
Don't fall into the trap of buying gear for the sake of buying gear. I've got well over 10k in microphones I don't use. I wish I would've just taken my family on vacation instead. Everyone wants the latest and greatest, but it's a trap that you just don't want to fall into. If what you have is working then stick with it.
Do you have a different approach to reading radio imaging copy as opposed to TV/Radio commercial ads?
Very different. The same way a promo read is different than trailer and trailer from commercials. Understanding those nuances is what really makes a pro stand out from a rookie. It's also why coaching is important.
Can you offer 3 helpful tips for newbies trying to make it in the voiceover industry?
1. Studying with a coach like you're in college. Absorb every bit of knowledge they offer to you.
2. Your performance always wins.
3.  You won't get rich quick…it's a long slow uphill climb. 
If you could go back in time and hang out in any decade, which one would you go back to and why?
The 90's were pretty cool. The emergence of hip-hop, MTV still played videos, The Mall was still a place to hang with friends, and no COVID.
Favorite 2 pizza toppings?
I'm really not picky. Although, one of my most memorable pizzas was in NYC and it was a sausage and onion pizza. I'm sure if I had it again it wouldn't live up to the memory I have of it. Weird…yes. I know.