Behind the Mic: Rena-Marie Villano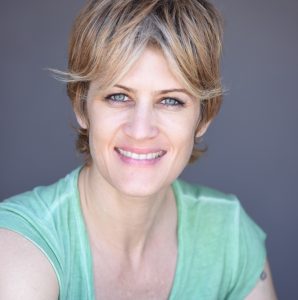 Rena-Marie's been a working voice actor since the 90s. Her versatile signature sound is heard daily on radio, television, film, online, and in all forms of new media. She works from her studio in the heart of Los Angeles and is always available on short notice via ipDTL and Source Connect.
What radio VO work have you done in the past (stations/markets)?
Q101/Chicago, 91X/San Diego, KFOG/San Francisco, KDGE/Dallas, WAAF/Boston, 99X/Atlanta, WYSP/Philadelphia, WLUM/Milwaukee, CKPK/Vancouver, KWIN/Stockton-Modesto, KFRR/Fresno, Y101/Richmond, KCKC/Kansas City, CKQB/Ottowa, KSXY/Santa Rosa, WDQX/Peoria-Bloomington-Normal, WJSE/Atlantic City, WMJJ/Birmingham, WSMJ/Baltimore, The Hot Hits/Syndicated
What are you up to presently (freelance/on-staff at a station)?
Imaging voice for Mad Dog Sports Radio/SiriusXM, KYSR/Los Angeles, The Woody Show/Syndicated, WDRV/Chicago, WMIA/Miami, WMMS/Cleveland, WEND/Charlotte, WLLZ/Detroit, WAY Media Network, Slacker Online Radio, KMYI/San Diego, KJR/Seattle, KBGE/Cannon Beach. In addition to my radio work, I have regular clients spanning most genres of the VO industry, except for video games and animation. Two favorites from recent work include voicing tv and radio spots for the BOMBSHELL movie trailer campaign and reading the role of "Reporter" in an audiobook.
Listen to Rena-Marie's Demo:
What do you love about your job? 
That it's different every day, I learn something new every day and I get to share my voice with hundreds of thousands, if not millions, of people at any given moment.
How did you get started as a VO actor?
At 16 years old, I took a radio internship at WVAY-FM – a smooth jazz station – in West Dover, Vermont. 3 months later, at 17, I got my FCC license and began broadcasting for them doing overnights and weekend shifts. A year later, I moved to Bozeman, Montana for a job at KMMS "The Moose" – a classic rock station – and it was there that I began learning radio production and voicing commercials and producing shows. A few years after that, I took a job in Jackson Hole, Wyoming, at KMTN "The Mountain" – a Triple-A station. After being there a year or so, a local film production company contacted me to ask if I'd narrate a ski documentary they'd made entitled Controlled Gravity. I did, and I really enjoyed the long-form style of narrating and story-telling. It ended up being purchased by Outdoor Life Network and re-broadcast. Months later, when I was visiting a friend in Lake Tahoe, I heard my voice in his living room and rushed out to see where it was coming from. He had his television turned to OLN, and it was the documentary I'd narrated. I was used to speaking to people in ONE market; the concept of being able to speak to people in all corners of the country – simultaneously – completely lit me up. It was then that I decided to forge a career in VO.
What was your first gig? Any memorable ones since then?
My first gig was Narrating Controlled Gravity in 1997. As for memorable gigs, in radio imaging, it was landing the gigs voicing Q101/Chicago and 91X/San Diego. My entire family is from Chicago so it meant a lot to have my voice there, and I grew up listening to the legendary 91X as a kid in SoCal, so voicing that heritage station was an absolute dream come true. I've always loved promo/trailer work; my first broadcast TV promo in 2007 for NBC's Lipstick Jungle was a pivotal moment for sure, as was my first movie trailer campaign for BLOCKERS back in 2018.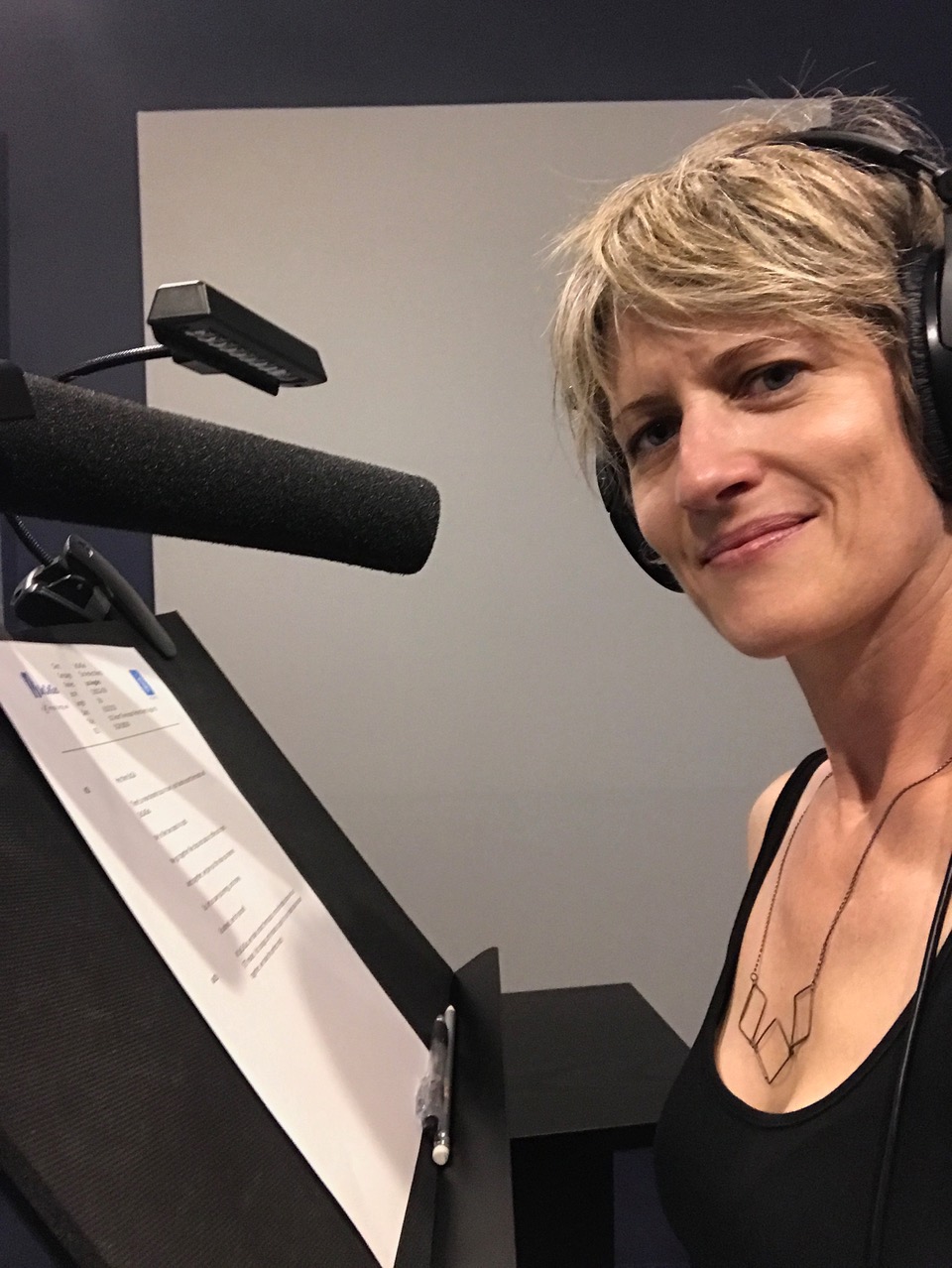 Rena-Marie laying down some hot VO!
Who are your VO idols/mentors?
My first VO idol was Linda Hunt. I could still listen to her voice all day long. Ann DeWig was a huge inspiration to me when I was starting out in radio imaging, as was Steve Stone, and getting to voice stations with him over the years was a joy. Kay Bess has been a dear friend and mentor to me over the years and I draw deep inspiration from hearing her work. She's a true master of our craft and she's always learning and evolving, which impresses me to no end.
If you weren't doing voiceover, what else do you think you'd be doing for a career?
Growing up, I always wanted to be Diane Sawyer or Connie Chung. I loved news and journalism – the storytelling – and I loved languages, in fact I studied Spanish throughout high school and years later, Italian. I still love those things and if I were younger, I might pursue that. But, since I'm older now and have a different appreciation for time, I think I'd opt for something that gave me freedom and allowed me to travel. I sold residential real estate on the side from 2005-2008 and I really enjoyed it – I've always loved architecture and the different styles of property that exist, and I love buying property. I might focus on that again, with an emphasis on exploring different countries. Of course – first, I need to be independently wealthy, so maybe I'll start buying lottery tickets. LOL
What did it feel like the first time you heard your voice on the radio/television?
Surreal. Time stood still for a moment.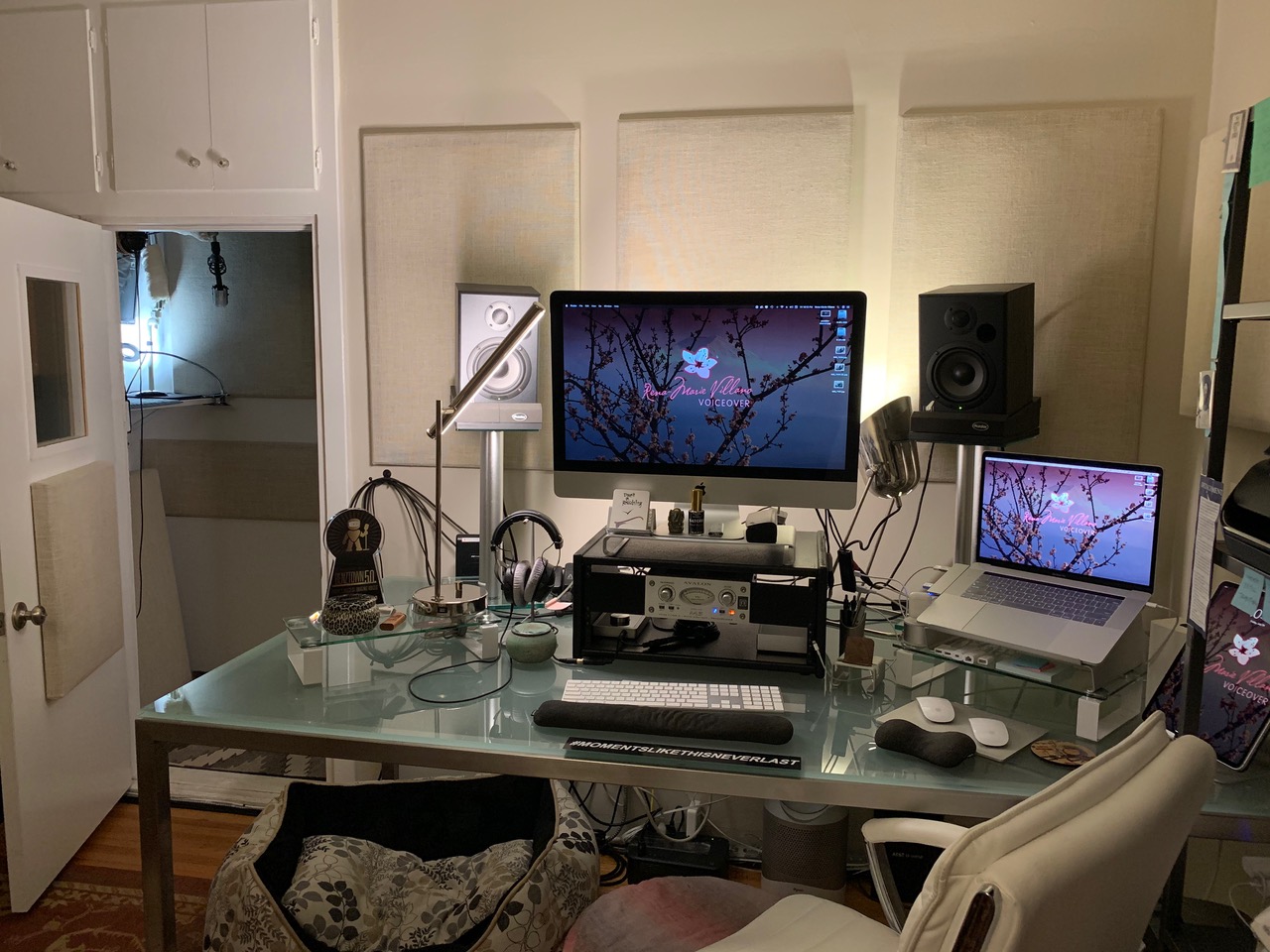 Rena-Marie's Studio . . . do we spy the 2018 Benztown 50 award?
How has new technology changed the way you work?
Well, it's definitely streamlined things. I no longer need my Zephyr Xstream, TelosONE or a telephone with a landline, so I've recouped some studio space. I was resistant at first to let go of those peripherals – they were tangible and I trusted them – but in time I've come to really appreciate ipDTL and SourceConnect for the easy, flexible, reliable connectivity they provide. It's also nice that they don't have any physical moving parts that can and will inevitably break down and need repair.
What gear do you use on the road? In your studio?
On the road I use a 15" 2018 MacBook Pro, Pro Tools 2020.5, Apogee ONE, Sennheiser 416, beyerdynamic DT770 PRO (80 Ohm) cans. In my studio I use a 27" 2011 iMac, Avalon M5, Pro Tools 2020.5, Apogee DUET, Sennheiser 416, beyerdynamic DT770 PRO (80 Ohms) cans.
Which production system do you use and why?
Pro Tools. It's what I learned in radio and I've never moved away from it. 
Any favorite plugins?
When I worked in radio production and was doing multi-track editing I used a variety of plug-ins, but in my VO world I keep it very simple. I've always been a minimalist and a bit of a perfectionist and I'm very old school; I don't believe in using De-Essers, etc. to "clean up" audio. I'm of the mindset that if your mic address skills are on point, you won't need to use any of those things. I mainly use the GAIN strategically and the MAXIM Limiter in Pro Tools' Audiosuite. On the road, if I have an audible noise source penetrating my recording space I'll use iZotope's RX 7 Voice De-Noiser. That's pretty much it.
Have you ever had a voice coach? Would you recommend it?
Yes. I've worked with Marice Tobias, Kalmenson & Kalmenson, Dave Walsh, Jodi Gottlieb, Kay Bess, Elaine Craig, Robin Armstrong…I absolutely recommend it. In this business, finding a reputable coach and working with them is money well-spent. They bring years of expertise in understanding advertising and what buyers want. A good coach follows booking trends and can help you attune to what the industry is looking for in terms of sound. And their objective viewpoint on your work will help you get out of your own head, which is the single most difficult thing about working alone in a VO booth all day. Perspective. A good coach will give you that.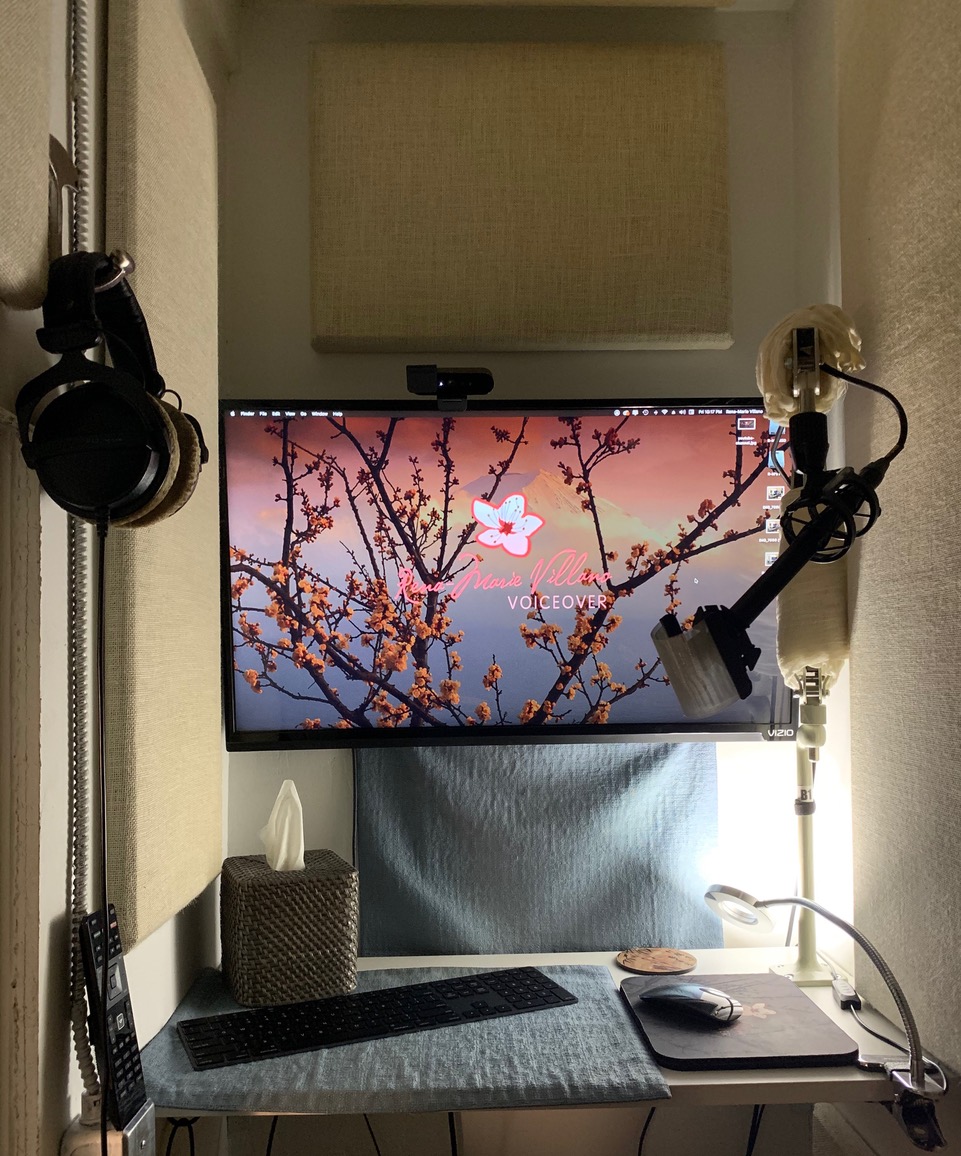 Inside the VO booth. Maybe it's just us, but the inside of a VO booth always feels so soothing.
How do you schedule/prioritize your work?
I read projects based on order of receipt. As projects come in, I read them and return audio to clients.
How much time do you spend auditioning for new work?
I'm about 50/50 right now; auditions makeup half of my day and the other half is jobs I'm turning around for clients.
How do you market your services to potential clients?
In the past, I've done postcard mailings and e-mailings and I used to send out a monthly or quarterly newsletter. I've really dropped the ball in recent years and I keep meaning to get back into marketing. Thanks for the reminder!
What is the best voice processing trick or voiceover technique everyone should know?
I don't apply any "processing" to my voice – just a little limiting – so I can't really speak to that. But, I have learned some ingenious techniques over the years that have really helped me, like using "lead-ins" with copy to help you set your tone, or using your hands in a particular motion when you're voicing copy to help deliver different reads from comedy to drama, etc. You'd be surprised how something as simple as raising your hands in the air while you read can really affect your delivery. Again – a good coach will teach you some cool tricks.
Do you have a different approach to reading radio imaging copy as opposed to TV/Radio commercial ads?
Definitely. Radio is more about attitude; TV/Radio commercial spots are more about emotional connection. With radio, I'm thinking about all of the other production elements that will be slammed in around my voice and how my voice might be processed to cut through and reach the listener. I'm very aware of the station's name and make sure to really land on that and drive it home with clarity. After all, we are the branding voices of the station. I try to bring a conversational element to my radio reads and often I'll offer that in a 2nd take. I'll sometimes ad-lib and use lead-ins to enhance and play with the copy; anything to make it sound more real and hit the mark of what they're trying to say. With TV and radio commercials, the reads used to trend more "announcer-y"; coming from radio, I had that read down to a tee. But for the past several years, most buyers want a "real, non-announcer-y" delivery and that's harder than it sounds. It's about leading with emotion and trying to establish a connection with the viewer/listener – working to bring the words up off the page and make them sound like you're not just reading them. It's less about how your voice "sounds" and more about what your words "feel" like. I'm often asking myself who I'm talking to, or what my perspective is on any given take. I'm constantly trying to stay present and not just go into robot mode. Again – this is where coaching is so helpful.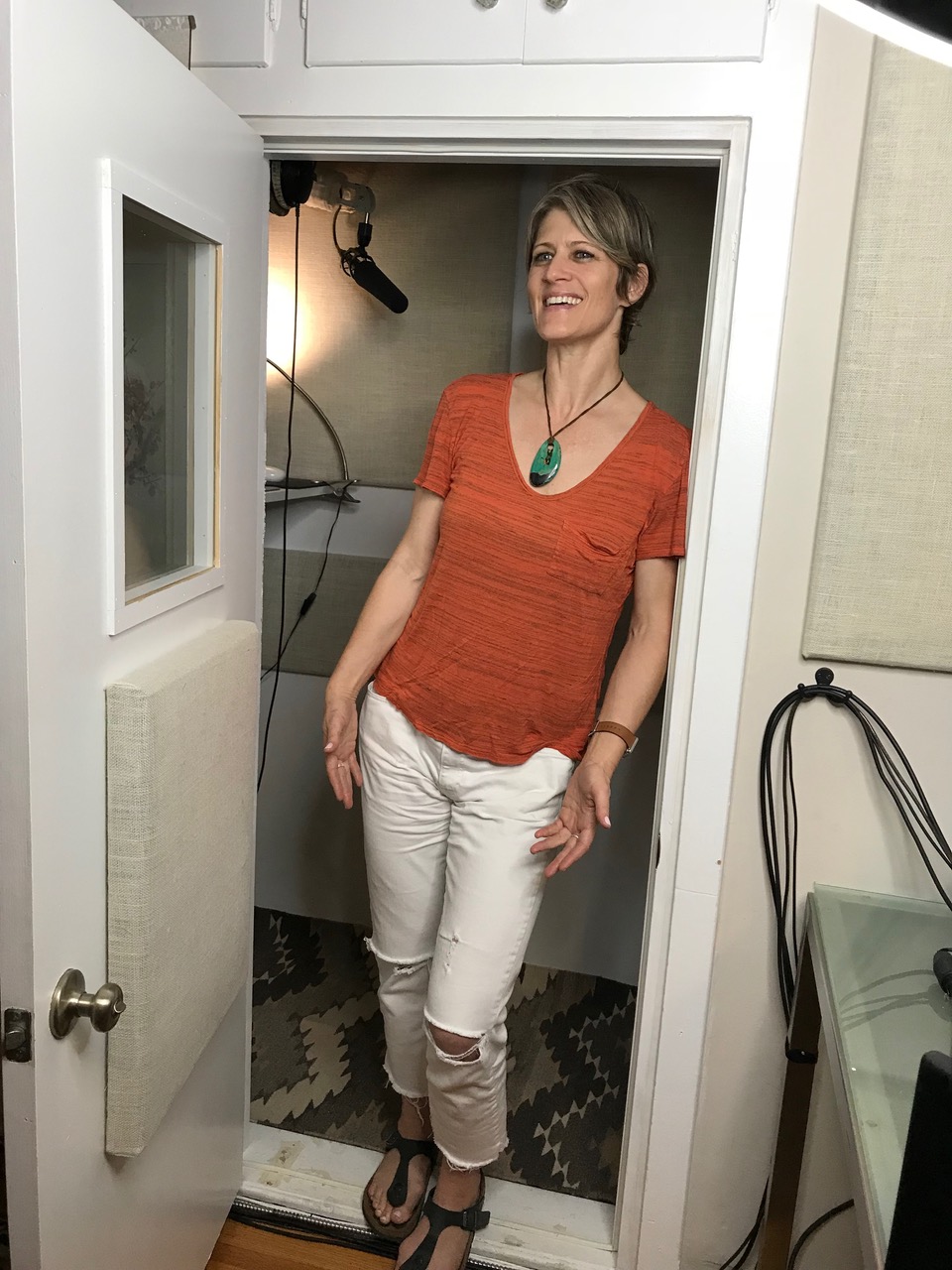 Rena-Marie looks right at home . . . which makes sense because she is.
Can you offer 3 helpful tips for newbies trying to make it in the voiceover industry?
Sure. 1.) I always recommend taking a workshop or three. LOL. But, honestly, it's true. One is not enough. Do a few, even if it takes you a year. It will get you into a professional studio, on a good mic, with copy provided to you and direction from a pro in front of your peers, which is both terrifying and hugely rewarding. And it's smart to focus on the main casting houses because, well, they're CASTING and it's good to be on their radars. Elaine Craig Voice Casting, The Voicecaster, Kalmenson & Kalmenson, Berland Casting – just a few great ones. 2.) Get yourself into a weekly or bi-weekly VO workout so you're working on copy with other talent and learning to process feedback. 3.) When you're ready to have a home studio, however big or small, email George Whittam. He's my favorite. Technical advice, help with troubleshooting, can't figure out which mic to buy or why your preamp is making that buzzing noise? Need a sound enclosure built? George The Tech to the rescue. He's available to connect a number of different ways and has helped me numerous times over the years. He's also just a really nice guy.
If you could go back in time and hang out in any decade which one would you go back to and why? 
The Roaring 20s. So much political and social change: women finally had the right to vote and were expressing themselves in new ways (no question, I would have been a flapper.) The birth of RADIO. Music was burgeoning with jazz spots popping up everywhere. The industrial landscape was changing dramatically. I love the architecture of that time. So many things make it an immensely appealing era to me.
Favorite 2 pizza toppings?
Oh brother. 2 TOPPINGS?! It's between 2 PIZZAS for me at Terroni here in LA: the Hi I am Sam – Bianca (White pizza with mozzarella, scamorza, ricotta, lemon zest, light garlic, fresh thyme and prosciutto San Daniele) and the San Giorgio (Tomato, mozzarella, spicy calabrese salami, fresh mushrooms). Both amazing. Just thinking about them has my mouth-watering.
If you could invite one person to dinner, living or dead, who would it be?
Eleanor Roosevelt

Connect with Rena-Marie: