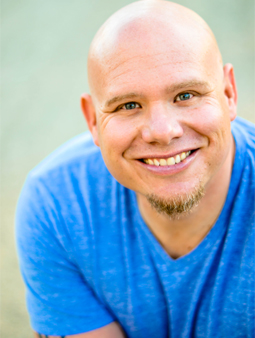 Rider is an in-demand television promo voice currently showcased on the CW shows Supergirl, Charmed, and DC's Legends of Tomorrow. He is also featured as the movie trailer voice of Paramount Network, the voice of the NHL on NBC, and on-camera on CBS NFL Monday QB.
In the sports world he's been heard on commercial campaigns for the Professional Bull Riders Tour, Tampa Bay Lightning, the Atlanta Falcons, San Diego Chargers, San Antonio Spurs, Texas Rangers, New Orleans Pelicans, and has voiced NASCAR and Major League Baseball for NBC and Fox.
Rider has been a storyteller since he was a little kid, always being the first to raise his hand to read aloud from a book. Today his storytelling skills are being called upon by networks such as Discovery Channel, National Geographic, History, Animal Planet, Science Channel, DIY, MAV TV, the Outdoor Channel, and HGTV.
What radio VO work have you done in the past (stations/markets)? 
Starting as a kid at my high school station I put in my 25 plus years of radio in markets like Denver, Minneapolis, Kansas City, West Palm Beach, and Jacksonville, which we now call home.
What are you up to presently (freelance/on-staff at a station)?  
I left morning radio a little over 6 years ago and haven't looked back as this voiceover career was the greatest choice I ever made. Now I get to still be the imaging voice of great stations in Boston, Miami, Phoenix, Nashville, and Pittsburgh but I also get to work for major TV networks like NBC, CBS, the CW, and Paramount Networks as well as represent major sports teams like the PBR, Texas Rangers, and Tampa Bay Lightning as their brand voice.
What do you love about your job?
I love that every day is a be in the moment, create it as it goes lifestyle. As a former morning show host/control freak letting go was the toughest part of voiceover.  Now, I wake up and most of the time have no idea what's planned for the day and just go along for the amazing ride.
How did you get started as a VO actor?
I got started back in 2007 when I was corporately downsized for syndication. I had the time to get started so I did and then quickly realized this business is not for those that aren't completely devoted to being the best at everything you have to do to run a business.
Who are your VO idols/mentors? 
I attribute a lot of my success today to two people. The first is Mitch Craig who I grew up listening to as the voice of B96 in Chicago. His balls and growl I emulate for many of the big reads that I do today.  The second person is Joe Cipriano who was nice enough to listen to my stuff when I was first getting started and gave me the best advice. He said that the worst time to start a new career is when you are unemployed. He forced me back into the business and taught me that the best time to create a new career is on someone else's time and dime. So I looked at radio differently and started using it for once instead of it using me as it had for the first 20 years of my career.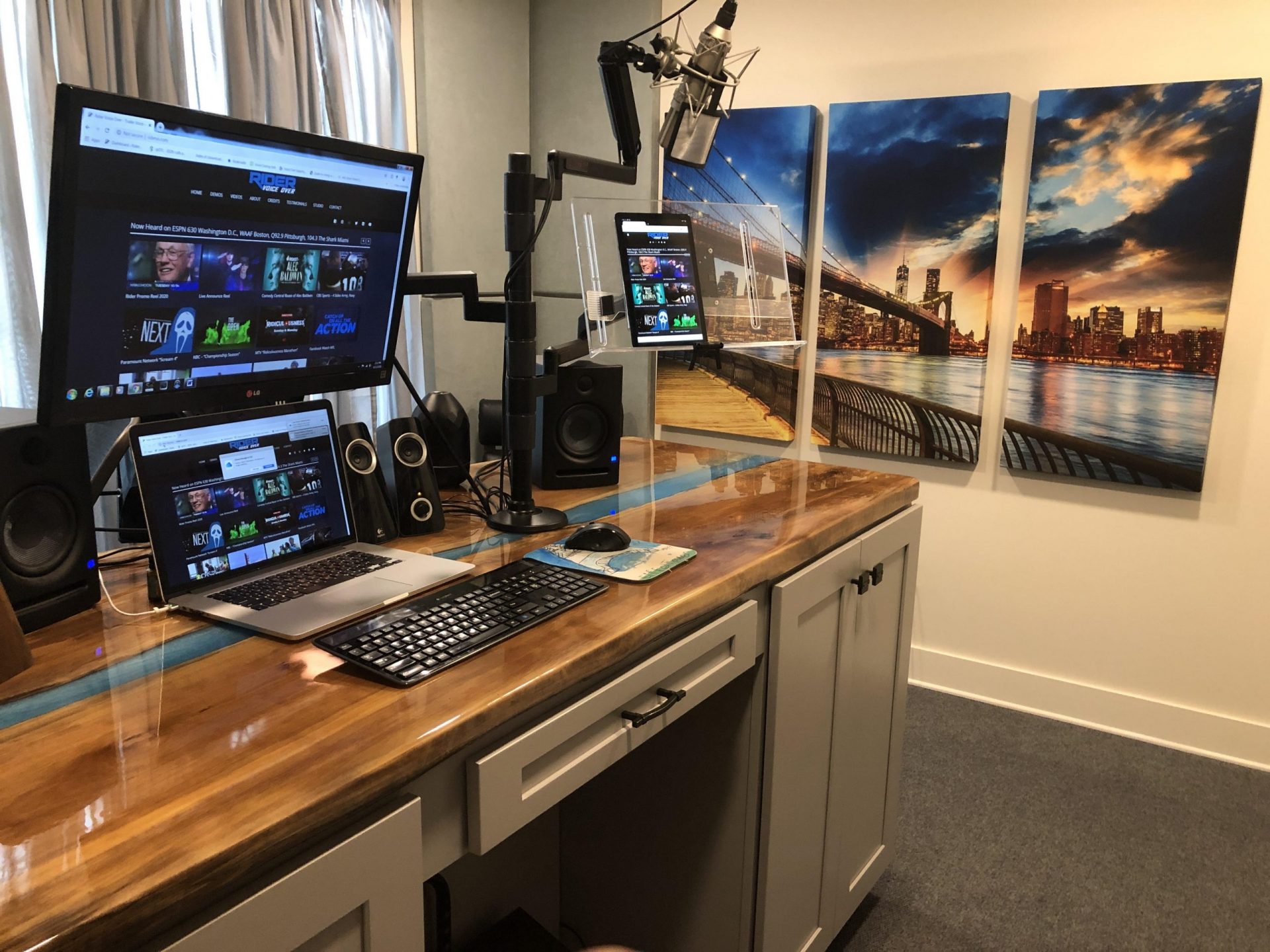 Rider's recording set-up!
If you weren't doing voiceover, what else do you think you'd be doing for a career?
If I wasn't doing voiceover I'd be training horses, which has quickly become one of my passions in life. I grew up riding as a kid but just made the dream come true of buying a gorgeous 2,000-pound draft horse mare named Mouse and a pony for my 5-year-old.
What gear do you use in your studio?  
In the studio, I use a Neumann U67 and Avalon 737 mic pre.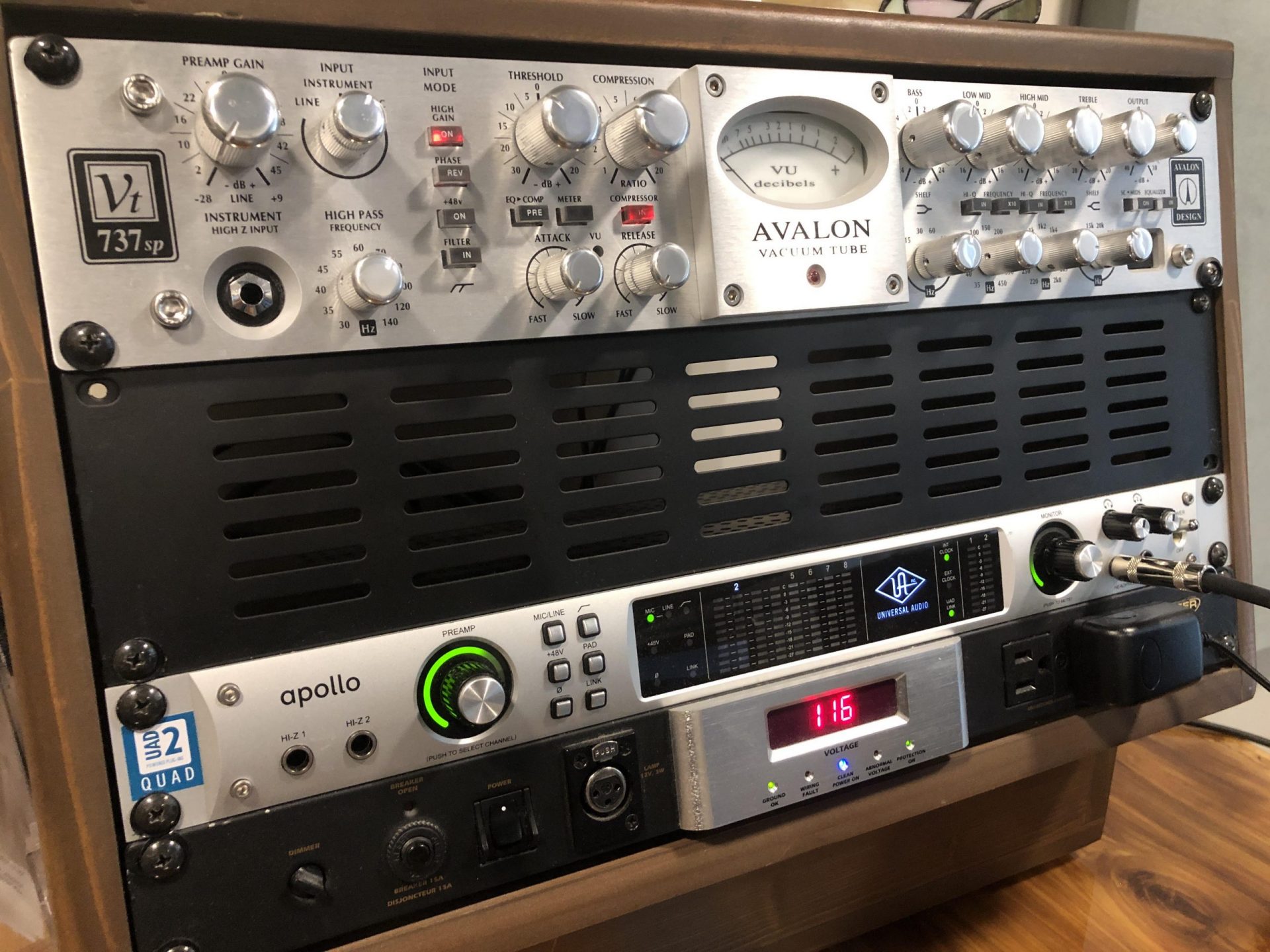 Ain't she a beaut?
Which production system do you use and why? Any favorite plugins?
I record using Sony Vegas or what was Sony Vegas. It is video editing software that also works as an amazing DAW and not clunky like some of the industry standards.
Have you ever had a voice coach? Would you recommend it?
Coaching in voiceover is vital. To this day I still coach monthly as I believe it's super important to invest in your growth.
How do you schedule/prioritize your work? How much time do you spend auditioning for new work?
I spend the majority of the first few hours of every day cranking out 15-25 auditions before getting started on the projects of the day. Then, depending on the day, I will do another hour or so later in the day as deadlines keep getting quicker. Seems like "rush" is the new norm in our business.
When it comes to VO work, studio, and gear, what are your most ingenious methods/discoveries for saving time and cash?
If I could go back in time I would tell myself to NOT BE CHEAP. Quit trying to find something cheap and thinking it's gonna sound great because it won't, no matter how many different things you try to piece together. I wasted so much time and money in the beginning on different mics, pres, and processors I want to vomit. Take out a loan if you have to, but get good gear right away. That also means room treatments.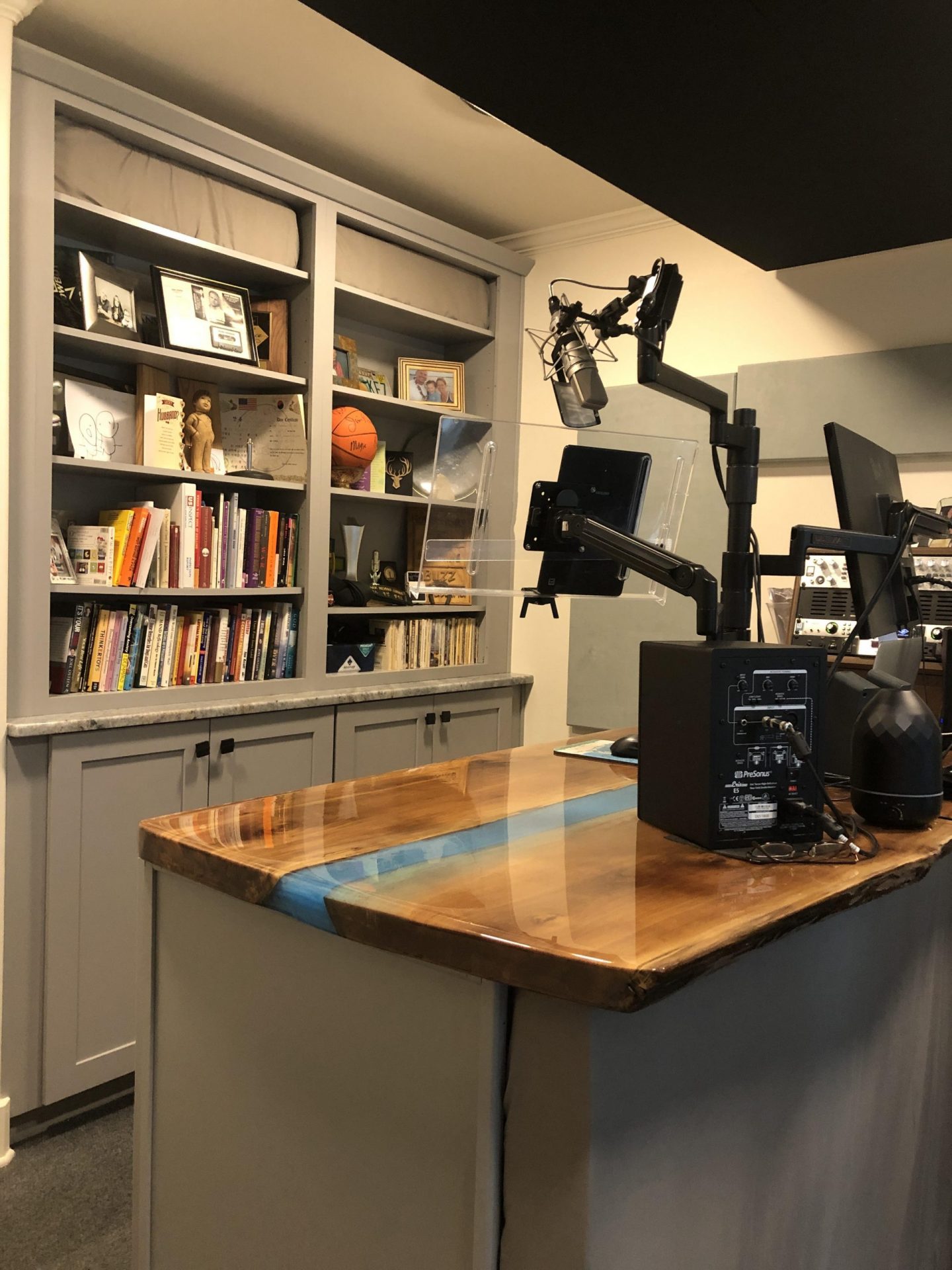 We're having some MAJOR desk envy right now!
What is the best voice processing trick or voiceover technique everyone should know?
Back off the mic . . . most reads don't require you to be all sexual with your mic.
Do you have a different approach to reading radio imaging copy as opposed to TV/Radio
commercial ads?
Absolutely, which is why they are completely different genres of voiceover and why some people do or don't succeed at one or the other. Commercial requires a much more gentle approach whereas most radio imaging requires a lot of push.
Can you offer 3 helpful tips for newbies trying to make it in the voice-over industry?
1. If you think it's you against the world you will fail. Build a team around you that sets you up for success.
2. Have realistic expectations of growth. This is a long haul marathon kind of industry where clientele takes years to curate.
3. Coach, listen, repeat. Go to the big agency's websites and listen to the guys that are killing it and do what they do in your own way.
Connect with Rider: