Behind the Mic: Scott Fisher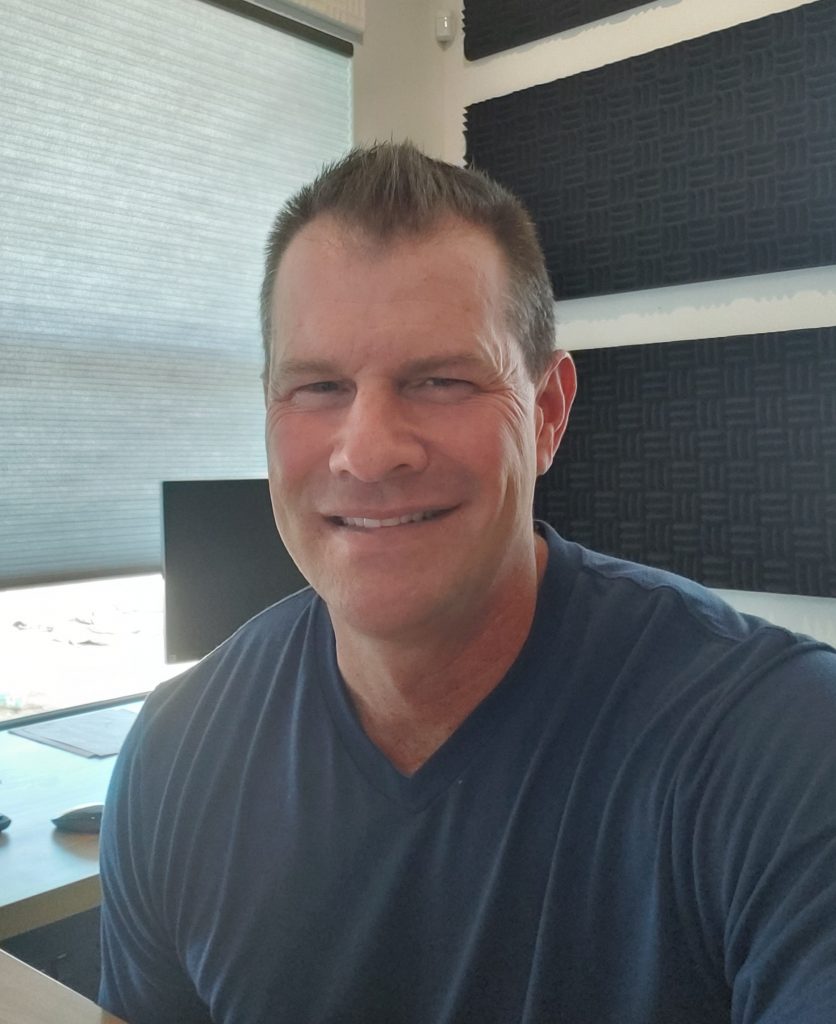 Scott Fisher played voice-over guy as a kid. Today, he gets to play voice-over guy for a living as a "grown up"!  Scott is humbled to be able to work with great radio and tv stations around the world and to voice promos and commercials for amazing networks and clients. Every day is different in the studio. There is never a dull moment, as he lives his childhood dream.
What radio VO work have you done in the past (stations/markets)?
I've been so fortunate to have had the opportunity to be the imaging voice for some incredible stations in the past including, WLS-AM Chicago, KSCS-FM Dallas, KNIX-FM Phoenix, WLIT-FM Chicago, WIL-FM St. Louis, KGB-FM San Diego. Some truly amazing stations!
What are you up to presently (freelance/on-staff at a station)?
I spend my days voicing radio stations in markets large and small like…WTOP-FM, Washington D.C., WNSH-FM New York,  KKBQ-FM Houston, KYGO-FM Denver, WHKO-FM Dayton, KKNU-FM Eugene… including some great Benztown stations. I'm also working to grow my client list and experiences with TV Affiliates, Promos, Trailers, Commercials, etc.  
What do you love about your job?
I just don't consider this a "job." I get to meet and work with amazing, hard-working, and creative people in my industry every day. Pinch me. I am a very lucky guy!
How did you get started as a VO actor?
I am 3rd generation working in radio. I grew up in a radio station. I've been making promos and playing DJ since I was a little kid.
What was your first gig? Any memorable ones since then?
My Dad let me "play" on his station in Denver at a very young age, probably a questionable decision on his part…fast forward to today…Some incredible experiences including being the marketing voice for the Kansas City Royals, which included a World Series Championship in 2015!
Who are your VO idols/mentors?
My all-time favorites are Chris Corley and Brian James. The hole that was left in our industry after their untimely deaths will never be filled. I am also in awe of Ann Dewig. The amount of work she does at such a high level with amazing customer service is truly amazing.
If you weren't doing voiceover, what else do you think you'd be doing for a career?
Good question. No idea. I have no other skills. Haha 
What did it feel like the first time you heard your voice on the radio/television?
Strange and weird. I'm my toughest critic. Even after all these years of doing this, I'm still critical of my reads.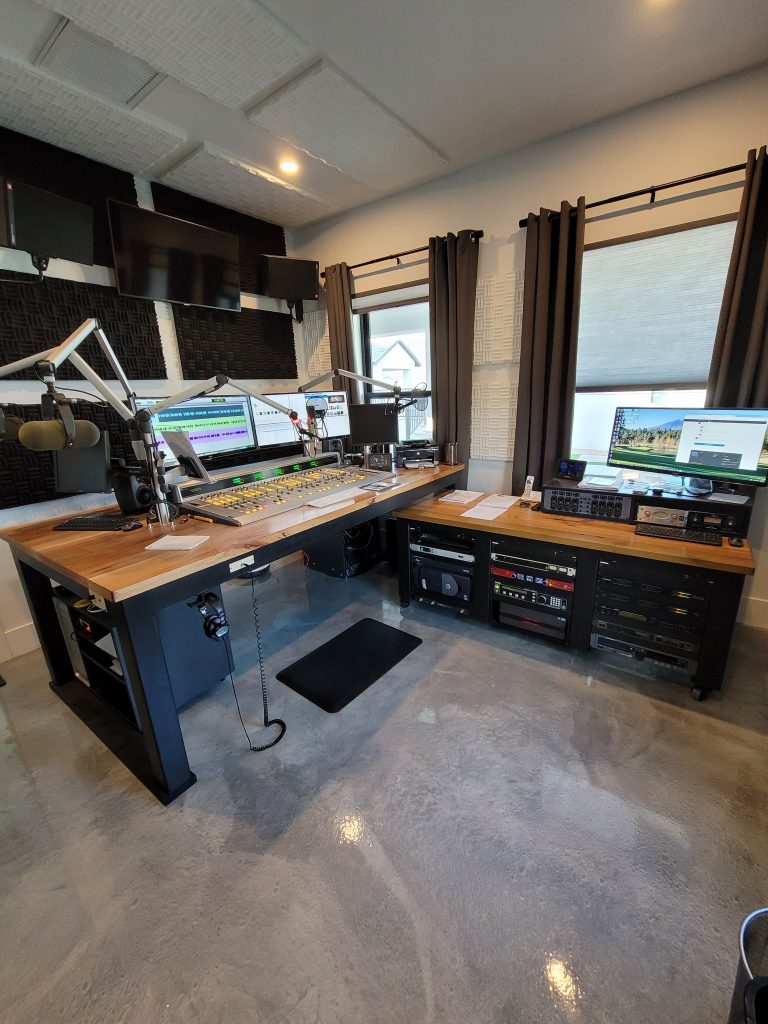 Scott's awesome studio!
How has new technology changed the way you work?
One used to have a ton of money invested in outboard gear to have a sweet-sounding chain. Now a good mic and laptop with DAW and plugins, and of course most important, a good, tight, quiet room, will get it done.
What gear do you use on the road? In your studio?
I do most of my reads with a Sennheiser 416 in the studio or on the road. A laptop and Focusrite interface with Pro Tools or even Audacity for just voice makes traveling super easy! I do love gear tho. My studio is filled with overkill and unnecessary stuff I have accumulated over the years.
Which production system do you use and why? Any favorite plugins?
I am a Pro Tools lifer. I love it and it's all I know. I send all of my audio unprocessed to most of my clients, but it's good to have options. So a little L1 and REQ 6 eq work great for the stations that want a processed file.
Have you ever had a voice coach? Would you recommend it?
I have used a coach before. It's great to get an expert opinion on how to fine-tune or expand the type of reads you can do.
How do you schedule/prioritize your work? How much time do you spend auditioning for new work?
I try to turn everything around as fast as I can without rushing through the copy. Of course, there are urgent needs for stations that get them to the front of the line. I fully produce a bunch of my stations too.  Those turnarounds take longer naturally, but getting it back as quickly as I can is important. My reps are sending auditions every day. It's important to hit those deadlines, so weaving them in and out of client work can be a balancing act some days.
How do you market your services to potential clients?
I have a team of agents at Atlas Talent that are getting me out there. I'm also learning some great marketing strategies and techniques from superstars like Corey Dissin. Never stop learning and trying to grow!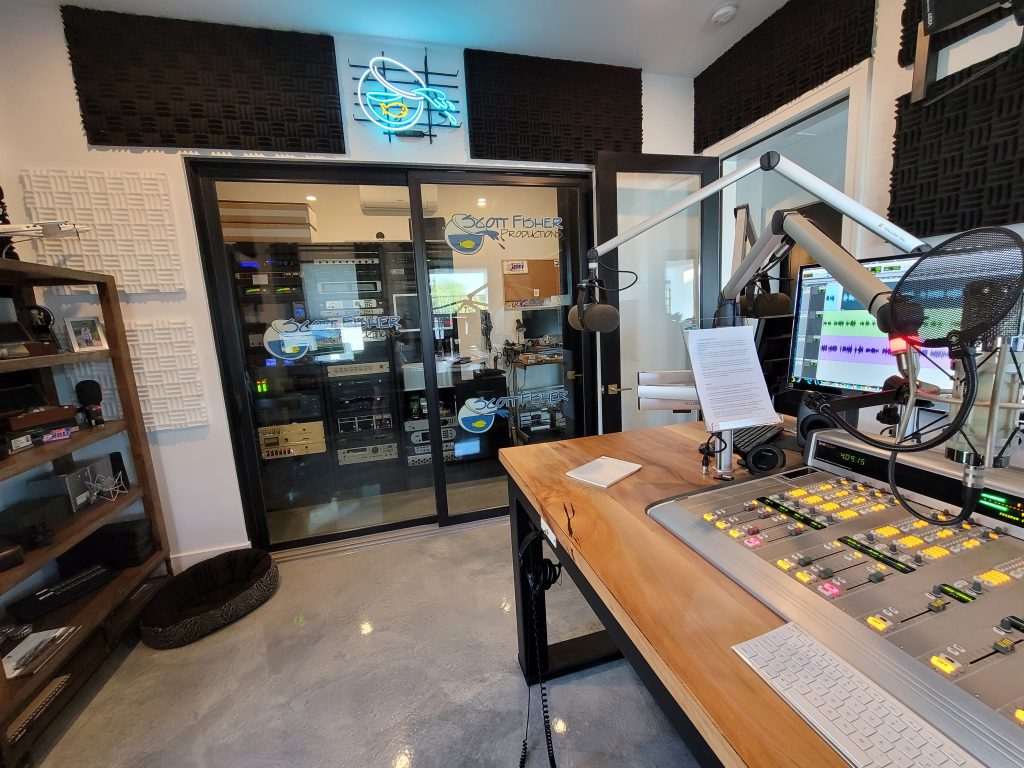 A look at some more of Scott's studio gear!
When it comes to VO work, studio & gear, what are your most ingenious methods/discoveries for saving time and cash?
There are still some clients who like to use ISDN. So I have kept my lines, but ipDTL and Source Connect are super cool and great ways to connect to clients all around the world.
What is the best voice processing trick or voice-over technique everyone should know?
If you have a good, quiet room….which everyone serious in VO should have, then I recommend sending your audio unprocessed. It gives the station more control to get the sound they prefer. But, also give your client a processed option or options if they want it.
Do you have a different approach to reading radio imaging copy as opposed to TV/Radio commercial ads?
Yes! They can all require different reads. I have done mostly radio during my career, so it's a good exercise each day to read for different fields and clients.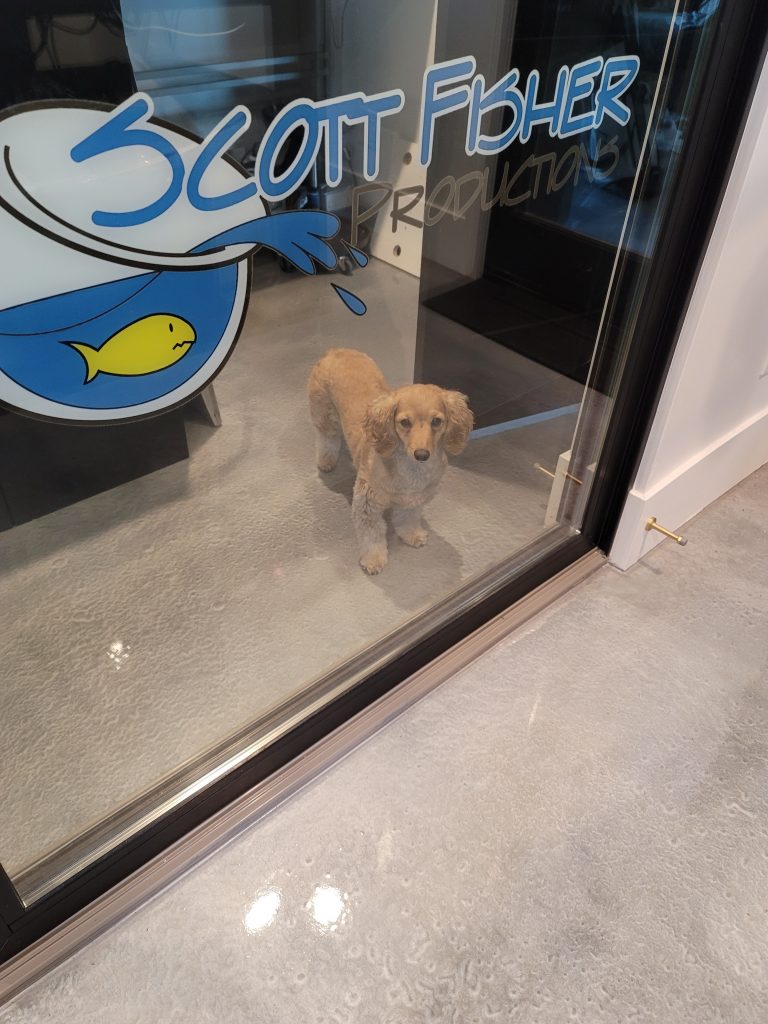 Scott's dog, Daisy, for scale!
Can you offer 3 helpful tips for newbies trying to make it in the voice-over industry?
Growing a client list can take years. Be patient and be flexible with your rates. With added experience, comes increases in rates. Don't focus on the money at first. Enjoy learning and getting better and value the relationships you gain along the way.
If you could go back in time and hang out in any decade which one would you go back to and why?
I'd like to go back to the 80's and learn to drive again. Driving is so boring now. It was so fun to have that newfound freedom to go places and listen to your own favorite 80's music!
Favorite 2 pizza toppings?
I've never met a pizza I didn't like. Yes, even pineapple!
If you could invite one person to dinner, living or dead, who would it be?
Tiger Woods. He is the most awesomest!
Connect with Scott: