Behind the Mic: Shelby Taranto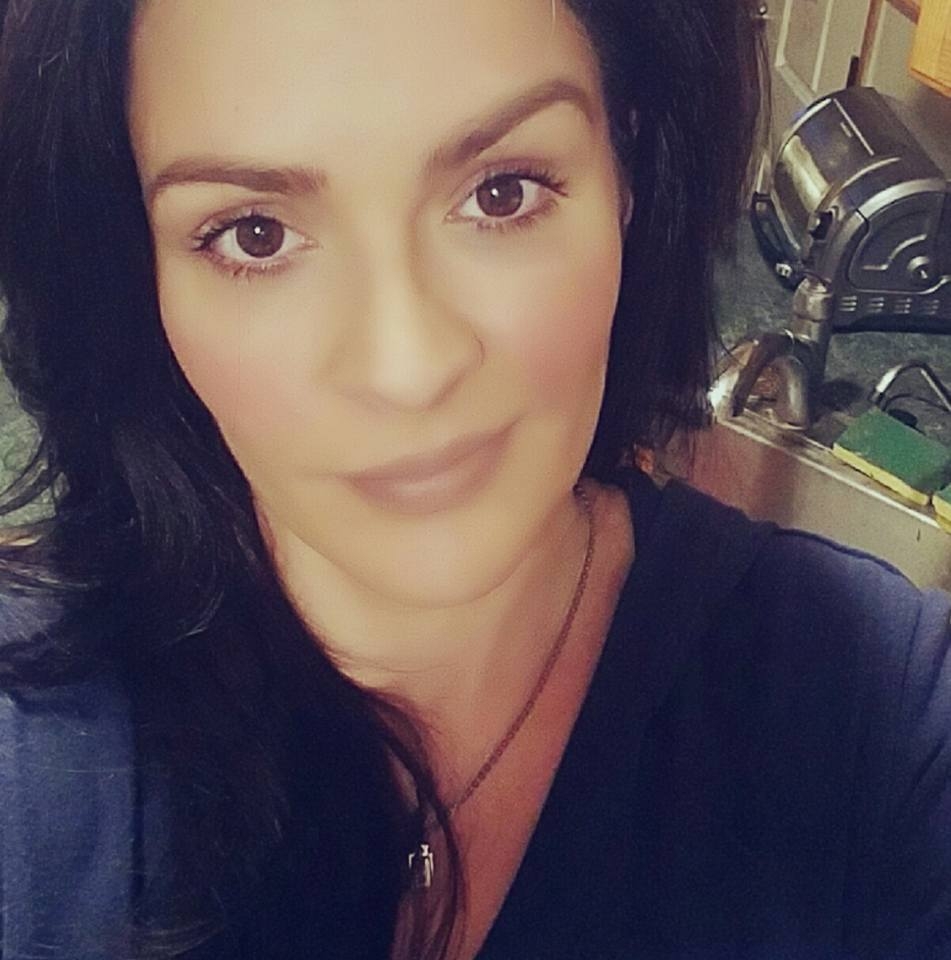 Shelby Taranto has been working in voiceover for 21 years in Boston and New Hampshire. At the tender age of 12, she was invited to sit in on the WBCN morning show in Boston with Charles Laquidara/Dwayne Glasscock – The Big Mattress Show – and she was hooked! She later went on to become part of the 98.7 The Bay sales staff to get a foot in the door, but quickly switched over to programming once the PD heard her voice and acting ability. She went on to work for iHeartMedia voicing and producing imaging and commercial content for many stations on the East Coast, as well as performing VO as house announcer for Jingle Ball Boston 5 years in a row. Her latest success is becoming the new imaging voice of SiriusXM's Octane, Channel 37.
Today she works from her home studio in New England voicing radio stations and TV nationally. Shelby is the one you want when you need a professional, quality voiceover with a quick turn-around. She understands/takes direction well and she's ready to work on any project needed!
What radio VO work have you done in the past (stations/markets)?
I've had the pleasure of voicing for such shows as Howard Stern, Jason Ellis, Bam Margera, Tony Hawk, and Octane on SiriusXM.
What are you up to presently (freelance/on-staff at a station)?
I'm the current VO for Octane, 100.7 The Viper, and 100.5 The Buzz. Other stations I've voiced are Kiss 108, JAM'N 94.5, The Bull 101.7, 100.7 WZLX, WRKO, WBZ, Red Cup Country, KIX 100.9, 107.1 WERZ, WHEB, Rock 101, 106.9 KZY, 100.7 The Viper, and more.
Check out Shelby's demos:
How did you get started as a VO actor?
I have a past of being a child actor from age 8 to age 16. I had professional one on one coaching from Thomas Joseph, Mitzy Bramble, and Charles Boyle in Boston during that time and appeared in TV commercials and shows. Charles Boyle has coached such stars are Kevin Bacon and Johnny Depp. I always looked forward to those weekly coaching sessions, wanting to know everything I could about the craft and mastering it as best I could at a young age. It was so fun and one of my best childhood memories.
What was your most memorable gig?
Definitely Howard Stern. I tend to have a bit of a sassy sense of humor so, this was really fun! And who wouldn't want to be able to say they voiced for the King of All Media, right? That was an amazing opportunity! Now that I'm voicing Octane, I hope I get to voice for Howard again in the future.
Who are your VO idols/mentors?
Nik Carter, Mike Checknicki, Chad Erikson, Jeff Berlin, Moneen Hart, and Amy Brooks. I definitely left some amazing folks out because there are just so many! I'm so grateful to all the folks that have guided me along this crazy ride!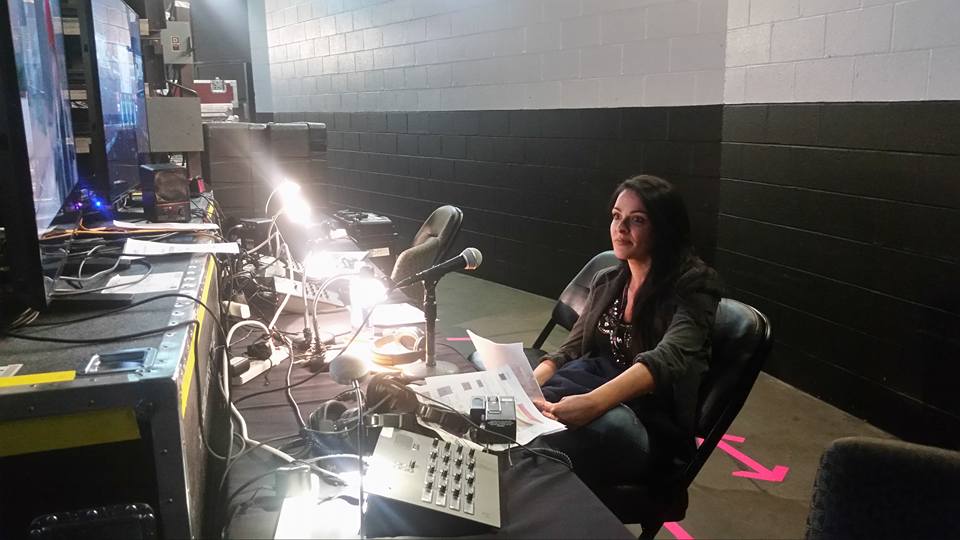 Shelby as house announcer (voice of God) for her very first Jingle Ball Boston!
If you weren't doing voiceover, what else do you think you'd be doing for a career?
Probably acting or audio production. I'm a very artistic person so, those would be areas that would make the most sense to me. Brainstorming ideas and coming up with copy that excites the listener has always been a passion of mine so, I think those two areas are something I could fall back on easily.
What did it feel like the first time you heard your voice on the radio/television?
I was nervous but so happy. I've wanted to work in this field since I was around 12 years old. When you hear your own voice on radio or tv for the first time it really makes you take a step back and think "Am I really doing this?" and it's just so exciting. You start to really think of all the possibilities in front of you.
How has new technology changed the way you work?
New tech has somewhat simplified the process, making my work more efficient so my turn around time is fast. I'm still a little old-fashioned with my editing program (Adobe) but it does what I need it to do and after years of using it, I fly on it, making my turnaround times even shorter. I think it's okay to not try to fix what isn't broken. That said, I am able to use Pro-Tools without issue. I just prefer Adobe.
Have you ever had a voice coach? Would you recommend it?
I've worked with voice coaches and still do to freshen up. Always something new to learn. When I worked with my private coaches in Boston, they had me doing some pretty crazy vocal techniques like speaking in front of a lit candle without blowing it out to work on breath control. They also had me tell them about my day at school and would write down every word I said wrong, as we were trying to turn off my Boston accent (we did it!). We videotaped each session so I could bring it home and go over it during the week. I still have some of those tapes. Such fun memories!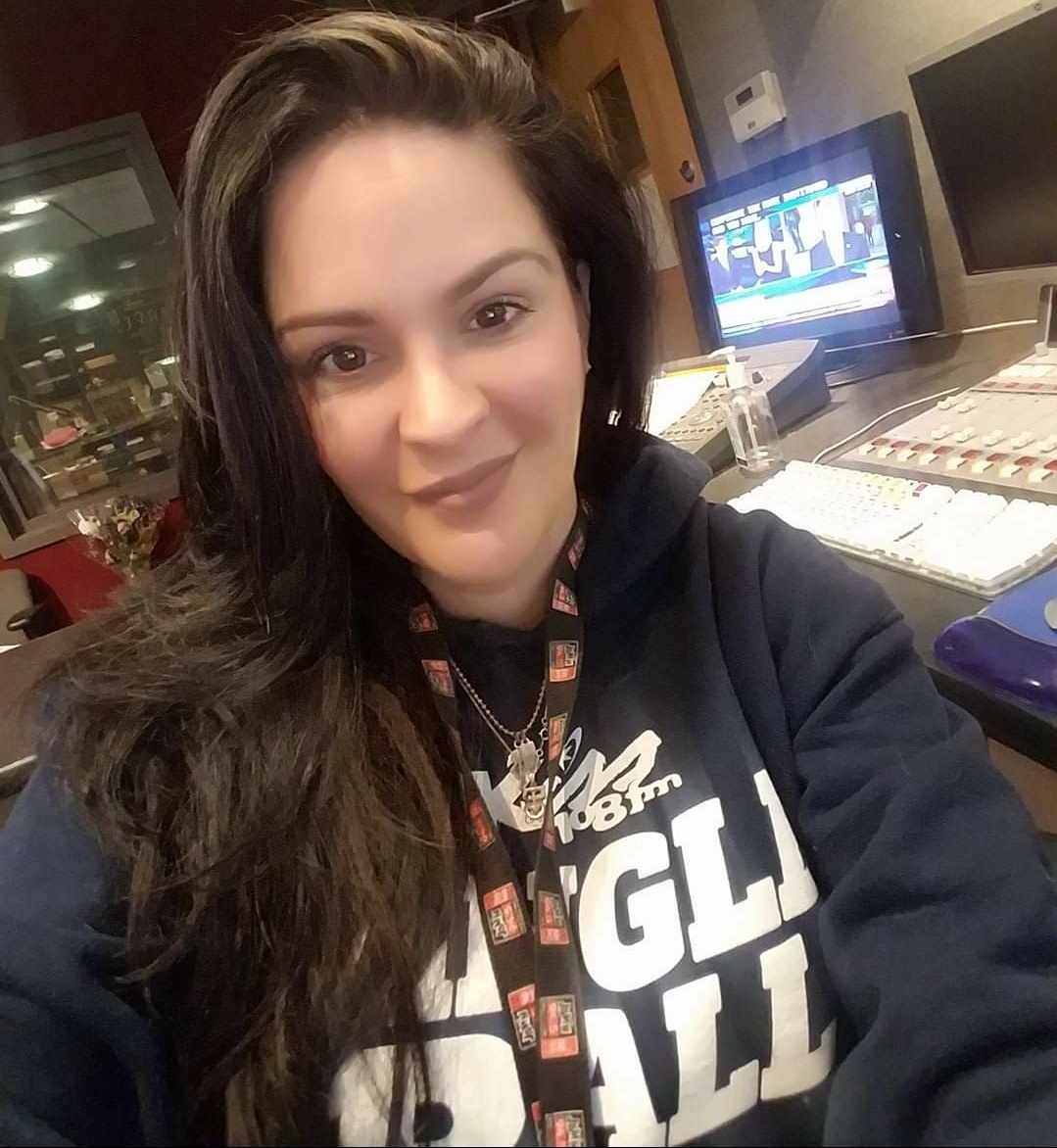 This pic screams "I work in radio" and we LOVE IT!
How do you schedule/prioritize your work? How much time do you spend auditioning for new work?
Most of my work comes from word of mouth so, I don't spend a lot of time auditioning, mostly working. I have yet to join any voiceover audition websites. I haven't had the need, but I will be joining a few this year not only for auditions but to listen to other voice talents and learn from them. I'm always trying to improve my technique and learn to never get comfortable with my performance. That's how I stay on my toes!
If you could go back in time and hang out in any decade which one would you go back to and why?
The 80s for sure! I think that might have been our sweet spot. The 80s for me seemed so carefree. I spent most of those days with my hair Aquanetted to the sky! The music was fun, the fashions were fun – it was just a great time for a tween. Especially with all the hair bands! I was BIG into hairbands.
Favorite 2 pizza toppings?
For pizza toppings I'll take cheese and more cheese! I'm a super picky eater. I grew up eating kind of bland food so, it carried over to adulthood. I'm really a meat and potatoes girl. Should probably have my cholesterol checked haha!
If you could invite one person to dinner, living or dead, who would it be?
Einstein, Jung or Bukowski. I've always had a bit of a crush on intellectuals. I love reading and learning. To sit with any of these 3 men would be a totally mind-bending experience. I'm a fan of always looking into the deeper side of things. I love finding information on things like physics and psychology. There's always something more to know.
Connect with Shelby: