Behind the Mic: Steve Taylor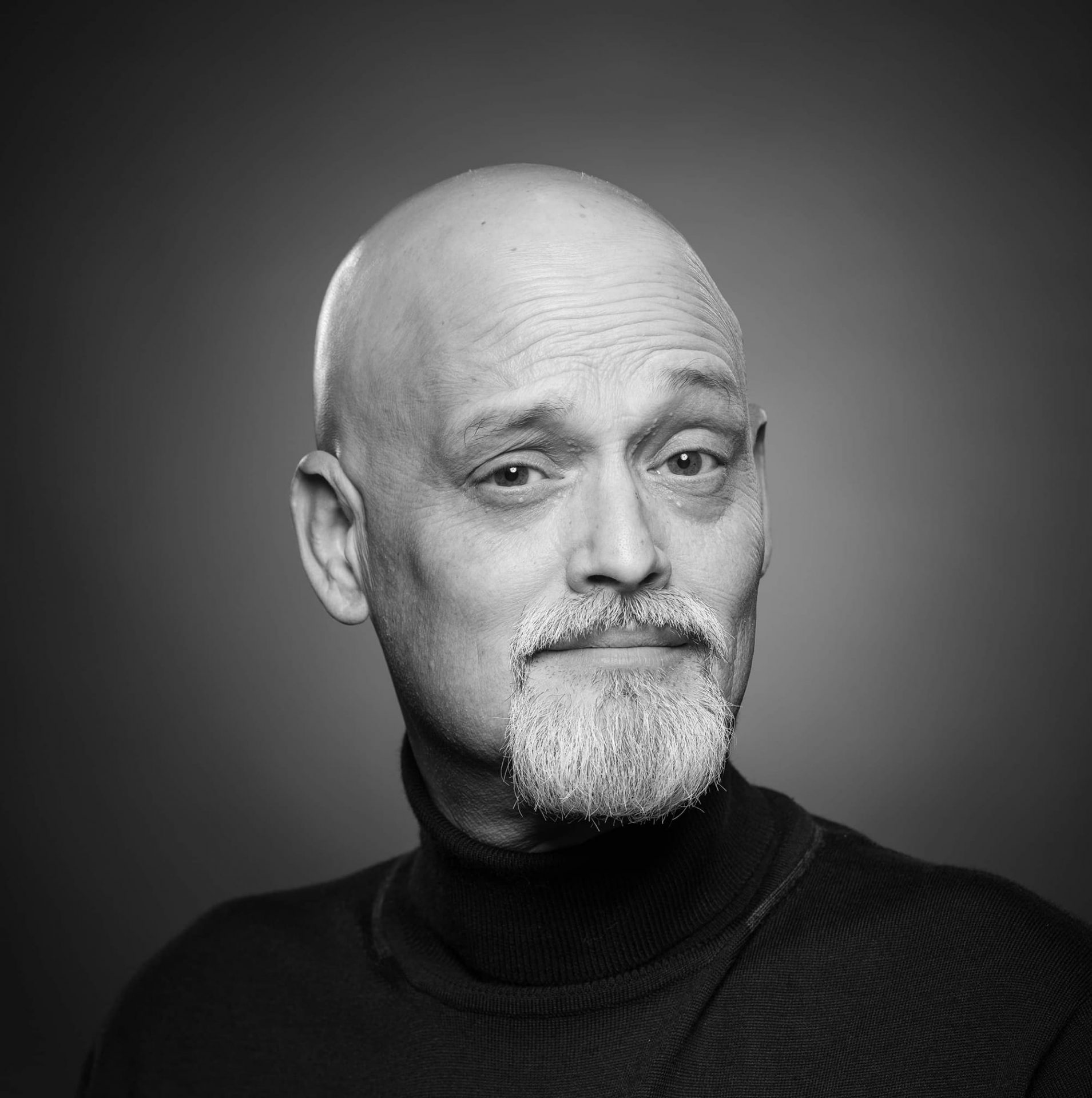 Steve Taylor began working in the radio industry in the summer of 1987 at KMSL-FM in Magnolia, Arkansas. It didn't take long before Steve was in the production studios learning how to produce commercials and put audio together. Now, some thirty-three years into a broadcasting career, Steve's compiled over a decade of experience as an on-camera meteorologist, thirty-three years in radio (still going strong), as well as starting his freelance voiceover career in 1990, making this his thirtieth year doing voice work. 
A sample of his current vocal whereabouts include: Court TV; Court TV – UK; National Programming Platform voice for iHeartMedia; imaging voice for many stations all over the planet (including KIIS-FM Sydney, KIIS-FM Los Angeles, CFXJ-FM Toronto, WBMX-FM Chicago, and Rock-FM Romania, just to name a few); host of the Chilling Tales for Dark Nights podcast; and many great Benztown affiliates. 
From the smallest radio roots in Magnolia, Arkansas to a worldwide voice over talent for radio imaging, commercials, promos, and network, Steve's journey has been fantastic. He loves what he does and considers it his life's work. 
What are you up to presently (freelance/on-staff at a station)? 
I'm presently working at Steve Taylor Voiceovers every day, as well as serving as Production Director for a group of stations in Hot Springs, Arkansas. The station allows for me to do any and all VO work without any issues and I'm grateful for that!
What do you love about your job? 
Literally, everything. It's what I've been aiming to do since I was much younger. It's different every day. It also affords me the opportunity to stretch myself and work hard to improve. 
How did you get started as a VO actor? 
One of the very first cassette tapes I ever bought was Orson Welles's telling of The War of the Worlds, the original broadcast. I knew it was a radio drama, but I thought it was beyond amazing. Those people not only played those parts but also made the sounds and effects, all live. Well, I wanted to do THAT. 
What was your first gig? Any memorable ones since then? 
That was KAMD-FM in Camden, Arkansas. Since then, I have many memorable ones! Those include my first major station, KIIS-FM in Sydney, Australia … becoming one of the National Programming voices for iHeartMedia … auditioning for and becoming the voice of Court TV … it's a long list! 
Who are your VO idols/mentors? 
Mike Carta used to allow me to come visit his studio when I lived in Knoxville. He let me play around on his great Neumann mic and also let me just observe his daily work. It was compelling to me. I learned so much just being there of what a voice actor does. Also, Gene Wooten, who had some mutual connections, spent a stupid amount of time critiquing and giving me advice. This was when Gene was at WPLJ-FM in NYC. Just a legendary producer, he shared with me knowledge that shapes my promo reads to this day. He also sent me hundreds of produced pieces featuring the voice of John Pleisse, whom I consider a VO idol, for sure. 
If you weren't doing voiceover, what else do you think you'd be doing for a career? 
Musician or Astrophysicist. 
What did it feel like the first time you heard your voice on the radio/television? 
That was an interesting moment, to be sure! It was a skim of the second air shift I ever did and I positively HATED hearing my voice on the radio! It was … difficult. Still – I was on the RADIO, and that was all that mattered. Years later, when I started doing on-camera weather, I didn't cringe so bad, but had plenty of insight into needing to lose weight, shave my thinning hair, and smile more! 
How has new technology changed the way you work? 
I started with razor blades, a splicing block, and splicing tape. Digital changed it all. I still enjoy perfecting a vocal track and playing with waveforms. It just doesn't take a room full of expensive gear to do it anymore. 
What gear do you use on the road? In your studio? 
Except for the computer, I use the same gear on the road, at home, or at the studio. I'm on the Sennheiser MKH-416, going into a UA Apollo Twin. Perfect, small, quiet, and reliable.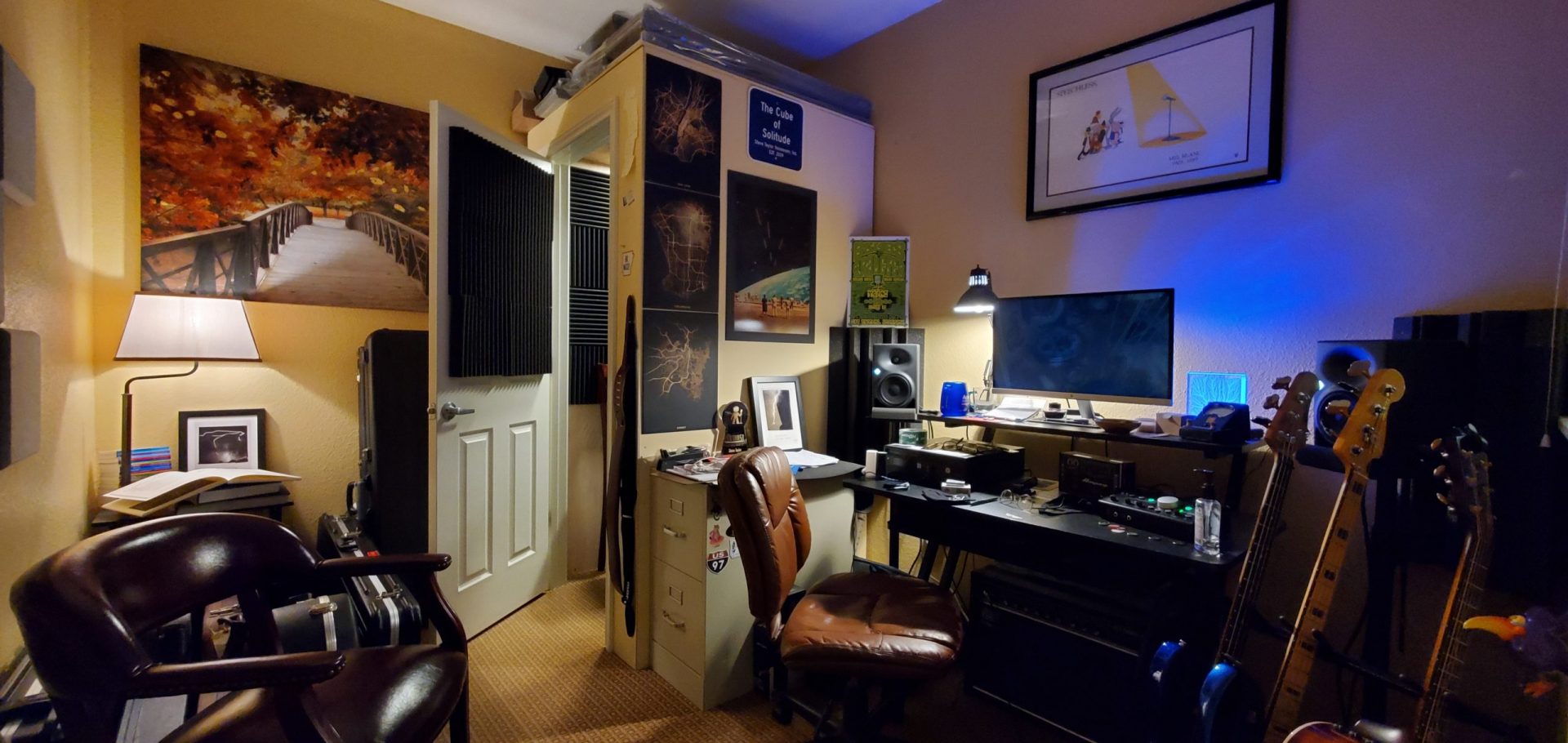 Steve's Studio!
Which production system do you use and why? Any favorite plugins? 
Adobe Audition. Period. I went back to Cool Edit before that. I've got the Waves Mercury bundle, which I've had for a long while. Waves Audio Track is perfect for polishing a track before I fire it off. The C4 Multiband Compressor and L2 Ultra Limiter and my two fave dynamic plugs. I also use a lot of metering plug-ins. 
Have you ever had a voice coach? Would you recommend it? 
I've recently been working with Dave Walsh, who is a great coach! He pushes me and makes me get inside my reads in unique ways. I'd recommend getting a coach and working on your weak spots. Keep learning and getting better … because you really don't know everything! 
When it comes to VO work, studio & gear, what are your most ingenious methods/discoveries for saving time and cash? 
I save time by being efficient. If it's a regular client, I've got their need committed to memory for instant recall. That comes from developing a great rapport with whomever you're working with and learning their communications needs, as well. Trust is the essence of any relationship, so make it easy for someone to trust you. Deliver with consistency and always keep your client at the top of your brain. Over time, that's saved me a ridiculous amount of time (getting it done right because I've paid attention to every detail) and money (in not having to have a do-over session). Not ingenious at all, but works for what I do. 
What is the best voice processing trick or voiceover technique everyone should know? 
Best advice I've ever been given in that regard: learn how to work your mic. Just plain useful. And that's 
what a lot of newbies in the business have issues with. 
Do you have a different approach to reading radio imaging copy as opposed to TV/Radio commercial ads? 
Yes, and it's a must. Those are two totally different skill sets. Even though the styles can and do cross over, they're just different. The imaging stuff is all about attitude and directness. The commercial stuff is all about real and the real you, except when one is playing a 'role'. 
Can you offer 3 helpful tips for newbies trying to make it in the voice-over industry? 
The first is: Understand your business and how business works. If you're deficient in the ability to do that in some way, get help! Hire a good bookkeeper. Know a good CPA. Know a good attorney. Those are invaluable resources. 
Next: Don't get bogged down in just 'the right mic' and such and forget to treat your recording space. The most common issue I have in hearing recordings done by newbies is not their mic sound, but their room sound. A great-sounding space is just as important. Spend extra money here instead of a more expensive mic! 
Thirdly: Stay at it. I was rejected by an agent that ended up signing me … 17 years later. 
If you could go back in time and hang out in any decade which one would you go back to and why? 
I'd hang out in the 1960's in London, just to hear the music that was being created. And to play with all that excellent studio gear. 
Favorite 2 pizza toppings? 
Pepperoni and Canadian Bacon, of course! 
If you could invite one person to dinner, living or dead, who would it be? 
I'd like to visit with Neil Peart again. He was echelons above. Not only the consummate rock drummer and musician, but such a great mind. His passing still stings. Or, if not he, then the head librarian at The Great Library of Alexandria.