MEDIA. NEWS, EVENTS, & EVERYTHING ELSE GOING ON AT BENZTOWN.
26 April 2023
Benztown Audio Tribute: Harry Belafonte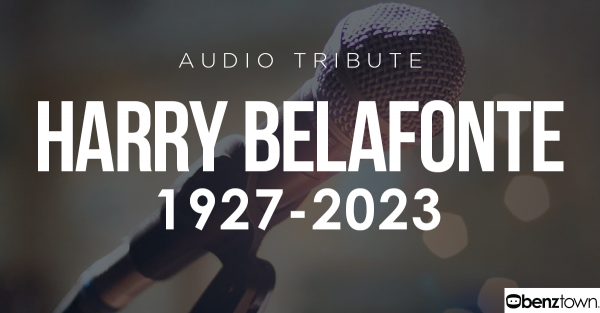 Check out the Benztown Audio Tribute to singer, actor, and activist Harry Belafonte, who died today at 96 at his home in New York of congestive heart failure.
Listen to the audio tribute:

Known as "The King of Calypso," Belafonte was one of the 20th Century's most popular and enduring entertainers and was an activist known for his civil rights and anti-apartheid work.
Born Harold George Bellanfanti Jr. in Harlem in 1927 to Jamaican-born parents, Belafonte had a tumultuous young life. His father worked as a cook on merchant ships and abandoned the family when Belafonte was young. Belafonte spent some of his childhood in Kingston, Jamaica, and by 1940, returned to Harlem to live with his mother, Melvine, who fought to keep her family together through poverty. Belafonte dropped out of high school and enlisted in the U.S. Navy in 1944. While later working as a janitor in New York, Belafonte attended a play at the American Negro Theater that inspired him to become an actor. He eventually studied acting at a workshop attended by fellow students including Marlon Brando, Tony Curtis and Bea Arthur. He also started singing in nightclubs to pay for his acting classes and was once in a band that included the jazz greats Charlie Parker and Max Roach.
Belafonte landed a recording contract in 1949 and hit it big in 1956 as the singer of a Jamaican folk song, "The Banana Boat Song," better known as "Day-O," which he recorded for his third album, "Calypso." The song was an instant hit, captivating Americans with the rhythmic sounds of the Caribbean islands and becoming his signature song. The song helped make "Calypso" the first-ever album to sell over 1 million copies.
Belafonte's TV and movie career began in 1953 and spanned for over six decades. He became a movie star after acting in the film adaption of the Broadway musical, "Carmen Jones." Belafonte won a Tony Award in 1954 as best supporting or featured actor in a musical for "John Murray Anderson's Almanac," becoming the first Black man ever to receive a Tony, and in 1960, he became the first Black man to receive an Emmy Award, for his first solo TV special, "Tonight with Belafonte." Belafonte won three Grammys in the 1960s and earned a Grammy Lifetime Achievement Award in 2000. He was honored with a humanitarian Oscar in 2015, and with an early influence award from the Rock and Roll Hall of Fame in 2022. He also has a star on the Hollywood Walk of Fame, was named a UNICEF goodwill ambassador in 1987, received one of the 1989 Kennedy Center Honors for Performing Arts, and won the National Medal of Arts in 1994. In 2013, he was awarded the NAACP's highest honor, the Spingarn Medal.
Belafonte also made history in the '60s for helping his close friend, the Rev. Martin Luther King Jr., organize the famous 1963 March on Washington, which brought over 250,000 people to the National Mall and culminated in King's iconic "I Have a Dream" speech that ignited the civil rights movement in America. In the '80s, Belafonte helped organize the "We Are the World" recording to benefit famine relief in Africa.
He is survived by his wife Pamela, four children, two stepchildren and eight grandchildren.
——
The Benztown Audio Tribute to Harry Belafonte was written and produced by Thomas Green and voiced by Darren Silva.