MEDIA. NEWS, EVENTS, & EVERYTHING ELSE GOING ON AT BENZTOWN.
16 May 2023
Benztown Debuts Enhancements to Ambush News/Talk Library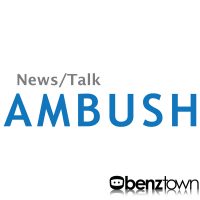 JJ Surma Breaks Through as New Voice of Ambush N/T Library 
LOS ANGELES, CA, May 16, 2023 — Benztown, a global leader in radio imaging, voiceover, programming, podcasting and jingles, announces the debut of Benztown Branding's™ enhanced Ambush News/Talk Audio Imaging Library, featuring the signature voice of JJ Surma, the new voice of the library. The new Ambush library takes the imaging of spoken-word radio stations to the next level in quality, freshness, and resonance. Surma was recently named one the most successful voices in audio branding as a 2023 honoree of the Benztown 50 list of the top 50 voiceover professionals in the U.S. and Canada. The Ambush audio imaging library is written and produced by Scott Phillips, Imaging Director.
Listen to an audio composite of Benztown's Ambush News/Talk audio imaging library at: https://benztownbranding.com/formats/ambush.

Masa Patterson, Vice President, Sales & Operations, Benztown, said: "JJ is world class, serving as the imaging voice for some of the best NT stations in America. Combining him with a production talent like Scott Phillips and retooling the content plan has Ambush positioned as a top of class resource for audio producers in the spoken word space."
Surma commented: "Scotty Phillips is an amazing writer and producer, and Ambush is a legendary resource that I leaned into many times in my years as a Creative Services Director. The opportunity to bring my energy to such a respected and trusted audio library and company has me all fired up!  Let's GO!"
Benztown Branding™ provides the world's most powerful imaging libraries with over 302,890 audio elements, updated and growing daily. Containing shelled produced promos and sweepers, ramploops, branded song intros, artist IDs, listener drops, song hooks, musicbeds, individual imaging workparts and more. Benztown Branding continuously delivers the highest quality audio elements across 21 libraries and 14 formats including AC, Hot AC, CHR, Country, Hip Hop and R&B, Rhythmic, Classic Hits, Rock, News/Talk, Sports, JACK, and Contemporary Christian Music.
Benztown audio production libraries marry massive scale of content with seamless production design and unmatched service and attention by the audio industry's most experienced and talented content creators and producers. Benztown libraries are shelled and customizable, and are updated daily with topical and current content, offering imaging professionals an easy and powerful user experience collaborating with the industry's best.
For more information, visit https://benztownbranding.com/formats/ambush, or contact Masa Patterson at mp@benztown.com and at (818) 842-4600.