MEDIA. NEWS, EVENTS, & EVERYTHING ELSE GOING ON AT BENZTOWN.
13 February 2023
Benztown + NatGeo Announce "Fire of Love" Valentine's Day Radio Tour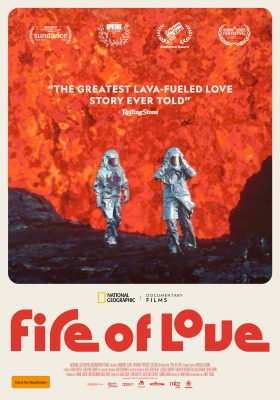 Benztown and National Geographic Documentary Films Bring Director of Oscar-Nominated Documentary FIRE OF LOVE to Radio Stations During Valentine's Day Radio Tour 
Director Sara Dosa Available NOW for Radio Interviews Across the U.S. 

FIRE OF LOVE is Back in Theaters on Valentine's Day for One Night Only! 

WHO: Benztown, a global leader in radio imaging, voiceover, programming, podcasting and jingles, and National Geographic Documentary Films.

WHAT: Benztown and National Geographic Documentary Films are offering radio stations the opportunity to interview Sara Dosa, Director of the Oscar-nominated documentary, FIRE OF LOVE, from National Geographic Documentary Films. FIRE OF LOVE tells the extraordinary love story of intrepid French scientists Katia and Maurice Krafft, who died just as explosively as they lived – capturing the most spectacular imagery ever recorded of their greatest passion: volcanoes. Rolling Stone calls the compelling love story about two volcano chasers "The greatest lava-fueled love story ever told." Awards Daily calls it "A love story for the ages," while Vogue said it is "The Date-Night Documentary we need now.
The radio tour will fill up FAST, so book your interview with Director Sara Dosa NOW!
FIRE OF LOVE is being re-released in theaters on Valentine's Day – Tuesday, February 14, 2023, in markets including New York, Los Angeles, Chicago, Philadelphia, Dallas, San Francisco/San Jose, Washington, DC, Houston, Boston, Atlanta, Tampa/St. Petersburg, Phoenix, Detroit, Seattle/Tacoma, Minneapolis/St. Paul, Miami/Fort Lauderdale, Denver, Orlando, Cleveland, St. Louis, Charlotte, Pittsburgh, Portland, Raleigh-Durham, Baltimore, Indianapolis, San Diego, Nashville, San Antonio, Kansas City, Milwaukee, West Palm Beach, Austin, Oklahoma City, Las Vegas, and more.
WHEN: Now through Tuesday, February 14, 2023,
WHY: To bring a little more love and nail-biting excitement to radio listeners and theatergoers this Valentine's Day!
HOW: To book a radio interview with film director Sara Dosa, contact Crissy Whalin at whalincrissy@yahoo.comor at 310.467.9261.
For more information about the Oscar-nominated documentary and love story, "Fire of Love", visit: https://films.nationalgeographic.com/fire-of-love.
ABOUT FIRE OF LOVE
Katia and Maurice Krafft loved two things — each other and volcanoes. For two decades, the daring French volcanologist couple roamed the planet, chasing eruptions and documenting their discoveries. Ultimately, they lost their lives in a 1991 volcanic explosion, leaving a legacy that forever enriched our knowledge of the natural world. Director Sara Dosa and the filmmaking team fashion a lyrical celebration of the intrepid scientists' spirit of adventure, drawing from the Kraffts' spectacular archive. FIRE OF LOVE tells a story of primordial creation and destruction, following two bold explorers as they venture into the unknown, all for the sake of love.
About National Geographic Documentary Films
National Geographic Documentary Films is committed to bringing the world premium, feature documentaries that cover timely, provocative and globally relevant stories from the very best documentary filmmakers in the world. National Geographic Documentary Films is a division of National Geographic Partners, a joint venture between Disney and the National Geographic Society. Furthering knowledge and understanding of our world has been the core purpose of National Geographic for 133 years, and now we are committed to going deeper, pushing boundaries, going further for our consumers … and reaching millions of people around the world in 172 countries and 43 languages every month as we do it. NGP returns 27 percent of our proceeds to the nonprofit National Geographic Society to fund work in the areas of science, exploration, conservation and education. For more information, visit natgeotv.com or nationalgeographic.com, or find us on Facebook, Twitter, Instagram, YouTube, LinkedIn and Pinterest.
Facebook: @natgeodocs
Instagram: @natgeodocs
Twitter: @natgeodocs
Hashtag: #FireOfLove