MEDIA. NEWS, EVENTS, & EVERYTHING ELSE GOING ON AT BENZTOWN.
24 February 2023
"Chachi Loves Everybody" Drop New Eps With Buzz Knight & Tim McCarthy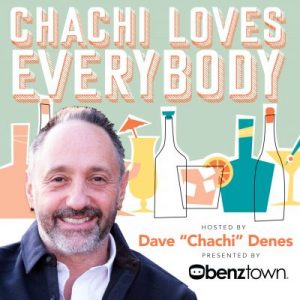 "Chachi Loves Everybody" Podcast Releases Two New Episodes Featuring Top Media Strategists Buzz Knight of Buzz Knight Media and Tim McCarthy, Former SVP of ESPN Radio
Benztown, a global leader in radio imaging, voiceover, programming, podcasting and jingles, announces the release today of two new episodes of Chachi Loves Everybody, an original podcast produced by Benztown and featuring Benztown President and audio brand builder Dave "Chachi" Denes. The first new episode features Chachi's recent video chat from Benztown's Los Angeles studios with Buzz Knight, media strategist and head of Buzz Knight Media. Knight also hosts his own podcast, Takin a Walk. He chats with Chachi, telling stories and sharing insights from his successful radio career, including his work as EVP of Strategy and Innovation for Beasley Media Group, which he joined in 2016 upon the closing of the company's purchase of Greater Media. His passion for great content and winning brands has had an impact on a broad list of outstanding radio properties across the U.S.
The second new episode features Tim McCarthy, an award-winning radio GM and former SVP of ESPN Radio. McCarthy shares with Chachi highlights from his remarkable journey in Talk and Sports radio and reveals his experiences working with top talent and inking major deals. McCarthy joined the Disney Group of radio stations in 1990 serving first as an Account Executive with WPLJ-FM and moving across the hall three years later to become Sales Director for both 77WABC and WPLJ. McCarthy became General Manager for legendary News/Talk station 77WABC in 1999 and presided over the acquisition and start-up of 1560 AM Radio Disney. He held the dual roles of GM for 77WABC and 1050 ESPN Radio. In 2010, he was named Senior Vice President of ESPN Radio Group in February 2010 where he drove the play-by-play business by assessing contracts, increasing revenue, and maximizing scheduling opportunities across the stations and network. In 2021, McCarthy shifted his focus and efforts to raise charitable donations for the Broadcasters Foundation of America, where he helps develop solutions for former broadcasters who experience hardships through no fault of their own.

To listen to the new podcast episodes, visit: https://bit.ly/ChachiLovesEverybody.

Chachi Loves Everybody takes listeners with Denes – better known as "Chachi" – as he sits down for candid conversations with radio's legends, master brand builders, up-and-comers, and innovators in the burgeoning audio space, revealing the true stories behind their successes and their insights into building iconic brands through audio.

On the first new episode of Chachi Loves Everybody, Chachi talks to Buzz Knight about:
– Growing up in Stanford, CT, and listening to New York City radio
– Getting his start at WVUD while studying at the University of Dayton
– The consequences of his mudwrestling stunt
– Having to choose between being an on-air talent and off-air programming
– Becoming a Rock format captain and later SVP of Greater Media
– The benefits and drawbacks of small and large media companies and what the ideal size is
– Starting Buzz Knight Media and learning as he went
– Launching his podcast, Takin A Walk
– And more!

On the second new episode of Chachi Loves Everybody, Chachi talks to Tim McCarthy about:
– How he got into radio by being a driver for an executive
– Getting his foot in the door as an Account Exec at PLJ and excelling early on
– Why selling on talk stations can be easier than on music stations
– Becoming a Station Manager and working with talent like Sean Hannity and Rush Limbaugh
– Being chosen to head ESPN Radio in New York and acquiring rights to multiple franchises including the Islanders, Rangers, and Knicks
– How he was able to use both his sales and programming experience to improve his stations
– Negotiation tips and how to ensure everyone walks away winning something
– What being the SVP of ESPN Radio was like as a sports fan and getting to talk with Bob Iger
– His current work as President of the Broadcasters Foundation of America and how the BFA provides support to people in the industry
– And more!

To support the Broadcasters Foundation of America or learn more, visit: https://broadcastersfoundation.org.

The Chachi Loves Everybody podcast is available now on Apple Podcasts, Google Podcasts, Spotify, TuneIn, Audioboom and other podcast services.