MEDIA. NEWS, EVENTS, & EVERYTHING ELSE GOING ON AT BENZTOWN.
06 April 2021
Benztown Offers Turnkey Radio Merch Shop for Radio Station Websites With Station-Branded Items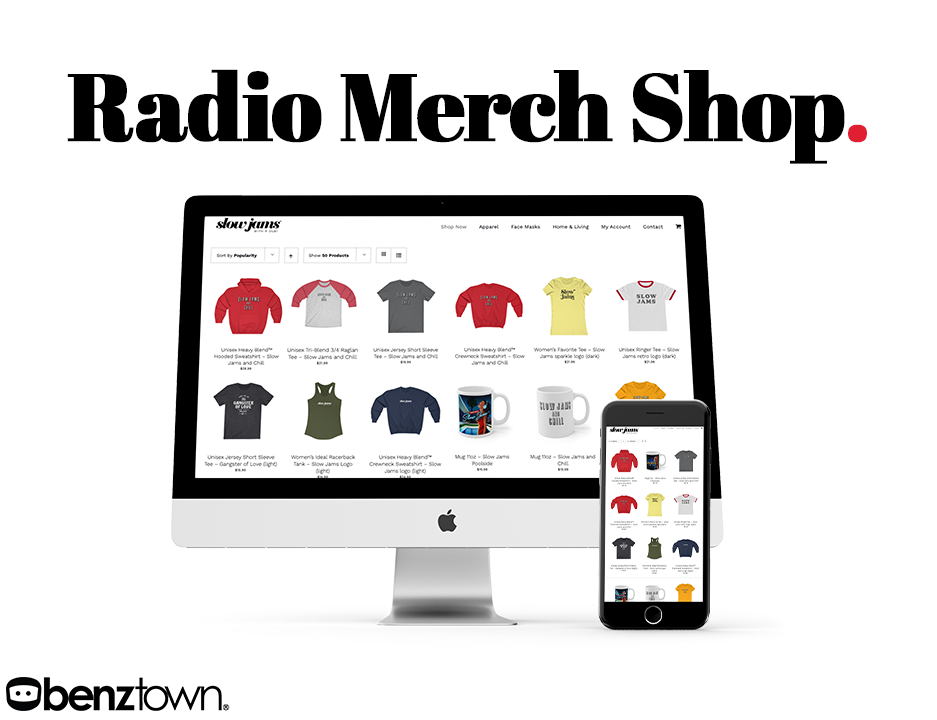 Stations Upload Their Logo/Artwork, Promote Their Merch Shop On-Air and Online, and Collect $5+ Cash for Each Product Sold – Radio Merch Shop Handles the Rest
Benztown, has launched Radio Merch Shop, a service that creates and operates customized "pop-up" online stores for radio stations, where station listeners can buy high quality, station-branded products that they will love and use. Radio Merch Shop items help stations promote their brands and create a new profit center, allowing them to reinvest profits in station operations, for contests and giveaways, or even to turn their merch store profits into a fundraiser for a charitable cause.
Radio Merch Shop builds a customized, branded online merch shop and landing page for each participating station – and handles order fulfillment and inventory from start to finish. All radio stations have to do is upload their logo or artwork, promote their merch shop on-air, on the station website and via social media, and then get paid each month by Radio Merch Shop for profits from their station's online shop. There are no upfront costs, service or set-up fees, and Radio Merch Shop takes overstock, office clutter and hassle out of the equation for stations. Station-branded goods available for sale on each station's merch shop include high-demand items such as face masks, t-shirts, hoodies, and coffee mugs. And here's the kicker: for every product sold, the station earns $5.00 or more. 
Masa Patterson, Vice President, Sales and Operations, Benztown said: "Radio Merch Shop makes it effortless and hassle-free for stations to launch and operate their own pop-up online merch shop that builds their brand and allows them to bank some cash every month. And it only takes 48 hours from the time a station sends us their logo or other artwork to get their merch shop up and running. Stations get a customized, branded online shop and landing page, order fulfillment, including shipping and handling – and get paid every month for each item sold. Sounds like a no-brainer to me!"
For more information, visit: https://benztown.com/program/radio-merch-shop/ or contact Masa Patterson at mp@benztown.com or at 818.842.4600.