MEDIA. NEWS, EVENTS, & EVERYTHING ELSE GOING ON AT BENZTOWN.
11 November 2020
Benztown Partners With Yellowtec to Offer Professional Audio Quality Upgrade to Podcasters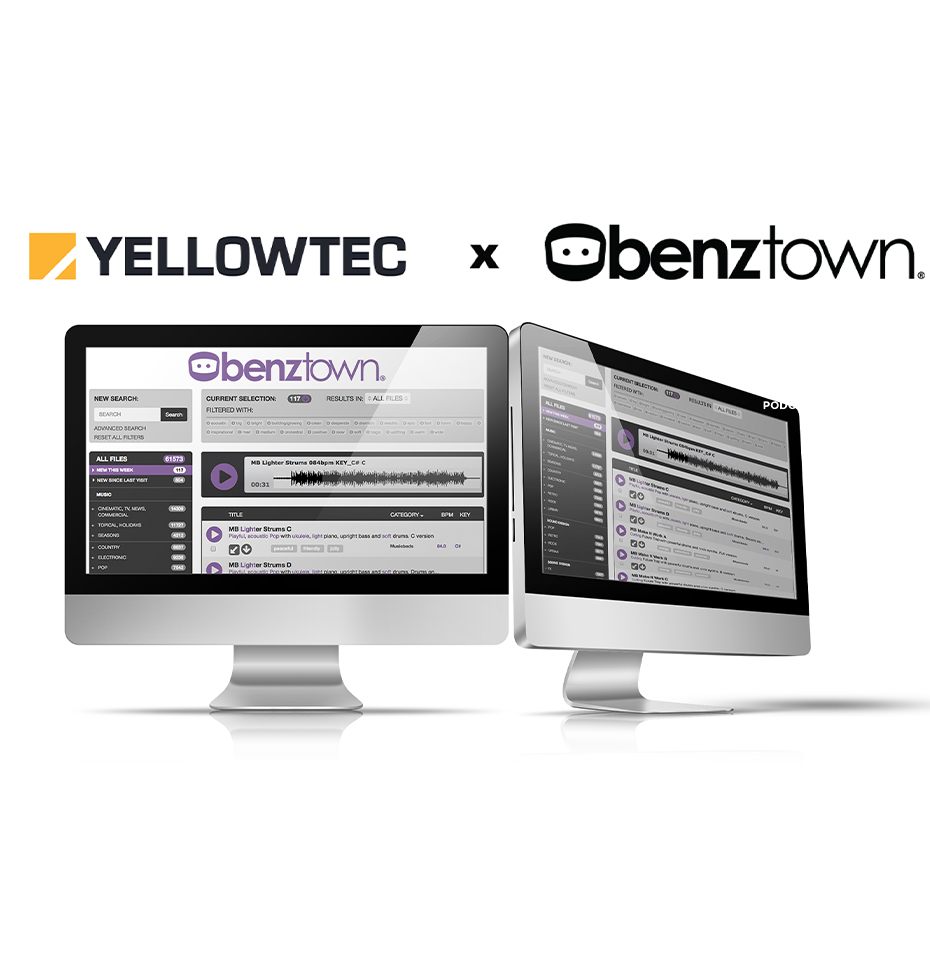 With the Purchase of Every iXm Podcaster Recording Mic From Yellowtec, Podcasters Get FREE Access to Three Professionally Produced Audio Elements From the Benztown Podcast Library and/or a Custom-Produced Intro for $99!
WHO: Benztown, a leading international audio imaging, production library, voiceover, programming, podcasting, and jingles company, and Yellowtec, an award-winning company with a think-tank approach to creating innovative products for the media industry with a higher standard of engineering and design.
WHAT: Benztown and Yellowtec offer podcasters a special combo deal designed to give podcasters an audio upgrade of epic proportions. With the purchase of every iXm Podcaster Recording Mic from Yellowtec, podcasters now get FREE access to three professionally produced audio elements from the Benztown Podcast Library and/or a custom-produced intro for $99. The Benztown Podcast Library is a PodSafe music library built for podcasters that need to produce podcast intros/outros, theme songs, sound effects, and trailers or want Benztown to produce them for you.

WHY: To turn up the sound quality of your podcasts a few thousand notches. Podcasters can now access the same database of professionally produced audio workparts as world-famous radio stations and podcast gurus. The Benztown Podcast Library covers a variety of music genres and formats, with a virtually unlimited range of sounds that allows podcasters to mix and match their favorites with iXm Podcaster voice recordings to meet the sound requirements of real audio enthusiasts.

To fulfill the wishes of the podcasting community, Yellowtec re-thought the iXm Recording Mic used by many radio station and podcast gurus all over the world. iXm Podcaster is a tool affordable for every ambitious podcaster who is longing for superior audio quality. With ease, the integrated LEA Level Energy Arbitration masters every recording environment and secures professional sound – no post production needed, saving valuable time for content creation. Mix and match your favorite Benztown sounds with your iXm Podcaster voice recordings and meet the sound requirements of real audio enthusiasts.
WHEN: Beginning now through December 31, 2020.
HOW: Visit https://benztown.com/yellowtec/ to take advantage of this opportunity to upgrade to professional-grade sound.
FOR MORE INFORMATION: Contact Susan Aksu, Benztown, (818) 842-4600, sa@benztown.com.