MEDIA. NEWS, EVENTS, & EVERYTHING ELSE GOING ON AT BENZTOWN.
13 November 2020
The Coronavirus Radio Ideas Awards Presented to 13 Winners From Five Continents in Virtual Awards Show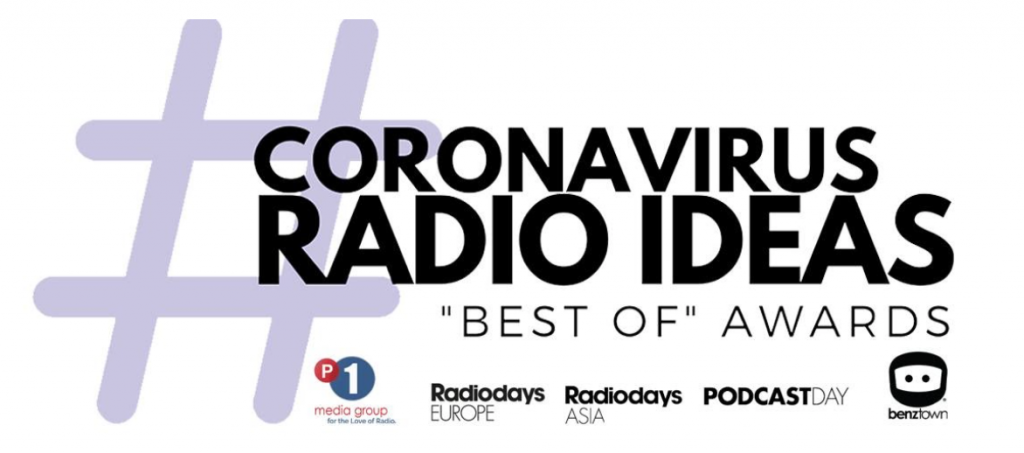 Benztown and P1 Media Group, providing research, strategies and consulting to radio stations worldwide, announced today with Radiodays Europe the winners of The Coronavirus Radio Ideas Awards. The Coronavirus Radio Ideas Awards were presented virtually today at 9:00am EST/3:00pm CET. The Coronavirus Radio Ideas Awards were voted for by professionals in the radio and audio industry worldwide.
Watch the Awards Show here:
The 13 winners in 13 categories represent five continents and are:
Best Social Media Video: "Social Distancing", KIIS 106.5, Sydney, Australia
Best Virtual Event: "Up Yours Corona", BBC Radio 1, UK
Best Parody: "Wash for Me", FLY FM, Kuala Lumpur, Malaysia 
Best Virtual Concert: "We Are One Africa Concert ", NRG Radio, Kenya
Best Station Promo: "Keeps New York Connected", 1010 WINS, New York U.S.A.
Best Community Service: "Let's Make Some Noise", Global Radio, UK (Capital, Capital Xtra, Heart, Smooth, X, LBC, Classic FM & Gold) 
Best Social Media Visual: Magic 92.5, San Diego, U.S.A
Best Community Spirit: "Share the Kindness", BFBS, Scotland
Best Sales Promotion: "I Want Free Ads", NRG Radio, Kenya
Best Mega Promotion: "Times Like These", BBC Radio 1, UK
Best Reporting/Journalism: "Coronavirus Update", NDR, Hamburg, Germany
Best Podcast, Creativity and Entertainment:  "Wash Your Hands", BBC Radio 4, UK
Best Podcast, Long-form Storytelling: "Buscando Una Luz", Podium Podcast, Spain
Andreas Sannemann, Chief Executive Officer, Benztown, remarked: "In uncertain times, where the world seems to work entirely remotely, the stress on individuals seems to be at an unparalleled high. In that light, we are especially thrilled to honor the most innovative, influential and creative radio ideas and talent with the Coronavirus Radio Ideas Awards. Thanks to all the radio stations, on-air talent and radio lovers who submitted their ideas. You are impacting your community and society as a whole in a positive and meaningful way."
Ken Benson, Partner, P1 Media Group, noted: "The Coronavirus Radio Ideas Awards all began with an idea. Back in mid-March, we felt compelled to do something, somehow, to help radio navigate its way through the oncoming crisis. We knew there was no programming playbook for COVID-19, yet listeners all around the world were depending on radio to keep them informed and entertained through the pandemic. We had a gut feeling that if we could create a hub for stations to share and exchange the brilliant content they were creating, those ideas would inspire other stations, and together we would find our way. Today's awards were all about recognizing radio's incredible global response to the Coronavirus."
The jury panelists who voted on the winners of the Best Coronavirus Podcast are: Kellie Riordan, Australia, Director, Deadset Studios and PodSquad Newsletter; Martin Liss, Germany, Media & Management Consultant; Adèle Humbert, France, Investigative journalist and independent podcast producer; Mike McVay, USA, President, McVay Media Consulting; Valerie Geller, USA, International Broadcast Consultant and President, Geller Media; Tor Arnbjörn, Denmark, CEO, Rakkerpak Productions and Co-Founder, Nordic Podcast Academy; and Faima Bakar, UK, award-winning journalist, Metro. Joining them on the judging panel will be Ken Benson, Partner, P1 Media Group; Anders Held, Co-Founder, Radiodays Europe; and Andreas Sannemann, CEO, Benztown. 
FOR MORE INFORMATION: Contact Susan Aksu at Benztown at sa@benztown.com or (818) 842-4600.