MEDIA. NEWS, EVENTS, & EVERYTHING ELSE GOING ON AT BENZTOWN.
20 April 2022
Benztown Releases 8th Annual Benztown 50 List of Top VO Pros in Radio
Benztown Honors Legendary Voiceover Talent Dave Foxx With the Chris Corley Lifetime Achievement Award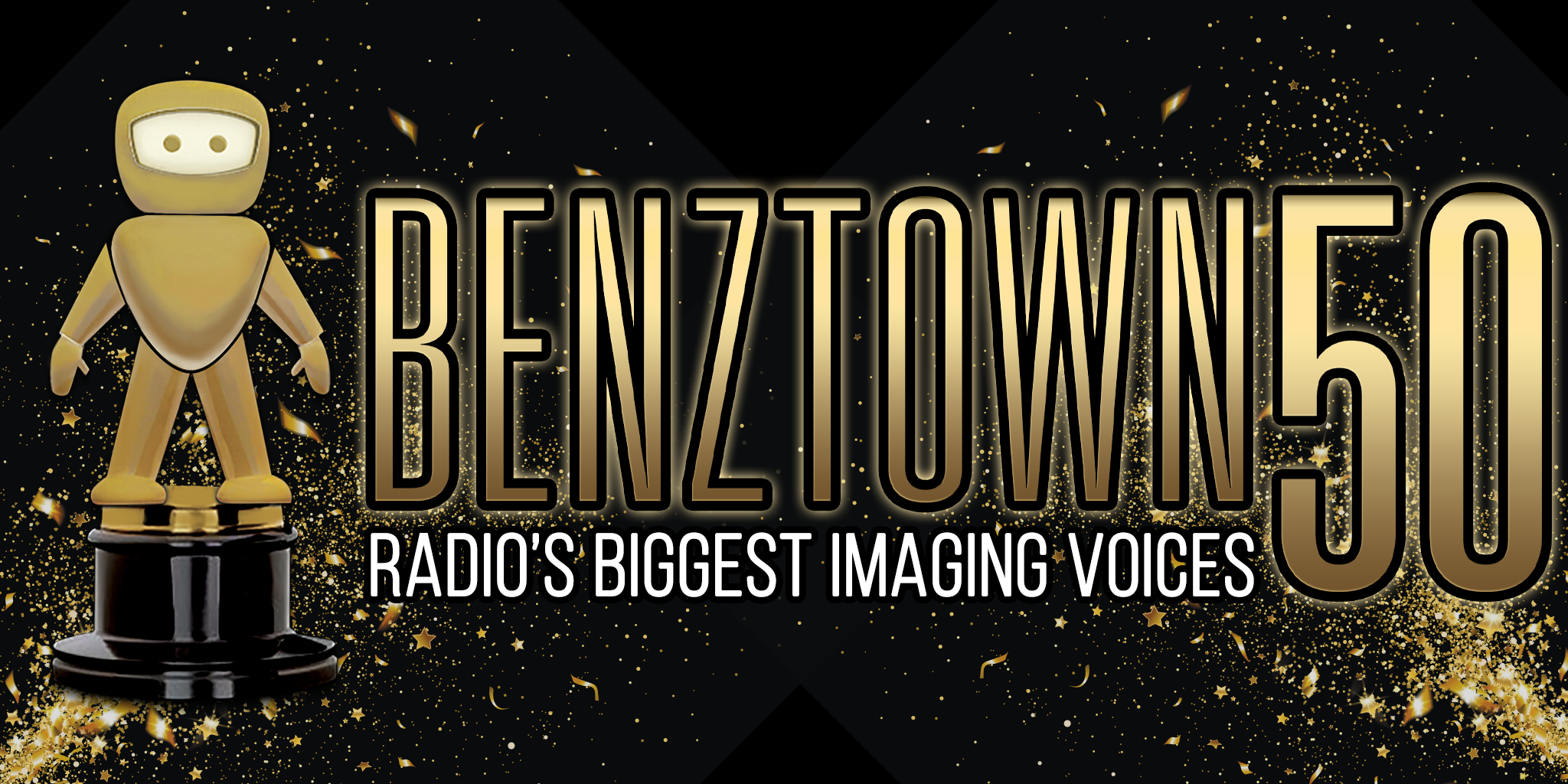 Benztown today released its eighth annual Benztown 50 List of Radio's Biggest Imaging Voices, the radio industry's exclusive listing of the top 50 voiceover artists in the U.S. and Canada. Benztown enlisted P1 Media Group to compile and analyze industry data that was the foundation for the list. 
The Benztown 50 list for 2021 reflects increased industry participation and interest, with more than 300 U.S. and Canadian radio groups providing information for this prestigious annual list. The Benztown 50 was analyzed and evaluated by P1 Media Group's proprietary algorithm, and is based on several criteria, including number of radio station affiliates, station size and market. 
Watch the 2021 Benztown 50 Awards:
A special highlight of this year's Benztown 50 is the presentation of the voiceover industry's highest honor, the Chris Corley Lifetime Achievement Award, which will be presented to legendary voiceover talent, Dave Foxx. A multi-year Benztown 50 honoree, Foxx is currently the voice of nearly 60 radio stations across the U.S. and around the world from Durbin to Cork, Columbo to Amsterdam, Nairobi and Mombasa to London, Beirut, Grand Cayman and New York. Foxx started his radio career as a DJ and part-time producer at KAYK-AM/FM in Provo, UT, followed by a 10-year stint as DJ and producer at WPGC in Washington, D.C. Just before PGC switched formats from CHR to Urban, he moved to B-104 (now Z-104) in Baltimore, MD, as Midday personality and de facto Production Director. Six months later, he got the call from New York's world-famous Z100, where right away, he jumped into the Production Director's chair and within a few months, the Creative Services Director position, where he stayed for 30 years. 
Dave "Chachi" Denes, President of Benztown, said: "The best voiceover captures and holds listeners' attention and defines the very best brands in a memorable and instantly recognizable way. As an industry leader in producing the highest quality radio voiceover, imaging and audio branding, Benztown is proud to recognize our industry's most accomplished voiceover talent across the U.S. and Canada. Eight years ago when we launched the Benztown 50, our goal was to celebrate the top voiceover professionals in our industry and highlight the important role that voiceover talent plays in connecting with audiences and building powerful audio brands. In an environment where there is more competition for consumer attention than at any other time in history, compelling voiceover has never been more essential to high-performing audio brands. We congratulate the incredibly talented and dedicated people who comprise this year's Benztown 50 and honor them for continuing to raise the bar for outstanding achievement in voiceover and audio branding." 
Denes added: "It is also our tremendous privilege to present the inimitable Dave Foxx with the Chris Corley Lifetime Achievement Award for his significant contributions to our industry and profession."
The following voiceover professionals comprise this year's Benztown 50. 
2021 Benztown 50 (in alphabetical order):
Amanda Madi
Ann DeWig
Austin Keyes
Blaze Berdahl
Brian Christopher
Brian Lee
Cayman Kelly
Chad Erickson
Cousin Deke
Damon Oaks
Dan Kelly
Dave Kampel
David Kaye
Donna Frank
Dr. Dave Ferguson
Erin Setch
Harry Legg
Heather Walters
Jake Kaplan
Jeff Berlin
Jen Sweeney
Jim Cutler
Jim Merkel
JJ Surma
Joanna Stadwiser
Joe Cipriano
John Reilly
John Willyard
Josh Goodman
Jude Corbett
Jules Riley
Kelly Doherty
Lisa Keys
Malcolm Ryker
Mark Rider
Melody Sharp
Miles Hlivko
Neil Wilson
Pat Garrett
Pete Gustin
Rachel McGrath
Rena-Marie Villano
Scott Fisher
Scott Matthews
Sean Caldwell
Steve Kamer
Steve Stone
Steve Taylor
Victor Lisle
Wendy K Gray
This year, Benztown recognizes seven additional up-and-coming voiceover professionals as "Ones to Watch in Voiceover". They are:
Chris Ryan
Joe Cappelletti
Matt Fogarty
Pio Ferro
Rafael Ferrer
Robyn Moler
Sherri Drewe
To view the 2021 Benztown 50 list online, please visit: https://benztown.com/bz50/.
For more information, please visit: benztown.com or contact Masa Patterson at Benztown at mp@benztown.com or (818) 842-4600.