MEDIA. NEWS, EVENTS, & EVERYTHING ELSE GOING ON AT BENZTOWN.
04 April 2022
MTV Legend Matt Pinfield, Host of "Flashback," Recognized as "International Rock Icon of the Year"
Benztown announces that Matt Pinfield, host of the country's number one retrospective radio program, Flashback, was honored Thursday, March 24th as the first-ever "International Rock Icon of the Year" at A&R Worldwide's Global Rock Summit 2022. Pinfield accepted the award at the official Global Rock Summit opening night reception at SIR Studios in Hollywood.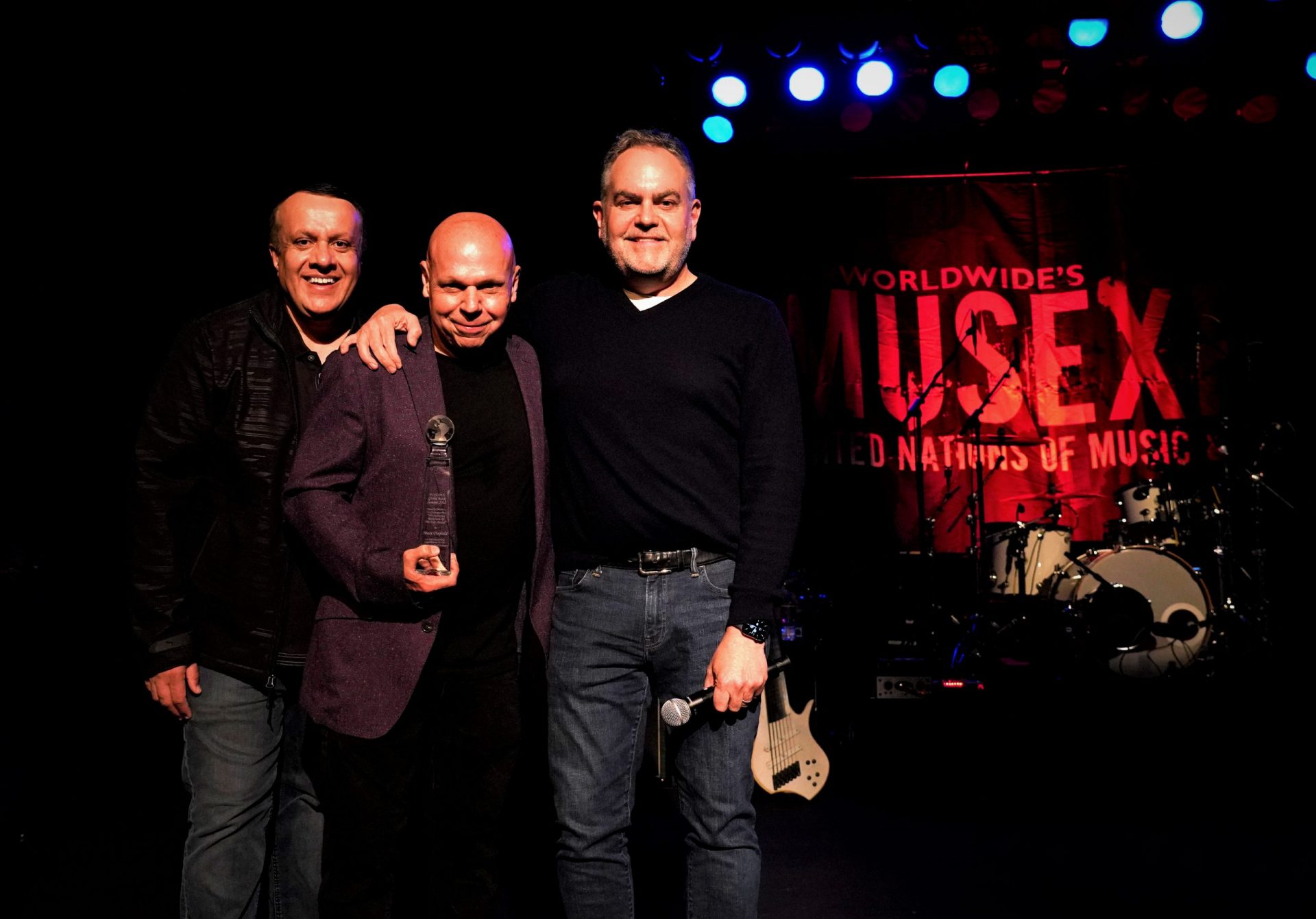 The Global Rock Summit 2022 honors an individual who has left an indelible mark on the international music and media industry with their immeasurable positive contributions to the betterment of the Rock community. Pinfield, a Rock insider, DJ, and MTV legend, has hosted Westwood One's syndicated Flashback radio program since 2012. He was also a DJ on KLOS in Los Angeles and celebrates nearly 40 years in the music and media business.
Pinfield received his official award from multi-media veteran and former MTV, Program Director KROQ Los Angeles, and co-Founder Revolt TV executive Andy Schoun, as well as an official proclamation from the City of Los Angeles signed by Mayor Eric Garcetti and the entire council of the "City of Angels" for his contributions to key touchpoints in the world of rock, as well as a "Star Plaque" from Leron Gubler, President & CEO, Hollywood Chamber of Commerce.
As a groundbreaking DJ and radio programmer, popular TV host, successful record label executive and best-selling author, Pinfield's lifelong passion for music, combined with his encyclopedic knowledge of the Rock format and peerless interviewing skills, have culminated in a remarkable career that continues to thrive.
In 1980, while still in his teens, Pinfield signed on as a college radio DJ at Rutgers University's WRSU, and in 1984 he joined WHTG, a pioneering New Jersey Modern Rock station, where he soon became Music Director, winning the Gavin Award for "Music Director of the Year – Alternative" two years in a row (1991-1992). In 1993, he moved from radio to television, joining MTV as host of 120 Minutes, and quickly became one of the most popular personalities in the channel's history, going on to host several of his own programs (MattRock, Pinfield Presents, Pinfield Suite and Stump Matt, to name just a few) and more than 100 specials. 
In 2001 Pinfield was named Vice President A&R and Artist Development at Columbia Records where, among many others, he had the pleasure of working with one of his lifelong heroes, David Bowie. Over the years, Matt has interviewed virtually every major rock personality, from legends like Paul McCartney and The Rolling Stones to such contemporary superstars as Dave Grohl and The Killers. In fact, The Killers based their song, "All These Things I've Done," on Pinfield's life – and Pinfield then named his autobiography after the song. He has been honored by the Rock and Roll Hall of Fame, was a member of the GRAMMYS/Recording Academy Board of Governors and continues to be the "go-to guy" as an expert on Rock music, making frequent film and TV appearances, as well as continuing his amazing work in radio. 
For more information, or to get Flashback for your station, contact Todd Alan, Westwood One, at 212.735.1107 or at talan@westwoodone.com.