MEDIA. NEWS, EVENTS, & EVERYTHING ELSE GOING ON AT BENZTOWN.
11 November 2021
Free Webinar for Radio Pros Outlining "5 Ways You're Leaving Digital Dollars on the Table"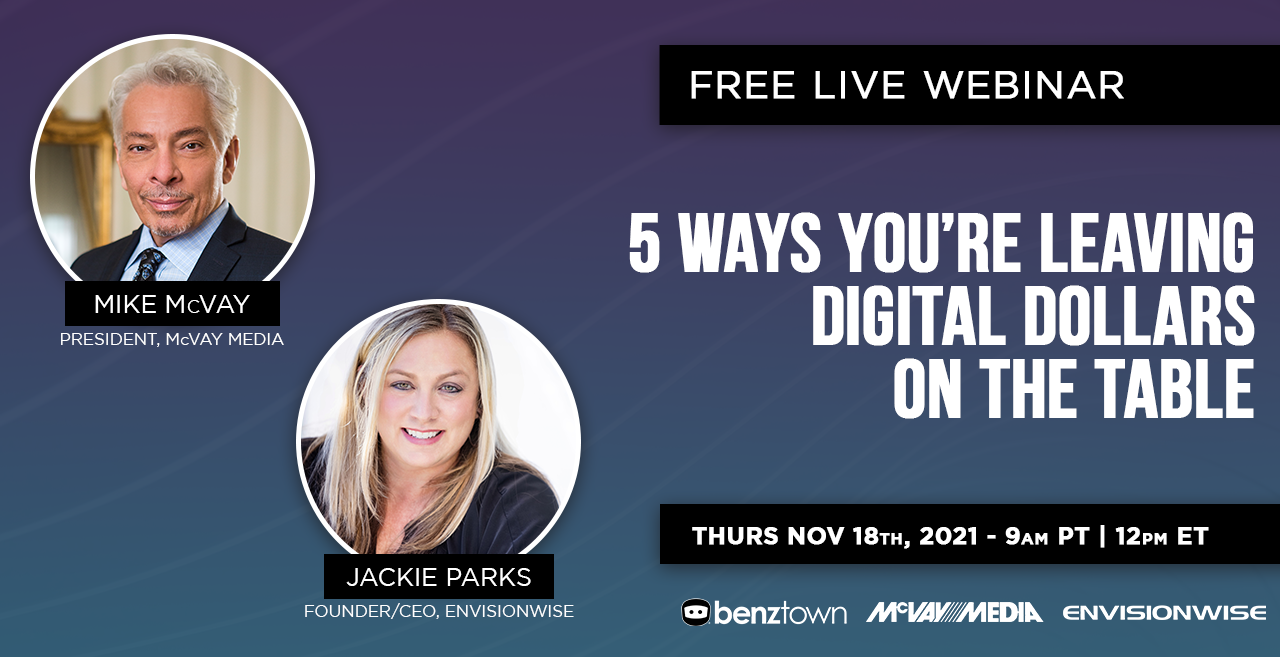 Free Webinar to Reveal Specific Steps to Increase Digital Revenue from Station Websites and Will Feature Mike McVay, McVay Media, and Jackie Parks, Envisionwise
WHO: Benztown, a global leader in radio imaging, production library, programming, jingles and voiceover services with over 2,900 affiliations on six different continents, and Envisionwise, a leading web design and development company serving radio since 2001.
WHAT: Mike McVay, President, McVay Media and Jackie Parks, Founder/CEO, Envisionwise, will host a free webinar for radio professionals, "5 Ways You're Leaving Digital Dollars on the Table." The 45-minute webinar will provide specific tools for optimizing station revenue through station websites, including blogs, ad inventory, contesting, sponsorships, and e-clubs.

WHEN: Thursday, November 18, 2021, 9:00am PT/12:00pm ET.
WHERE: Register for the Zoom webinar fill out the form below or at this link: https://benztown.typeform.com/to/xObPLPln
WHY: To learn actionable steps to increase digital revenue from radio station websites, including:
1. Website
2. Ad Inventory
3. Contesting
4. Sponsorships
5. E-Club
FOR MORE INFORMATION, CONTACT: Susan Aksu, Benztown, at sa@benztown.com or at: (818) 842-4600.