MEDIA. NEWS, EVENTS, & EVERYTHING ELSE GOING ON AT BENZTOWN.
16 September 2020
Benztown + McVay Media Podcast Networks Presents MANY SCREENS, BIG PICTURE Podcast Hosted by Comscore Senior Media Analyst Paul Dergarabedian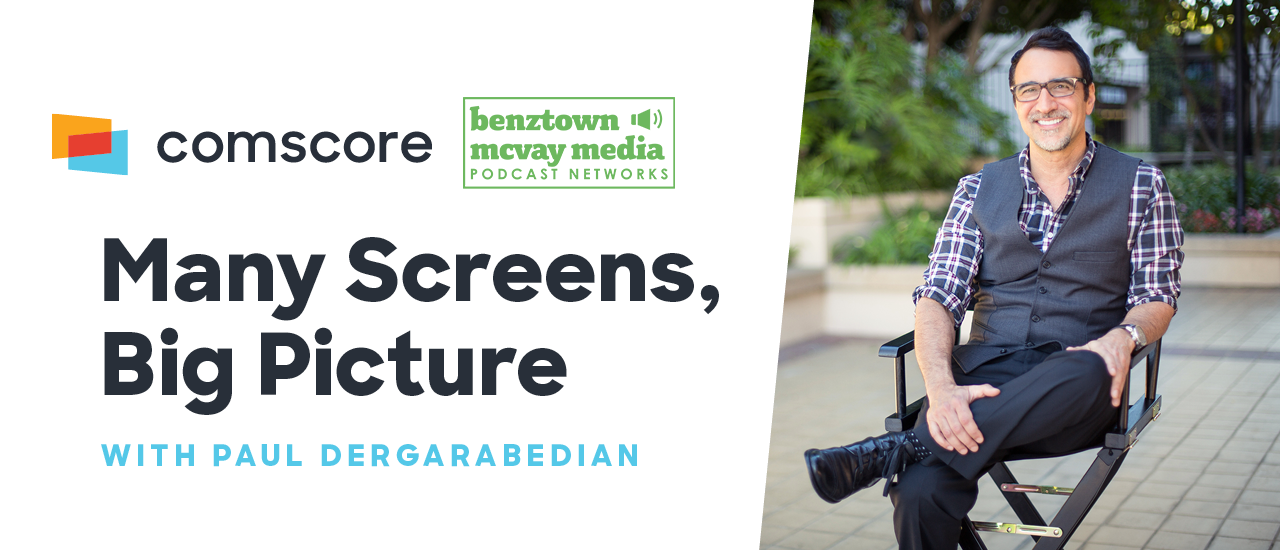 MANY SCREENS, BIG PICTURE Delves Into Film and Entertainment Trends as Technology and Consumer Behaviors Evolve
Benztown + McVay Media Podcast Networks announces the re-launch of MANY SCREENS, BIG PICTURE, a podcast series that explores trends and things to watch for in the evolving film and entertainment landscape. Host Paul Dergarabedian, Senior Media Analyst for Comscore and the film industry's most recognized authority for media-based information and analysis, sits down with the film and entertainment industry's leading experts to uncover how a multitude of new devices is changing how people access entertainment and watch movies. MANY SCREENS, BIG PICTURE is available now on Apple Podcasts, Google Podcasts, Spotify, TuneIn, Audioboom and other podcast services.
Hear the trailer for MANY SCREENS, BIG PICTURE:
In his role as Senior Media Analyst for Comscore (NASDAQ: SCOR), a trusted partner for planning, transacting, and evaluating media across platforms, Paul Dergarabedian provides expert analysis on results that come from Comscore's industry-leading movie, digital and television measurement services. Considered one of the industry's most accomplished experts, he founded Media By Numbers in 2006, which later became a division of Hollywood.com, where he served as President of the box office division until October 2013 when he joined Rentrak (now Comscore).
Upcoming episodes of MANY SCREENS, BIG PICTURE will feature: Jack Maxwell, host of Booze Traveler on the Travel Channel; Ben Hicks, nature photographer; and Jason Guerrasio, Senior Entertainment Reporter at Insider.
In previous episodes, Dergarabedian talks to guests including: Chris Aronson, President of Domestic Distribution, Paramount Pictures; John Fithian, President & CEO, NATO; Christy Lemire, film critic and a correspondent for "The SoCal Scene" on Spectrum News 1; Adam Weissler, Emmy Award-winning producer, writer, talent booker and music correspondent; Scott Mantz, correspondent, film critic and five-time Emmy-nominated producer; Carl Gilliard, thespian, writer, director and producer; Max Friend, Founder, Filmbot, a modern website and ticketing point-of-sale platform for independent cinemas; and David DuBos, award-winning filmmaker and screenwriter. 
Paul Dergarabedian, Host, MANY SCREENS, BIG PICTURE, said: "In order to take the MANY SCREENS, BIG PICTURE podcast to the next level, we've assembled this dream team of Comscore and Benztown + McVay Podcast Networks in order to build what I know will be a fun, rollicking, informative and enlightening series of shows that will look at all aspects of media and entertainment with top guests from across the industry." 
Dave "Chachi" Denes, Executive Producer, Benztown + McVay Podcast Networks, commented: "Comscore is the gold standard for movies measurement, and Paul is the voice of the box office and is featured regularly in prestigious media outlets around the world, including Access Hollywood, CNBC and the Los Angeles Times. Movie fans can't wait to get back to the cinema and MANY SCREENS, BIG PICTURE will be there to cover it!"
Mike McVay, Executive Producer, Benztown + McVay Podcast Networks, added: "We're excited to have this already successful podcast join our network. Paul's list of guests reads like an entertainment encyclopedia. A weekly must listen."
FOR MORE INFORMATION: Contact Susan Aksu at Benztown at sa@benztown.com or (818) 842-4600, or Neil Ripley at Comscore at nripley@comscore.com or (734) 717-9910.