Behind the Mic: Jeff Rechner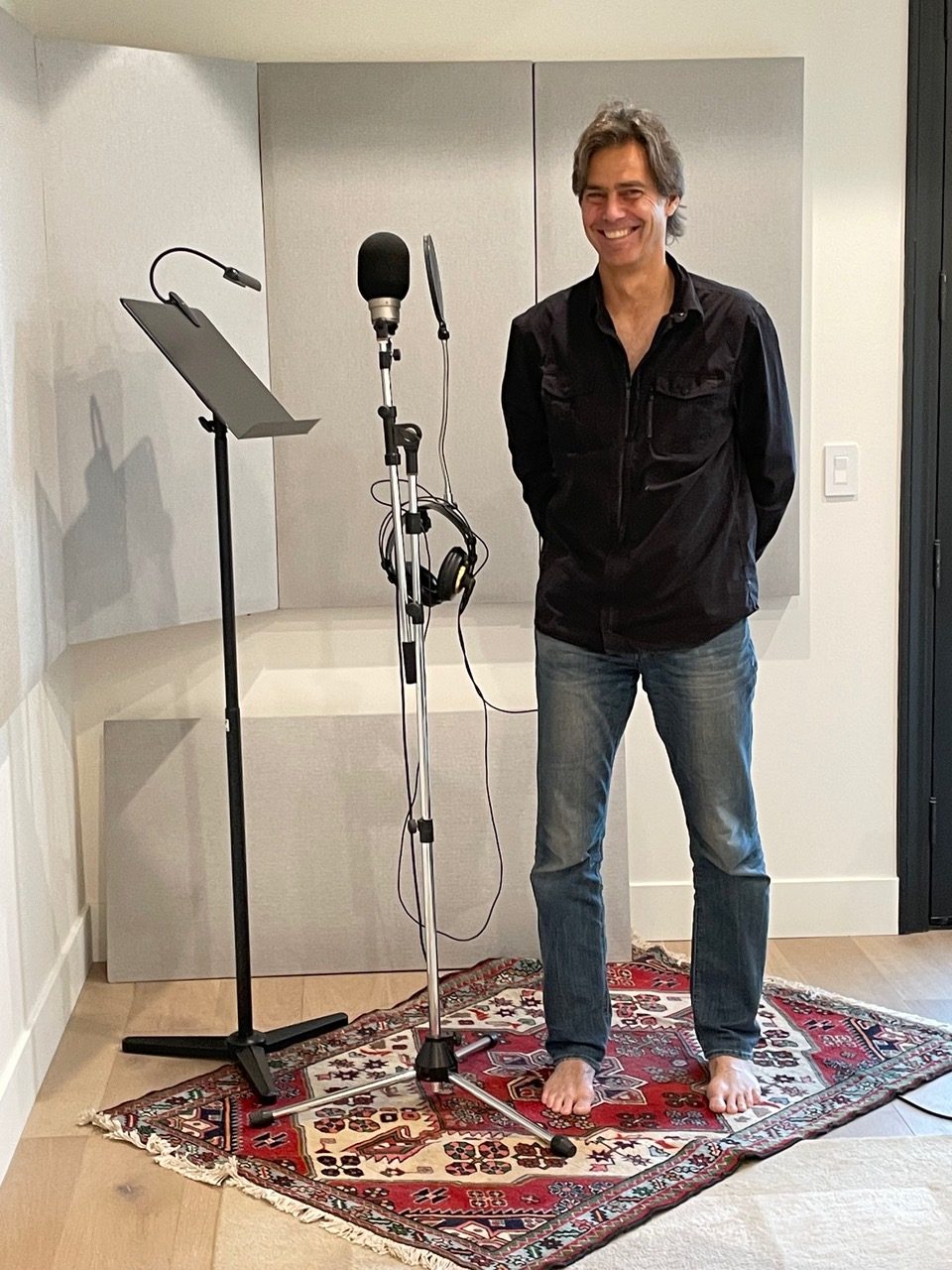 Jeff Rechner has been a comedy voice on SNL, all kinds of late-night shows with guys named Jimmy or Bill, the in-show voice of NBC's "Small Fortune" (did you watch it? If so, thanks for doubling our audience), and prominent sports voice doing intros for Fox College Hoops, College Football championships, and Inside the Big East. He's also a promo and imaging voice for TV and…aha! Radio! Thus this little featurette.  
What radio VO work have you done in the past (stations/markets)?
Voice of News/Talk KLIF in Dallas, national voice of the Nash Icon Country format for Westwood One, CIXL/CKYY Welland, KXPZ Las Cruces, CKNX Wingham, E88.3 Colombo, Sri Lanka, and was the national voice for CityTV across Canada, but then, that's not radio is it? Just had to sneak that one in.
What are you up to presently (freelance/on-staff at a station)?
Busy doing lots of TV stuff: Energizer's film noir voice ("Little Miss Cupcake never stood a chance"); in-show voice of NBC's "Small Fortune"; promo voice for The Simpsons on FXX; voice of Fox Sports' "Inside the Big East"; have done comedy voiceovers for SNL, Jimmy Kimmel Live, Real Time with Bill Maher, The Ellen Degeneres Show, and The Tonight Show; voice of Taco Bell's "Web of Fries" and Sling TV's "Slingers" campaigns. Lots of promo and affiliate TV promo voiceover as well.
What do you love about your job?
I love working with my agent, Nate Zeitz at CESD. While that's partly true, it's mostly so Nate will go find me some more radio imaging gigs.
How did you get started as a VO actor?
Did radio for a hundred years. Somebody suggested I might want to make some real money instead.
What was your first gig? Any memorable ones since then?
First radio gig? On-air at CKYL in Peace River, Alberta before microphones were actually invented. Voiceover gig? Voicing commercials at CKYL before listeners were actually invented.
Who are your VO idols/mentors?
Liev Schreiber, Will Lyman, and Will Arnett. Really, anybody named Will. And too many dead guys. Damn, I'm getting old.
If you weren't doing voiceover, what else do you think you'd be doing for a career?
I would be the play-by-play voice of the LA Kings, but some young punk named Alex ruined that ambition (I actually WAS the original hockey play-by-play voice for the WHL's Red Deer Rebels but then discovered there were places in this world that weren't -35 in the winter).
What did it feel like the first time you heard your voice on the radio/television?
"Who's that squeaky kid, and why did they replace me with him? Oh…wait a minute…"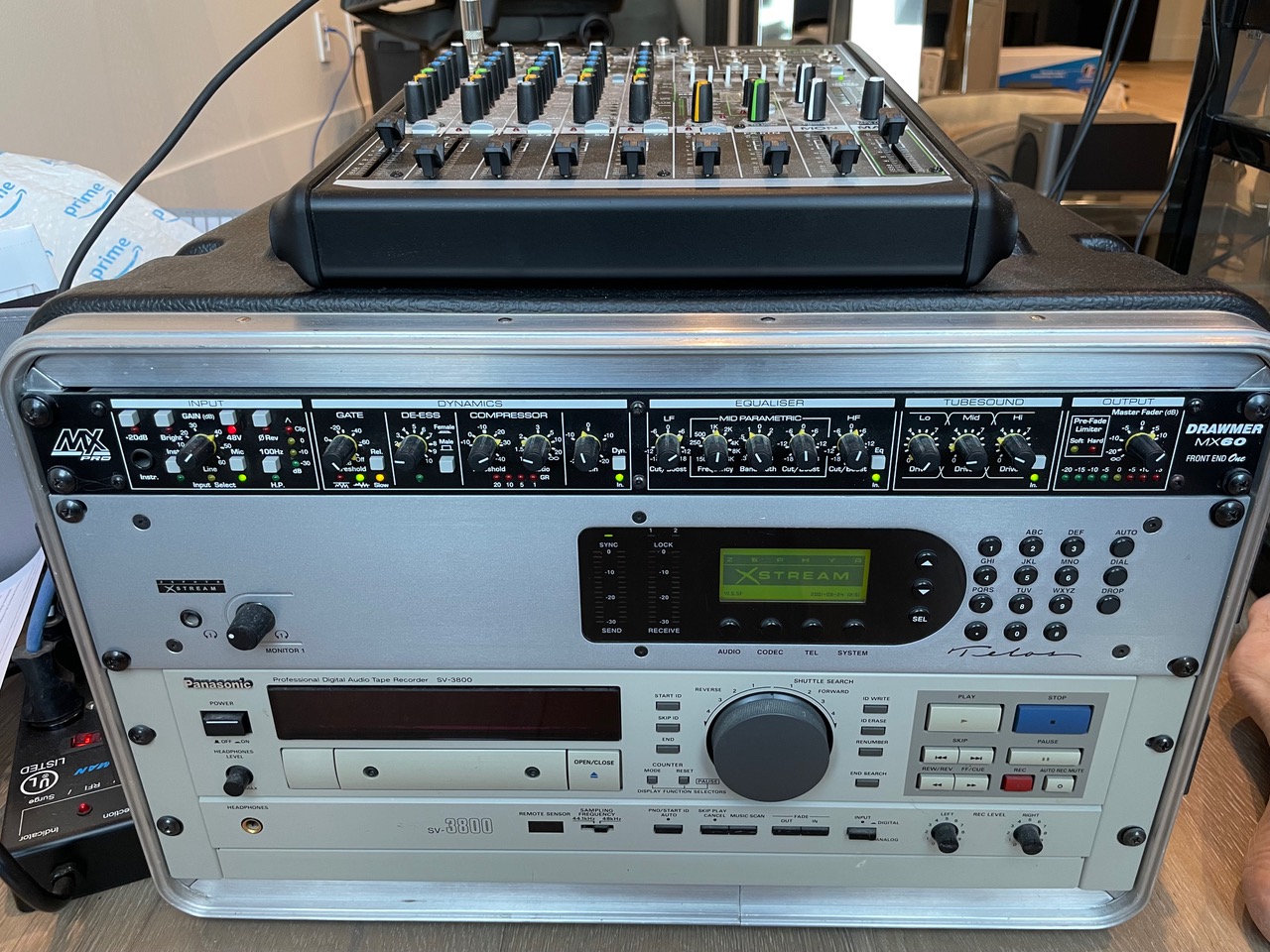 Gearheads, please look away.
How has new technology changed the way you work?
It hasn't. I worked in Canada for years and we HAD to be ahead of the technological curve in order to work for US clients. So home studios, ISDN, Source Connect, all that stuff that is now just part of the business, was in vogue years ago up there. The new technology now that affects me the most is that Apple changes up its USB and USC and Thunderbolt and Lightning and Very Very Frightening cables about every ten minutes, so I have to work that much harder just to pay for all the new versions. 
What gear do you use on the road? In your studio?
Road?! Are you crazy? I haven't left home since the pandemic started. If it ever ends, I've got a Grace M101 Preamp and lots of stuff I pile into a carry-on that the TSA invariably suspects is some kind of explosive device.
Home: Neumann TLM103, Drawmer MX60 Tube Sound, Mackie ProFX8, UA Arrow Audio Interface, MacBook Pro with Source Connect and lots of wires and plugs and electric-y stuff.
Which production system do you use and why? Any favorite plugins?
Twisted Wave. Simple to use. Best customer service ever. I emailed "the company". Thomas, the owner, emailed me back about two minutes later. Solved the crisis. He's done that every time. Amazing.
Plug-ins: UAD Teletronix LA-2. Makes me almost sound important.
Have you ever had a voice coach? Would you recommend it?
Like everybody else in the free world, I've worked with Marice Tobias. She was invaluable in upping my game, making me aware of trends in the industry, and saving me from potential bankruptcy and the inevitable unraveling of my life. But would I recommend her? Meh…sure.
How do you schedule/prioritize your work? How much time do you spend auditioning for new work?
I don't schedule. My clients schedule me. I work around the clock until somebody says stop. Or somebody says, "Hey, want to come play tennis?" When I'm not doing work, I'm either harassing somebody for new work or auditioning for work. So call me…send me work. Now. I'm here.
How do you market your services to potential clients?
Aside from Nate, I have an entire crew of the best agents in the world at CESD and my manager, Vinnie Biunno at Amplify Artists Group, also takes a bunch of my money. Oh right…and helps market me. Yeah, that's it. 
I still make a lot of annoying phone calls myself, I'm constantly emailing my previous clients as to my latest voiceover project and hey, do you need something? I fill out Q&A's on Benztown's website in the far-fetched hope that a new client will read this and hire me as their next imaging voice.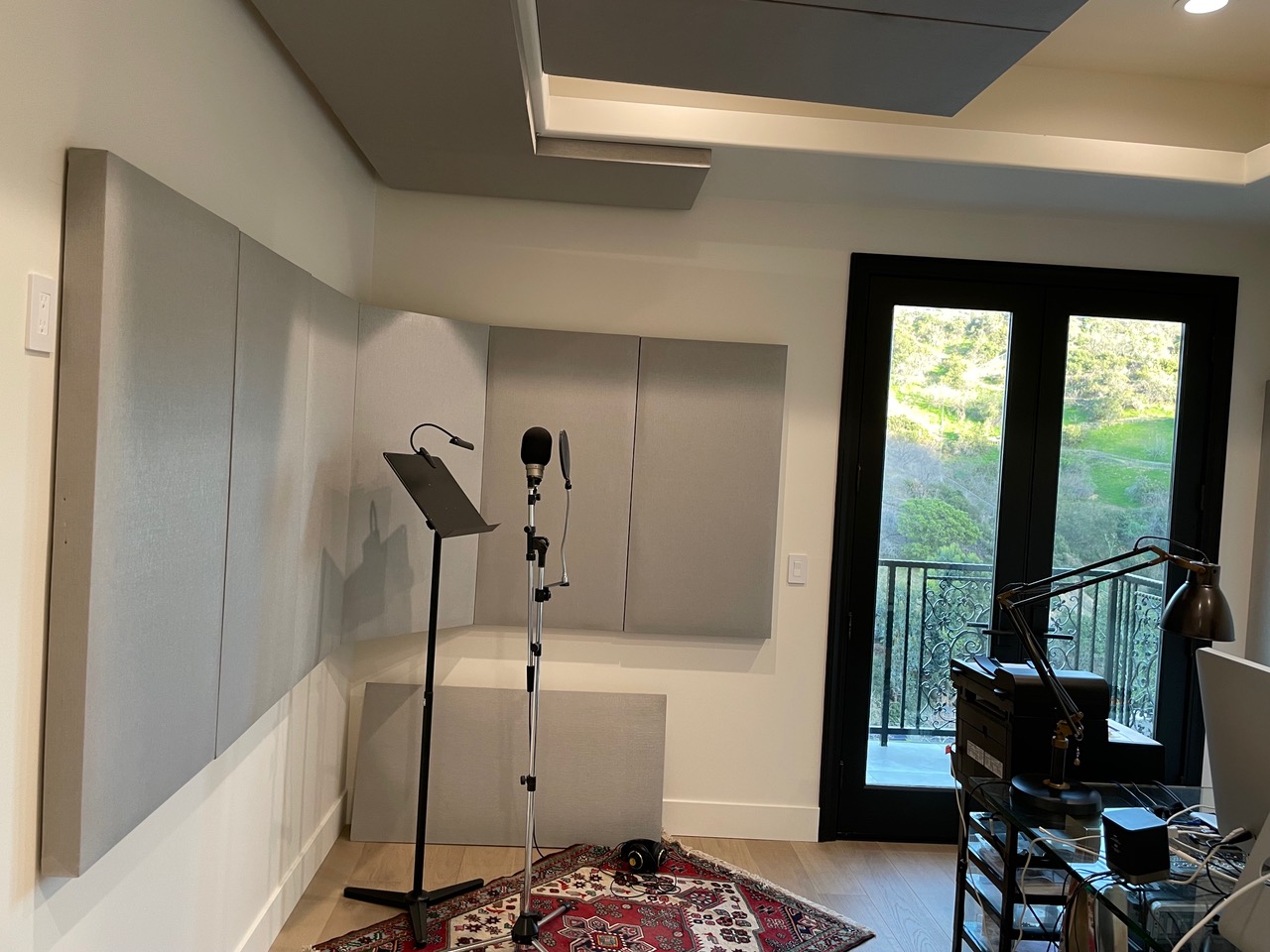 Where Jeff makes VO magic happen!
When it comes to VO work, studio & gear, what are your most ingenious methods/discoveries for saving time and cash?
When you move, take your wall panels with you.
What is the best voice processing trick or voiceover technique everyone should know?
If I had a trick, would I want all my competition to know about it? I don't think so. That's just my way of saying I don't know any tricks.
Do you have a different approach to reading radio imaging copy as opposed to TV/radio commercial ads?
Yes. And no. Each project, each piece of copy is unique. I guess voiceover artists sort of have a template from which they work, but no two radio stations are alike any more than two entirely unrelated consumer products are alike. Therefore, it's nice to get to the actual heartbeat of the client (in this case, the radio station) and, more specifically, its audience.
Can you offer 3 helpful tips for newbies trying to make it in the voiceover industry?
Treat this as your career. It has to become your priority. Have an indefatigable work ethic. Listen to successful voices. If you outwork your competition, you stand a half-decent chance of being at least moderately successful. There are waaaaaay more talented voiceover artists out there than me, but I can almost guarantee you, none of them work as hard as I do at just trying to keep the ship afloat.  
If you could go back in time and hang out in any decade which one would you go back to and why?
I would go back to the '80s to retrieve that Hawaiian shirt Jay Hamilton "borrowed" from me at Expo 86.
Favorite 2 pizza toppings?
My wife Marzia makes the best homemade pizza ever, so my favorite two toppings are whatever she tells me they are. That said, I'm still an awful human being for liking the ill-fated combination of Pepperoni and Pineapple. RIP Anthony Bourdain.
If you could invite one person to dinner, living or dead, who would it be?
Our son Sebastian Rechner, up from the guesthouse, to see what film or multimedia project he's scoring.  You see what I did there, right?
Connect with Jeff:
Jeff Rechner is Represented by CESD and available for barter through Benztown.