MEDIA. NEWS, EVENTS, & EVERYTHING ELSE GOING ON AT BENZTOWN.
18 August 2020
New Adults-Only Podcast with Leyna Nguyen Joins the Podcast Network Line-up!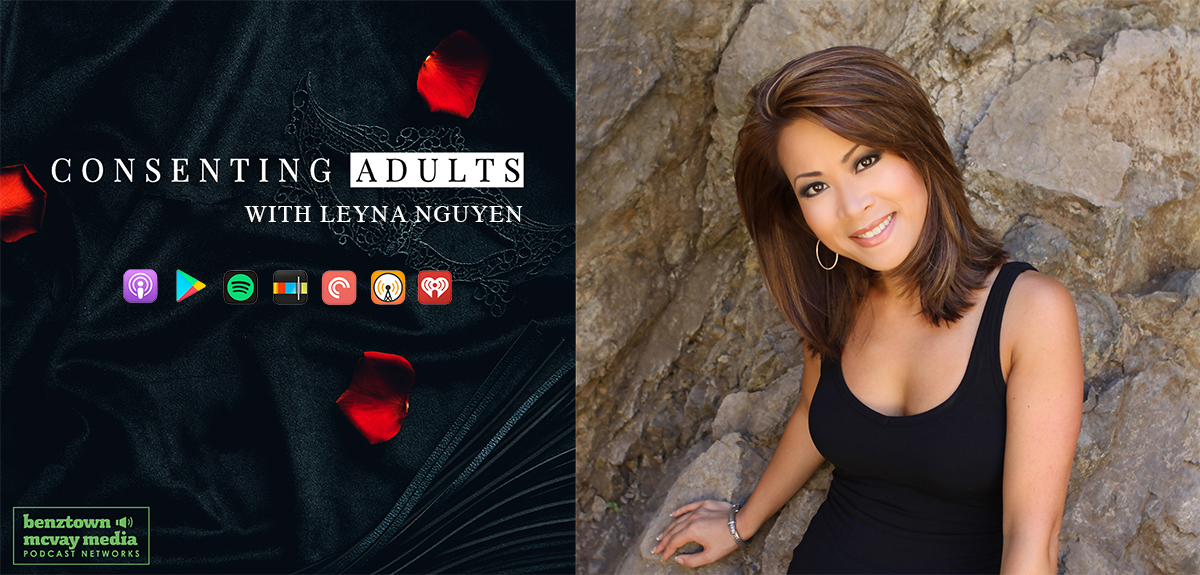 Benztown + McVay Media Podcast Networks announces the launch of CONSENTING ADULTS, a new podcast series for mature audiences that explores the intimate relationships of people 40 and older – and how they are enjoying sex and life more than ever. From open marriages to exploration and more, CONSENTING ADULTS examines the active private lives and sexual lifestyles of everyday people. The podcast is hosted by four-time Emmy Award-winning journalist, Leyna Nguyen, who talks frankly with her guests – some who self-identify and others who use pseudonyms to protect their privacy – about their alternative lifestyles. The conversations in CONSENTING ADULTS are candid, funny, thought provoking – and always revealing.
To listen to the first three episodes of the podcast and subscribe, visit: https://omny.fm/shows/consenting-adults.
As an award-winning journalist, Leyna Nguyen covered hard news for 26 years. She made broadcast history by becoming the first newscaster ever to anchor the news on two television stations in the same market, with the Viacom-owned duopoly of KCBS and KCAL-TV. She's known in the Vietnamese community worldwide as a host for Asia Entertainment productions and for her philanthropic work as president of a non-profit foundation called LOVE ACROSS THE OCEAN, which benefits underprivileged school children in Vietnam and assists underserved families in Southern California. Leyna Nguyen has received numerous awards and accolades including YWCA Woman of the Year, AREAA Humanitarian of the Year, 25 Most Influential Vietnamese-Americans in 25 Years, and the California State Legislature's Woman of the Year for her philanthropic work.
Nguyen said: "Think what you may about people who live these alternative lifestyles, but they've cornered the market on two things painfully lacking in today's society: honesty and communication. Their stories reveal a side of aging most don't talk about – the freedom to do more, the wisdom to be more, and the courage to want more."
Dave "Chachi" Denes, Producer, Benztown + McVay Podcast Networks, noted: "Leyna is an impeccable journalist and has an uncanny ability to respectfully ask questions we've all wanted to know but are afraid to ask."
Mike McVay, Producer, Benztown + McVay Podcast Networks, observed: "Leyna addresses a sensitive topic with a journalistic view. The topic is adult, but her approach is professional, appropriate and entertaining."
The three episodes debuting today feature:
– EP001: A married couple's introduction to adult clubs;
– EP002: Actor David Marciano ("Homeland", "Due South" and "The Shield) talks openly about cheating and his quest to be ethically non-monogamist.
– EP003: Understanding different types of intimate relationships.
CONSENTING ADULTS is available now on Apple Podcasts, Google Podcasts, Spotify, TuneIn, Castbox and other podcast services.
FOR MORE INFORMATION: Contact Susan Aksu at Benztown at sa@benztown.com or (818) 842-4600.