MEDIA. NEWS, EVENTS, & EVERYTHING ELSE GOING ON AT BENZTOWN.
09 November 2022
Benztown Partners with LABF for Radio and Podcast Power Session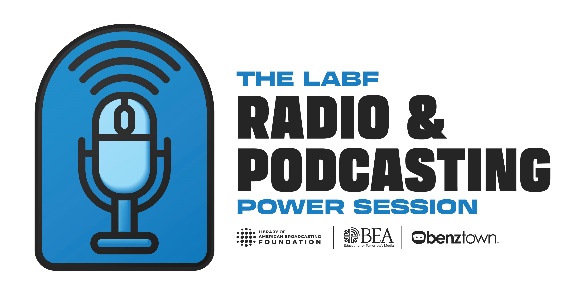 The Library of American Broadcasting Foundation (LABF) Partners with Benztown, University of Maryland and Broadcast Education Association (BEA) To Unveil Downloadable Radio and Podcast Power Session for Colleges and Universities
College Park, MD (11/8/22): The Library of American Broadcasting Foundation (LABF), in partnership with Benztown, the University of Maryland (UMD) and the Broadcast Education Association (BEA), are creating an exciting produced 90-minute on-demand recorded zoom video session focused on Radio and Podcasting for colleges and universities utilizing the LABF collection.
The LABF Radio and Podcasting Power Session initiative, led by LABF Board Members Dave "Chachi" Denes (Benztown President) and Heather Birks (BEA Executive Director), features University of Maryland Reference Specialist Michael Henry hosting a virtual walk-through of the library, followed by an insightful conversation about the vast collection highlighting incredible moments in U.S. history captured through the eyes and voice of television and radio broadcasters.
Upon conclusion of the virtual tour, industry professionals from across different disciplines of the podcasting and radio business, including highly respected radio executive Mike McVay (Programming) along with Benztown's R Dub! from Sunday Night Slow Jams (Syndication and On-Air Hosting), Darren Silva and MJ Bloch (Commercial Production), Tom Green (Imaging), Susan Aksu (Marketing), Beasley Media Group Chief Revenue Officer Tina Murley (Sales)  and other experts will speak to the students about the many exciting career opportunities available to them in the industry.
"Everyone involved with this program is passionate about radio and podcasting, said Denes. "It's an absolute honor to be able to share our knowledge with students that will someday be leading the industry."
"Students interested in any facet of radio and audio media will find this class, and these connections, invaluable," said Birks. "We are thrilled to work with the LABF, UMD and Benztown to offer this extraordinary opportunity to colleges and universities."
"I am very excited for this opportunity to share our rare and unique radio resources with future broadcasters," said Henry. "I hope these resources will inspire a love of broadcast history and an appreciation for the vital role radio has played in our culture for the last 100 years."
The initiative initially launched as a semester-long course with Clark Atlanta University in 2021. The school is the first to utilize the 2022 90-minute abridged class-offering. It will be available to colleges and universities. For more details, please contact: Heather Birks at 202-602-0584 or heather@beaweb.org.
About the Library of American Broadcasting Foundation (LABF):
The Library of American Broadcasting Foundation (LABF) is a non-profit organization dedicated to preserving the industry's past, reflecting the present and informing its future. The LABF was created to honor the remarkable creators, innovators, leaders, performers and journalists who have brought the electronic arts to the prominence they occupy in the United States and the world today, and who have set the stage for the future.  In addition, the organization serves the philanthropic purpose of supporting the Library of American Broadcasting, the nation's most extensive collection of broadcast history, policy and tradition, including historical documents, professional papers, oral and video histories, books, scripts and photographs preserved at the University of Maryland.